Kenya is known primarily as a safari destination, and it is home to the Swahili people. Owing to its fascinating history, this country has a vibrant and diverse culture. It has a unique blend of people originating from faraway lands like India, Yemen and Oman. There are remnants of Arab and Portuguese history, not only in the shape of ruins or the flavours of the cuisine but also in the facial features of the people. This diversity is particularly apparent along the coastal regions of the country and on the beautiful island of Lamu.
Lamu is predominantly a pedestrian island, full of charming narrow alleyways, donkeys and Dhow boats that can transport you along different areas of the coast. It has breathtaking views of the emerald green sea, and is incredible to visit at any time of the year.
Read on for a list of 12 things to see and do on Lamu Island for an unforgettable holiday experience that will leave you feeling energized and invigorated for life itself.
1. Stay in an elegantly beautiful townhouse
To get a true Lamu experience, you have to stay in one of the wonderful townhouses that are located in Shela village. Many have been refurbished into beautiful and comfortable guest houses that draw visitors from far and wide. They are truly an architectural delight, and staying in one of these residences will be an all round relaxing experience.
TIP
Start your search for accommodation on
booking.com
where you'll find lots of properties to choose from.
2. Stroll along breathtaking beaches
The beaches of Lamu island are sandy white, with the turquoise sea laid before like a gorgeous Persian carpet. The views are postcard perfect and strolling along these picturesque beaches in the early morning can be the perfect way to start the day. While doing so stop at one of the juice bars to enjoy some refreshments.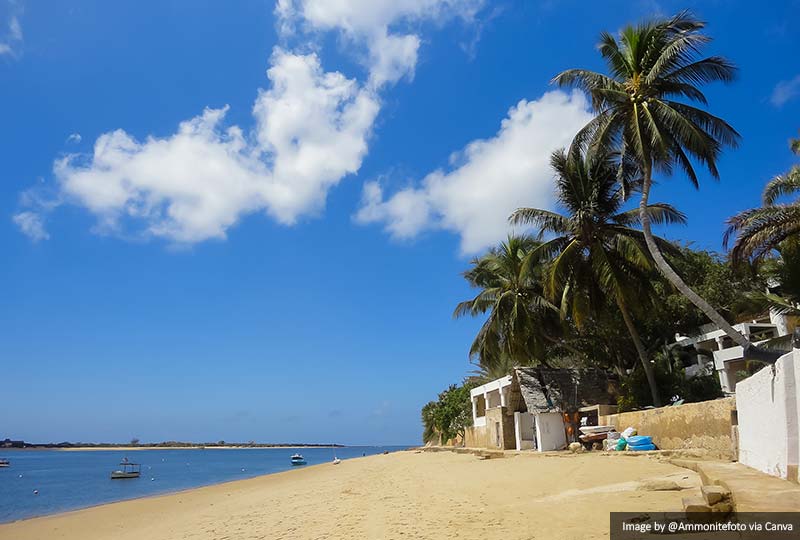 3. Indulge in Swahili street food
Most street food here is sweet or fried, but it is worth having an indulgent break from your usual healthy routine and tasting these delicious treats. From the doughnut-like Kaimati, to the savoury Bhajis that are normally associated with South Asian cuisine, these tasty morsels will lure you back day after day. Street food is commonly available in the morning or evening after 4pm.
ADVERTISEMENT
CONTINUE READING BELOW
4. See and learn about the donkeys
There has been an unfortunate rise in the number of motorbikes on the island in recent years, but walking is still the most common mode of transport. Second to this, donkeys are commonplace, and you will see them everywhere. They are pivotal to life here, especially in some of the more remote islands of the archipelago, for farming and mining.
There is a Donkey Sanctuary where you can learn more about the team and their work over the last several years. They try to protect the donkeys and make sure they are not overworked or suffer from wounds from their harnesses and loads. For animal lovers and anyone else interested in preserving this traditional way, this can be a great project to visit and support.
5. Ride a Dhow boat
This is a traditional Arab sailing boat and one of the popular ways of getting around the island. Locals offer rides on the Dhow from both the main harbours. Enjoy a relaxing morning bobbing along the beautiful turquoise ocean, enjoying the sea air. The crew will know the best spots for everything on offer in Lamu and so you can guarantee yourself an enlightening voyage.
6. Explore Shela Town
This quaint town lies at the end of a long stretch of white sandy beach. Filled with dusty alleyways and donkeys, it can be incredibly charming to walk around and take in all the hustle and bustle that this residential space has to offer. Tall and proud townhouses, alongside dwarf huts all make for a unique character that is delightful to take in. To enjoy views of Shela town from above, you can climb one of the sand dunes behind the settlement. Make sure your footwear is suitable for the hot sandy temperatures.
7. Snorkelling
Although not a major pulling point on the Lamu Archipelago, snorkelling in this region can provide a splendid underwater experience and introduction to marine life. The reefs of Manda Toto, in particular, are particularly striking in nature and it is possible to spot a wide range of reef fish, as well as shy sea turtles and magnificent dolphins.
ADVERTISEMENT
CONTINUE READING BELOW
8. Visit local markets
While Lamu island is booming with tourism, the markets mostly cater to the needs of the local residents. They are a great place to mingle with locals and buy fresh fruit and vegetables to enjoy during your stay.
9. Enjoy the Maulidi Season
Lamu island residents are mostly Muslim, and every year in the Spring of the Lunar Calendar, there is a 4 day celebration to mark the Prophet's Birthday. It is a time when the whole island comes to life and it is brimming over with visitors from around the world. If your trip to Lamu can coincide with this season, then you surely won't regret it. From boat and donkey races, and tug of war games to tribal dances and traditional singing, the whole period is one big party and an explosive demonstration of the diversity of culture and religion on the island.
10. Explore nearby islands
On particularly hot and sticky days you may want to escape to the sea and explore nearby islands. The lush greenery and spectacular views of oceans and beaches on this largely untouched archipelago is a wonder to behold and experience. The view of Lamu island from Manda is particularly otherworldly at sunset. Take yourself a picnic and enjoy the view as the giant fireball of the African sun descends into an artist's palette of rich crimsons and dusky pinks.
11. Enjoy delicious freshly-caught fish
Many of the fishermen on the island also double up as some of the best grillers in town. You will find them roasting a whole array of fresh seafood in the evening. You can pull up a simple plastic table and chairs and enjoy everything from octopus tentacle to shrimp and snapper.
12. Hakuna Matata
This timeless phrase made known to the western audience through the much loved Jungle Book, should be the motto with what you experience on Lamu island. There are "no worries" to be felt in this gorgeous tropical landscape. The Swahili people are known for being laid back and for taking things easy. A leaf from their book will make your time here absolutely worth it in every regard.
ADVERTISEMENT
CONTINUE READING BELOW
Summary
At the crossroads of the ancient trade routes, Arab, Indian, Portuguese and African cultures have fused together to create a unique blend that is beautiful to witness in the architecture, the people, and the cuisine of Lamu island. With its donkeys and boat transport, and its untouched sandy white beaches, Lamu island is the perfect quiet getaway for those craving some sun, sand and simplicity.
Related Articles