Use sky overlays for adding clouds to photos and making the sky more beautiful and original in a few clicks. As this effect is easy-to-use, it won't take much of your time to improve your shots at the post-production stage.
The cloud overlays mentioned are presented in JPEG format and have a resolution of 6000x4000px 300 dpi. You can enhance your photos with the sky overlays using various software, like Adobe Photoshop, Creative Cloud, GIMP, Paint Shop Pro, etc. You can also work with these plugins using both Mac or PC.
Note: overlays can help you achieve certain looks but don't do all the work. Your images might require additional editing/tweaks. Article provided through our partner FixThePhoto and contains affiliate links.
---
Collections of Flawless Sky Overlays
To start using these effects, you need to download and install them. The overlays are available in Zip archives. Therefore, the first thing you should do is to unpack the collection. To apply overlays, you need to drag them from the folder they are located to the picture you need to enhance.
1. Free Photoshop Overlays Collection
This collection adds wonderful light effects and is one of the most popular free sky overlays. To start using these effects, you need to position the sun texture in Photoshop and set the blend mode to Screen.
For achieving a more original effect, try creating a sky background and then applying the overlay. This overlay is extremely helpful if you need to create various types of lighting effects.
Overlays included: 10
Free or Paid: Free
2. Sky Background Photoshop Overlay
This professional package contains 55 original overlays containing a mix of options for both night and day images. With the help of the sky boundless effect, you can add a special flavour to your travel photography. By enhancing a shot with thunderclouds, you can make even unremarkable shots look more dramatic and original.
Place the overlays on the clear sky background, and you will notice how it will transform the atmosphere of an image. Moreover, you can also create a highly contrasted image that will attract viewers' attention.
Overlays included: 55
Free or Paid: Paid
---
ADVERTISEMENT
CONTINUE READING BELOW
---
3. Night Sky Photoshop Overlay
To create a dreamy night atmosphere, you can use this great package of night sky overlays. It contains 40 textures in JPG format and will allow you to add stars and other magic to your pictures.
They are perfect for shots with impressive starry sky or a flaring moon. With them, you can make your photo unique and add an original pattern to the sky. The subject of a picture will look even more attractive due to the contrast created between the dark sky and white clouds.
Overlays included: 40
Free or Paid: Paid
4. Sky Background Photoshop Overlay
If you choose this package, you will receive 55 sky overlays that are perfect for professional image processing. By using these effects, you can enhance photos, lighten the sky or add some original pattern to it. The overlays contain contrasted clouds that are perfect for fully transforming the scenery.
We think the overlays included in this pack help to create a natural but enhanced image.
Overlays included: 55
Free or Paid: Paid
5. Natural Sky Photoshop Overlay
An intense sky adds the effect of motion, and this can be achieved with this particular collection. Containing 100 Natural Sky overlays, this package allows you to improve the overall look of an image, making the subject stand out against the scenery.
By applying these textures, you can make your photo look more emotional. This sky overlay is a great choice for those who want to modify the sky in the image but do not want to divert viewers' attention from the subject in focus.
Overlays included: 100
Free or Paid: Paid
6. Cotton Candy Clouds Sky Photoshop Overlay
This collection includes 152 Photoshop overlays for achieving a unique colour effect on the clouds. With the help of these sky overlays, you can add a realistic effect to the photos taken at any time of the day. As well as the cotton candy effect you'll find plenty of other options within this preset pack allowing you to add a variety of looks and feels to your image.
Overlays included: 152
Free or Paid: Paid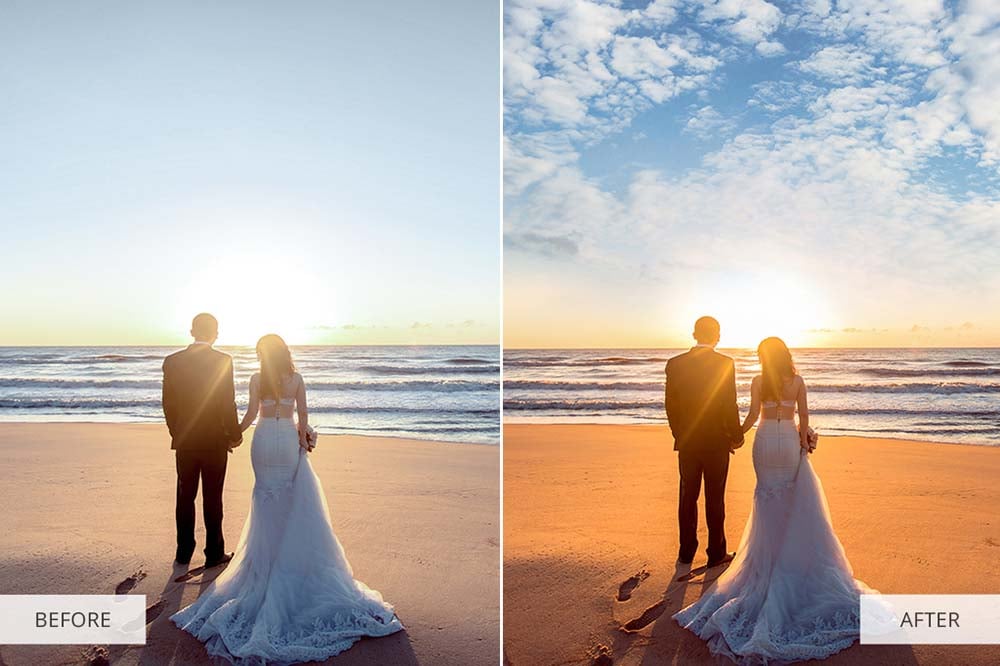 7. Dreamy Sky Photoshop Overlay
After downloading this collection, you will get 55 original overlays for adding a special atmosphere to your photo or creating a perfect sky with beautiful clouds. The package offers a great variety of textures and effects, allowing you to add such components as rainbows, different kinds of light, etc. Take advantage of impressive overlays, original transformations and different merging modes to make your photos look like real masterpieces.
Overlays included: 55
Free or Paid: Paid
8. Sunset Sky Photoshop Overlay
This accumulation of sky overlays will let you embellish your photos greatly by substituting the dull sky with a beautiful sunset. This package includes 40 Sunset Sky Photoshop overlays that create an amazing effect if you use them with sun rays. You can make the dark sunset lighter and apply this overlay to an image to add some warmth to it.
Overlays included: 40
Free or Paid: Paid
ADVERTISEMENT
CONTINUE READING BELOW
Summary
Using sky overlays can be a great way to improve and enhance your photographs as it isn't always possible to get the perfect sky whilst taking the photograph. From overlays for a magical night sky to adding some wonderful cotton candy clouds we hope these give you ideas on how to add some magic to your next picture.
Related Articles