Thanks to landscape Photoshop actions, you can enhance your images without losing your personal style but in a much faster way. With PS Actions you can adjust colour temperature, add interesting effects such as reflections or underwater scenery, make your photos richer and more distinctive.
The packages of actions below from Travel and Destinations Store can be your indispensable helpers when working with landscape and travel photos. They work with RAW and JPG photo formats and are compatible with all versions of Photoshop: Mobile, CS6 and CC, Elements.
Note: presets, actions and overlays can help you achieve certain looks but don't do all the work. Your images might require additional editing/tweaks. Article provided through our partner FixThePhoto and contains affiliate links.
1. Winter Holidays Photoshop Actions
The Winter Holidays collection includes 40 actions, 5 snow brushes, and 17 overlays, all designed to create realistic snowy effects. The kit also lets you add natural-looking snowflakes to your images for stunning results.
It will bring a holiday atmosphere, comfort, and realistic winter elements to your work. Winter forest, mountains, fields, and trees – landscapes will sparkle with new colours. Portrait style photos with nature in the background can also benefit from this collection.
The bundle of landscape Photoshop actions includes a lot, from toning and special effects to hand-drawn realistic snowy elements. These are not only snowflakes but also snow caps on trees, snowdrifts, etc. You can work with brightness, lighting, contrast, etc.
Actions included: 40 + 5 Snow Brushes and 17 Overlays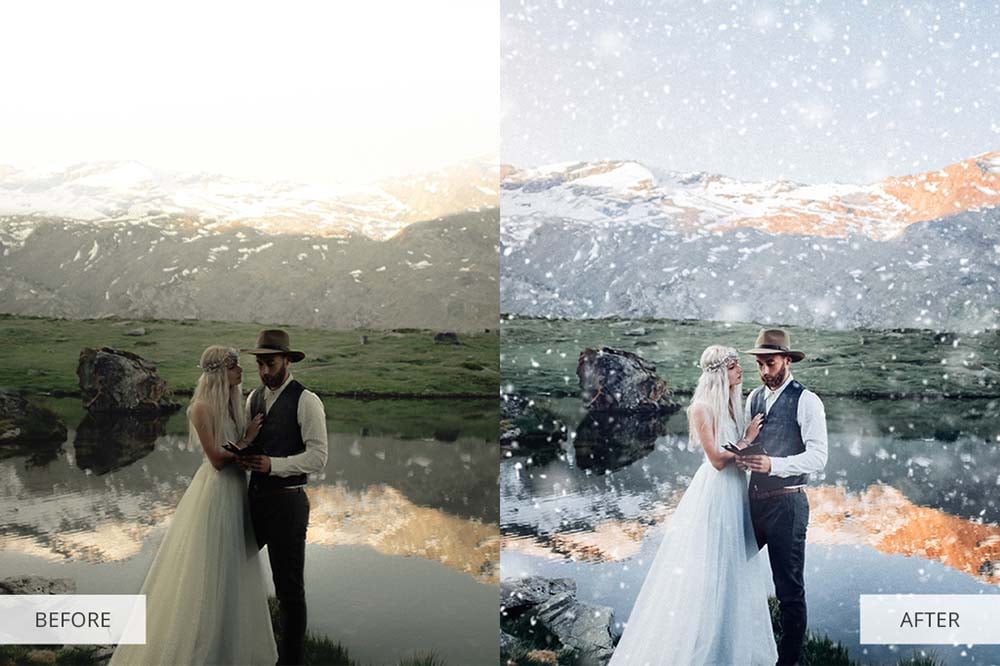 2. Vintage Colors Photoshop Actions
For those who love vintage photo effects, this package with 40 actions and 10 overlays will come in handy. The set includes tools that will add a warm, vintage look. This is particularly beneficial for natural light shots and images with warm tones.
The outcome will be a soft, old-fashioned feel that will not steal the natural beauty of the place you photographed. The subtle brightness and contrast alterations can look pleasant in any image. The set also includes actions that cast a matte finishing.
Suitable for any type of landscape photography: mountains, sea or forest. The vintage effect can be applied to photos taken in sunny and rainy weather, for a sunset or bright morning, twilight, mid-day. These landscape Photoshop actions work for a range of natural images.
Actions included: 40 + 10 Overlays
3. Colorful Landscape Photoshop Actions
Enhance your landscape shots with this complete pack designed specifically for outdoor photography. This collection of free landscape Photoshop actions contains 45 elements that you can customize as you like.
Various foundations, filters, actions, and brushes have been designed for individual photo editing. Together, these actions improve the sky, water, land, and the surrounding area. This set adds brightness and drama to images of nature. It's great for increasing contrast to get a darker, sharper look. You can also make an image more defined using these actions.
Actions included: 45
4. Underwater Photoshop Actions
This is an interesting collection for enhancing or even creating underwater landscapes. Choose from 30 options that will help add brightness to the underwater world, navy and blue shades to the sea or the ocean, make the sand yellowish, and corals reddish, underwater inhabitants more expressive and vibrant.
These are awesome actions and put over regular images can make them look as if they were shot underwater. By adding shadows or brightness, contrast, as well as the effect of blurred spots, drops, and splashes, you get this particular illusion. This way, your landscape will acquire an underwater look.
Actions included: 30
ADVERTISEMENT
CONTINUE READING BELOW
5. Reflection Photoshop Actions
Create extraordinary pictures using these Reflection Actions. They add a mirror effect and reflect objects. Ideal for landscape photos: majestic mountains are reflected in the lake, an autumn forest in puddles, a large city in the river. This set can be applied to photos with any lighting, no matter if the weather is sunny or gloomy.
The set of landscape Adobe Photoshop actions works best for high-resolution photos. It contains organized layers and individual elements that make it easy to customize the effects. Play with colours, add shadows or highlights to the water surface, make photos more modern or, alternatively, warm and atmospheric.
Actions included: 6
6. Cinematic Photoshop Actions
This package comes with 220 professional actions and 20 brushes that add a cinematic look to your photos. It is especially great for cityscapes but also works well for the countryside, mountains, forest, and other images of nature. Make enhancing alterations to the background colour, saturation and contrast.
This set allows you to add impressive cinematic-inspired effects to your projects and images. The bundle includes adjustable layers, complete instructions, and more.
Actions included: 220 + 20 Brushes
7. Sparkle Collection Photoshop Actions
A fun option is the Sparkle Collection, which includes 6 high-quality actions. This set adds deep purples and blues to pictures plus some warm highlights and sparkling stars in the shadows. This collection will help make nature more magical by adding sparkling elements to the landscape. Actions are suitable both for photos taken in sunny weather and at night.
You can adjust any landscape Photoshop action, change colours and contrast to your liking. The main thing is that it is possible to work with layers, which allows you to manipulate photos, draw, and edit various elements. The layers are well-organized and grouped and the effects are non-destructive, so your original photos remain intact.
Actions included: 5
ADVERTISEMENT
CONTINUE READING BELOW
---
Summary
Using these photoshop actions you can easily enhance your photographs, as well as add cool effects and features that was not otherwise possible. Not sure how to edit using actions? Then read our guide to get started: How to Edit Travel Photos Using Photoshop and Photoshop Filters.
Related Articles