Adding cool effects to your images can be great fun and might result in an image that is eye-catching and beautiful. These top Photoshop actions and overlays can help to do just that. In a few clicks, your pictures will acquire an original and unique look. This bundle contains a huge selection of fantastic effects, such as watercolour, sparkle, glitch, and more.
These Ps actions are in ATN format. They are compatible with various versions of Photoshop, starting with CS3, and Creative Cloud. Whether you're a Mac or PC user, you can apply these effects to any RAW and JPG photo. You'll also find a variety of overlays too, which can be added using layers in your editing tool of choice (check compatibility when purchasing).
Note: presets and actions can help you achieve certain looks but don't do all the work. Your images might require additional editing/tweaks. Article provided through our partner FixThePhoto and contains affiliate links.
Top Photoshop Actions to Use to Add Cool Effects
1. Advanced Double Exposure Photoshop Actions
Using this collection of effects, you will get creative images in a surreal style. These Photoshop actions work well when you need to combine two images into one. This pack includes chromatic distortion effects and lets you adjust the depth of field.
Light leaks, a vintage effect, and colour grading options are available. Moreover, you can adjust various parameters, such as opacity, gradients, brightness, and so on. By applying these actions, you can create high-quality images for posters, magazine covers, unique portraits, social media posts, and more.
Key effects and features:
Impressive colour toning
Powerful brushes
Enhance pictures in an abstract style
7 Actions and 32 brushes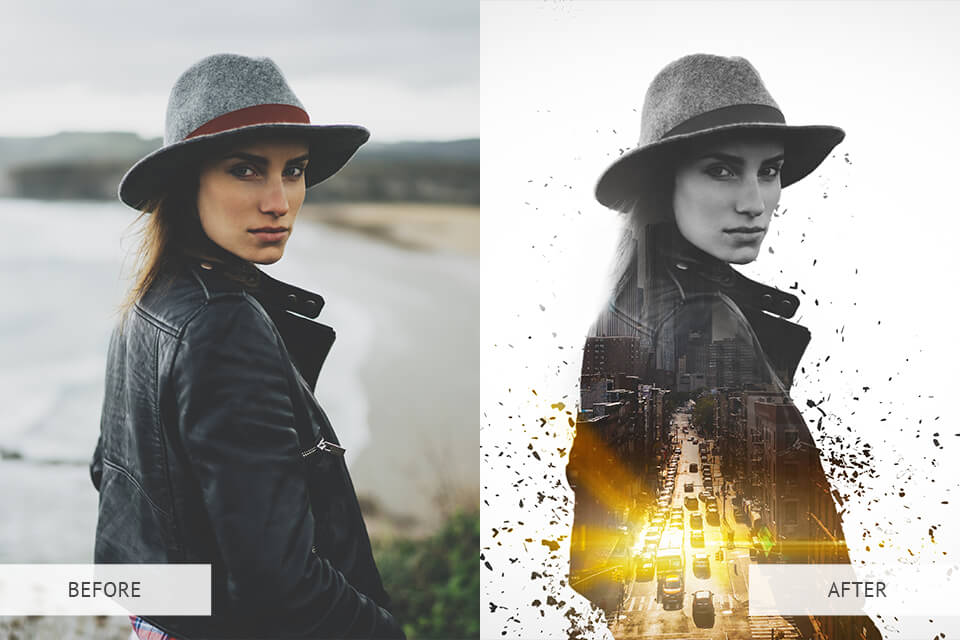 2. Glitch Effect Photoshop Actions
You can use these Photoshop actions if you need to add various distortion effects to your shots. They are ideal for retro, post-apocalyptic, grungy style photoshoots. With them, you can also enhance your pictures with VHS or cinematic effects.
Using these Ps actions, you can make almost any picture look more attractive by adding various types of glitches. To achieve a more natural result, you can adjust the contrast, intensity, colour, and other settings. These actions work well with portraits, fashion, beauty, and Instagram photos.
Key effects and features:
Intense effect
Fantastic colour grading
Adds a vintage touch to the picture
25 different Ps Actions and effects.
3. Cartoon Effect Photoshop Actions
This pack contains a huge selection of effects to help transform your shots into a more cartoon or comic type of image. These top Photoshop actions imitate hand drawings or paintings. You can choose from a wide range of effects, including broken glass, mosaic, digital oil look, and comic effects.
Remember that you can customize various action parameters to match your ideas perfectly. These effects look great with still-life pictures, portraits, and photos in other genres.
Key effects and features:
Comic book effect
Non-destructive editing
Makes colours richer and more saturated
7 different effects
4. Watercolor Painter Photoshop Actions
These top Photoshop actions will be useful for those wanting their pictures to resemble paintings created by the hand of a skilled artist. This collection is suitable for landscape images as well as pictures of buildings and architecture.
These effects give your pictures a professional look. They are easy to use so even inexperienced enthusiasts will figure out how to work with them. Try adding water splatters, unclear edges, or stain effects to make images unique and eye-catching.
Key effects and features:
Imitates watercolours
Makes details more visible
Great range of tones
3 Photoshop Actions as well as 14 brushes and 3 patterns.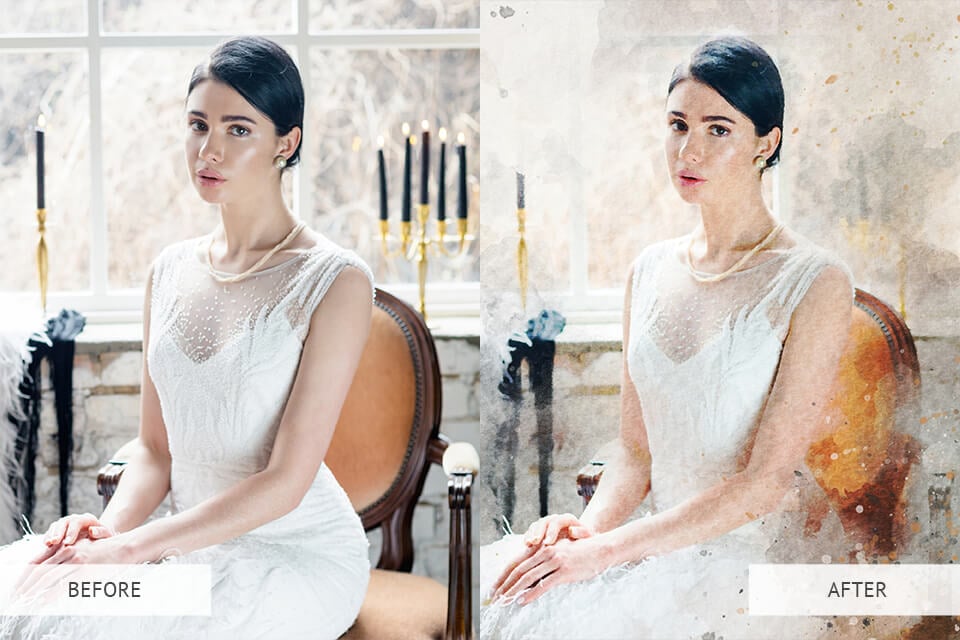 5. Sparkle Collection
Make your ordinary shots more interesting by applying these sparkle actions. With an amazing range of designs and colours, you can find an effect that complements your photos in the best way. What's more, you can customize these Photoshop actions to suit your needs and tastes.
For more dramatic results, you can adjust contrast and colours. As a result, sparkles added to water or snow will look better. These actions are great for children, wedding, and portrait photography.
Key effects and features:
Fixes contrast issues
Stunning choice of colours
Raises the contrast
5 different Ps Actions
6. Professional Sketch
Get this awesome collection and make your photos look like sketches. Digital painting, strokes, brush drawings, and other elements are available in this set of top Photoshop actions. This bundle allows you to experiment with your images and achieve superb results.
Thanks to non-destructive editing, you won't affect the original layer. Make sure to enhance hi-res photos for a better result.
Key effects and features:
Turns your photo into a drawing
Includes top-notch brushes
Wavy distortion and curved lines are available
5 Photoshop Actions, 18 brushes and 15 patterns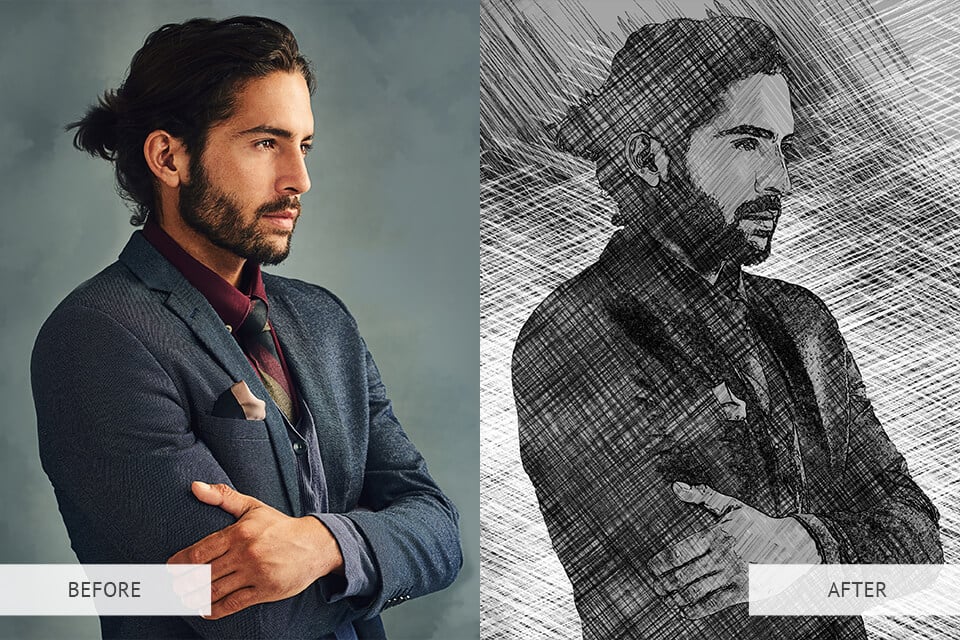 ADVERTISEMENT
CONTINUE READING BELOW
7. Night Sky Photoshop Overlay
Night photography can be great, but sometimes it's hard to capture all the magic in the night sky. Using these overlays you can however add that magic such as by including stars, moons, star trails and other cool effects.
Key effects and features:
Add stars, moons, the Milky Way and other elements to your images
40 different options to try
Easily add using layers in Photoshop or another editing tool
8. Snowy Day Photoshop Overlays
Add extra textures and cool effects to your winter images with these snow effect overlays. Including a huge number of options and allowing you to enhance your images and make a winter picture that much more interesting.
Key effects and features:
Including 70 Photoshop overlays
Add using Photoshop or another editing tool that allows layers
A variety of different snow effects to suit different photographs
9. Sparkle Collection Photoshop Actions
Add cool and fun 'sparkles' to your images with these Photoshop actions. Allowing you to enhance your night, day and other types of images into something truly eye-catching.
Key effects and features:
Use to add various sparkle effects to your images
5 different options to try
Add spark effects using layers in Photoshop or another editing tool
10. Ice Photoshop Overlays
Another great package of Photoshop overlays and perfect for winter photographs that you want to add an extra 'cold' effect to. The overlay pack includes 30 different options offering a variety of different effects which you can then blend into your photographs using a tool such as Photoshop, GIMP and others that allow using layers. This particular pack would be useful if you're hoping to create greeting cards, banners or other artwork.
Key effects and features:
Add different winter effects to your pictures
Compatible with tools such as Photoshop, Gimp and more
A selection of 30 overlays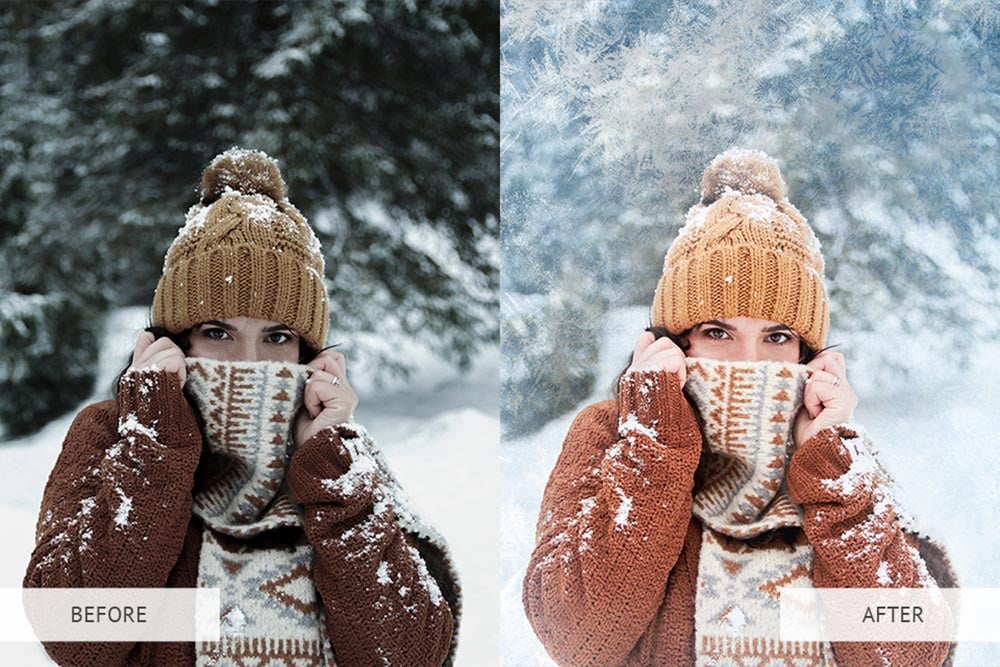 ADVERTISEMENT
CONTINUE READING BELOW
---
How to Install and Apply Photoshop Actions
Follow these simple steps to install a Ps action:
First, you should download the file and unzip it.
Launch your photo editor and go to the Window tab. You'll see Actions Panel.
Go to the menu and choose Load Actions. Select the action. It's a file in .atn format.
Now, the action can be applied.
Follow these simple steps to run your Ps action:
Go to the Actions panel and choose the effect you like.
Get a list of available effects by clicking on the triangle located to the left of the title.
Select the desired effect and choose "Play" in the menu.
Related Articles