When taking photographs during the winter you may sometimes find your images dull with the highlights blown out as well as muted colours. Whilst these may show the cold season in its true form you can add enhancements to your pictures through presets, actions and overlays while editing to improve how they look. You won't always need to add such enhancements, such as if you managed to capture a wonderful snowy image, or an incredible sunrise or sunset – however they will definitely help if you wanted to take your photographs to the next level.
Here is a selection of the best photography presets, actions and overlays to use for winter photography. Some of them are perfect for designers, some could be used for your Instagram images, and some would work especially well for landscape pictures.
Note: presets, actions and overlays can help you achieve certain looks but don't do all the work. Your images might require additional editing/tweaks. Read good things to know about presets to learn more. Presets, actions and overlays mentioned are created by FixThePhoto.
---
1. Snowy Day Photoshop Overlays
Snow overlays can be a great way to enhance your images and can be especially useful if it has snowed at your destination and you weren't outside whilst it was falling. Using these Photoshop overlays you can add a variety of snow effects to make your images look fantastic and these would be really cool when posting winter pictures on Instagram.
Overlays in pack: 70
2. Golden Hour Preset
Winter landscapes can be a fantastic time to go out and take photographs. Using this preset pack you could enhance your nature images – such as by improving the colours during sunset or sunrise, or making the colours pop. Within the preset pack are 30 different options for you to add a variety of different looks and feels to your pictures.
Presets in pack: 30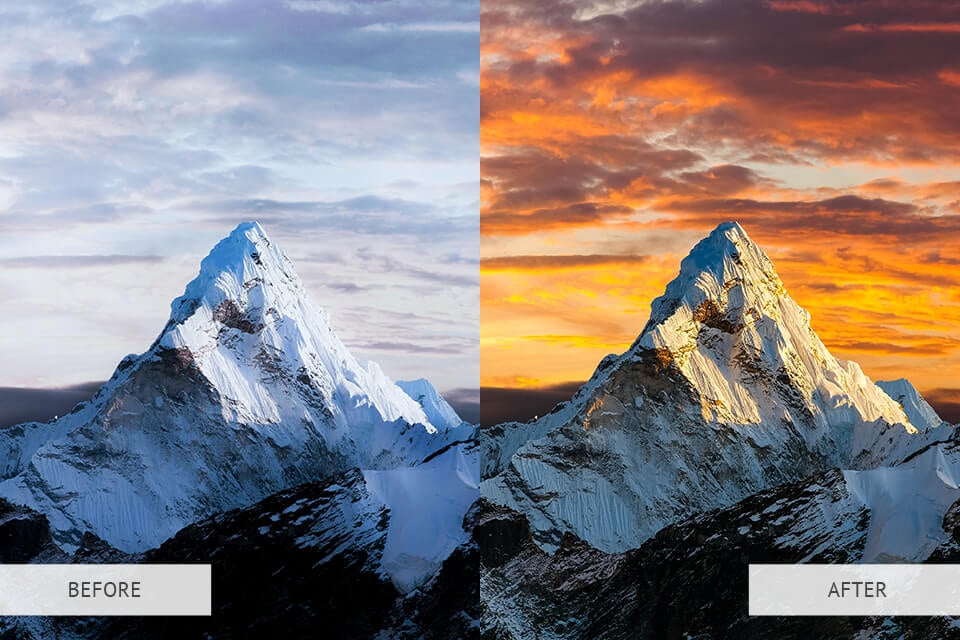 3. Let it Snow Lightroom Presets
The Let it Snow Lightroom presets will help you to enhance your winter pictures, such as an image from a ski holiday (like below). Included in the preset pack are 40 Lightroom presets as well as 10 brushes. Click through to our store below and see some of the other cool effects that you could add to your images.
Presets in pack: 40 + 10 Lightroom Brushes
4. Breeze Preset
The Breeze Preset is part of the "Majestic Landscape" presets pack and offers a variety of ways for you to improve your winter pictures. Such as changing the colour and tones of your image to create a nice cold icy feel. Consider using these presets with images that contain natural elements and snow.
Presets in pack: 30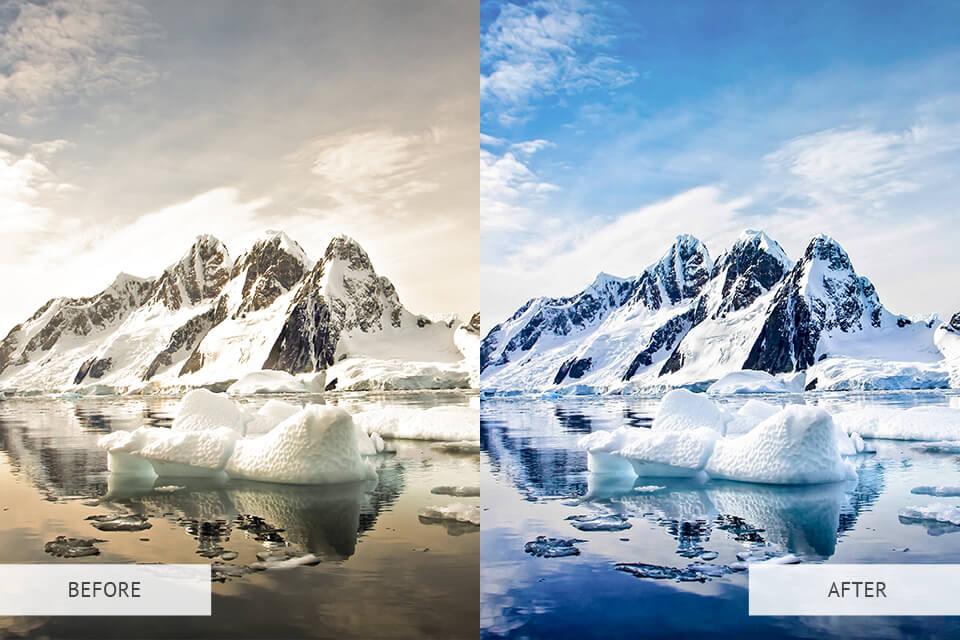 5. Winter Holidays Actions
This pack contains a selection of 130 actions to be used in Photoshop. They will allow you to add cool snow effects, enhance the colours of your images and create a more balanced and beautiful final picture. If you haven't used actions before then also read our guide How to Edit Travel Photos Using Photoshop and Photoshop Filters.
Actions in pack: 130
6. Colourful Landscape
These colourful actions are great to use with Photoshop and can help you to quickly turn your beautiful pictures into something even more spectacular. Simply download, install the ATN file and then watch as your images are transformed. The pack contains 45 different options helping you adjust a variety of images (and not just your winter pictures), meaning this selection should be good to help you edit your photographs all year round.
Actions in pack: 45
7. HDR Effect Collection
HDR (High Dynamic Range) images are essentially photographs that contain lots of detail in the shadows, mid-tones and highlights. The result is a nice balanced image with lots of detail. This preset package which you can use in Lightroom will be useful for enhancing your winter pictures as well as any of your other travel images that you capture during the year.
Presets in pack: 40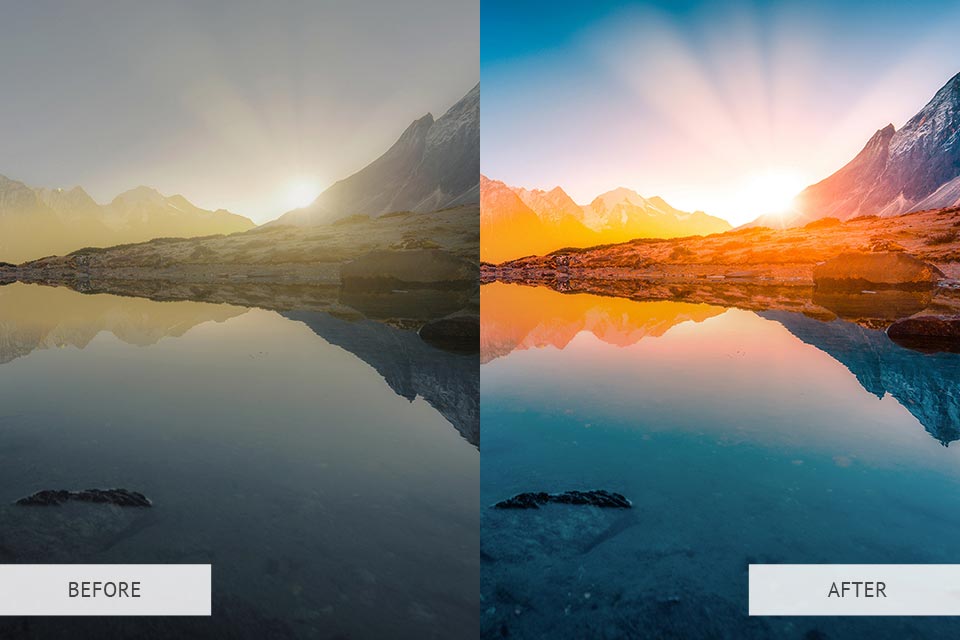 8. Winter snowflakes
These winter overlays will allow you to add beautiful snowflakes to your images which might be great for family pictures as well as making your own custom gift cards, calendars and other graphic design type products. In the pack you'll find 30 different overlay effects which you can use in Photoshop, GIMP and various other editing packages.
Overlays in pack: 30
9. Artic Frost Overlays
The Arctic Frost overlay pack offers another great selection of overlays helping you to enhance your winter photographs and add cool effects to them. Perfect for designers or those wanting to add some frosty and fun features to their pictures.
Overlays in pack: 30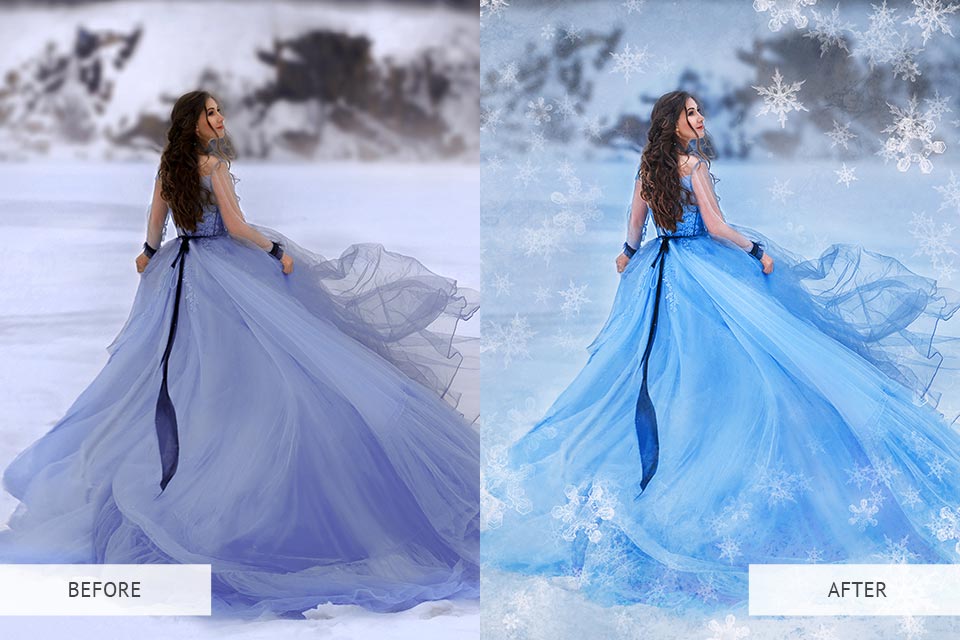 10. Ice Photoshop Overlays
Our final selection of winter presets, overlays and actions is the Ice Photoshop Overlays package. In the pack are 30 different options for you to use with your pictures and create icy effects.
Presets in pack: 30
Summary
Winter photographs can be stunning and in some ways more impressive than a typical summer picture. Imagine a cityscape covered in snow or a waterfall frozen in time. Add to this some falling snow (such as by using a preset, action or overlay above) and you'll have an image that you'll be extra proud of.
For other presets for all different types of photography then head over to our store on FixThePhoto.
Related Articles