When taking portrait shots, especially in the studio, you can control the lighting conditions and get the perfect effect. That is very different when you grab your camera and explore outdoors to capture the beauty of a landscape. You may get bad or unbalanced light, weak colours and other conditions which make the end photograph look far less than desired.
If you feel that your outdoor photos lack depth or some colours call for boosting, here is a great selection of landscape Lightroom presets that you can use. These options come as part of a preset collection and can help give your images an enhanced and personalised touch in a matter of seconds. Whether you're a travel photographer or just someone that loves to get outside and take beautiful pictures of nature then these presets should be a useful tool for you.
Note: presets can help you achieve certain looks but don't do all the work. Your images might require additional editing/tweaks. Read good things to know about presets before making a purchase. Article and presets mentioned are provided through our partner FixThePhoto and contains affiliate links.
---
10 Best Landscape and Nature Lightroom Presets
These bundles consist of the best Landscape and nature Lightroom presets that you can use to enhance your photos without tiresome manual editing. They are great for professionals and newbies alike, assisting with routine processes and speeding up your workflow.
This package of presets in the Travel and Destination Presets Store can also be helpful when you edit landscape and nature photos. They are suitable for enhancing RAW and JPG images in any Lightroom version.
Presets provided through our partner FixThePhoto
1. Soft Clarity Landscape Preset
This is a type of effects that makes your photos clean and sharp. If your landscape shot contains sky and water, then the preset will add more saturation and brightness to them, while sharpening the rest of the objects. So, if you want to highlight colours in your photos, this preset is a great choice.
Presets in pack: 30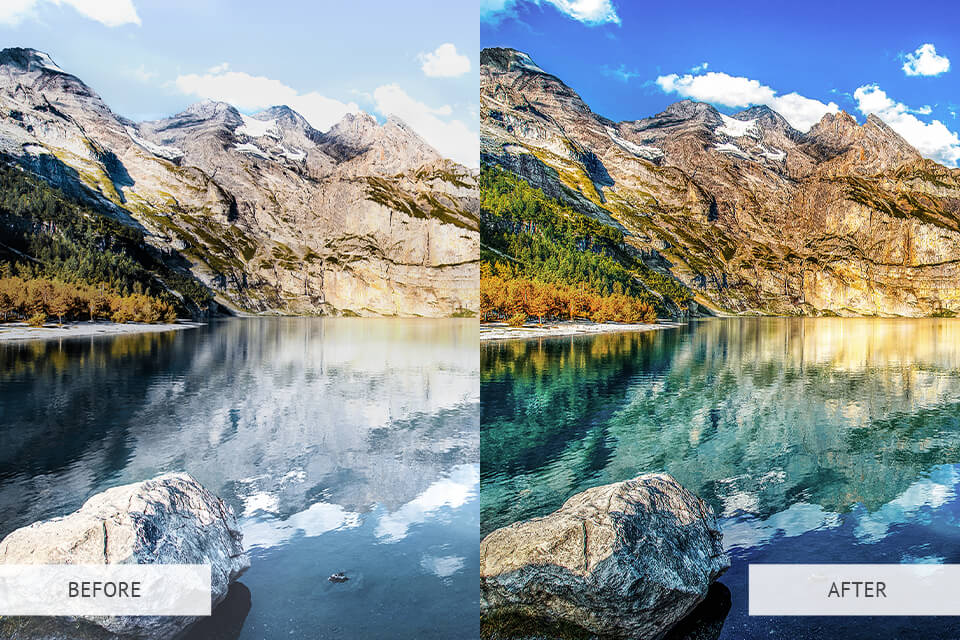 2. Golden Hour Landscape Preset
The period of time when sun rays gently caress the landscape is highly valued by photographers working outdoors. Shooting in soft, warm light is a real benefit, as the pictures you get have eye-pleasing tones and smooth textures.
Both seasoned photographers and their less experienced colleagues try to arrange shooting in the golden hour as the colours and clouds you might get can create breathtaking images. Even if you manage to take photos during this time, you can make them even more spectacular by using nature Lightroom presets. They will help reveal the beauty of the golden hour.
Presets in pack: 30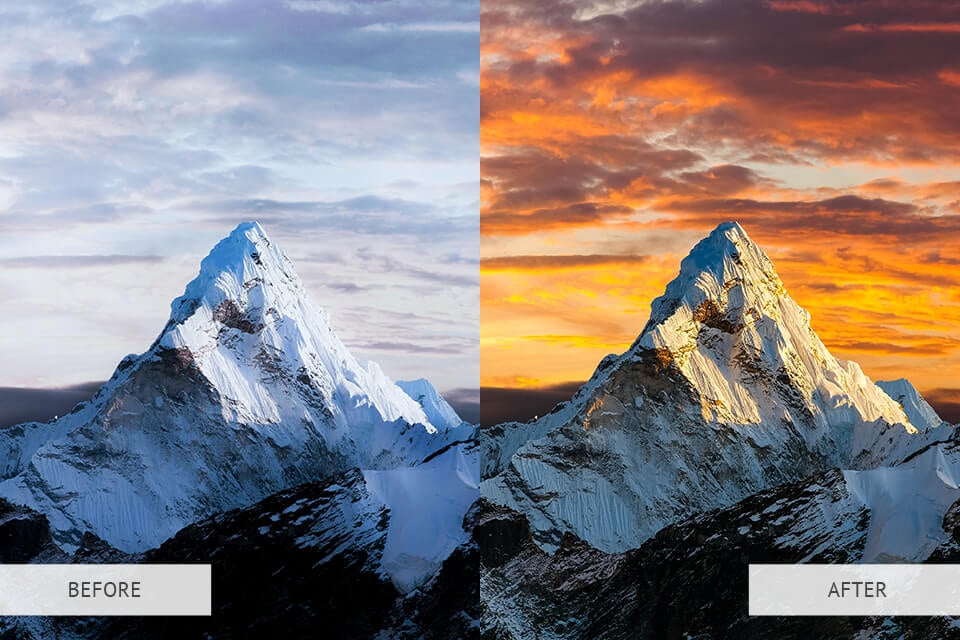 3. Breeze Landscape Preset
Taking photos in winter poses some challenges for shooters, but also editing such images requires a thorough understanding of how to handle lighting and reflections. With such efficient landscape presets at your disposal, you can easily neutralize cold colours and embellish your pictures with smooth transitions. This preset is helpful if you need to edit photos taken in cold, frigid, and snowy environments.
Presets in pack: 30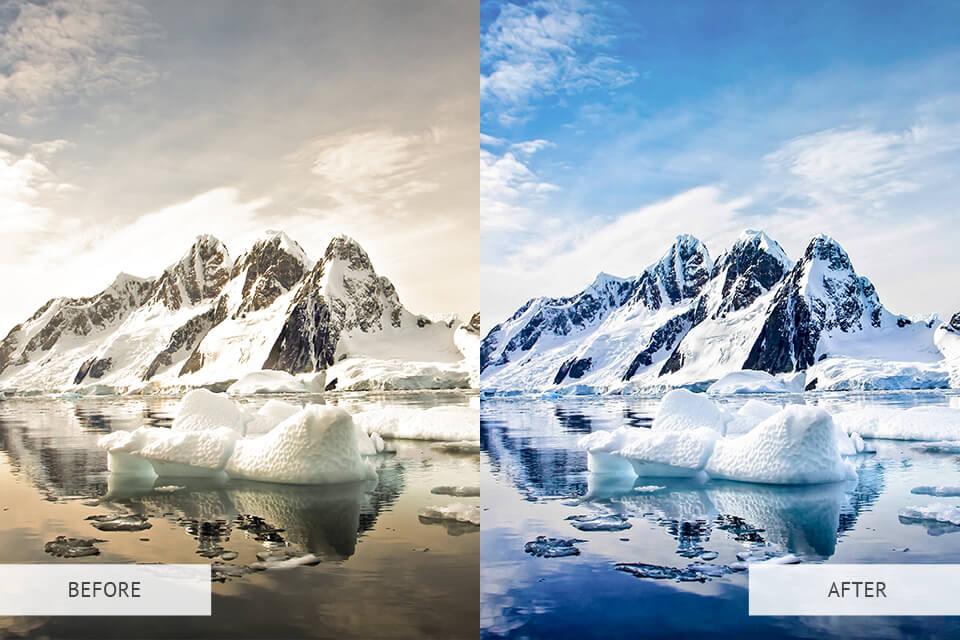 ADVERTISEMENT
CONTINUE READING BELOW
4. HDR Dark Preset
Pictures shot at sunset are associated with the golden colour of the sky and the crimson colour of the clouds. But often these photos don't look as epic when you try to capture them with your camera. To remove grey and faded colours in your landscapes, you can use this preset, which will add warm, bright and cosy tones against the sunshine.
Presets in pack: 30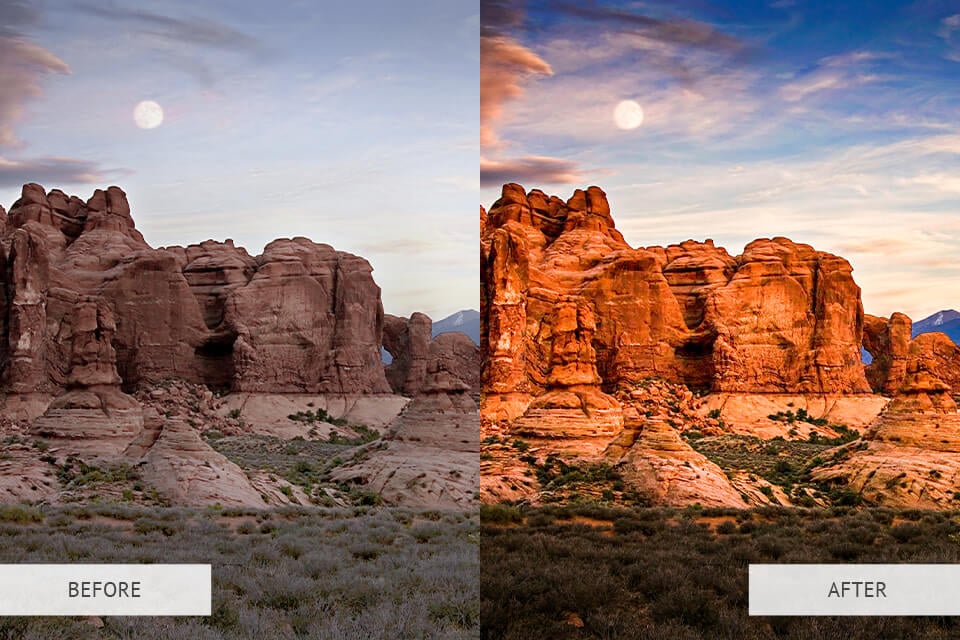 5. Deep Colors Preset
To enhance your landscape photographs, bring out the colours and create a more striking image then consider the "Deep Colors Preset" available in the "Majestic Landscape Lightroom Presets" package. Helping to create an image that is balanced and beautiful in no time at all.
Presets in pack: 30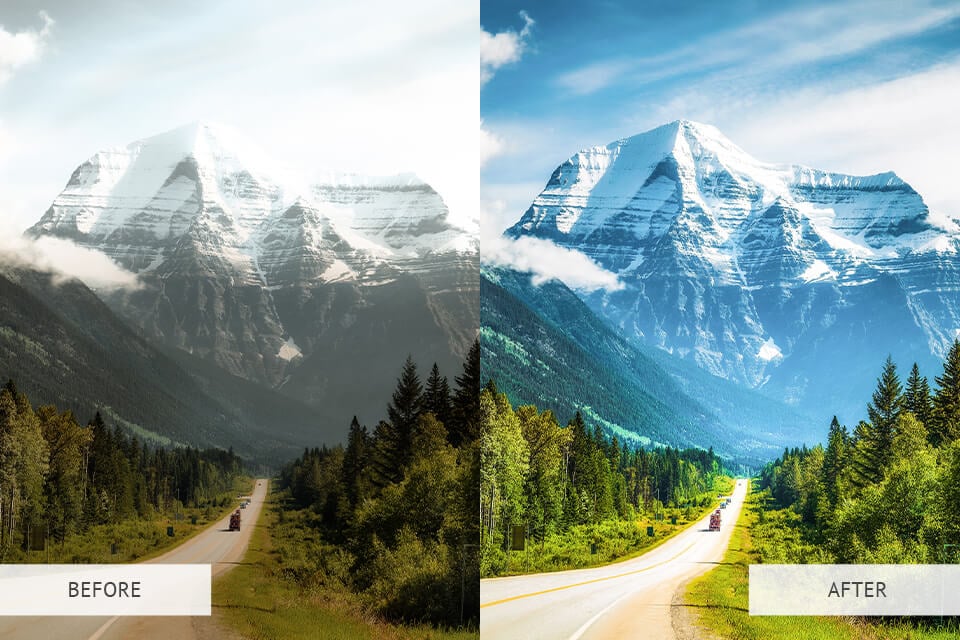 6. Cinematic Look preset
If you have a landscape image with many green elements, this preset can be very helpful. It raises the saturation of the greens as well as makes the yellow tones more pronounced. Unlike many landscape Lightroom presets available on the net, this one doesn't result in unrealistic colours.
The effect can be applied to different photos. For instance, it helps make an image livelier or accentuate particular green areas. You can use it to edit pictures for your portfolio, as well as prepare posts for social media to attract subscribers with mesmerizing landscapes.
Presets in pack: 30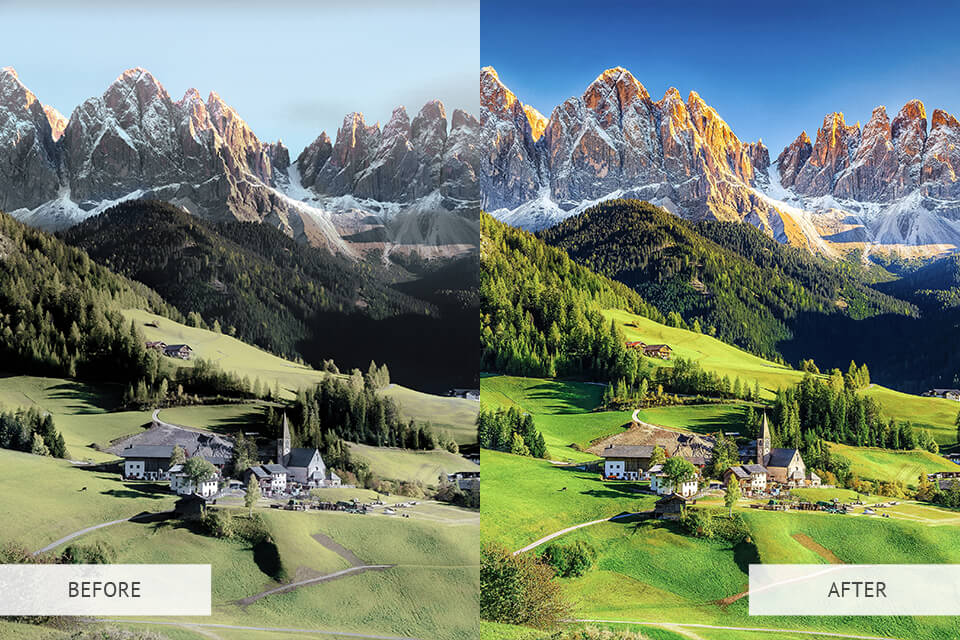 ADVERTISEMENT
CONTINUE READING BELOW
7. HDR Bright Preset
This is one of the landscape Lightroom presets that mainly affect blacks. It makes them inky and more accentuated especially if they are surrounded by green elements. The rest of the colours acquire depth. You can adjust the preset if the effect is too intense and you want lighter shadows. Such an adjustment is very helpful if you want delicate processing of hues and shadows.
Presets in pack: 30
8. Sunset Preset
The "Sunset Preset" makes your images lighter, more vibrant and almost dreamy. It adjusts most colours, especially red, yellow and blue. It is also the best preset to replace white balance with daylight. Great for vibrant, colourful photos that require just a bit of editing.
Presets in pack: 30
9. Underwater Saturated Nature Preset
Have you explored a beautiful underwater world and used your camera to capture it so as to save memories for the future? But are the photos you get like a chaotic mixture of colours where all the objects merge into one blur? Lucky you are to get this bundle of underwater Lightroom presets, as this particular effect can save the situation. It returns clarity to your underwater shots and makes each separate element more detailed.
This filter works well for images taken at a different depth and can easily handle common problems that appear while shooting underwater.
Presets in pack: 30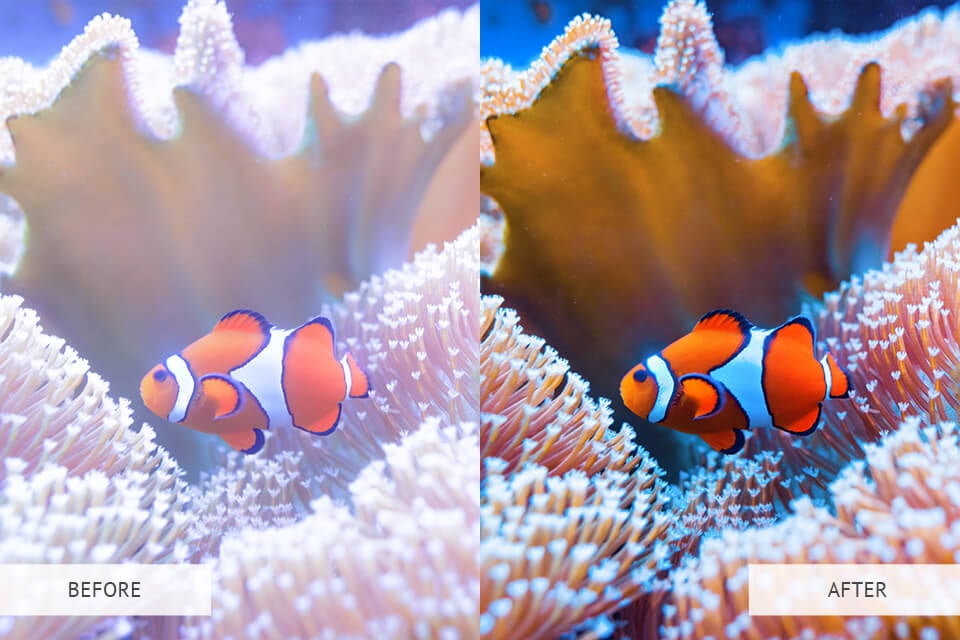 10. Underwater Light Nature Preset
This preset preserves the original attraction of your photos just slightly boosting the colours. The edited images look eye-pleasing and interesting with every underwater creature and landscape object perfectly defined. However, the effect should be applied to pictures taken in clear water, otherwise, the result will lack precision.
Presets in pack: 30
ADVERTISEMENT
CONTINUE READING BELOW
Summary
Use these Lightroom preset packs to quickly enhance your nature and landscape photographs by improving the colours and tones. These presets are easy to use and will allow you to speed up your workflow and the time you're spending editing your photographs. This helps to result in beautiful images in far less time.
Related Articles