Beach presets will help you achieve stunning shots for your Instagram, as well as a consistent look for your feed. The Lightroom presets shared below will help you to do just that.
In this article, we have gathered the best bundles of beach presets that you could use to enhance your holiday photographs. They are compatible with Mac OS and Windows, as well as all Lightroom versions – 4, 5, 6, CC and mobile (please check when purchasing if you have a specific requirement).
The presets are distributed in lrtemplate and XMP formats, so they may be applied to JPEG and RAW files.
Note: presets and actions can help you achieve certain looks but don't do all the work. Your images might require additional editing/tweaks. Learn more about presets and the good things to know. This article and the presets mentioned have been provided through our partner FixThePhoto and contains affiliate links.
1. Santorini Mobile Presets
Choose this Santorini Preset pack to enhance your beach and summer holiday photographs. Bring out the colours of the sea, a clear blue sky and improve the skin tones in your pictures. Whether you are cruising around some scenic islands in Europe or relaxing by a pool, these presets should be sure to help improve your images.
Presets in pack: 5
2. Maldives Mobile Presets
The Maldives are the epitome of beach destinations and a bucket list destination for many. Whether you are planning a trip there or somewhere else then consider the Maldive Mobile Presets to help improve your beach photographs. Enhance the colours, improve the skins tones and show your friends and family what a wonderful holiday destination that you're in.
Presets in pack: 5
3. Film Lightroom Presets
The presets are intended for portraits that require more attention to the person, rather than bright colours. They lighten the skin tone and all the details of the shot, boost contrast, give the colour palette a deeper tone and enhance saturation.
In this bundle, you will find 30 top-grade presets that deal with contrast, saturation, increasing the brightness of pictures, and are aimed at improving images of the sea, sky and sunsets.
Presets in pack: 30
4. Orange & Teal  Lightroom Presets
Such as the name of the presets, they will make the orange and teal shades in the shots more prominent. The resulting look is pretty universal and suitable for any photography genre. The presets will provide great results on pictures taken in natural light – the rich shades will somewhat mimic the magnificent look of the golden hour.
We highly suggest that you try applying these presets to tropical and beach shots as they will beautifully emphasize the blueish and beige/orange tones. The set comprises 5 presets, making it possible to edit shots during your trip and show your friends and family what a great time you're having.
Presets in pack: 5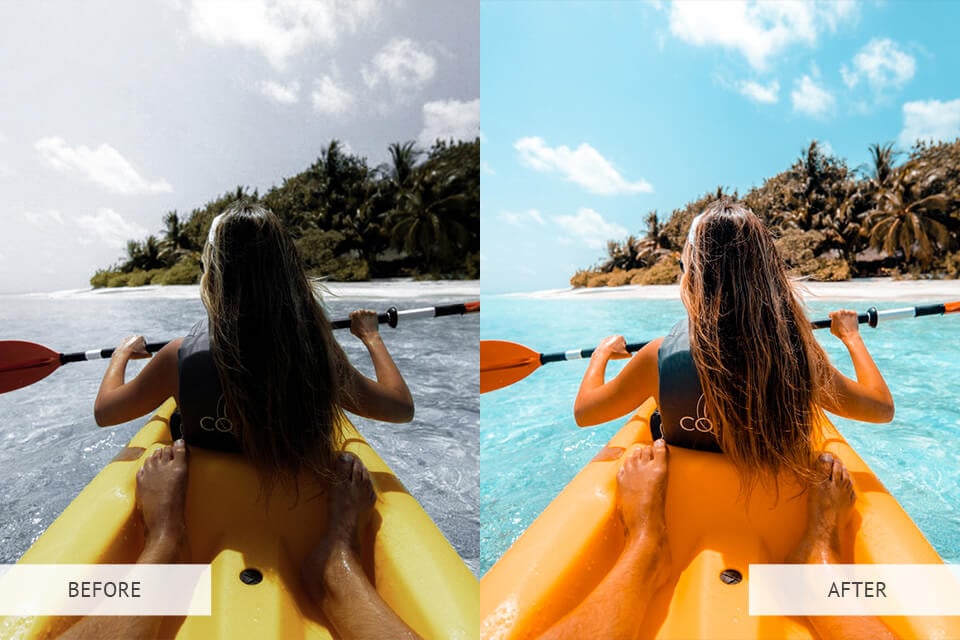 5. Sunrise to sunset
These presets are perfect for those who love stunning beach portraits with beautiful colours and warm light. The presets help you enhance the colours and tones of the image resulting in a much more beautiful final image.
Presets in pack: 5
ADVERTISEMENT
CONTINUE READING BELOW
6. Oahu Travel
The Oahu collection is a more moody set of presets which won't suit everyone's desired look for their photographs. However, these types of images often do quite well on social media and can be great for travel photographs.
Presets in pack: 5
7. Saint Tropez
Warm-up your summer holiday photographs and improve the colours using the Saint Tropez preset collection. Photos can often look dull and unbalanced with unflattering colours, but by using presets as an aid to your editing you should find the final result much more impressive.
Presets in pack: 5
8. Dark Moody Lightroom Presets
Here is a collection of presets for fans of profound tonal contrast and slightly faded colors. They will contribute to the overall darker look of shots, without going overboard.
With a moody look provided by these presets, your shots will stand out and catch the eye of followers. The dramatic tones, deep blue shades and gorgeous tanned skin tones – that's what you can achieve by applying these presets to holiday, beach and urban shots.
If you aren't afraid to experiment and want that moody vibe for your Instagram profile, then try out these presets!
Presets in pack: 40
9. Chocolate Dramatic Lightroom Presets
These presets will help you create great photographs all year round, not only in the summer. The bundle features 25 Chocolate presets.
Chocolate presets are distinguished by the warm tones they add to pictures, making all colours more saturated and vibrant. Also, they brighten shots that are too dark by tweaking contrast. If you wish to achieve a vintage or matte effect in pictures, the presets allow you to do that.
Presets in pack: 25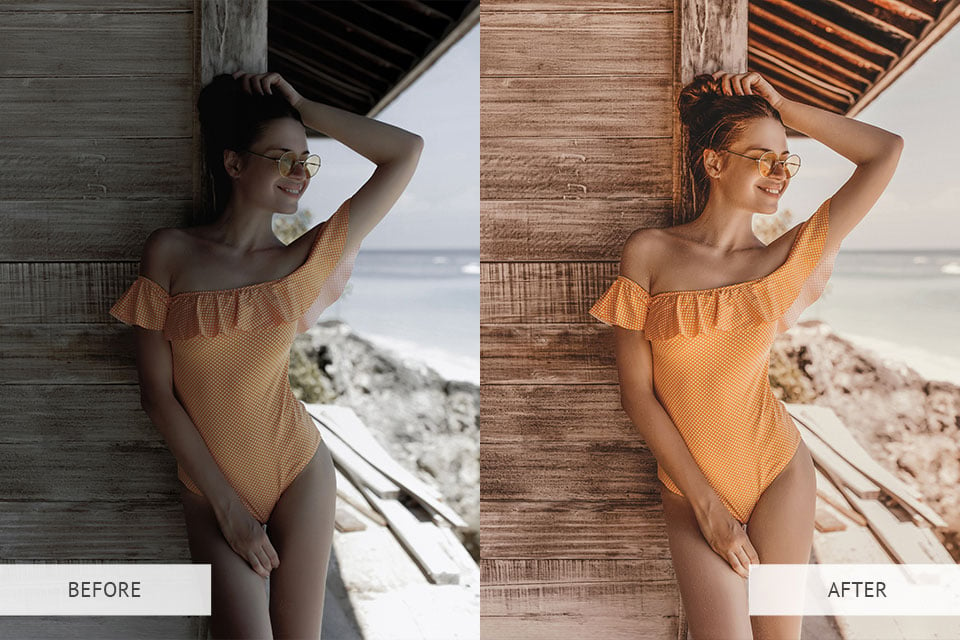 10. Bounty Collection
The bouncy collection will be a great addition to your travel packing list and should help you improve the images from your holidays. Use them on the beach and during a bright summer day, or use them to enhance photographs throughout the rest of your trip too.
Presets in pack: 5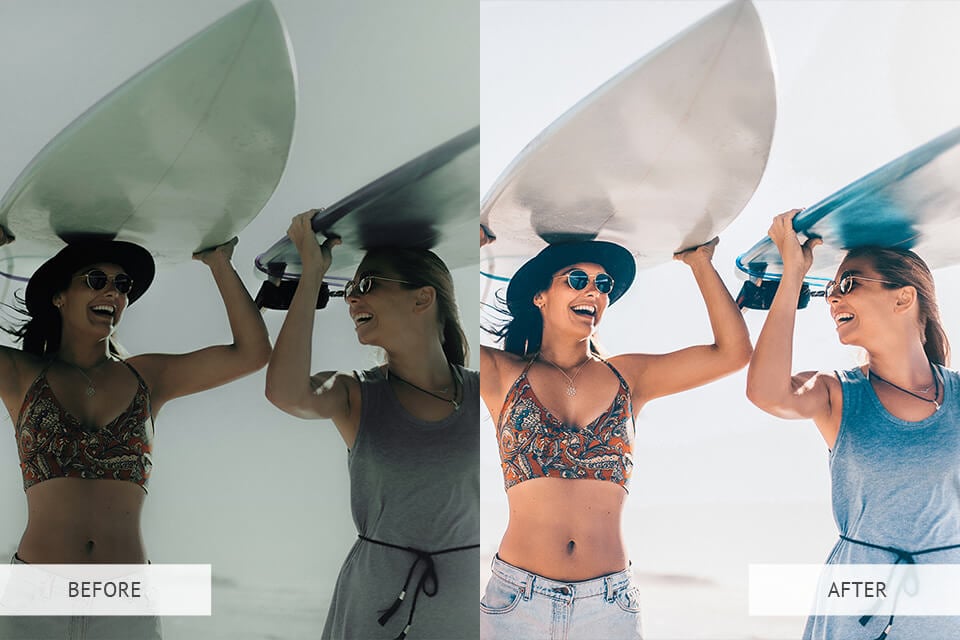 11. Underwater Photography Lightroom Presets
The bundle is meant for those who are interested in underwater photography. They increase contrast in photographs and add natural vivid colours to marine life. The bundle comprises of 30 presets.
These summer holiday Lightroom presets boost contrast, eliminate haze from pictures, adding details and clarity. Also, the settings make all the colours deeper and richer, without distorting the picture's natural look.
Presets in pack: 30
12. Free Portrait Lightroom Presets
With this bundle of presets, you will be able to enhance summer portrait shots. It features 10 portrait Lightroom presets in .lrtemplate and .xmp formats. Among them are presets which help with improving contrast and saturation, ones that let you transform pictures into b&w, as well as add sun glare and matte effects.
These presets significantly improve the colour balance in pictures and make all colours more vivid. They also enhance skin in the sense that they allow you to eliminate small skin defects. Note that this bundle is applicable for shots taken both indoors and outdoors.
Presets in pack: 10
ADVERTISEMENT
CONTINUE READING BELOW
13. Honey Moon Lightroom Presets
The Honey Moon set is perfect for both regular beach shots and romantic love stories captured in the summer. The soft and dreamy colour palette will enhance the overall look of pictures, adding a great atmosphere.
These summer holidays Lightroom presets significantly enhance the colour palette of the surroundings and improve the colour saturation of the sky, plants and clothes. The presets perfectly cope with portrait shots, evening out the skin tone, eliminating minor defects and focusing on the face. In the set, you will find 30 Honey Moon presets for PC, as well as 10 presets for smartphones and 10 brushes.
Presets in pack: 30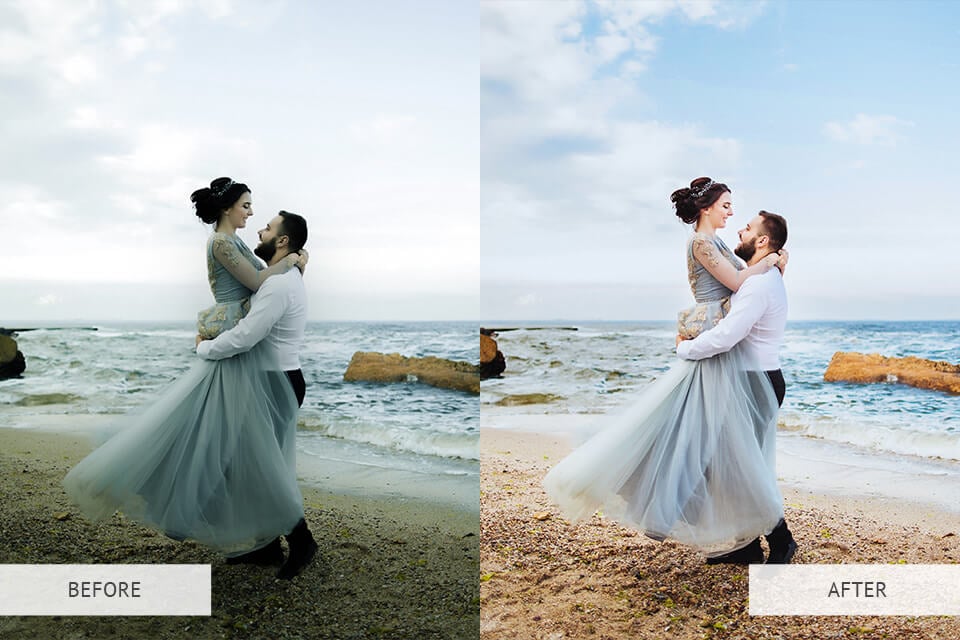 14. Free Mobile Lightroom Presets
This collection of free Lightroom mobile presets for iPhone and iPad comprises 10 filters, including Sea Breeze, Brighten, Soft Skin and Fresh. The effects will help you minimize dark shades and make the shots clearer.
These summer presets excel at giving the skin a slight tan. Also, it is possible to make other elements in the picture more expressive.
The set is suitable for enhancing shots of different genres, including portrait, landscape, nature and wedding images. Apply these filters to summer vacation shots in order to add richer shades to the sea or landscape. They are also great for everyday shots taken on a clear day, regardless of the time of year.
Presets in pack: 10
ADVERTISEMENT
CONTINUE READING BELOW
Summary
Consider some of these presets to help enhance your travel and holiday images, especially when visiting beach type destinations. Read Best Beach Destinations to Visit in Europe and Beautiful Beach Destinations to Visit in Asia for inspiration.
Related Articles