Ask people what their favourite city in South America is and Buenos Aires will likely be up there on most people's list. This modern cosmopolitan city has a European feel, with wide tree-lined avenues, lively plazas, large parks and a bustling food and drink scene.
It's the city that never sleeps, and with so much to see and do in the diverse neighbourhoods that make up the city, you won't want to either.
Follow this list of the best things to see and do, to make the most of your time in Buenos Aires and fully experience the charm of Argentina's capital city.
Here are some top activities that you may like for Buenos Aires.
---
Try the cuisine!
If there's one thing to do whilst you're in Argentina it's to eat and drink. Argentina is famous for its food and wine and Buenos Aires is the best place to experience all of the best culinary delights.
Of course Argentinian steak is a must-eat and you'll find amazing steak restaurants with reasonable prices all over Buenos Aires. Some favourites are Desnivel in San Telmo which is constantly busy with locals and tourists alike, and Calden del Soho in Palermo which pairs perfect steaks with perfect sides like provoleta (grilled provolone cheese) and tortilla de patatas (Spanish omelette). Savour with a glass (or bottle) of Argentine Malbec for a classic Argentinian culinary experience.
Buenos Aires offers more than just your traditional steak and wine though. In the Palermo District, trendy cafes and craft beer bars line the streets and across the city you can find every type of cuisine possible. A perfect example is the restaurants available inside San Telmo Market.
As well as traditional choripan, steak and empanadas, you'll also find Swiss raclette, Vietnamese noodles, French crepes and Mexican tacos. With so much good food on offer you'll find yourself spoilt for choice, and may well end up eating here every day just to try it all!
Explore La Boca
La Boca is a working-class neighbourhood of Buenos Aires and is where the immigrants to Argentina originally arrived. Nowadays it is famous for El Caminito, a street lined with brightly painted shacks. As well as the vibrant colours, you'll often find tango dancers putting on a show outside the outdoor seating areas and plenty of market stalls selling colourful souvenirs.
La Boca is also famous for another thing: football. It is home to La Bombonera, the stadium of the La Boca Junior football team and the former club of the Argentinian idol, Diego Maradona. Getting a ticket to watch a match here isn't easy, but if you can then you'll experience one of the most passionate and energetic football cultures in the world.
Visit San Telmo Sunday Market
San Telmo is famous for its Sunday market and this is indeed a must-visit when in Buenos Aires. Held on Defensa Street and running all the way from Plaza de Mayo to Plaza Dorrego, the market is huge and offers everything from jewellery to leather goods to maté cups. Whether you want to treat yourself or buy gifts for back home, you'll be sure to find whatever you're looking for here.
ADVERTISEMENT
CONTINUE READING BELOW
Take a stroll around Bosques de Palermo
The oldest park in Buenos Aires, Bosques de Palermo (also called Parque Tres de Febrero) is a huge green space right in the middle of the city. Early morning you'll find plenty of joggers and cyclists, but visit whenever the weather is good to get some quiet from the hustle and bustle of the city streets.
Inside the park you'll find a beautiful rose garden surrounded by a lake. There's also a Greek-influenced bridge, an amphitheatre and a poets' garden with busts of famous writers including William Shakespeare. You can easily spend a few hours strolling around here or taking a boat out on the lake. It's the perfect green spot to sit back and relax in the city.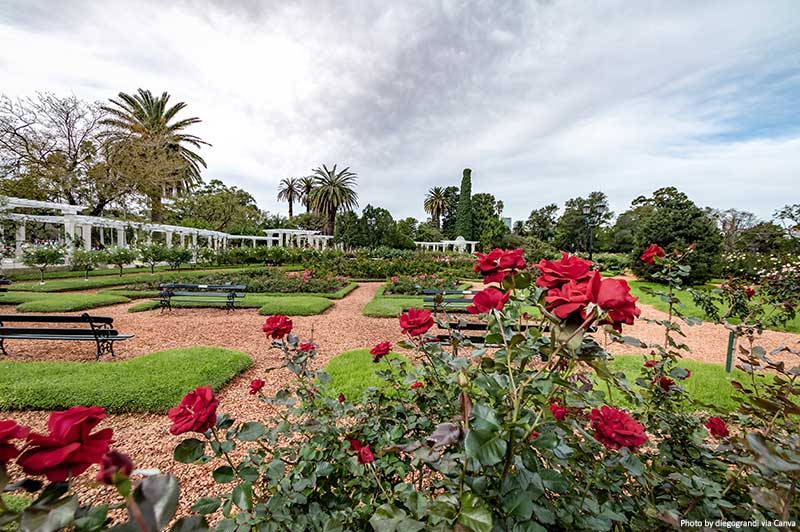 Visit Recoleta Cemetery
Whilst the idea of visiting a cemetery may seem strange, Recoleta Cemetery is probably one of the most visited attractions in Buenos Aires and a must-do whilst you're there.
Unlike what many in Europe would regard as a "normal" cemetery, the graves here are built above ground, each constructed in different architectural styles. You'll find pillars, statues, mini cathedrals and more as you wind your way through the maze of graves. Make sure to grab a free map at the entrance so you can find the more interesting burial sites, such as that of Argentina's legendary Eva "Evita" Peron.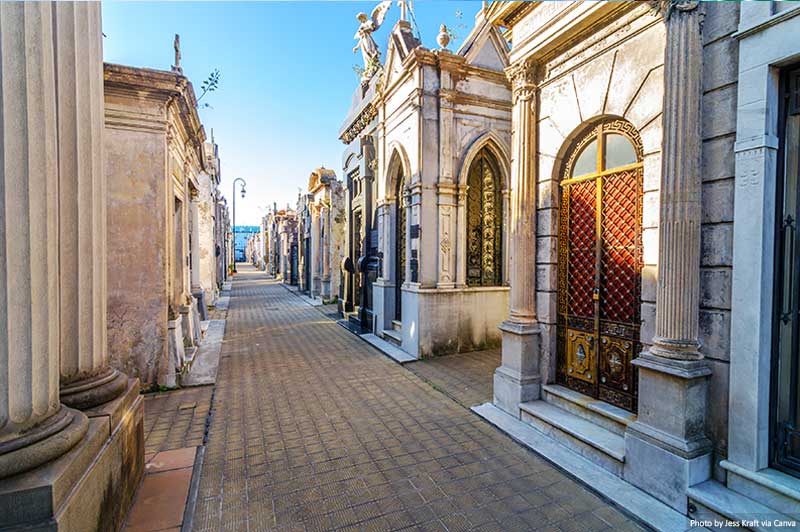 Watch Tango
Argentina is the birthplace of the tango and you can't visit Buenos Aires without seeing the famous dance. There are tons of shows on offer, ranging from large scale theatre performances to more intimate venues with a small stage surrounded by individual tables. You can also pick to just watch a show or book a full package including a three-course meal and wine.
Shows can be found all over Buenos Aires, but the majority are located in the historic neighbourhood of San Telmo. One example which is highly recommended is El Viejo Almacen. This tango house was founded in 1969 and gives you a chance to see a truly historical show in Buenos Aires.
If you're on a budget but still want to experience the tango, then head to Plaza Dorrego in San Telmo where dancers put on free performances every night.
Show idea
Walk around the waterfront of Puerto Madero
Traditionally the old port area, Puerto Madero has been recently revamped into a modern business and shopping district. With bridges and walkways along either side of the water, it's the perfect place to stroll around before settling down at sunset in one of the many lively bars and restaurants lining the waterfront.
If you want to escape the city and get back to nature, combine a visit here with a walk to the nearby ecological reserve. Only the occasional glimpse of the skyscrapers in the distance will remind you that you're in the middle of a busy city.
Discover the street art of Palermo Soho
Palermo Soho is famous for its street art and there are amazing pieces to be found all around the neighbourhood. Take a special street art walking tour where your guide will show you all the coolest artwork and tell you about the stories behind them and the artists. Some are used as a form of political propaganda or protest, whereas others are purely artistic.
If you don't want to take a tour, then spend some time exploring the streets running between Thames and Jorge Luis Borges streets and you'll be sure to discover plenty of graffiti for yourself, as well as a new perspective of the city.
ADVERTISEMENT
CONTINUE READING BELOW
Take a walking tour of the City Centre
The historical centre of Buenos Aires runs along Avenue de Mayo, from the Palace of the Argentine National Congress at one end to Plaza de Mayo and Casa Rosada at the other.
The best way to really appreciate the historical and political significance of this area is to take a free walking tour. These run daily and will allow you to learn all about the history and culture of Argentina as well as the architecture around Buenos Aires. If you want to learn more, take a tour of Casa Rosada, literally translated as the "Pink House", where a guide will take you around the public areas of the presidential palace.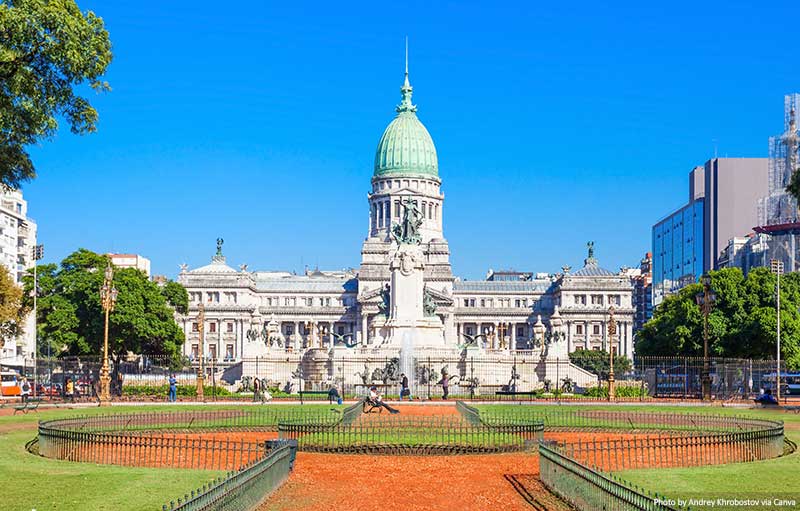 Visit El Ateneo Grand Splendid
El Ateneo is a theatre turned bookshop in the Recoleta district of Buenos Aires. Known as one of the most beautiful bookshops in the world it's a must-visit for book lovers and Instagram enthusiasts alike. Gaze up at the mighty frescoed ceiling then head up to the balcony on the top floor for the best view of the theatre. Browse through the thousands of books before finally stopping for coffee in the bookshop cafe, which sits on the former stage itself.
---
Tours and Activities
---
Summary
Buenos Aires has everything you could want from a capital city. It's unique and diverse and it's difficult to imagine any traveller, even those usually adverse to big cities, not falling slightly in love with it. So test out this theory and head to Buenos Aires to experience all the charm of the city firsthand.