Sitting between Mexico and South America, Central America is a relatively small region perfect for those looking to visit multiple countries using overland transport, but not necessarily having months on end to do so.
With seven different countries making up the region, all with their own culture, landscapes and attractions, planning a trip can feel overwhelming. So read on for a guide to travelling around Central America and the must-see spots in each country.
---
Where to start when visiting Central America
If you want to visit all seven of the central American countries then the most logical countries to start are either Belize in the north or Panama in the south. However, coming from Europe especially, flights to Panama are likely to be more readily available and cheaper given Panama City is an international hub. You can search for flights here.
---
When to go
The region is pretty hot year-round but rather than summer and winter it experiences wet and dry seasons. As a general rule, May to November is roughly the rainy season, but it will rarely rain all day and definitely not enough that it should put you off travelling during this season. In our view, Central America is a region which can be visited year-round.
---
Getting between places
All the countries in the region have a pretty good and extensive bus system making it easy to get around.
There are also buses running between countries, so if you have the time it's possible to travel the whole region overland without taking any flights at all. Ticabus runs buses between all major Central American cities and it's also possible to take tourist shuttles, especially from Guatemala.
---
Central America itinerary Ideas
Belize
If you're looking to experience wildlife, especially of the underwater kind, then you have to include Belize in your itinerary. With the second-largest barrier reef in the world, it's a diving and snorkelling paradise.
Highlights
Caye Caulker – If you're looking to get in the water (which you definitely should be!), Caye Caulker is the place. The underwater wildlife here is so abundant you're pretty much guaranteed to spot plenty of nurse sharks, stingrays and turtles amongst the colourful corals. If you're a diver then you've probably already heard of the Great Blue Hole. The image of the perfectly round blue circle in the middle of the turquoise waters is the one most synonymous with Belize and is one of the top diving spots in the world.
Hopkins/Glover's Atoll – Hopkins is a small Garifuna village with a strong cultural identity and known as being one of the friendliest places in Belize. From here visit the Cockscomb Basin Wildlife Sanctuary which has a number of hiking trails through the forest. If you have time then one amazing trip that can be taken from Hopkins is a visit to Glovers Atoll Resort which sits on one of the best and most unspoilt reefs in the whole Caribbean. The resort offers accommodation for a range of budgets, from camping to overwater bungalows, but with no electricity or running water it really is a true island experience.
San Ignacio – A great base to explore the surrounding area. Visit natural attractions such as Actun Tunichil Muknal, i.e. the ATM cave, Big Rock Waterfall and Barton Creek Cave, which you can kayak or tube through. There's also a number of Mayan ruins nearby. Caracol is the largest Mayan site and the most popular, but Xunantunich is a closer and cheaper alternative that allows you to climb the ruins.
Tours
Here are some of the tours you can find for Belize. Click the tours or blue button further down to see more.
Accommodation
Here you can start searching for top accommodation in Belize.
Length of stay
You'll likely want to stay for at least a week in Caye Caulker in order to do all the activities and enjoy the chill vibe. If you decide to visit Glover's then it's a week-long trip, so 2-3 weeks for Belize should be perfect.
---
Guatemala
A backpacker favourite, Guatemala is known for its active volcanoes, Mayan ruins and natural attractions.
Highlights
Tikal – These Mayan ruins are regarded as some of the most impressive in the region. The relaxed town of Flores is the gateway to visiting the ruins. It's an island in the middle of a lake so ruins aside this is a great place to visit.
Antigua – This beautiful colonial city is a great place to chill and wander the cobblestone streets. It's also a great base for visiting the numerous volcanoes which surround the city. Some, like Volcan Pacaya, can be visited on day trips, but the most popular is the two-day/one-night excursion to Acatenango Volcano where you can spend the night watching the lava erupting out of the nearby Volcano Fuego before summiting Acatenango for sunrise.
Lake Atitlan – This stunning lake sits among the Guatemalan Highlands and is one of the best places to visit in Guatemala. There are a number of different villages surrounding the lake, each with their own vibe, from the hippy San Marcos to the backpacker hangout of San Pedro. For amazing views of the lake and its surrounding volcanoes, hike to Indian Nose for sunrise.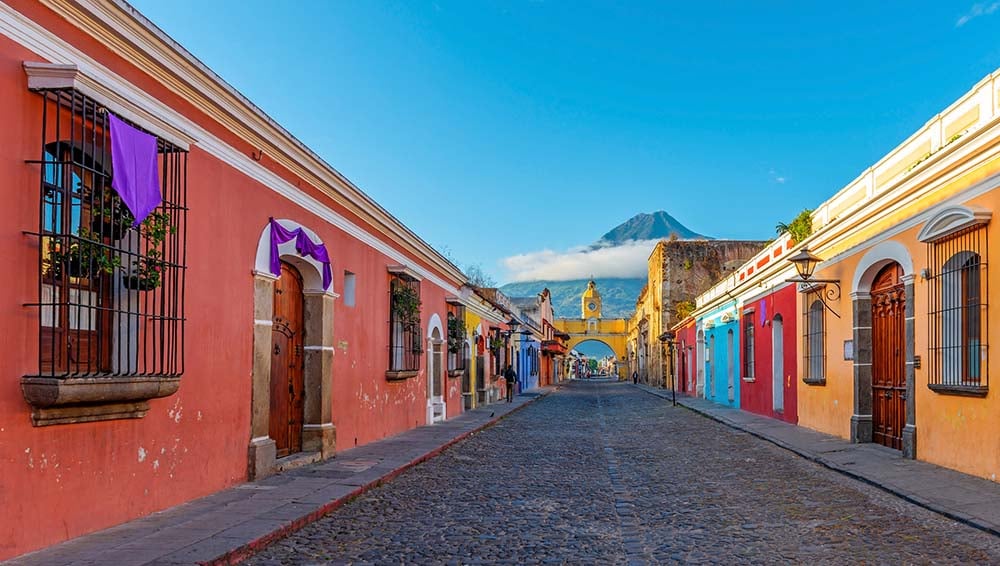 Tours
Here are some of the tours you can find for Guatemala. Click the tours or blue button further down to see more.
Accommodation
Here you can start searching for top accommodation in Guatemala.
Length of stay
2 weeks should be enough to see the highlights.
---
El Salvador
One of the most underrated destinations in Latin America, ignore El Salvador's bad reputation and take advantage of the lack of tourists and welcoming locals.
Highlights
Santa Ana – The main reason most people stop here is to visit Santa Ana Volcano, the country's highest volcano and easily accessible by public transport from the city. From Santa Ana you can also take a day or weekend trip to Lago de Coatepeque where you'll find calm, clean water perfect for swimming, kayaking or paddleboarding.
Ruta de Flores – A winding, scenic route of about 30km scattered with a number of brightly coloured colonial towns, coffee plantations and, between the months of November and February, lots of flowers, hence the name. Along the route we would recommend staying in the towns of Concepcion de Ataco and Juayua. The former is like a free outdoor art gallery, with pretty much every wall covered in street art. The latter is a must-visit for its weekend food festival.
El Tunco – Dubbed "Surf City", El Tunco is a surf and backpackers haven decorated with colourful street art and full of hipster cafes and bars. The beaches of El Palmarcito and El Zonte are just up the road and also worth a visit.
Tours
Here are some of the tours you can find for El Salvador. Click the tours or blue button further down to see more.
Accommodation
Here you can start searching for top accommodation in El Salvador.
Length of stay
El Salvador is small so 1-2 weeks should be enough.
---
Honduras
Sitting between Guatemala and Nicaragua and north of El Salvador, Honduras is often skipped over or avoided due to its dangerous reputation. But Honduras is a hidden gem, with a huge variety of activities on offer from cheap diving to historic sites.
Highlights
Copan – Mayan ruins designated a UNESCO World Heritage Site and especially known for the huge number of amazingly detailed carvings preserved on the temples and throughout the ruins which lend an insight into the ancient Maya civilization.
Pico Bonito – The largest and most bio-diverse park in Honduras, this is the perfect place for hiking, bird spotting and waterfall chasing. It's also home to the Cangrejal River where you can go white water rafting.
Utila – One of the cheapest places in the world to get your PADI certification, the main thing to do here is dive all day and enjoy the chilled Caribbean vibe all evening.
Lake Yojoa – A beautiful natural spot. Go kayaking on the lake or hiking in the surrounding hills. From here take a half-day trip to Pulhapanzak Waterfall, the largest waterfall in Honduras.
Tours
Here are some of the tours you can find for Honduras. Click the tours or blue button further down to see more.
Accommodation
Here you can start searching for top accommodation in Honduras.
Length of stay
2 weeks should be enough, although if you plan on completing a dive course in Utila then this will extend your time in Honduras.
---
Nicaragua
Nicaragua is fast gaining popularity amongst travellers and with good reason. From beaches and nature to colonial cities and adventure activities, Nicaragua has something for everyone.
Highlights
Leon – A colonial city, one of the main reasons people visit Leon is to go volcano boarding. Like sand boarding except down an active volcano, it's one of the only countries in the world where you can experience this adrenaline-fueled activity.
Little Corn Island – Most visitors to Nicaragua stay near the Pacific coast where destinations are relatively close together, however, if you're willing to make the effort (or cost if you choose to fly rather than bus) of travelling across to the Caribbean side, you'll be rewarded with the desert island paradise of the Corn Islands.
Granada – Nicaragua's other colonial city, Granada is a prettier and slightly more upmarket version of Leon. Visit the numerous churches, including Granada Cathedral on the main square and Iglesia Las Mercedes, both of which you can climb to the top for views of the city.
Ometepe Island – Sitting in the middle of Lake Nicaragua, Ometepe Island is formed by two volcanoes, Maderas and Conception. There are loads of outdoor activities to do here, from hiking the volcanoes, swimming in the lake, and visiting the many waterfalls. Visit El Pital Chocolate Factory for a treat after all the activities.
Tours
Here are some of the tours you can find for Nicaragua. Click the tours or blue button further down to see more.
Accommodation
Here you can start searching for top accommodation in Nicaragua.
Length of stay
Nicaragua is one of the larger countries in the region and transportation can be slow. 3 weeks could be enough, although if you've made the effort to visit the Corn Islands you'll want to stay at least a week there alone.
---
Costa Rica
The most popular country in Central America, high visitor numbers means high prices, and Costa Rica is undoubtedly the most expensive country in the region. But stunning natural scenery, ecological diversity and great tourist infrastructure continue to keep people coming to this green haven.
Highlights
Arenal – With hot springs, a picturesque lake, waterfalls, caves and the main attraction of Arenal Volcano, you won't be short on things to see and do when visiting this area. Base yourself in the nearby town of La Fortuna which is just 10 minutes shuttle bus from the national park.
Manuel Antonio – One of Costa Rica's most popular beach towns, the gorgeous beaches, diving opportunities and fun nightlife make up for the associated high prices. If hiking through the jungle to reach stunning white sand beaches sounds like your idea of paradise, then a visit to Manuel Antonio National Park is a must-do.
Monteverde Cloud Forest – One of the most visited places in Costa Rica and for good reason, hiking here is an amazing experience that can't be missed. The scenery is stunning and whether you're walking one of the many trails or taking a canopy tour, you'll undoubtedly love the views of this vast and diverse ecosystem. The town itself caters to the international crowd and so has lots of nice cafes and fun bars.
Puerto Viejo – Located on the southern Caribbean coast, Puerto Viejo is the place to go if you want beautiful beaches, good surf, and a lively atmosphere. If the party scene in Puerto Viejo gets too much, head just down the coast to the quieter beach town of Manzanilla.
Tours
Here are some of the tours you can find for Costa Rica. Click the tours or blue button further down to see more.
Accommodation
Here you can start searching for top accommodation in Costa Rica.
Length of stay
There are lots to see and do in Costa Rica so plan to stay at least 2-3 weeks.
---
Panama
Panama is an up and coming destination and perfect if you're looking for a lively beach holiday with a lower price tag than neighbouring Costa Rica.
Highlights
Bocas del Toro – If spending your days visiting gorgeous beaches and your nights partying hard sounds like your idea of a great holiday, then Bocas del Toro is for you. There are a number of different beaches on Isla Colon, where the town of Bocas del Toro is located, but you should also spend a day island hopping to get away from the crowds.
Panama City – Probably the most developed city in Central America, Panama City is a large sprawling city full of skyscrapers. If that sounds a bit overwhelming, stay in the Casco Viejo area which has some nice colonial architecture. Of course, you can't visit here without taking a trip to the iconic landmark, the Panama Canal.
San Blas Islands – These paradise islands can be visited as part of a tour from Panama City or as part of a multi-day boat ride connecting Panama and Colombia, so are perfect if you want to continue your trip in South America.
Tours
Here are some of the tours you can find for Panama. Click the tours or blue button further down to see more.
Accommodation
Here you can start searching for top accommodation in Panama.
Length of stay
1-2 weeks should be sufficient to see the highlights.
Central America Guided Multi-Destination Tours
You can find lots of multi-destination tours available through G Adventures. Below is one such tour that you may like.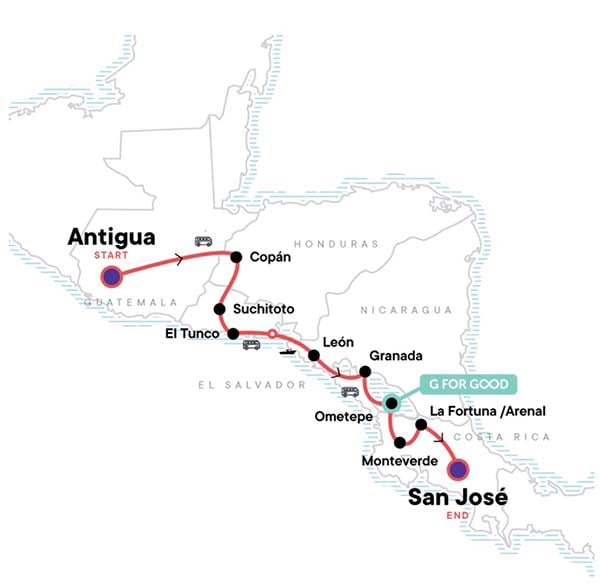 ---
Summary
Central America may look small on the map but there's so much to see. If you're short on time you can pick and choose which countries interest you most, but if you have time you could easily spend a few months here really getting a feel for the region. However you decide to plan your trip, one thing's for sure, Central America will deliver all you're looking for and more.
Related Articles