When considering a holiday in Central America, Belize isn't necessarily the first country to come to mind. However, if the sound of a Caribbean holiday with a smaller price tag and lots of adventure sounds appealing then Belize could be for you.
The only country in Central America where English is the main language, Belize has a truly Caribbean feel with BBQs everywhere and some of the most friendly and chilled locals you can find. The motto here is "go slow", but with so many attractions on offer you may find it hard to fit it all in.
To help you plan your visit to Belize, learn how to get around, discover top highlights and more, then keep reading.
---
When to visit Belize
The best time to visit Belize is during its dry season which runs from mid-November through to April. During this time you can expect blue skies and sunshine, although even in the rainy season you can still plan to hit the beach with there usually only being a couple of hours of rain in the afternoon.
If you're a foodie then bear in mind that lobster season in Belize starts in July and runs through to mid-February. During this time you'll find lobster being barbecued on the streets and on all restaurant menus for a fraction of the price you can find in North America or Europe.
---
How to get there
Belize City has a small international airport that you can fly into and which also provides connecting flights to other parts of Belize.
Alternatively, if you're already in Central America it's possible to enter Belize by land or sea borders.
If you're coming from Mexico then you'll cross the border from the town of Chetumal. From here you can either take a boat to Belize City or take a boat directly to San Pedro or Caye Caulker.
From Guatemala, you can cross the land border from Flores/Tikal to San Ignacio, or take a boat from Livingston to Punta Gorda in the south of Belize.
---
How to get around Belize
Belize is a small country with pretty much two main roads. One running east to west from Belize City to San Ignacio, and one running north to south from Belize City to Punta Gorda, with both routes going via the small town of Belmopan. It's therefore easy to get around with fairly regular buses running along these routes. Buses are old American school buses and so lack a bit of comfort, but are fast and reliable.
Ferries from the mainland to Caye Caulker and San Pedro run back and forth a few times a day and you can check online for up-to-date schedules.
Hitchhiking is also an option. Locals in Belize are incredibly friendly and hitchhiking is a fairly common way to get around.
---
Top places to visit in Belize
Caye Caulker
The thing to do when in Belize is to get into the water and there's no better place to do this than in Caye Caulker. Given that Belize is home to the second biggest barrier reef in the world, it's no surprise that one of the most popular tours on the island is the full day snorkel tour. A tour can take you out to a number of spots along the Belize Barrier Reef where you can see vibrant coral and magnificent marine life.
The underwater wildlife here is so abundant you're pretty much guaranteed to spot plenty of nurse sharks, stingrays and turtles amongst the colourful corals. Belize is also one of few places where you can spot manatees, so if you're lucky you'll be able to snorkel with these majestic mammals.
If you're a diver then you've probably already heard of the Great Blue Hole. The image of the perfectly round blue circle in the middle of the turquoise waters is the one most synonymous with Belize and is one of the top diving spots in the world. Dive companies in Caye Caulker offer trips here for this once in a lifetime diving opportunity.
If you just want to relax after all that excitement then head to the Split. Located at the end of the island, this is the place where locals and tourists alike head to relax, swim and drink a few beers. For food, try any one of the beachside BBQs for meat and fish served with rice and beans and coleslaw, true Caribbean style and totally delicious.
You May Like
Hopkins
Hopkins is a small rustic village on the coast just south of the main town of Dangriga. It's a Garifuna village with a strong cultural identity and is known as being one of the friendliest places in Belize. With just one main street and a couple of bars and restaurants, life here is definitely relaxed, but with a nice beach and some great trips into the surroundings on offer, Hopkins is still worth a place on your Belize itinerary.
One such trip is a visit to Cockscomb Basin Wildlife Sanctuary. This lush natural reserve has a number of hiking trails through the forest which offers a nice contrast to the beach. There's tons of wildlife which can be seen here, from monkeys to snakes and if you're extremely lucky the elusive jaguar. Try the day hike to Tiger Fern Waterfall where you can cool off with a swim in the freshwater after a steep up and down hike.
If you have time then one amazing trip that can be taken from Hopkins is a visit to Glovers Atoll Resort. A two-hour boat ride away, the resort is located on Glovers Reef, one of the best and most unspoilt reefs in the whole Caribbean. You therefore only need to swim out from the shore for some epic snorkelling. The resort offers accommodation for a range of budgets, from camping to overwater bungalows, but with no electricity or running water, it really is a true island experience. Boats leave Hopkins on Sunday and return on Saturday, but you might be surprised to find yourself wanting to stay for longer.
Placencia
Further down the coast from Hopkins sits Placencia. Another small town but with a bit more going on than Hopkins, Placencia is a great place to chill. With a beautiful sandy beach, boardwalk and one main street, it's easy to spend a few days here relaxing.
If you're coming from the quiet Hopkins or the island life of Glovers, you'll appreciate the coffee shops, bars and restaurants here. Barefoot Beach Bar is a great spot right on the beach with daily food and drinks deals, such as all-day BBQs or Latino night. Afterwards, make sure to pay a visit to Tuttifrutti Gelateria for the best ice cream in Belize and maybe in the whole of Central America.
If you haven't had your fill of snorkelling or diving already then there are plenty of great spots accessible from Placencia. If you're visiting during the months of March to June then pay a visit to the waters of Gladden Spit and Silk Caye Marine Reserve just off Placencia Peninsula where you can swim with the largest fish in the sea – the whale shark.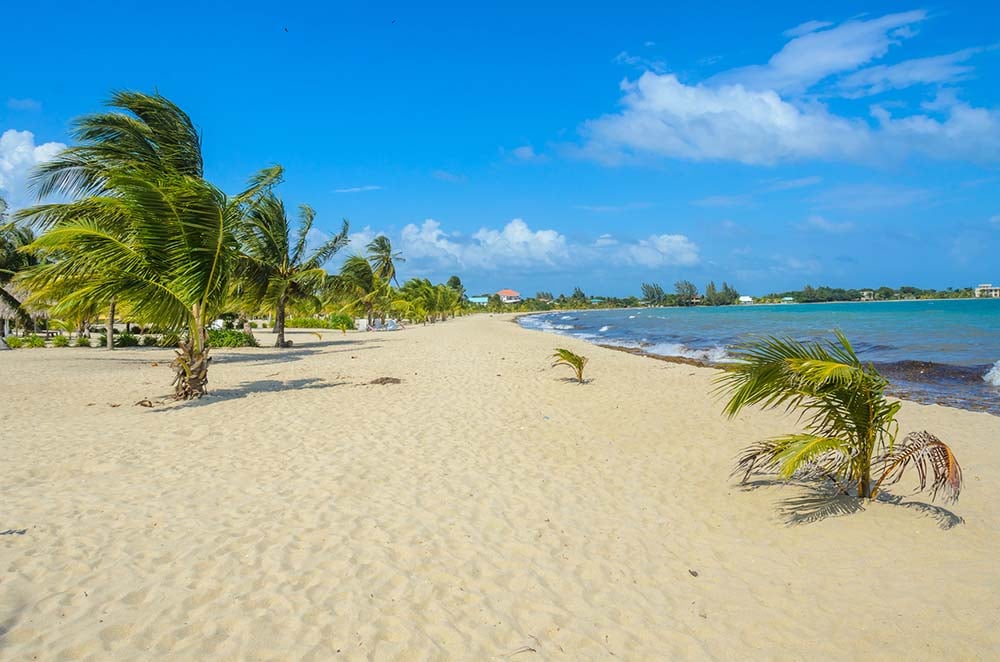 San Ignacio
Belize isn't all about the coast, and inland near the Guatemalan border lies Mountain Pine Ridge Forest Reserve and a number of big attractions that you'll want to pay a visit. The small town of San Ignacio is a great spot to base yourself when visiting this part of Belize. Right on the river, it has a few good accommodation options plus a great local market and number of restaurants.
The main attraction in this area is Actun Tunichil Muknal, i.e. the ATM cave. The cave is home to the remains of victims of Mayan sacrifices and, after hiking through the cave, you'll come face to face with their skeletons. It's a unique experience and one of the most popular spots to visit in Belize, although this does mean tours here come with a hefty price tag (expect to pay around $100).
There's also a number of other natural attractions such as Big Rock Waterfall and Barton Creek Cave, which you can kayak or tube through.
Like its neighbours Mexico and Guatemala, Belize also has its own sets of ruins which are well worth a visit. Caracol is the largest Mayan site and the most popular, being home to a number of large buildings and tombs within a jungle setting. If you want to visit some ruins but don't want to take the longer (and more expensive) trip to Caracol then check out Xunantunich. This set of ruins are relatively unknown but pretty impressive. Better still, they're only a short local bus ride from San Ignacio. Once here you'll find a huge central pyramid which, unlike most ruins, you can actually climb for views over Belize and into Guatemala.
---
Tours, activities and experiences for Belize
Fancy a tour to spice up your trip? Here are some ideas of what you'll find for Belize. Click the blue-button for more options.
---
Accommodation
Start searching for your Belize accommodation here.
---
Summary
Belize is a small country but with loads to offer, especially for nature enthusiasts. The snorkelling and diving here is second to none and undoubtedly the main reason to visit, but the hiking and natural attractions only add to this country's appeal. Add in friendly locals, delicious food and a relaxed Caribbean vibe and you'll be wondering why you hadn't visited Belize before.
Ready to book? Search for:
---
Related Articles