In this article, we are interviewing creative travel writer and sketch artist Derrick from StickyMangoRice. Keep reading to learn more about him, his work and his travels.
1. Please could you introduce yourself and tell us what you do?
"I'm Derrick, a 32-year old Australian living in Melbourne. I work in a university research laboratory most of the year. But with family all over Europe, and an insatiable travel bug, I'm always looking for the next adventure! My hobby at home is creating art, and coloured pencils are my go-to medium. My blog is where I put my two passions together, and illustrate the things I see when travelling."
2. How did you get started with creating sketches while you travel?
"Sketching is something I've been doing since I was really young, and as a casual artist, I mostly sketch to de-stress after a day at work. I started bringing my pencils on the road a few years ago for a few reasons; to satisfy my creative outlets when away from home, to give my blog a bit of flair and personality, and as a perfect way to freeze time, study and properly digest the little nuances of a destination."
3. How do you go about making sketches and do they take long?
"I've done several sketches on location, as is the tradition of the typical urban sketcher. But as my drawings increased in detail and complexity, they took more time to complete. I start with a pencil sketch, trace them with a black pigment liner, then complete the colouring.
Today, a drawing can take about 3 hours to finish. And with a small baby now joining us on our travels, time is more precious, so I usually just do the pencil outline on the spot, or take a photo as a reference to complete the colouring at home."
4. Could you tell us about your website and writing style?
"I like to think of StickyMangoRice.com as a semi-informative travel blog with a distinct visual style, combining urban sketching with my travel stories and recommendations. It's not aiming to be Lonely Planet, as there's already so much practical travel advice out there. Instead, I like my writing to be evocative, fun, and personal, with an aim to inspire people to travel to interesting places and enjoy the little quirky things that makes travel so great."
5. What made you choose the name?
"One day in Laos, my wife and I sat down to a breakfast of sliced mango, served on sticky coconut flavoured rice. It was an amazing way to start the day! Years later, I was searching for a name when I re-branded my blog into a drawing-focussed travel blog. I wanted a name that sounded unusual, exotic, alluring, and fun (and tasty). It should be light-hearted and memorable. StickyMangoRice fit the bill perfectly!"
6. Do you get your inspiration from anywhere?
"One of my biggest inspirations to take my pencils on the road was French artist Florent Chavouet's gorgeous 2009 book, Tokyo on Foot. Florent lived for 6 months in Tokyo while his girlfriend was on an internship, and to pass the time, he cycled all over the city and sketched what he saw. From billboards, coins, people and whole city maps, he did a wonderful job of capturing the city's spirit."
7. What are some of your favourite destinations you've visited and why?
"Iceland is one of most incredible places I've been; I did a road trip around the country with my wife and 2 friends in a rusty old Corolla. We camped at the foot of glaciers, bathed in steaming geothermal springs, watched ice cubes wash up on black sand beaches, and found wild puffin nests, all in one stunning trip.
In recent times, Sri Lanka left a great impression as a beautiful, green, cultural gem. And multiple trips to Japan have us hooked on all things Japanese, from mountain hikes through torii gates to convenience store rice balls!"
8. Are there any particular places on your bucket list?
"I've yet to make it to central and eastern Europe. Austria, Hungary and the Czech Republic are high up on my list of places to visit (and sketch).
I'm also keen to explore Namibia in more depth. A few years ago, during an Africa road trip, I drove through the country in just 3 quick days. But so much was missed – Sossusvlei, the Skeleton Coast, the wildlife – and I'd love to go back!"
9. Please could you share a few favourite sketches and say a bit about them
"This detailed sketch of Center Gai street in Shibuya in the heart of Tokyo took a very long time. I wanted to include as many faces as I could, and as many neon signs too. But to really feel the madness of Shibuya, you need to see it for yourself!"
"This blue frog is one of the first sketches I drew on location, on the Malaysian island of Langkawi. It was ceramic, with an anti-mosquito coil protecting us from bugs. I loved the design, and it reminds me of hot, relaxing nights on our terrace, listening to the sounds of the island."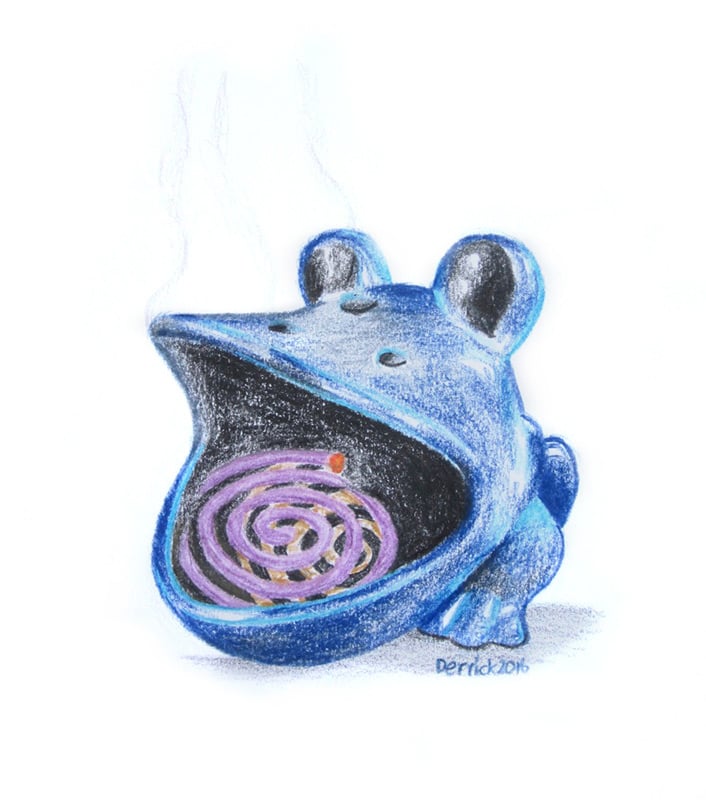 "This house on the Magome-Tsumago trek in Japan is why I love the country as urban sketching subject matter. The geometry of the house, and the gardens, tiles and little touches made this house a joy to draw!"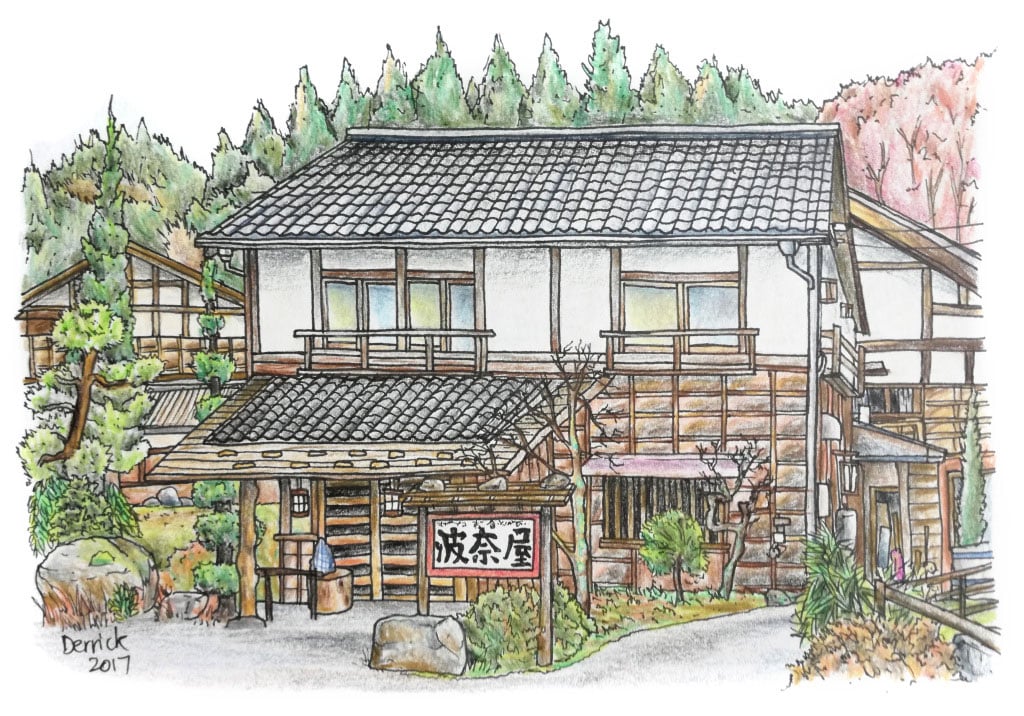 "One of the most fun parts of urban sketching is capturing people going about their business. This girl in Hanoi walked past just slowly enough to scribble out a sketch, and I finished the detail at home. I especially love imparting my cartoonish style to real people, and making their expressions as real as possible."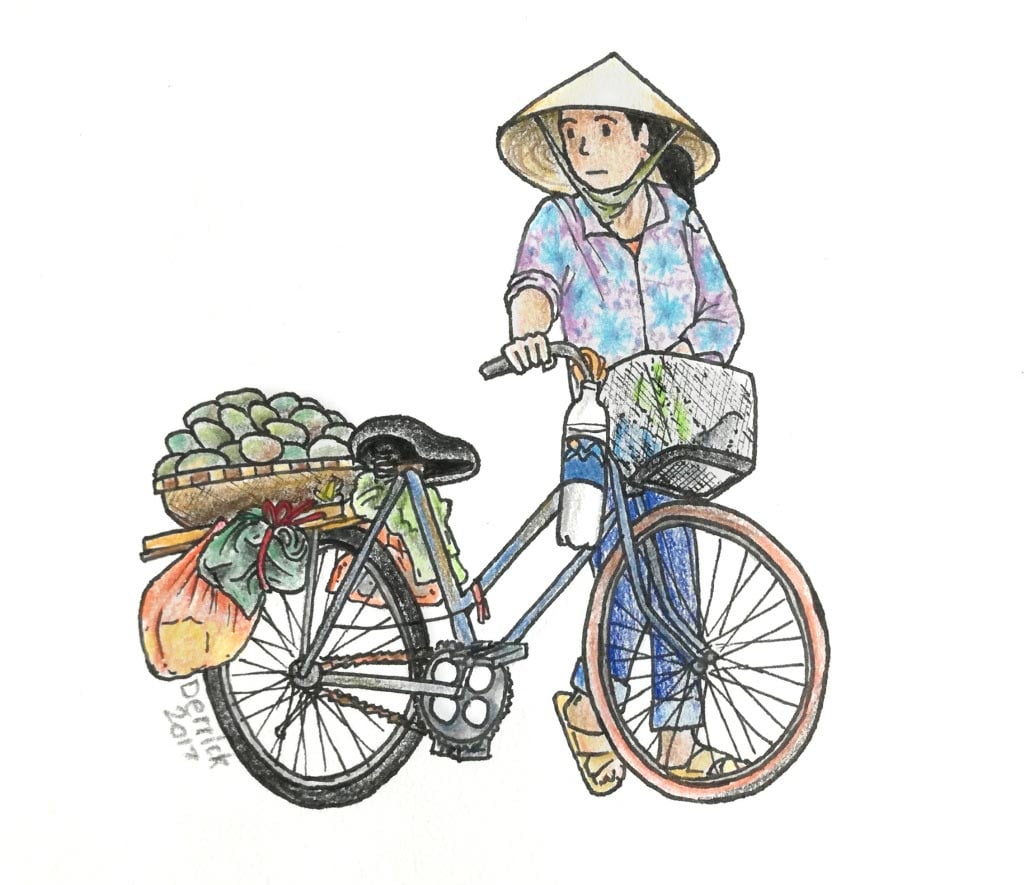 Mike from TravelAndDestinations: Thanks so much Derrick. We loved reading and learning more about you and your sketches and look forward to seeing more of your work and travels.
Related Articles