Copenhagen is a stunning city to photograph and this can be enhanced by a beautiful sunset. In this post I will tell you some of the best sunset spots I found during my trip to the city. Most of the locations are on public land, ie paths and streets, but a few are from towers. For those, I have included a link to the website and entry price.
As with anywhere in the world the time for sunset changes throughout the year. I visited Copenhagen in May and I found the days were very long, with sunrise at 4:30am and sunset at 9:15pm. I also found sunset and the blue hour last for over 2 hours and the sky was still a little blue past 11:15pm. This may be because of the northern location of the country on the hemisphere. However, the slow sunset/blue hour makes taking photographs great at night as you have a bit more time. But if you wanted to catch the sunrise, as well as sunset, then you may as well not bother going to sleep.
Other months, such as in October, sunrise is around 7:30am and sunset is around 6:00pm, which allows a bit more sleep if you wanted to capture both. I recommend using www.timeanddate.com to check the times for sunset and sunrise if you are planning to come specifically for photography.
Here are some of the best sunset spots in Copenhagen that you should see during your visit.
1. Amalienborg Palace
The grounds of and near Amalienborg Palace make for great sunset spots. Here you may be able to frame so that you get beautiful colourful light behind Frederik's Church, the Rytterstatuen statue and part of the palace. Also be patient when you are here as you may still have colour when the lights come on. I had left by this point, but later came back and the colour had faded by this point.
Address: Location on Google Maps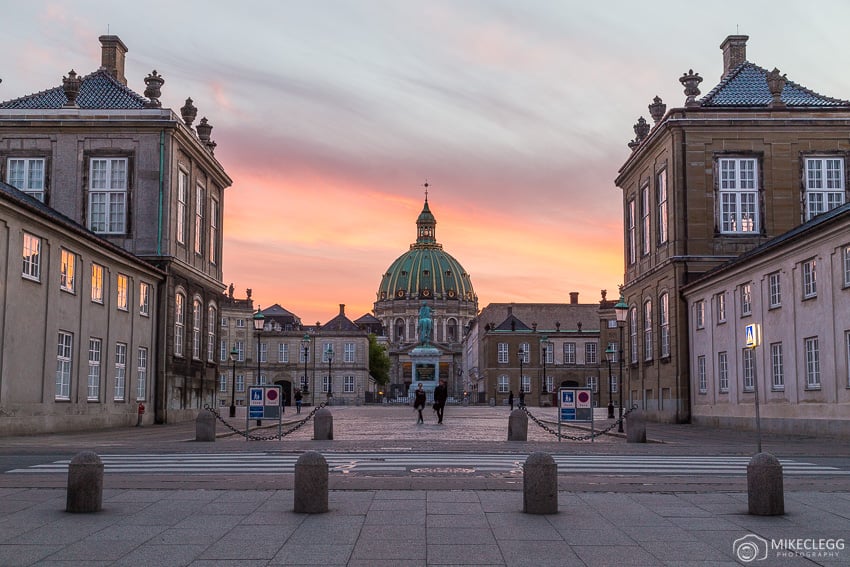 2. Nyhavn
Nyhavn is one of Copenhagen's most popular and beautiful spots in the city, not just for sunset, but for photography and the scenery in general. This is probably the best spot for getting sunset photographs as you may get colours in the canal, the clouds, and then you have the boats and buildings all around.  The sun will set at different positions throughout the year, but at certain times of year the sun may set directly towards the end of the canal closest to the city.
Address: Location on Google Maps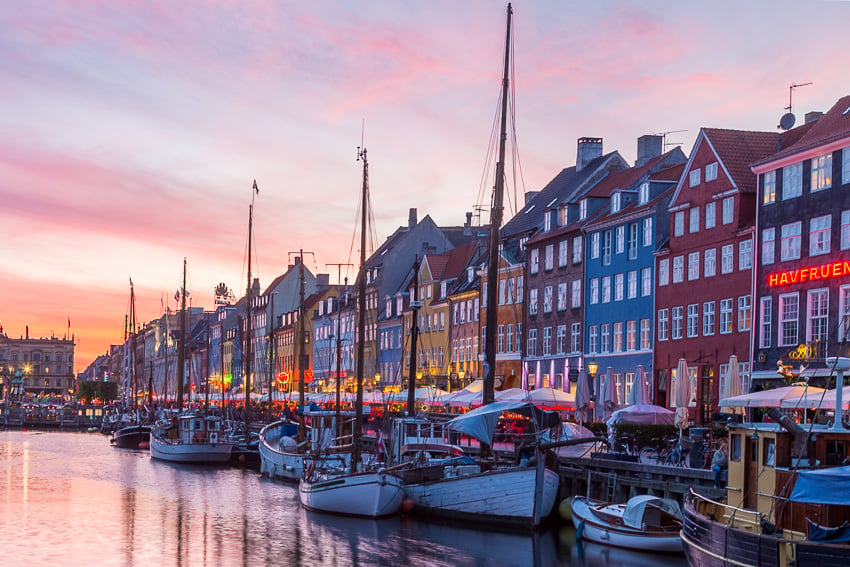 ADVERTISEMENT
CONTINUE READING BELOW
3. The Lakes
To the north of Copenhagen are various large lakes. I didn't see any landmarks, churches or major points of interest either side, but the houses are quite nice and look very traditional and danish. When taking pictures from this location consider using foliage to add a foreground element, or to frame your picture. As well as sunset The Lakes would also make for a good sunrise spot.
Address: Location on Google Maps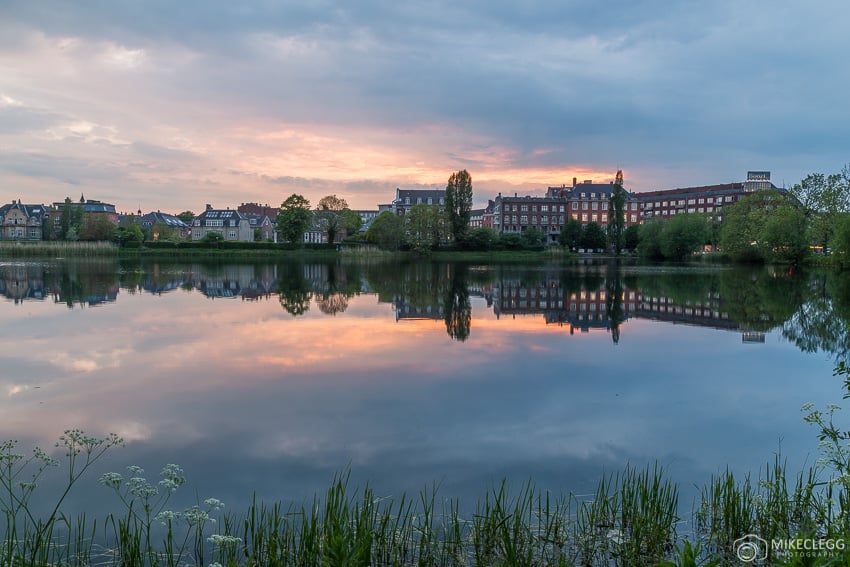 4. The Tower at Christiansborg Palace
This tower (Taarnet) amazingly closes at 9pm, so during the year when the days are shorter, this would make for a great location to get sunrise shots. Seen below you can see the sun was almost setting, but due to the late sunset during my visit I had to leave. However, I hope the picture gives you a good idea. This viewpoint is also free to enter and has a restaurant on the lower floors if you fancied grabbing something to eat after getting your snaps.
Price: Free
Address: Prins Jørgens Gård 1, 1218 København
Website: taarnet.dk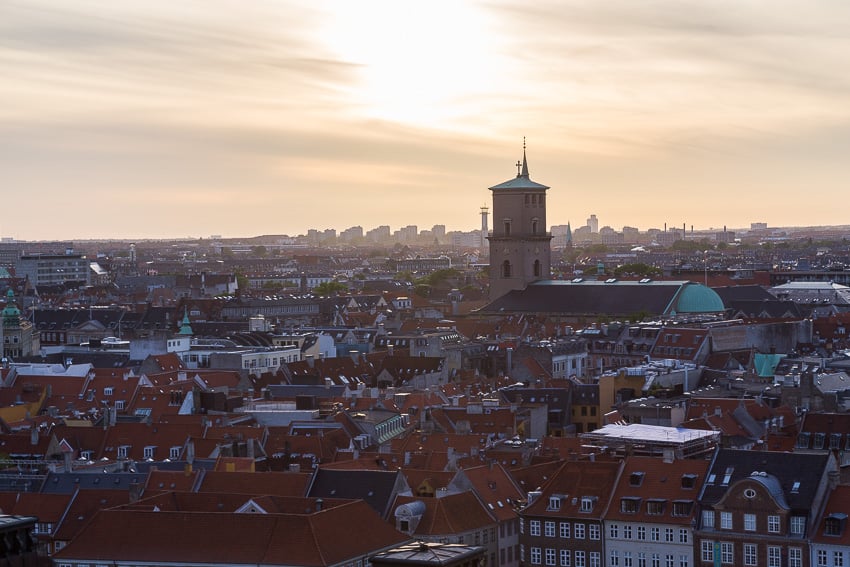 5. Round Tower
The Round Tower is an OK spot and the views are quite nice. But for taking photographs it wouldn't be easy if you wanted to use a tripod and take a long exposure, as there are two layers of metal caging. The caging makes it very hard to get anywhere near the edge. I found at this position my best bet was to hold my camera handheld and high. However whilst there is still some light and it's not too dark you should be ok.
During my visit, I wasn't there for sunset as the Tower closes at 8:00pm and sunset was at 9:15pm, hence the image below is a day shot. Consider visiting one of my other suggestions if you are in the city during late sunset times.
Price: Adults 25DKK, Children (5-15) 5DKK – Free with Copenhagen Card
Address: Rundetaarn, Købmagergade 52A, 1150
Website: www.rundetaarn.dk/en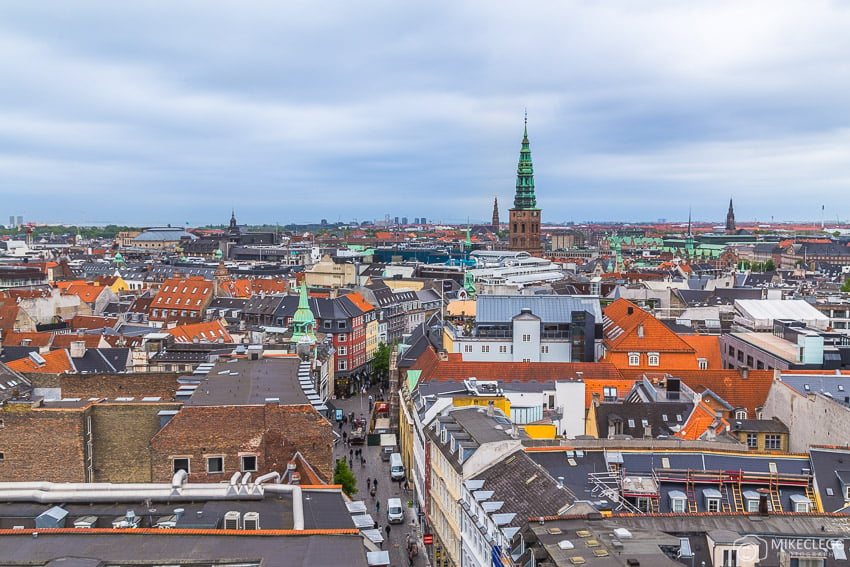 ADVERTISEMENT
CONTINUE READING BELOW
Other Viewpoint Ideas
I felt that from Paper Island or Copenhagen Opera House would have been a good viewpoint for sunset, although I didn't get to check this one out. 
---
Tours and Activities
---
Photography Tips
When taking pictures at sunset or sunrise consider using a tripod, keeping your ISO low and possibly using ND filters. Head to these posts to learn more about taking pictures at sunset/sunrise and using ND filters.
Photography Tips – Shooting in the Golden Hour
Photography Tips – Taking Photographs with an ND Filter
Ultimate Tips for Travel Photography
Related Articles