The Westbury Mayfair is a stunning hotel located in the heart of London. The hotel is part of The Luxury Collection which includes some of the finest hotels from around the world. The Westbury Mayfair was first opened in 1955 based on a Westbury that opened in New York in 1927, and when visiting the hotel you'll be encased in a luxury setting with elegant designs and incredible art. Within the hotel are some great gems including the Alyn Williams at The Westbury Michelin Star restaurant, the hugely popular Polo Bar and Tsukiji Japanese Restaurant. To learn more about this beautiful hotel keep reading to find out what it's like and to see more pictures.
Disclosure: Post in partnership with The Westbury Mayfair and The Luxury Collection.
Note that this hotel may now be closed. You can use the map below to find other options.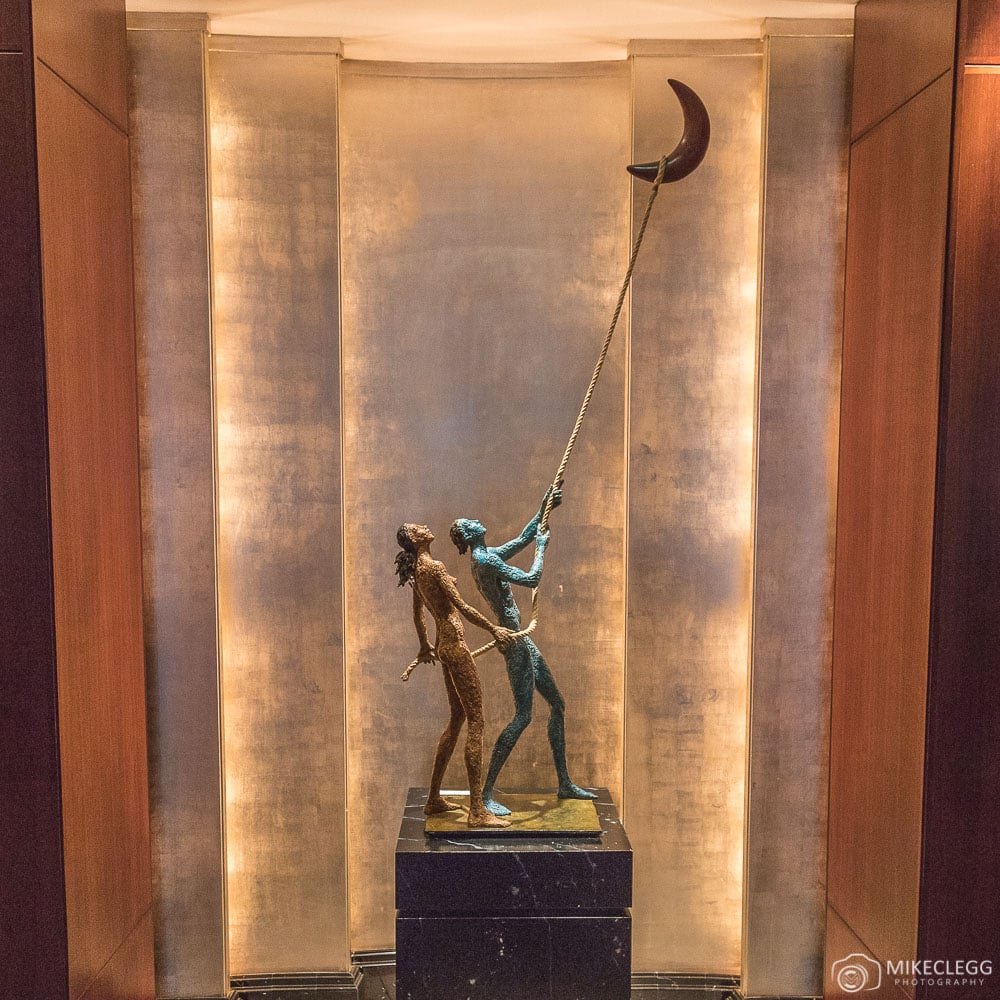 Rooms
The Westbury Mayfair has 225 rooms, which includes 63 suites. These range from 24 m2 for a Signature King, up to 133 m2 for the St. George's Penthouse Suite. The rooms are all beautiful and have been recently renovated by Alex Kravetz Designs and feature modern, luxurious designs with pleasant soft colours. There are rooms facing various directions from the hotel, including towards Conduit Street, New Bond Street and a courtyard, and if you stay in a room on the seventh (top) floor you will be able to enjoy rooftop views over Mayfair.
Prices for rooms start at £209 per night for a Signature King, £329 per night for a Junior Suite and from £4554 per night for the top St George Penthouse Suite. Prices correct at time of writing.
Luxury Suite
During my visit to The Westbury Mayfair, I stayed in a 'Luxury Suite' located on the 6th floor. The suite is 75 m2 and includes a bedroom, living room, main bathroom and separate guest bathroom. The suite is decorated with beautiful soft, rich colours and this created a sense of peace and harmony. Within the room is also a small balcony that looked out towards Conduit Street at the front of the hotel.
A few of the amenities in the suite include two large flat-screen televisions, a sofa and armchair, dining table, two desks/workstations, a trouser press, safety deposit box, coffee machine, minibar and various other features.
All the Suites at The Westbury Mayfair also come with their own butler who will show you around the room and cater for your needs.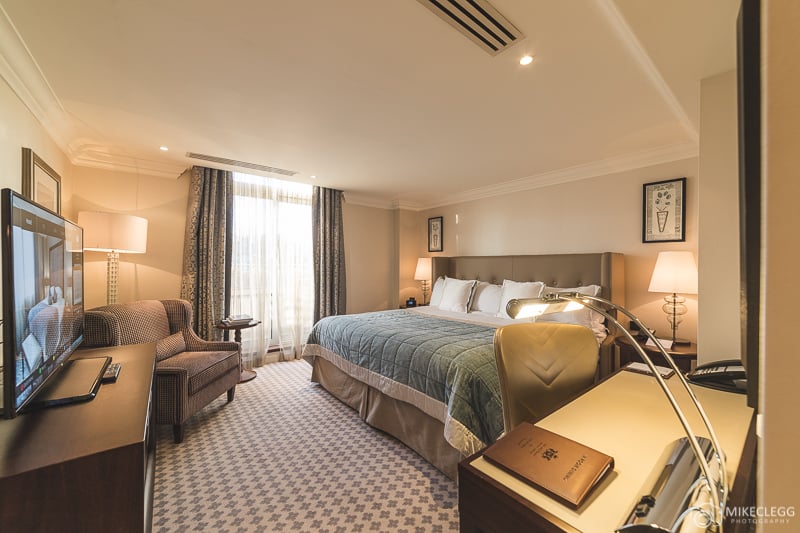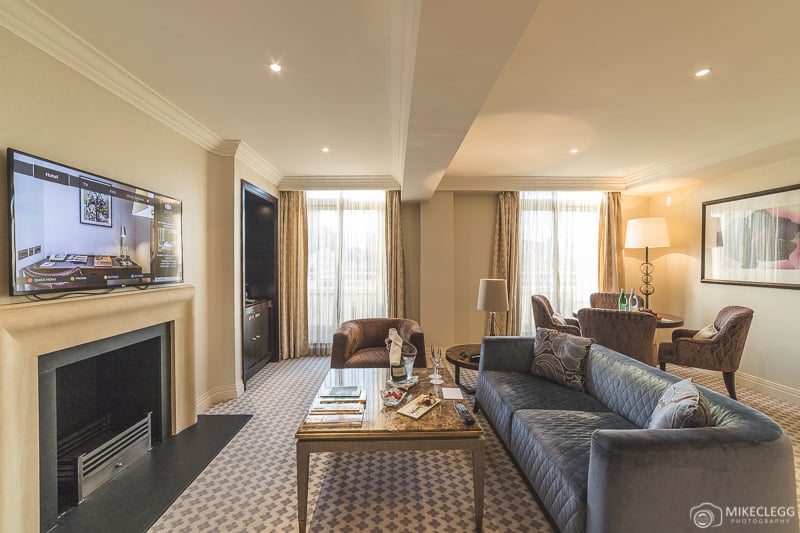 Bathroom – The bathroom in the Luxury Suite is fitted with luscious marble and includes dual sinks, a large bath, a separate stand up shower, toilet and bidet. In suites, there is a large selection of toiletries by Asprey, including shower gel, shampoo, conditioner, body lotion and bath salt. As well as this is are spares including shaver and toothbrush kit. If you are staying in a non-suite the toiletries are by Byredo Le Chemin (also a top luxury brand).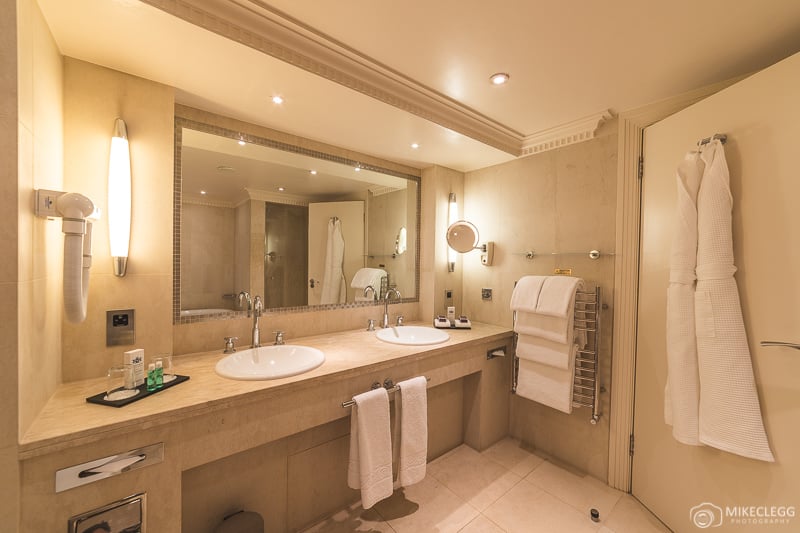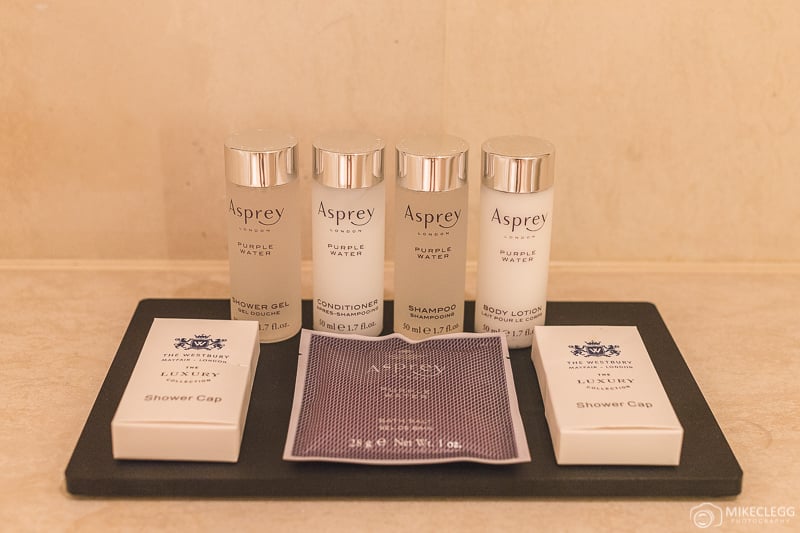 Handy
A cool feature that you'll find in all the rooms is a "Handy" which you can take as you explore the city. The Handy has free internet access, lots of apps including Google Maps. Chrome and Gmail, as well as having the ability to make locals calls.
Other rooms
To learn more and see pictures of the other rooms throughout The Westbury Mayfair head to westburymayfair.com/rooms.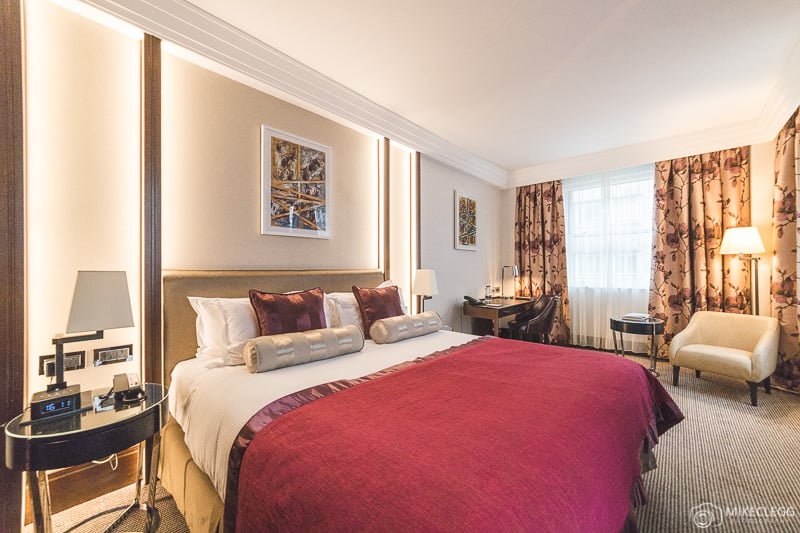 Restaurants and bars
You could easily do all your dining in The Westbury Mayfair hotel, with Tsukiji serving delicious Japanese cuisine, Polo Bar serving a range of dishes from sandwiches, bar food and even sushi, or for a special treat visit the Michelin Star Alyn Williams at The Westbury.
Alyn Williams at The Westbury
Alyn Williams at The Westbury has four AA Rosettes and a Michelin Star and is in a luxurious setting, where you'll be surrounded by opulence, from the glittery carpet to the ceiling. Within the restaurant, there is a private 10 person dining area called the Wine Salon, where you pick a world-class bottle of wine (from over 600 options) and then Alyn will create a menu that pairs with the wine. For me, this sounds like an incredible way to dine and quite a unique experience. Head to alynwilliams.com to read more and to book a table.
Breakfast – This restaurant is also the location for breakfast and on the menu, you'll find a great selection of options, including traditional English Breakfast, Eggs Benedict, porridge/oatmeal and a great range of other options.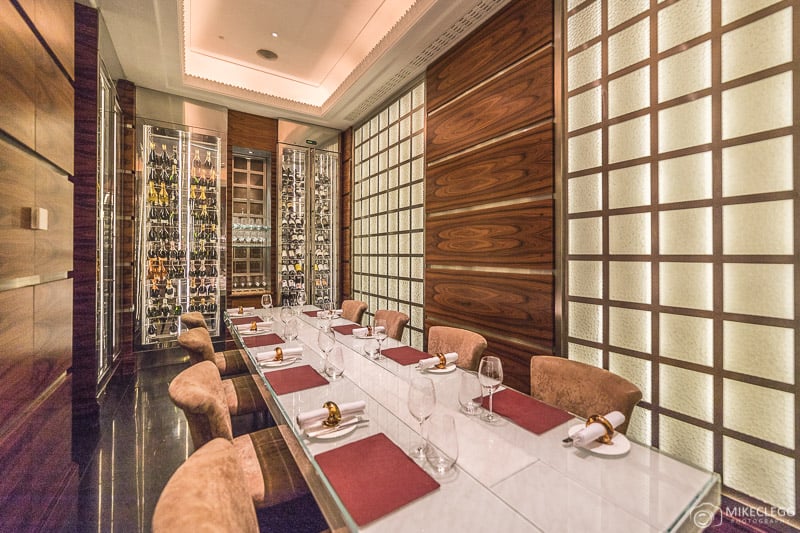 Polo Bar
The Polo Bar is an award-winning upscale bar and is extremely popular with locals with around 75% of visitors not being guests of the hotel. For me, this makes it clear that the bar is recognised as the place to go to take clients, impress a date, or just have a wonderful evening with friends.
On the menu, you'll find an extensive range of cocktails, from Signature to Classics. Many of the staff are experts in their field, with General Manager Elias having worked for 12 years, and Head Mixologist Carmine having worked at the bar for 8 years. If you are visiting with others a neat feature the bar provides is a "mini-me" which is where you get a smaller glass for your friend to enjoy when ordering a martini cocktail.
As well as drinks you can also get food in Polo Bar, from sharing options, sandwiches, English specialities including British Fish and Chips, and even Sushi from the in-house Japanese restaurant.
If you visit on Friday and Saturday night from 7:30pm to 11:30pm Polo Bar has live music, with performances from a selection of artists. Another special feature the bar does is create a special cocktail for each artist.
More info and contact details: westburymayfair.com/polo-bar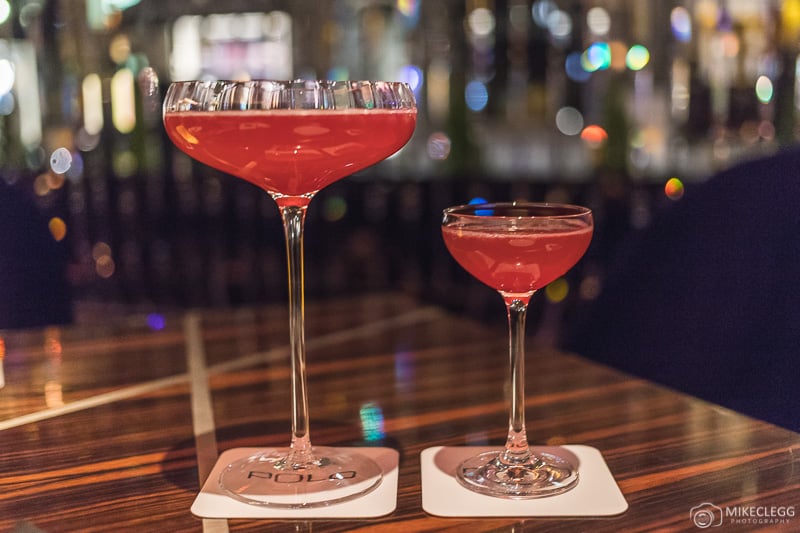 Tsukiji Sushi Restaurant
For those that love Sushi and Japanese Cuisine then you won't go wrong with dining at the Tsukiji Sushi Restaurant. Although during my stay I didn't eat in the restaurant, I did get to enjoy some of their Sushi in the Polo bar and it was delicious!
Visit westburymayfair.com/tsukiji-sushi for more info and contact details
Facilities
Here are some of the facilities that you'll find throughout the hotel.
Gym
On the second floor, you'll find the gym which includes cardio equipment, free weights and exercises machines. There is also some fresh fruit and water. To access the gym you just need to use your room key.
To read more about staying fit whilst travelling head to my article: Travel Tips: How to Stay Fit Whilst Travelling
Meeting rooms
The Westbury Mayfair would make for a great place to have your meetings with two private rooms, The Pine Room and the Mount Vernon Room. Both rooms can be set up as a boardroom, classroom, cabaret, private dining, theatre of standing reception. The Pine Room is 90 m2 and was my favourite with the walls covered in beautiful pine and artistic wood designs. This room can accommodate 35 guests in a boardroom setting through to 100 in a standing reception. The Mount Vernon Room is slightly bigger at 108m2 and can accommodate up to 120 guests in a standing reception.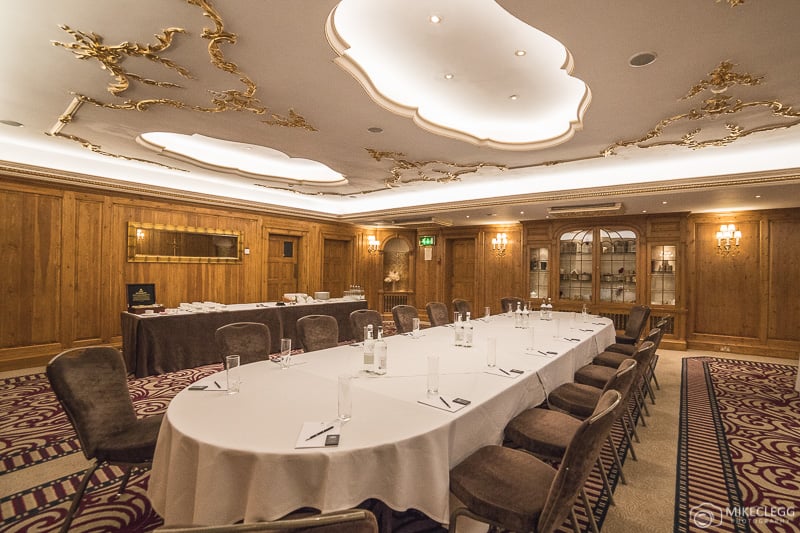 Business Centre
For those needing computer access or to print something then you can visit the Business Centre where you'll find several computers and a printer.
Other notes on the hotel
WiFi – Wifi is available and I found it fast and reliable.
Transfers – Private car transfer options are available from the concierge.
Public transport – If you are arriving via public transport you'll find Oxford Circus and Piccadilly Circus stations a short walk from the hotel.
Check-in and Check-out times – The standard check-in time is 15:00, and the standard check-out time is 12:00 noon.
Plug sockets – Throughout the room you'll find standard UK Type G sockets at 220v. If you need an adapter I recommend the  Skross PRO World Travel Adapter which I use around the world. You should also check your devices are the correct voltage, as some countries have devices with lower voltages. I use www.power-plugs-sockets.com to check local voltage and frequency or contact the hotel in advance.
Things to see and do nearby
The Westbury Mayfair hotel is in a prime location and a short walk from major shopping streets such as Oxford Street, Regent Street, as well as New Bond Street and Mayfair where you'll find lots of upscale boutique brands. A longer walk or few stops on the subway you'll find major landmarks including Buckingham Palace, Westminster and The London Eye. If you'd like to see a performance you will find yourself in the heart of West End and a short distance from many theatres.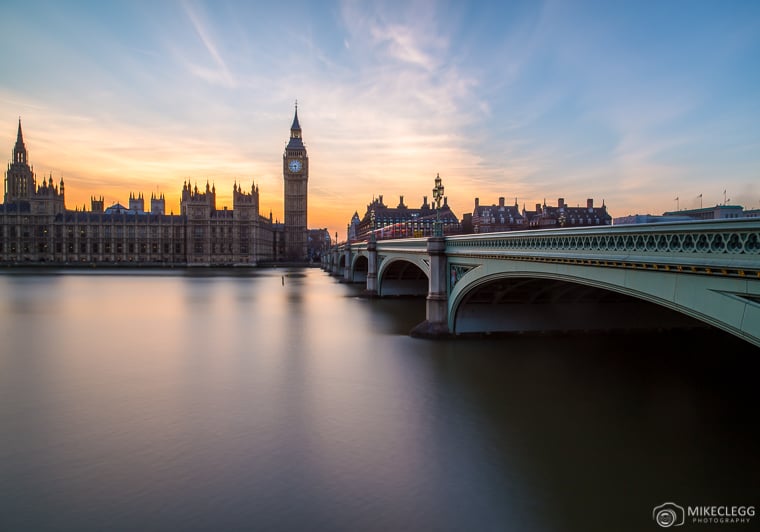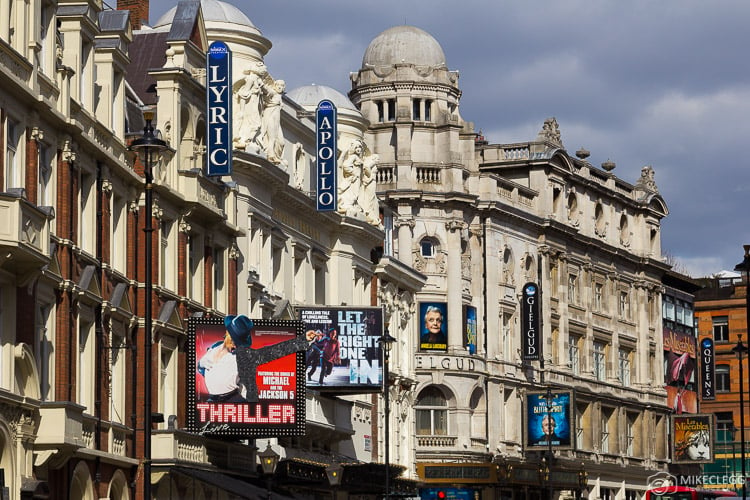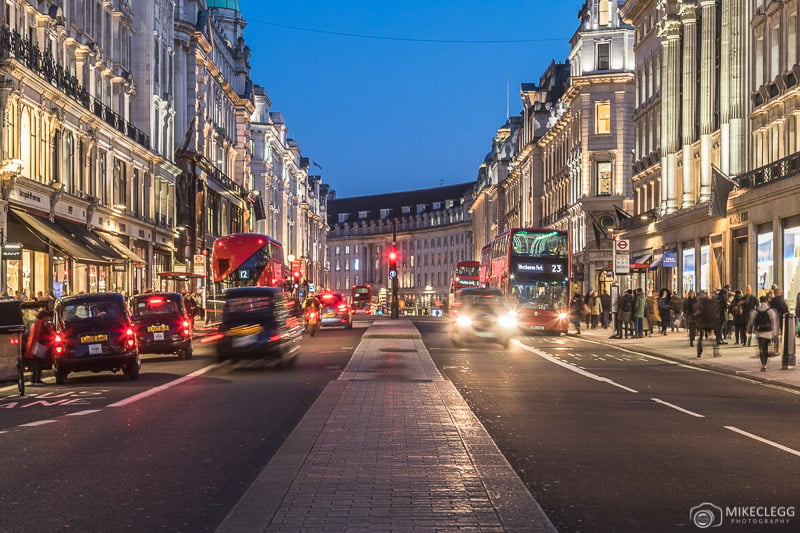 Conclusion
For those visiting London and wanting to stay in one of the city's most beautiful luxury hotels and in a great location, then The Westbury Mayfair would be a great choice. Head to the hotel website westburymayfair.com to learn more and book your stay.
Related Articles