Mount Fuji is more than just a mountain. It's an iconic peak, a national symbol for Japan, and a UNESCO World Heritage Site that attracts travellers from all over the world. As a visitor, you can hike on the slopes of Mount Fuji or see the giant from one of the viewpoints. With its elevation of 3776 metres above sea level and its conical, snow-capped summit, Mount Fuji towers above its surroundings. This dormant volcano is even visible from Tokyo on a clear day, even though the capital lies more than 100 kilometres northeast of Mount Fuji.
In this travel guide we explain the different ways to get to Mount Fuji, the best viewpoints, hiking opportunities, where to stay, and more to help plan your trip to this iconic landmark.
---
How to Get to Mount Fuji?
Here are the various ways to get to Mount Fuji:
Bus
The bus is a convenient and low-budget option for independent travellers. Tokyo Station Yaesu is the starting point for those who start their journey in the capital. From here, buses depart for a 2-hour drive to Kawaguchiko. Once you're in Kawaguchiko, you can change buses to one of the hiking trailheads, as indicated at the bus station. From departure points other than Tokyo, it's best to travel by train.
Train
It's possible to get very close to this phenomenal mountain by train, both to the south and the north. From Tokyo, one option includes getting the train to Mount Fuji station, with a transfer in Otsuki station. This is then very close to Lake Kawaguchi and the famous Chureito Pagoda (first photo).
The other option is to take the JR Tokaido line and hop off in Kozu. Here, transfer to the JR Gotemba line heading for Numazu and get off the train in Gotemba. From Gotemba, buses tackle the last part of the journey to trailheads of different hikes.
From southern destinations like Osaka and Kyoto, board a Shinkansen bullet train for a journey to Mishima station. You can then change trains to the JR Tokaido line, and leave the train at Numazu. One more train swap eventually brings you to Gotemba station.
TIP
If you're planning to travel and see much of Japan then consider either the
JR Pass
or a
Regional Pass
to give you unlimited travel over a set number of days. Remember though to consider how much you'd be travelling before booking so as to determine what works best for your trip.
ADVERTISEMENT
CONTINUE READING BELOW
Driving
In case you're renting a car for your journey in Japan, type Fujisan Parking Lot in your navigation system. This is the closest you can get to Mount Fuji, and free shuttle buses depart from here to the start of the hiking tracks. From central Tokyo, it's approx. 110-kilometre or a 90-minute drive to reach this parking spot. Are you visiting Mount Fuji from Nagano? Reserve 3 hours for the 200-kilometre trip.
When venturing from Osaka or Kyoto, it's best to book an overnight stay before heading up to the mountain. The distance of 400 kilometres is too long to combine the drive with a hike at Mount Fuji during the same day.
Tours
If you want to be driven around in comfort and be sure not to miss any highlights around Mount Fuji, then full-day tours operating from Tokyo is a good option. During some of these expeditions, you might visit one or more of the five scenic lakes around Kawaguchiko, have a traditional Japanese lunch, and stop at a mountain station to get epic views of this legendary peak. You can find options on sites such as Viator and GetYourGuide. Below are a few options you might like:
---
Mount Fuji Viewpoints
You can hike Japan's most monumental volcano, but should you lack the time then you can also visit numerous viewpoints to take in the vistas of Mount Fuji.
Lake Kawaguchiko
Lake Kawaguchiko is an exceptional place, as it reflects Mount Fuji's perfectly symmetric cone on calm days when the lake's surface is still. Make sure to position yourself at the northern shore of the lake. Also, try and arrive early morning or around sunset where you might get magical colours in the sky. You may like our Photography Tips for Using Reflections in Your Pictures.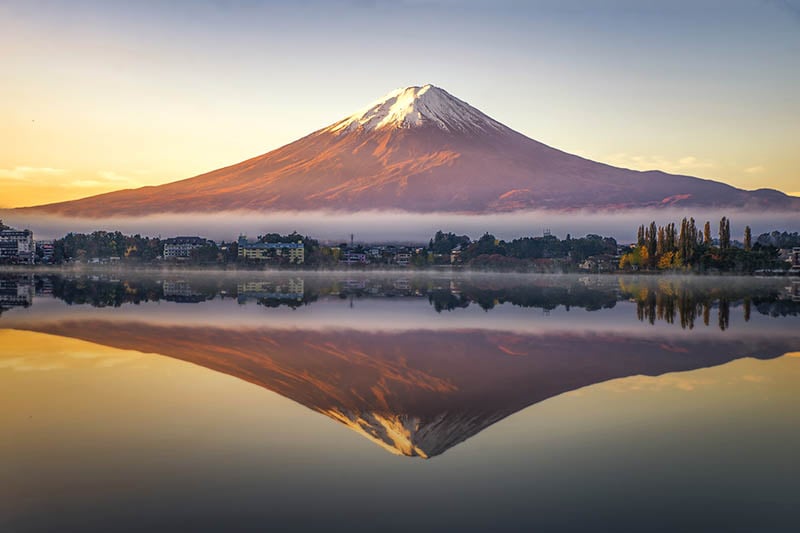 Chureito Pagoda
Most likely, you've already seen the most famous viewpoint of Mount Fuji on social media or in magazines: the panoramic appearance of Fuji as seen from the Chureito Pagoda. This multi-storey shrine provides a wonderful contrast to the mountain in the background. Especially during the cherry blossom season, this location becomes increasingly popular with visitors looking for the perfect shot. Note that as this viewpoint is very famous it's worth visiting early morning just after sunset, or close to sunset.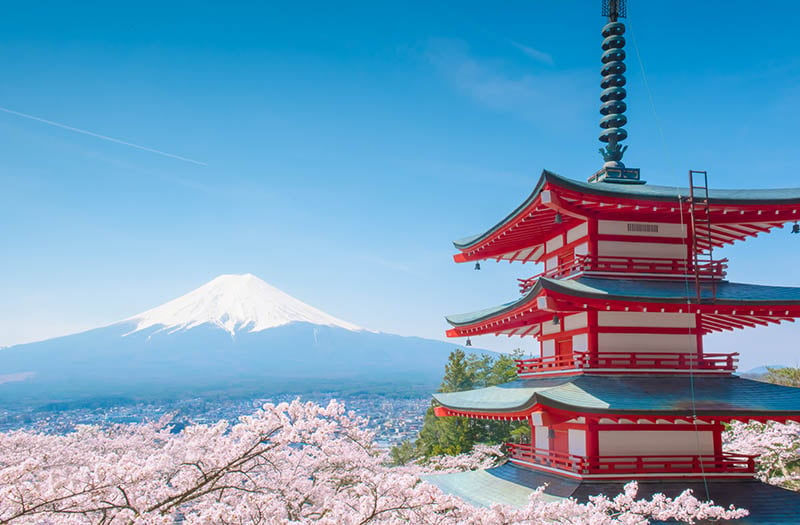 ADVERTISEMENT
CONTINUE READING BELOW
Lake Ashinoko
You don't have to travel near Mount Fuji to see it's majesty. From the eastern shore of Lake Ashinoko – 50 kilometres east of the summit – you'll get to enjoy brilliant perspectives. From the lakeside, you can see Mount Fuji, lush woodlands, and the colourful Hakone Shrine. Also available here or through a tour are boat rides.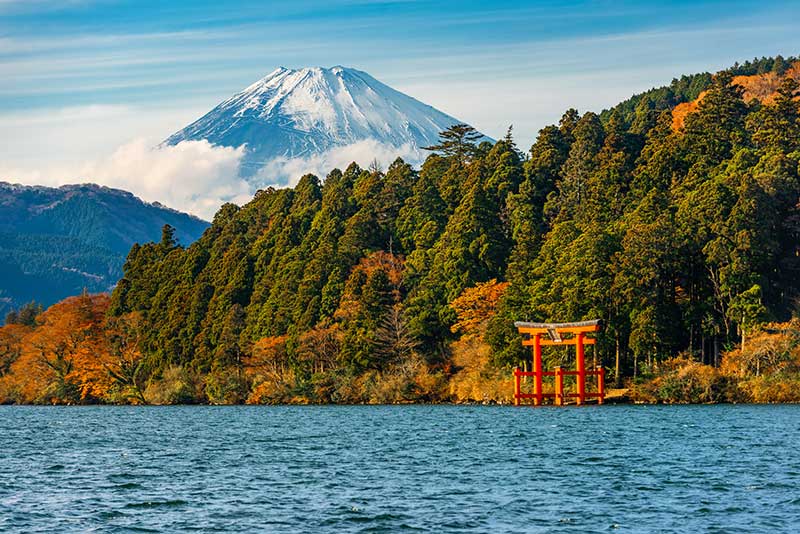 Train Views
If you have no time to stop near Mount Fuji at all, there's still a chance to catch a glimpse from the train. The Tokaido Shinkansen between Osaka and Tokyo passes by the mountain and offers outstanding vistas of 'Fuji-san'. From Tokyo, make sure to reserve your window seat on the right side of the train. When travelling from Osaka, you should be seated on the left side for the best experience. Ask your accommodation or staff at the railway station to reserve the correct seat for you.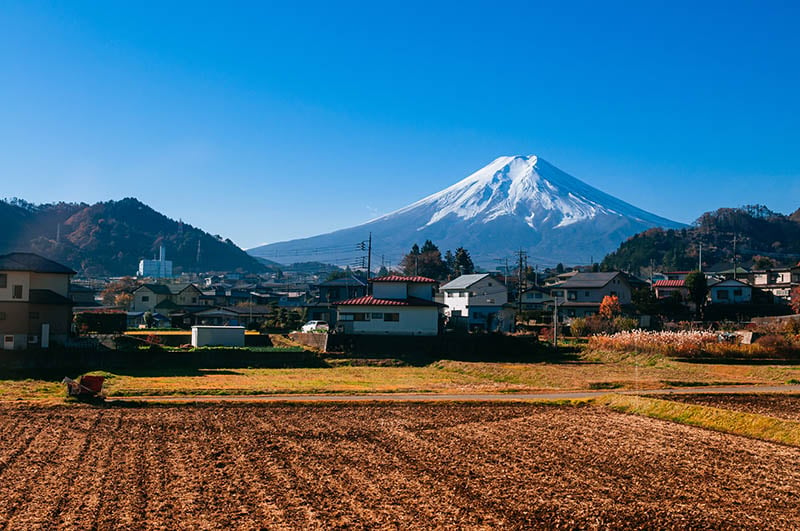 TIP
Note that Mount Fuji is notorious for often hiding behind a thick blanket of clouds. If your travel schedule allows it, try to stay around the mountain at least overnight to boost your chances.
---
How to Hike Mount Fuji?
On the mountain itself, hiking is the main thing to do. To reach the summit of this fabled mountain, you can choose from 4 different trails to tackle: the Yoshida, Fujinomiya, Subashiri and Gotemba routes.
Yoshida trail
The Yoshida trail is the most popular one, as it starts at a high altitude of 2300 metres, which shortens the hiking distance. It takes 6 hours to ascend along this tramping track, which begins at Fuji-Subaru Line 5th Station. Along the way, expect incredible views of the countryside north of the mountain. Thanks to the popularity of the Yoshida route, you can rejuvenate in numerous mountain huts along the way or grab a refreshing drink from vending machines. This route requires the least physical effort, but it will still cost you 10 hours for a round-trip trekking. However, accommodations are available along the way, if you opt to break the journey into pieces.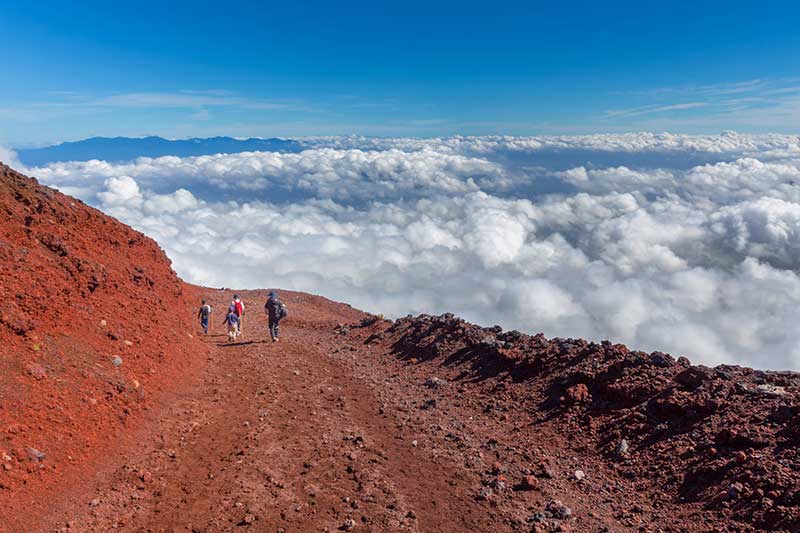 ADVERTISEMENT
CONTINUE READING BELOW
Fujinomiya trail
When tackling the Fujinomiya trail, you'll cover the shortest distance of all hikes. Prepare for a 3.7-kilometre walk up from Fujinomiya 5th Station, which take at least 5 hours. A significant benefit of the Fujinomiya trail is the easy access to Mount Hoeizan – Fuji's secondary peak – if your feet can still carry you there. This hike covers the southern slope of Mount Fuji and offers stellar views over the Pacific Ocean.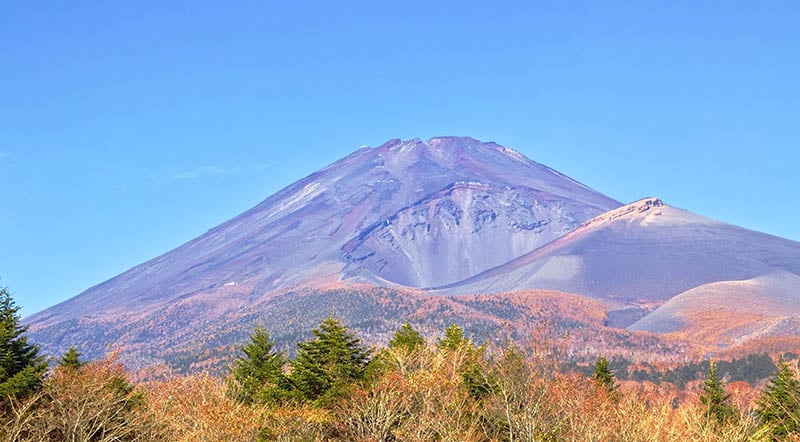 Subashiri trail
The Subashiri trail starts at Subashiri 5th Station. Despite the starting point being located at an altitude of only 1950 metres, the total tramping time is roughly the same as it is with the other hikes. Pick this route to avoid the crowds, and if you wish to wander through magnificent forests below the treeline. The Subashiri track is the least mainstream track, but there are still heaps of toilets and eateries along the way.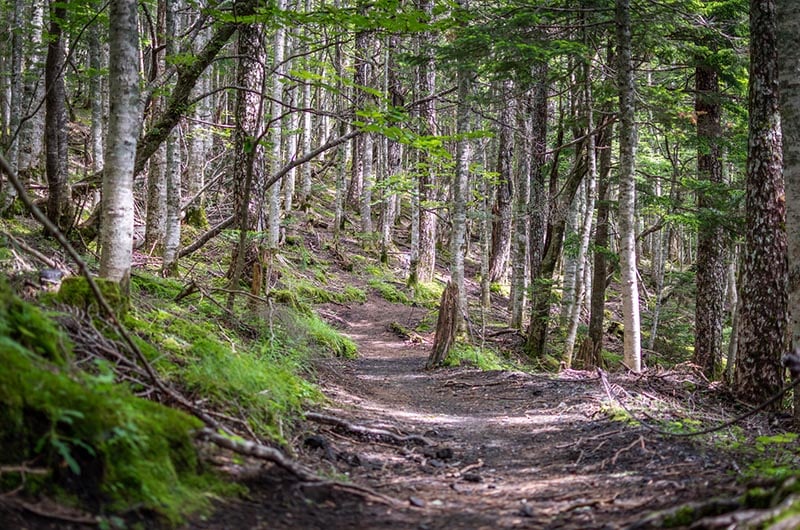 Gotemba trail
Gotemba trail is the most challenging and should only be attempted by those with good physical fitness. The trailhead is located at the height of 1400 metres, and it takes 7 to 9 hours to reach Fuji's top. Be prepared with protective clothing and supplies, as this route isn't very developed and you won't find much shelter from the elements. But if you're down for an adventure in solitude, this is the course for you.
Best time to hike
The exact hiking season changes each year, but the right time to venture for Fuji is generally from early July to the end of August. Outside this period, the hiking tracks and mountain huts will be closed, and hiking up the summit is even prohibited. During the right season, the trails are accessible 24 hours per day.
ADVERTISEMENT
CONTINUE READING BELOW
---
Where to Stay?
Huts are located along the routes for trampers who want to divide their walk into sections. These mountain refuges are often basic dormitories, although most of them provide sleeping bags and pillows. On average, every route has three huts to stay in and to stock up on food for the final ascend. If you want to observe Mount Fuji from a distance or discover the charming Pacific coastline as well, staying in Fuji city is recommended. Visit the Mount Fuji World Heritage Centre or shop for local delicacies in Asagiri Food Park.
You could also stay in the cities of Fujiyoshida, Gotemba or the city of Fuji. Booking.com has a fairly wide selection of accommodations to choose from. You can also use the map below to search.
---
Where to Eat?
Before you start hiking, you'll have a chance to sit down at the restaurants at the 5th stations and browse shops to buy snacks for the hike. In the mountain huts on Fuji's slopes, meals, drinks and snacks are also available. These provide decent meals for around 800 to 1200 yen. Some mountain huts include (simple) dinner and breakfast in the rates.
Mainly Kawaguchiko hosts several eateries with stunning Mount Fuji views, including the Japanese noodle restaurant Hotokura Funari Kawaguchiko and the cafe at Kawaguchiko Tenjozan Park. The latter can be reached via a ropeway from the lakeside. With the unspoiled outlook over Fuji-san, here's hardly a better place imaginable to savour some matcha and sweet treats.
---
Summary
There are endless ways to embrace the magic of Mount Fuji, whether you want to hike its summit or just fall into awe from a distance. Seeing this icon of Japan is a travel experience you won't ever forget, and you can't go wrong with any way you'd like to experience the mountain. The proximity to Tokyo makes this an ideal outdoor destination, even if you're on a tight schedule.
Ready to book? Search for:
---
Related Articles