Tokyo is a destination known for its perfect blend of traditional Japanese experiences and exclusive, futuristic attractions. With a range of things to do in the city, a trip to Japan is simply incomplete without stopping by Tokyo.
Planning a visit? Here is your city guide to visiting Tokyo, including what to do, where to stay, getting around, and other helpful tips.
---
About Tokyo
Known as the world's most populated city, Tokyo is home to over 9 million people. Although the city is known for its iconic spots, such as the bustling Shibuya Crossing and the iconic Tokyo Tower, there's plenty of unknown experiences waiting to be uncovered. Wander through unique shopping streets, visit animal cafes, enjoy delicious cuisines, admire the city from above or even venture outside the city to explore some of Japan's other gems.
ADVERTISEMENT
CONTINUE READING BELOW
---
What to see and do
Here are some of the top things to do during your visit to Tokyo:
Tokyo Tower – Want to admire the beautiful skyline of Tokyo from above? The Tokyo Tower is the perfect spot to do just that! Standing at an impressive 333m, the Eiffel Tower-inspired structure offers panoramic views of the city in all directions.
Shibuya Crossing – The busiest pedestrian crossing in the world, with over 1000 people crossing at a time during rush hour; Shibuya Crossing is an unmissable spot when visiting Japan. Experience the rush for yourself or enjoy the view of patrons flooding the intersection from one of the surrounding buildings.
Nakamise Shopping Arcade – A bustling shopping arcade on the border of Tokyo's ancient Buddhist temple; the Nakamise shopping arcade is the perfect spot for travellers to grab a treat, purchase a souvenir and appreciate Japan's traditional side.
Tokyo Disneyland – Tokyo's Disneyland was opened in Japan as the first park located outside the U.S. The park stretches across 115 acres and offers guests the opportunity to enjoy rides, explore diversely themed worlds, and interact with memorable Disney characters. A trip to Tokyo's Disneyland always makes for an entertaining day-trip.
Takeshita Street – Takeshita Street is a lively hub that must be experienced when visiting Tokyo. The street is bursting with colour, patrons dressed in unique outfits, stores offering unusual treasures, and more crepes than you could imagine. Takeshita Street is located in Tokyo's Harajuku.
Tours and activities
Below you can see some tours and activities you may be interested in. Click the blue button for lots more ideas.
---
Where to stay
Tokyo's accommodation is vast and diverse, holding the ability to suit any budget big or small. Here are some worthy options to check out while you're planning your trip.
Budget – Hotel Monday – Hotel Monday is located only 7km from Tokyo's heart. The property offers free wifi, a buffet breakfast, a free airport shuttle, and multilingual staff.
Mid-range – Shinagawa Prince Hotel – The Shinagawa Prince Hotel is located right next to one of Tokyo's main train stations, from where travellers can reach Haneda airport via a 25-minute ride. The hotel also includes swimming pools, up to 15 food and drink options, and an aquarium.
Luxury – The Prince Gallery Tokyo Kioicho – Only 1km from the city centre, the Prince Gallery Tokyo Kioicho has one of the best ratings for location in Tokyo. The hotel offers guests free wifi, is within a few minutes walk from major train stations and is home to a wellness spa and a handful of restaurants.
For more places to stay use our interactive map below.
Disclosure: we get a commission at no cost to you if you book via our links.
---
When to go
The best time to visit Tokyo is during Japan's colourful Cherry Blossom season. The cities range of iconic cherry blossoms offer a serene pink backdrop which is incredible to see. The Cherry Blossom season runs from around late March to early May. However, this time of year is understandably the country's peak season for travel, consequently delivering higher hotel rates and crowds.
Alternatively, visitors wishing to save some money can visit in late spring or autumn. The weather conditions are enjoyable while crowds and hotel prices won't be at an all-time high.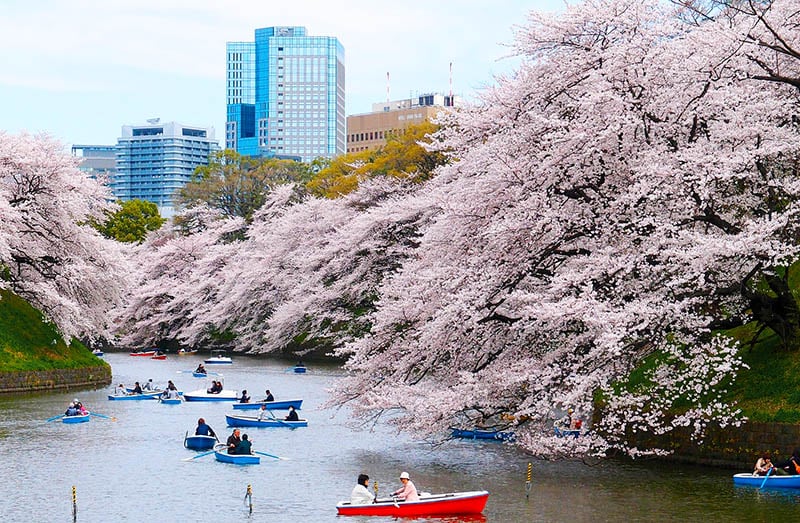 ---
Getting around Tokyo
Arriving to the city
Making your way into Tokyo from the airport may seem like a daunting task, especially if you don't speak Japanese. However, the journey proves to be effortless. International travellers coming to Tokyo will arrive at the Narita International Airport. From the airport, you can make your way onto the Keisei Skyliner and ride to Nippori Station. From there you can then make your way onto the JR Yamanote Line to arrive at Tokyo Station. The trip takes approximately 90 minutes.
Within the city
Tokyo's public transport is one of the most impressive and efficient systems you'll ever come across. You have the option of obtaining a prepaid travel card or buying tickets at the entry points of the station. Although, with the population Tokyo has, rush hour can get cozy. It's best to try and avoid commuting between 8 – 9am and 5:30pm.
Taxies are another option, although these aren't as effective as the trains and can be rather expensive.
ADVERTISEMENT
CONTINUE READING BELOW
---
General tips and info for visiting Tokyo
Consider purchasing a rail pass – The JR Rail Pass proves to be a worthy investment for any travellers wishing to visit Japan's major cities. The pass offers tourists access to Japan's bullet train system, for a fixed price, over a selected timeframe. It's also important to note that the JR Rail Pass can only be purchased in your home country and activated in Japan with a passport.
Learn some phrases – As English isn't a prominent language in Japan, it may be a good idea to take a few phrases over with you. Here are a few to remember.
Sumimasen – Excuse me
Ergo o hanasemasu ka? – Can you speak English?
____ wa dok desu ka? – Where is _____?
Gomem nasai – I'm sorry
Wakarimasen – I don't understand
Mario Karts are everywhere – at first, you may do a few double-takes, although you'll soon realise that tourists jump at the chance to dress up as various Mario-Kart characters and roam the streets in small go-karts. The sight will leave you wondering where you can sign up.
Take advantage of online videos – If you're uneasy about visiting Japan due to the language barrier surrounding the destination, it's best to watch a few videos and tutorials online. Here, you can learn countless things such as how to get from the airport into Tokyo, how to pronounce key phrases, how to buy a train ticket etc.
Rubbish bins are rare – Although Japan is renowned for being a clean destination, you'll have difficulty finding a rubbish bin. It's best to take a tote bag with you on your journeys to store waste until you find an appropriate disposal place.
---
Further reading and resources
If you're chasing some more information for your visit to Japan, consider reading Lonely Planet's Travel Guide
.
For other up-to-date info, consider visiting the national tourism website.
Summary
Tokyo and Japan, in general, are incredible to visit, offering unique experiences that you won't find anywhere else. To explore more of Japan why not see our suggested itinerary that shows you many of the highlights.
Related Articles