Japan has no shortage of engaging, population hubs that provide its guests with distinctive ventures and unforgettable memories. Although Tokyo carries a lot of these attractions that must be explored, just outside the city are charming towns and small cities, hiding plenty of new and exciting experiences.  When travelling it's often worth taking the road less travelled so that a deeper appreciation of the destination can be achieved. So keep reading to escape the bustle of Tokyo with these day trips from the city.
---
1. Mt Fuji
Japan's tallest peak, Mt Fuji is appreciated by both locals and travellers from all over the globe and is a treasured icon of Japan. This active volcano is located approximately 2 hours southwest of Tokyo. Surrounding it are a collection of vibrant spots for travellers to experience its beauty from afar.
Travellers can view the majestic gargantuan that is Mt Fuji, whilst floating across the calming waters of Lake Ashi, surrounded by lush greenery. Alternatively, visitors can gain a closer look by travelling up the volcano to the 5th station. This station is home to sweeping views of the landscape that Mt Fuji overlooks and provides an up-close look at the snowy peak. The area is also home to gift shops and food stalls to enjoy.
TIP
You'll find various day tours available. Some of the tours available take you to some of the most scenic spots for seeing the mountain, including access to a cable car that takes you up to an observation deck.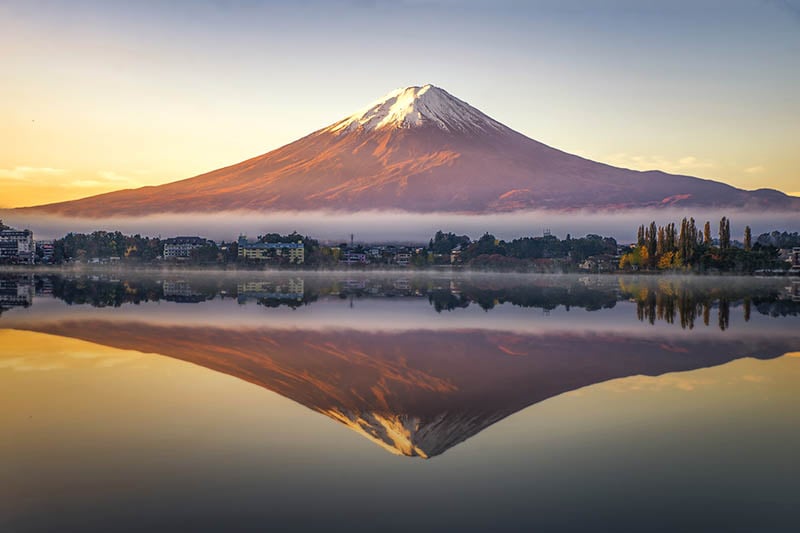 2. Nikkō
Nikkō National Park is located throughout the mountains north of Tokyo. Within the park are serene temples and colourful landscapes waiting to be explored. The park is located approximately 3 hours from Tokyo and is easily accessible through one of the many day tours available.
The popular Nikkō Tōshō-gū Shrine is a praised destination amongst travellers. The shrine was built in 1617 and contains a variety of complex paths and stairways to explore. Visitors can also admire the impressive wood carvings scattered throughout the colourful temple.
Located only 30 minutes from Nikkō Tōshō-gū is a scenic lake, bordered by towering mountains and flourished plant life. Lake Chūzenji was created over 20,000 years ago as a result of a volcanic eruption. Today the lake is a popular destination of Nikkō National Park, well known for its beauty.
Only 5 minutes from Lake Chūzenji is the only spot water can exit the lake, Kegon Falls. The falls extend to almost 100m and are known as one of Japan's three most beautiful waterfalls. Kegon Falls can be viewed from a free viewing platform, surrounded by a plentiful range of green maple trees, or guests can pay to take an elevator to the base of the waterfall for a view from below.
Many day tours incorporate these destinations into a visit to Nikkō National Park, along with many other scenic gems within the area.
Head to nikko-travel.jp to learn more.
ADVERTISEMENT
CONTINUE READING BELOW
3. Kamakura & Enoshima Bay
Located only 1 hour south of Tokyo, Kamakura is known for its tranquil temples and traditional restaurants and makes for a perfect day trip. You'll find the Hōkoku-ji Temple, which is a Buddhist Zen temple, comprised of lush Japanese gardens, clear ponds and an extensive bamboo forest. The serenity exuded from the garden and into guests proves to be a serendipitous experience. A collection of restaurants are also in walking distance.
After visiting the temple, The Great Buddha of Kamakura is a spectacle that deserves attention. A bronze Buddha, standing strong at 11.4m has endured multiple typhoons and tsunamis since its outdoor establishment in 1495. The statue is one of the largest Buddha statues in Japan and is a sight not to be missed.
Venture down to Enoshima, a small island accessible by road and easily explored on foot. The area gifts visitors with sweeping views of the bay and is also a popular spot among local surfers. Walkthrough narrow streets lined with a vast range of small markets and food stalls, with sweet aromas engulfing the path. Lush, green trees peer over the short buildings, with a large torii gate standing at the entrance of the Enoshima Shrine. Trek to the peak of Enoshima Island, amongst colourful gardens and worshipped shrines, to an excellent vantage point, providing ever-extending views of Kamakura from above.
4. Mount Nokogiri
Mount Nokogiri is home to unique hikes with remarkable views and one of the largest Buddha statues in Japan. It is the perfect place to retreat from Tokyo's bustle and to the sweeping countryside of Japan. Scattered throughout the mountain are plenty of spots to explore and enjoy.
The Nihonji Temple extends its network of paths throughout Mount Nokogiri. The temples main attraction is a 31m tall stone Buddha statue, which took 3 years to carve back in the 1780s. Lining the path on the mountain are approximately 1500 statues of disciples. The artists who created the Big Buddha Statue also created these.
The mountain peaks hold many viewing spots, overlooking the lush landscapes below. Such as the Jigoku Nozoki lookout, otherwise known as 'Hell Lookout', which is popular among tourists. In fact, on clear days visitors can spot Mt Fuji and the Tokyo Skytree. Due to the wide range of things to see and do upon the mountain, there's no shame in getting a head start by catching the ropeway up. Located merely 1 hour south of Tokyo, travellers during their day trip can spend more time appreciating the unique beauty of this particular destination.
ADVERTISEMENT
CONTINUE READING BELOW
5. Chichibu
Chichibu contains tranquil shrines to wander through and colourful fields to admire. Popular shrines within the city include the Mitsumine Shrine and Chichibu Shrine. The Mitsumine shrine is located amongst the summit of Chichibu's surrounding mountains and contains a variety of distinctive features that other Japanese temples simply do not. Some locations within the grounds of the shrine also provide impressive views of the surrounding landscapes.
Another popular spot located within the city is Hitsujiyama Park, delivering visitors with extending fields of pink, white and purple flowers. The flowers come into bloom within late April to early May and tend to draw in many visitors.
Chichibu is a colourful destination and located about 2 and a half hours north-west of Tokyo. Travellers consider this small city a perfect spot for a change of scenery and to escape on a day trip from the buzz of Tokyo.
Summary
From Tokyo there are plenty more day tours available and you'll find various options such as below. Another option is to get a JR Pass giving you unlimited travel and allowing you to explore the lesser-known and less touristy destinations, which might also give you some unique insights into the culture.
---
Tours and Activities From Tokyo
Related Articles