English food is pretty delicious, although not always the healthiest. Below you'll find some of the top mains, desserts, snacks and other tasty items recommend to try when you are visiting England.
English Breakfast
You've probably heard of an English breakfast before right? Well, it's one of the best (but not healthy) breakfasts to start the day with. It often includes sausages, bacon, eggs, baked beans, toast, and sometimes mushrooms, tomatoes and black pudding.
You'll be able to get an English Breakfast at many hotels as well as pubs. Or if you're staying at an apartment then why not put one together yourself?!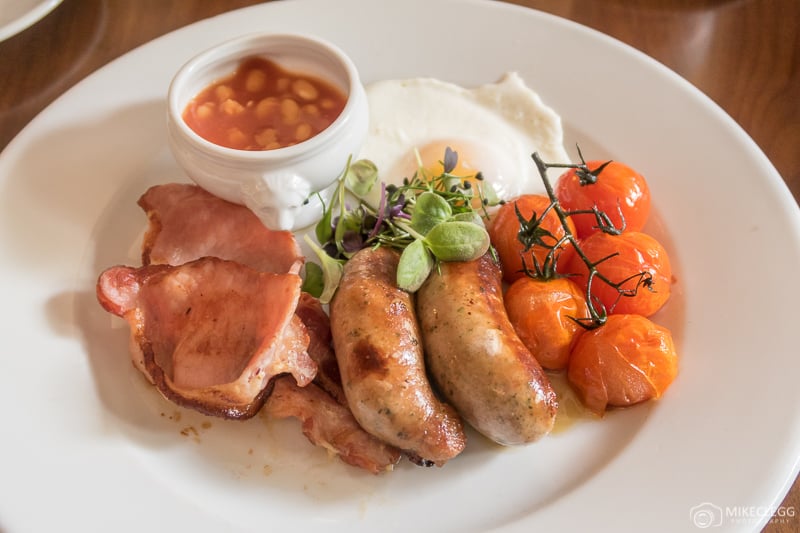 Bangers and Mash
A classic dish in England is bangers and mash. This is sausages, mash potato, often peas, and then drizzled with thick gravy. You'll often be able to find this in pubs, although if you really fancy it then do some research online first to check the menu.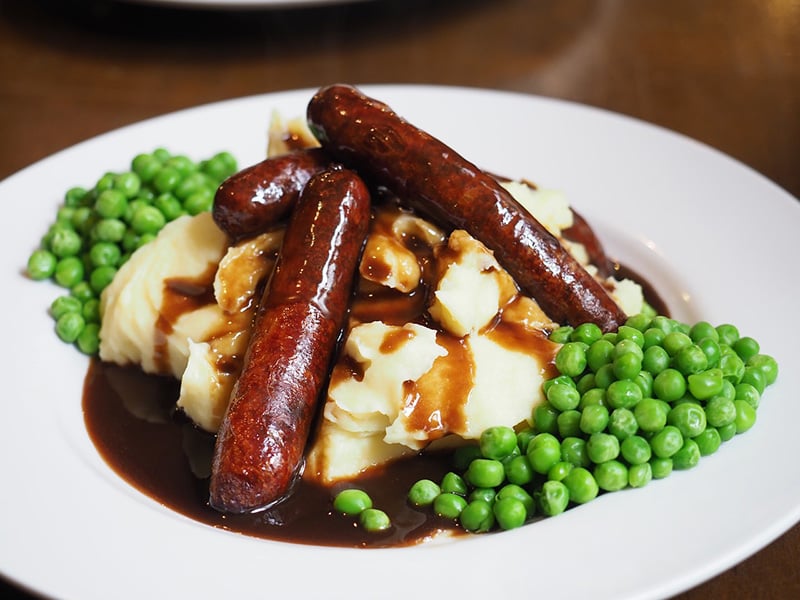 Fish and Chips
Fish and chips is a popular dish that you'll find everywhere in England. It normally consists of battered haddock or cod and is then served with fries (called chips in England). Chips would normally be chunky, rather than the skinny ones you find at Mcdonald's. When you get fish and chips in a restaurant you often get mushy peas and a lemon as well.
To enhance your meal add salt, lots of malt vinegar, tomato ketchup, mayo, and also consider some bread and butter to make a chip sarnie (sandwich) – Yum!
You can find Fish and Chips at restaurants, takeaway joints, fast food vans, pubs and bars. A decent spot in a more upmarket place in London is at Smith and Whistle near Green Park.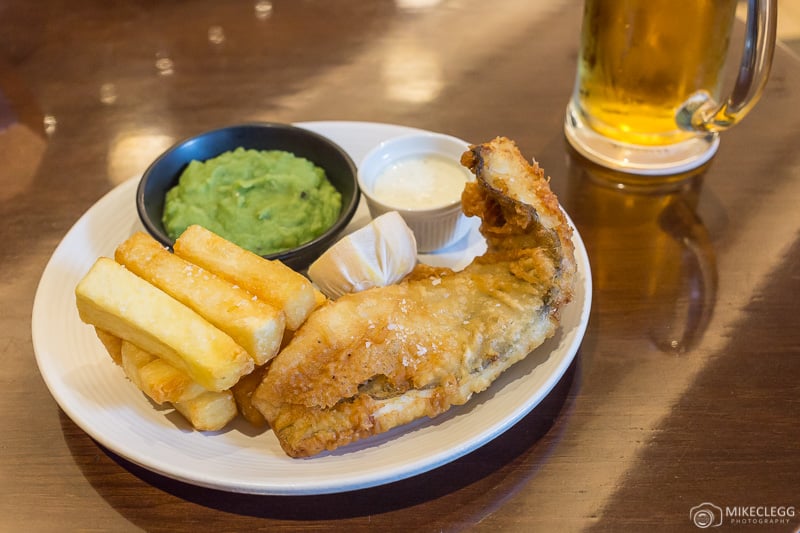 Baked Pies
Throughout England, a delicious thing to try is a baked pie. This may contain fillings such as "chicken and mushroom", "steak and kidney", "vegetables" etc. You would then enjoy this with something like mash potato, chips and veg. I also recommend gravy which will make it amazing!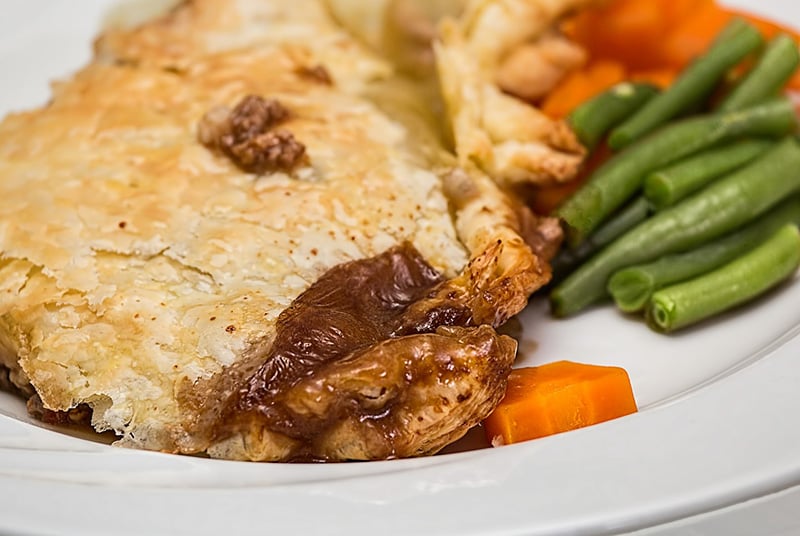 Toad in the Hole
Toad in the Hole is a great dish to try in England and is seriously yummy. It consists of a battered mix of Yorkshire pudding, with delicious sausages in it. A good way to enjoy it is with gravy dribbled all over and a side of vegetables. Although this dish isn't the easiest to find, we'd definitely recommend giving it a go if you come across it in a restaurant or pub.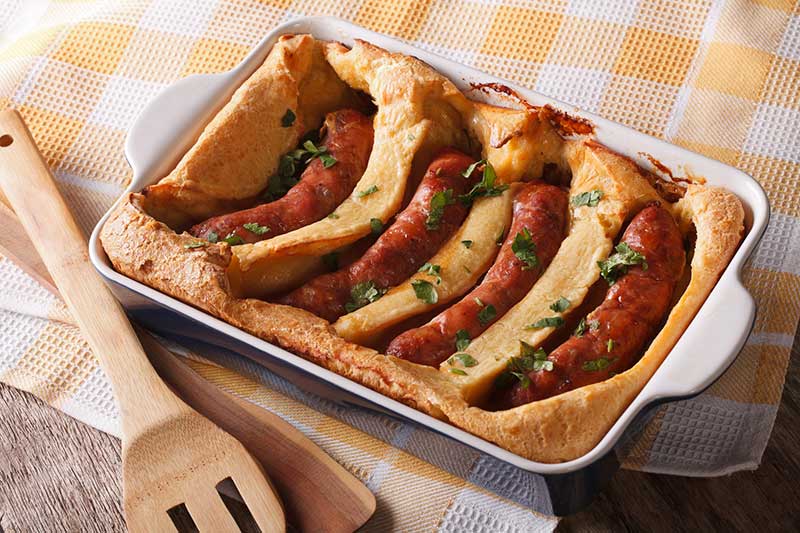 Roast/Sunday Dinner
Roast dinners are another favourite dish of mine and are typically enjoyed on a Sunday. The food normally consists of a meat, such as chicken, beef, pork, or lamb, and is served with roast potatoes, mash potato, vegetables, Yorkshire pudding and nice thick gravy!! It's soo good! You can now often find veggie versions now too such as a wellington or nutroast.
Pubs are often a good bet for a roast and if you are in London, then check out The Prince Albert pub in Notting Hill. Here I had one of the tastiest beef roast dinners I've ever had.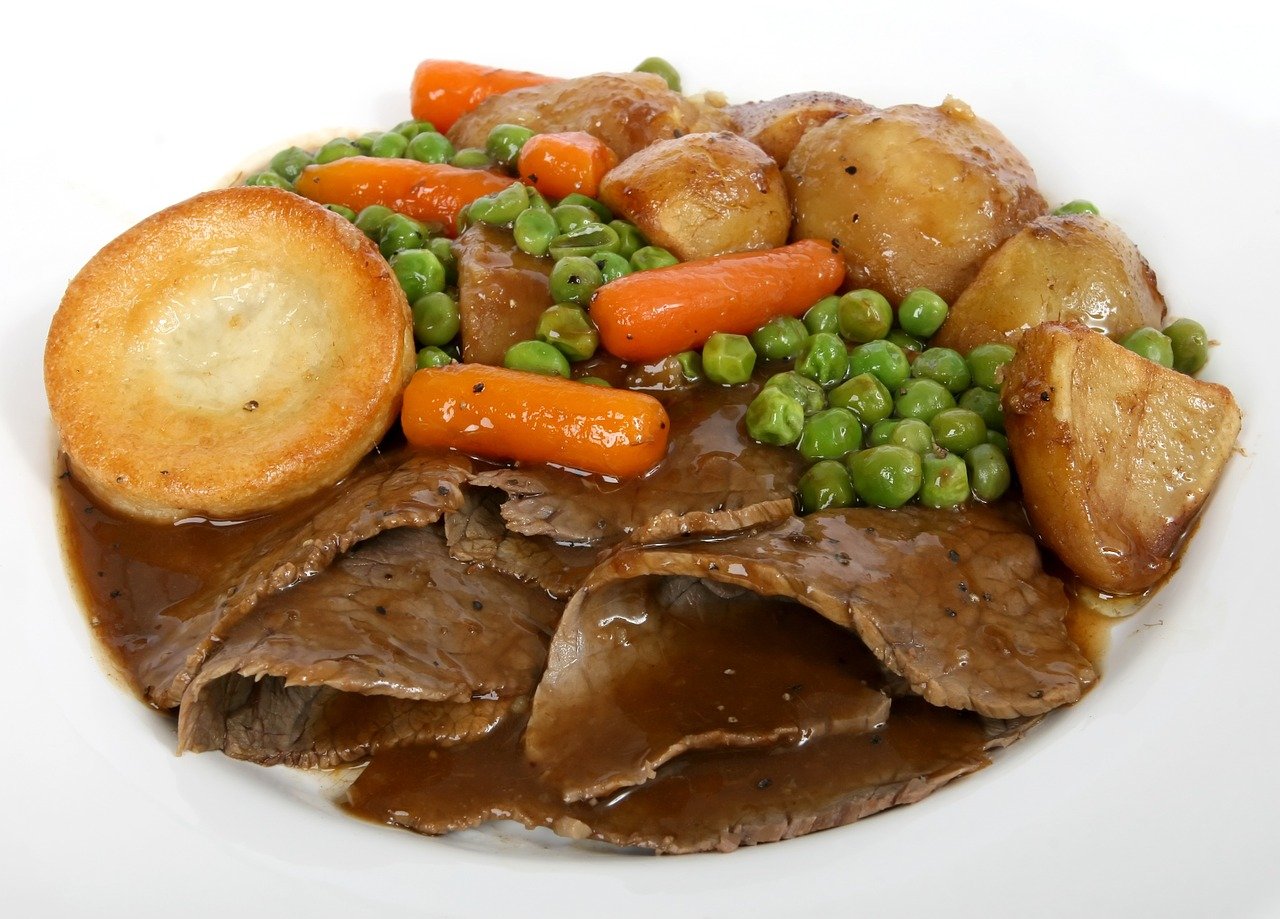 Bubble and Squeak
The next day after a roast dinner, a good way to enjoy leftovers is to have Bubble and Squeak. This is mash potato and vegetables such as broccoli, peas etc, which is then mashed up, rolled into balls and fried. I recommend having a couple of fried eggs and dipping the balls into the yoke. It may sound odd but trust me you'll probably love it.
ADVERTISEMENT
CONTINUE READING BELOW
Sticky Toffee Pudding
Sticky toffee pudding is a delicious dessert which contains a sponge cake with a sticky toffee layer on top. You should enjoy this hot and to make this dessert even more delicious add custard, ice cream or caramel sauce on top. You can often find this as an option in restaurants and pubs, as well as in supermarkets for you to cook yourself.
Spotted Dick
Another tasty dessert is spotted dick. This is also a sponge cake with dried fruit and best served with custard.
Marmite
Marmite is famous for being a spread that'll you'll either love or hate. It is essential a gooey black spread that is incredible on toast (with butter). It makes for a great snack or for breakfast.
To try it you may sometimes find it at hotels during breakfast, or you could buy a small jar from a grocery store. I would recommend buying a small jar to try, and if you like it then buy more.
Tip: When having it on toast it's best to spread thin, not thick like peanut butter. A lot of "lovers" will tell you the same.
Cockles
These are an item you'll find in big grocery stores and sometimes pubs. They are a tiny fish in a vinegar mix and you should enjoy these slowly by eating them with cocktail sticks.
Sausage Roll
A sausage roll is a tasty snack which is amazing hot and dipped in tomato ketchup. It consists of a pastry with pork sausage meat inside. You'll sausage rolls in grocery stores around the country, as well as bakeries and sometimes fast food places.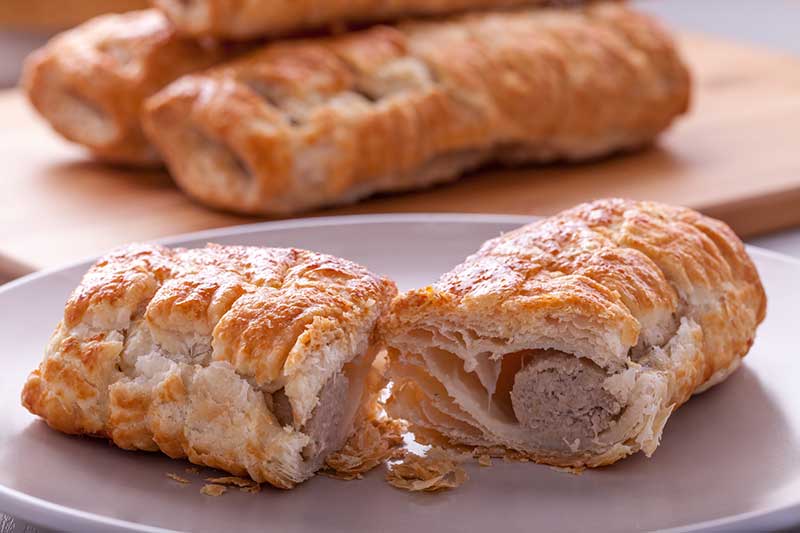 ADVERTISEMENT
CONTINUE READING BELOW
Scotch Egg
A great snack which I've only ever seen in England is a scotch egg. This is a hard-boiled egg that is wrapped in sausage meat, a layer of breadcrumbs and then fried. You'll find them in almost any English supermarket such as Tesco, Marks and Spencer, Sainsbury's etc. Sometimes pubs also sell them and make them hot.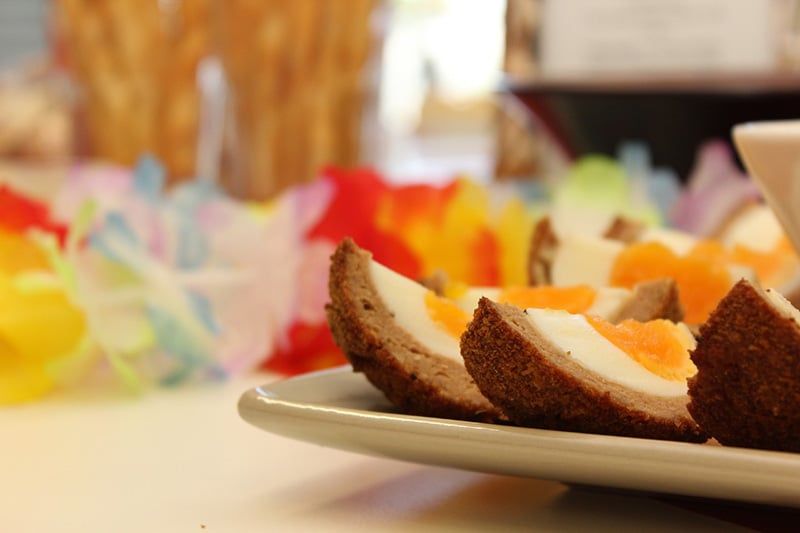 Pork Pie
Similar to a sausage roll and also made of pork. These pies are served cold and contain seasoned meat with jelly and then pastry on the outside. They are very popular snacks in England.
Mince pie
If you are visiting around Christmas then try a mince pie which is a traditional snack. When you first hear of these you may think "minced meat", but in fact, it's not meat in it at all. It's a cake with a mix of raisins and other dried fruit.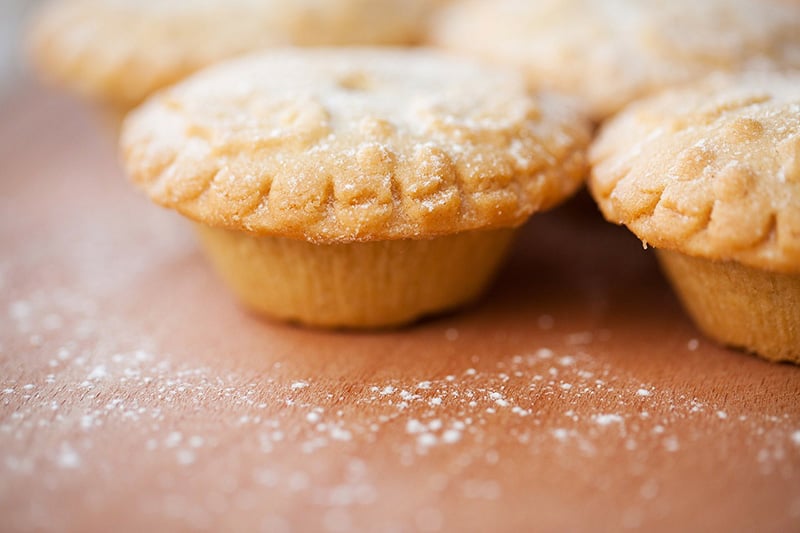 English Tea
Tea with milk is almost a staple item of every English person's diet, with a huge amount drunk each day. In fact, many English people will probably say they drink over 10 cups every day and probably one or two whilst watching their favourite soap on TV. There's also something called English Afternoon Tea which gives you a nice relaxing experience whilst you sip on tea (or bubbly), and whilst eating a selection of cakes and sandwiches.
Related Articles