London has its fill of awesome spots for Instagram and photography. Ranging from beautiful and historical landmarks, colourful exteriors, breathtaking views and lots more. In this post, you'll find the best locations, as well as some tips and techniques to help you capture the best photographs. The majority of these Instagrammable locations are free to access and you'll find the best times for taking pictures, whether it's free or not and the address with each suggestion. Visit Top Picture Spots Around London at Christmas for festive locations. And finally, at the very end there's a link to a post suggesting some of the best London Instagram photographers, as well as thanks to various people that have helped me find a few of these spots. You may also want to see some of our other Instagram and photography guides.
Here is an ultimate guide to over 30 of the best photo spots in London. These are must-visit for Instagram and photography.
---
1. Neal's Yard
Neal's Yard is very photogenic and perfect for those that like lots of colours in their photos. It is almost a secret photography spot in London. To get to Neal's Yard get off at Covent Garden underground station and then it's only a short walk. You should head here early before it gets too busy otherwise you'll struggle to get a quiet moment. Also, note that Covent Garden is a great part of London to explore for shopping and restaurants.
Best time for pics: Day
Cost: Free
Location: Neal's Yard, London WC2H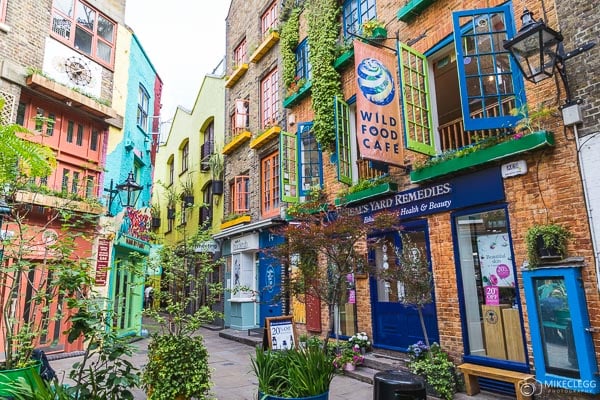 2. View From The Shard
The views from the Shard are definitely my favourite viewpoint in London. This is also for sure one of the best photography spots in London. Options to visit and enjoy the Shard are to go to the viewing platform on the top floor or stay in the amazing Shangri-La hotel. Both will present you with spectacular 360 views of the city. The Shard is also a good spot for sunset and blue hour pics.
Best time for pics: All times
Cost: Ticketed
Location: The View from The Shard, Railway Approach, London SE1 9SG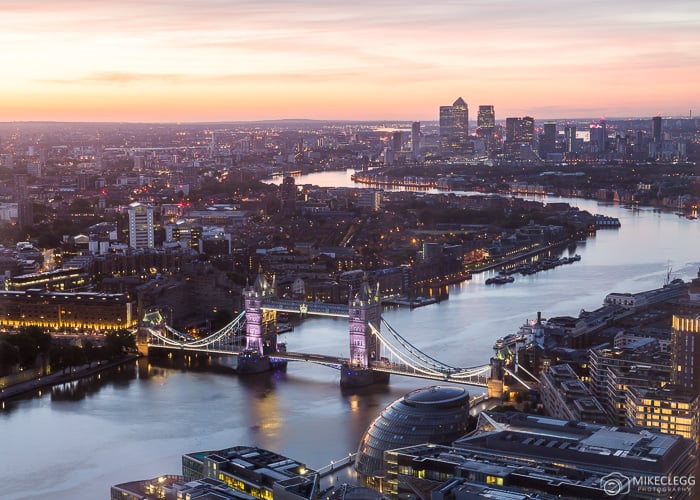 3. St Paul's Cathedral
Below is one of the classic St Paul's Cathedral shots that you may often see on Instagram. Another great place for photography at this location is to take the elevator (which is behind in the image below) to the top where you'll get some high views. Try coming to this location at sunset for much better light.
You can also visit the interior of St Paul's to see more of the cathedral as well as head up to the dome for skyline views of the city.
Best time for pics: Anytime
Cost: Free
Location:: 1 New Change, London EC4M 9AF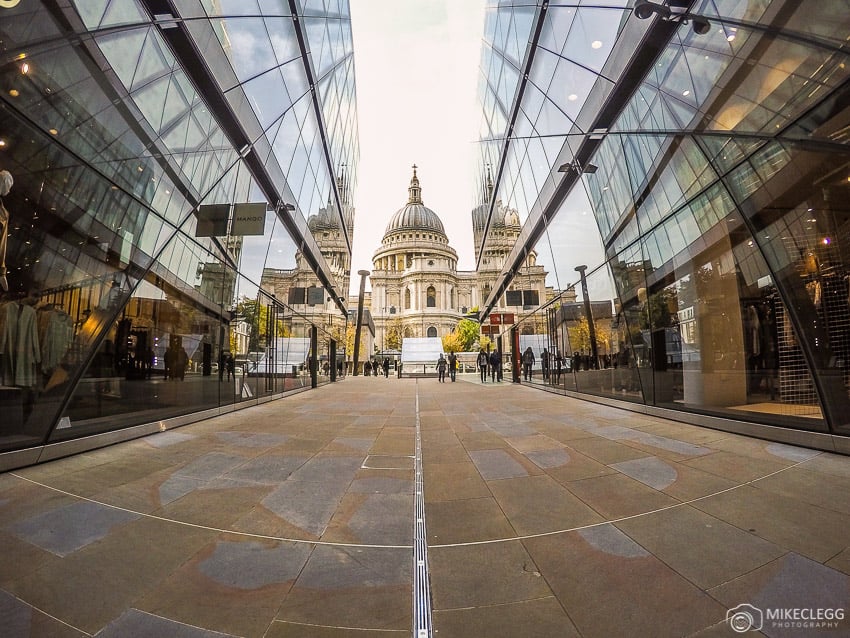 4. Leadenhall Market
This picturesque interior and marketplace is in London's financial district, hence why it looks a bit posh. When taking photographs try using a wide-angle lens so that you capture as much as possible. This is also a nice Christmas spot when they often have a tree in the middle.
Best time for pics: Day
Cost: Free
Location: Leadenhall Market, Gracechurch St, London EC3V 1LT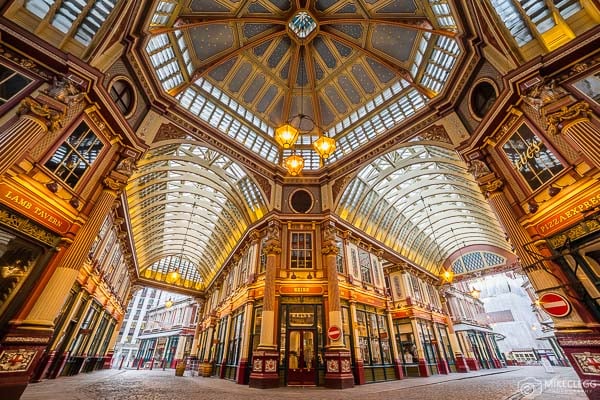 5. Tower Bridge
Some people thought I was being brave when I posted shots like below on Instagram. But this composition is actually taken from an island in the middle of the road (so it's totally safe). Try using a tripod, long exposure and taking pictures at night for a similar result to below or take pictures during the day to make the traffic more visible. You'll find buses, taxis and other traffic will regularly go past and this can help to create a nice mixture of light trails,
Best time for pics: Blue hour/night
Cost: Free
Location: Link on Google Maps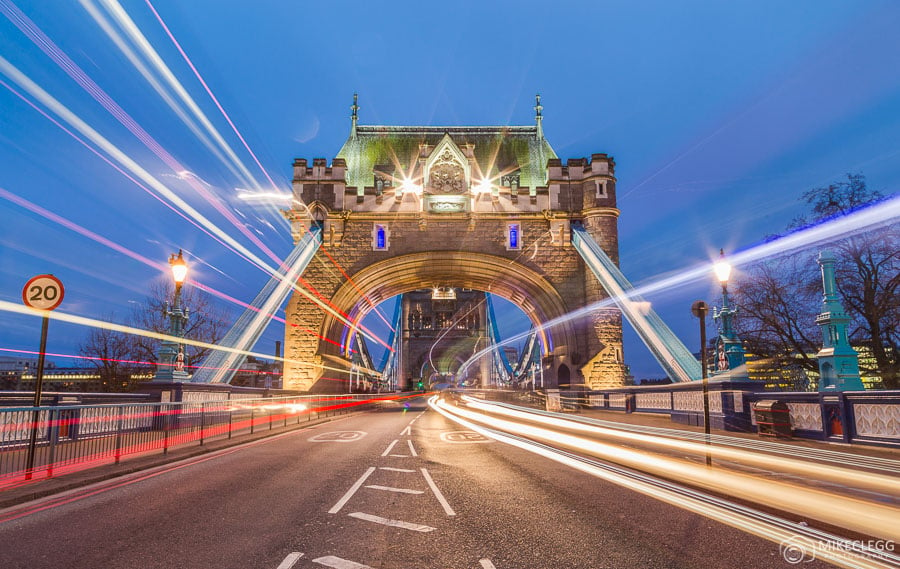 6. The London Eye
At night the London Eye is great to photograph and from the angle below you may run into other Instagram photographers. The London Eye is often moving (but slowly), so if you want an image showing motion then use a long exposure. If you want to have detail in the wheel and pods, then use a faster shutter speed, increase your ISO or wait for it to pause (or close).
Although we prefer the night view, it's worth noting that The London Eye does also look good during the day and a nice daytime angle is from Jubilee Park and Garden which is right next to it (also a nice place to relax and eat lunch or have a picnic).
Best time for pics: Blue-hour-Night
Cost: Free
Location: London Eye, Lambeth, London SE1 7PB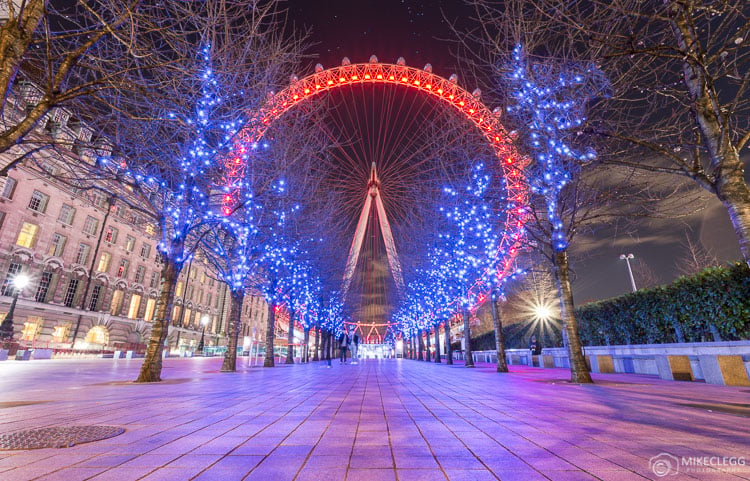 7. Heals of London
Heals of London is a furniture shop along Tottenham Court Road. Towards the back of the store is this staircase which is one of the prettiest interior photo spots in London. I believe people often go into the store just to take pictures of this staircase. It's also a great place to buy items as well of course and we personally have a few items from there ourselves.
Best time for pics: During opening hours
Cost: Free
Location: 196 Tottenham Court Rd, Fitzrovia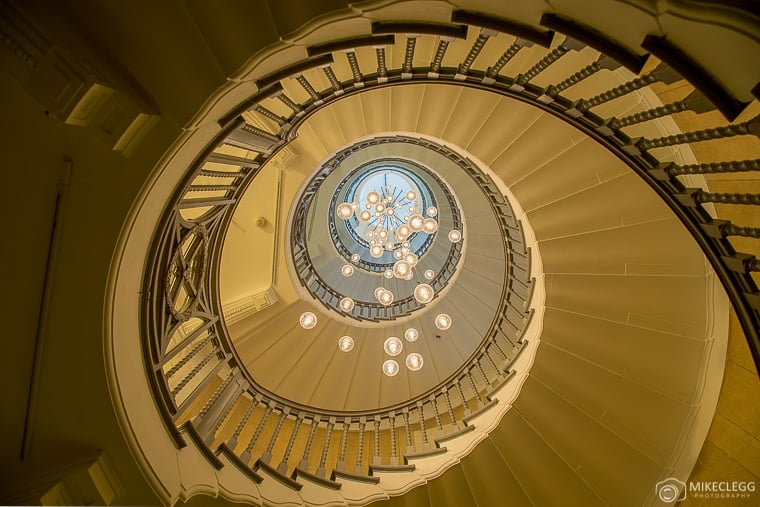 8. Natural History Museum
The Natural History Museum has incredible architecture, in particular in the main hall. Try using a wide-angle lens or a GoPro to get a picture like below. Also, be sure to enjoy this museum during your visit and see some of its exhibitions. Annually in the Autumn, you'll find the Wildlife Photography of the Year exhibition and some of the photographs you'll see are quite simply mindblowing.
Best time for pics: Day
Cost: Free entry – ticketed for exhibitions
Location: Natural History Museum, Cromwell Rd, Kensington, London SW7 5BD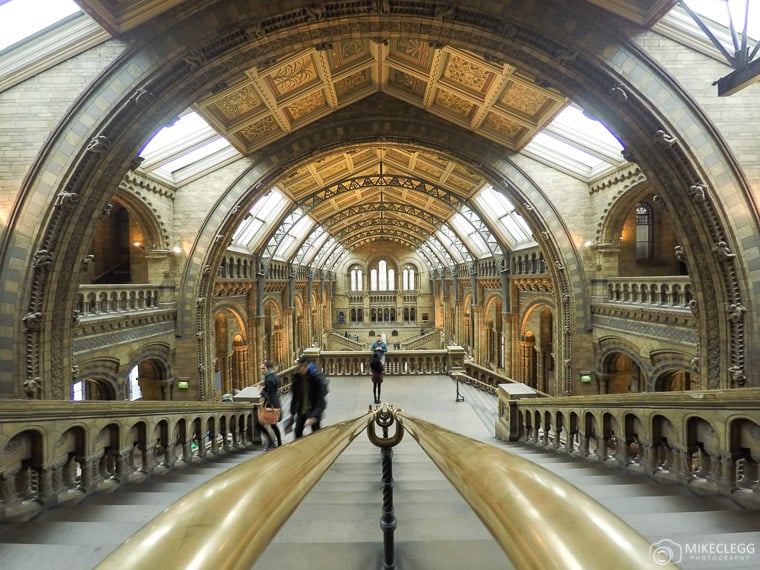 9. Notting Hill and Portobello Road
There are lots of colourful streets around Notting Hill which make for wonderful pictures. Your best bet is to get off at Notting Hill Gate station and then walk towards (and along) Portobello Road. Another aesthetic place in London is on the other side of the city around Hillgate Place and Campden Hill Road. Even if you don't take photographs it's still lovely walking around this area.
Best time for pics: Day
Cost: Free
Location: Portobello Road and Hillgate Place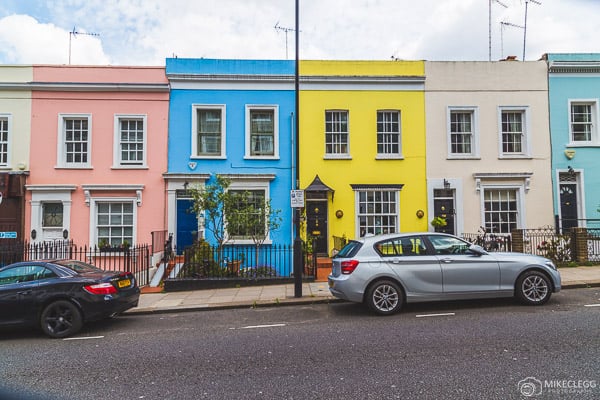 10. The Churchhill Arms
Probably the most decorated pub in London, this pub makes for an awesome photo (or drink). As it's located close to Notting Hill Gate you could pop here before, or after, exploring the other areas. For an image such as below it's best to visit in the warmer months when it has all the plants and flowers seen below.
Best time for pics: Day
Cost: Free
Location: 119 Kensington Church St, Kensington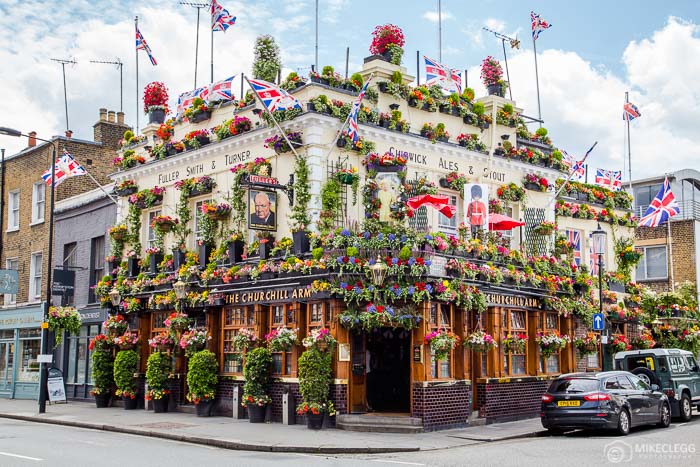 11. The Kings Cross light tunnel
Kings Cross has this awesome multicoloured light tunnel and is very Instagrammable. You'll find this on the underground walkways that connect St Pancras to Kings Cross station. The interior of the waiting hall is also good to photograph as it has an amazing ceiling.
Best time for pics: Anytime
Cost: Free
Location: Google maps link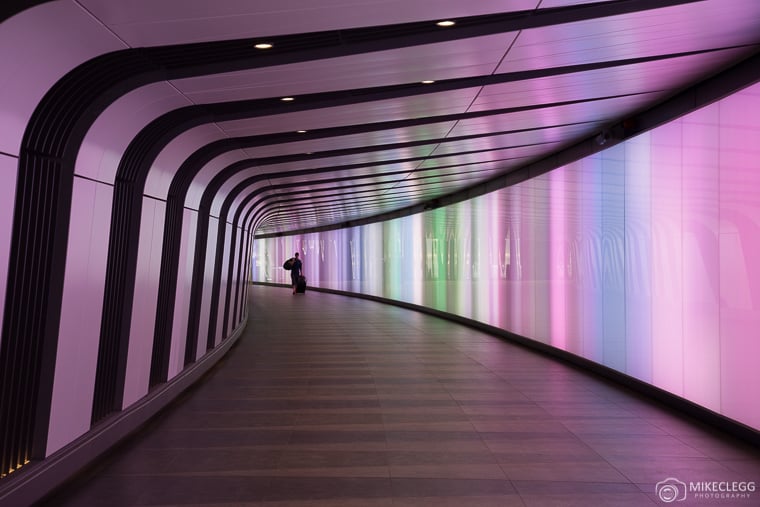 12. Queen's House
This cute little museum in Greenwich is perfect for those that love architecture and spiral staircases. These kinds of shots are often popular on Instagram. Try over-exposing your image slightly for a brighter photograph. To do this on a phone click on the darkest point on the screen. This sometimes makes the software change the exposure and brighten the picture.
Best time for pics: Day
Cost: Ticketed
Location: Queen's House, Romney Rd, Greenwich, London SE10 9NF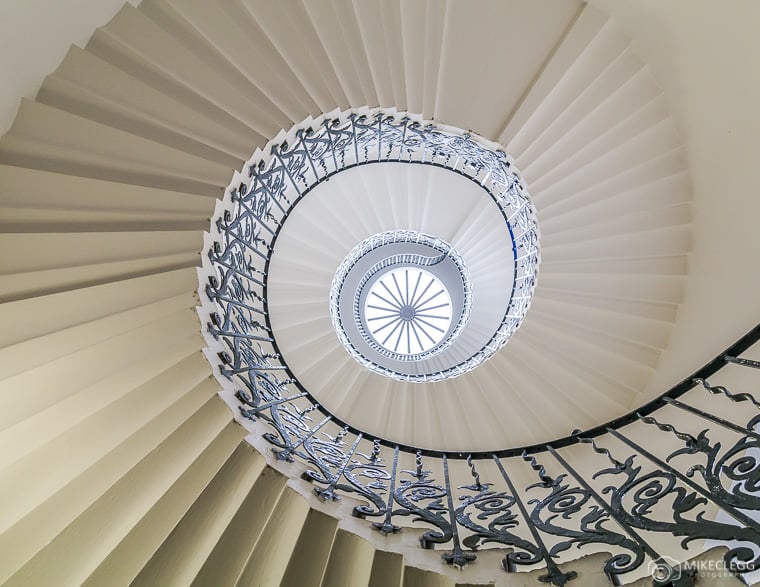 13. Painted Gallery
Close to the Queens House is the Painted Gallery in the Old Royal Navy College. The ceiling has impressive paintings on the ceiling and the entire room is just stunning. In the main room keep an eye out for reflections to use in your photographs such as below.
Best time for pics: Day
Cost: Ticketed
Location: Painted Gallery, King William Walk, London, Greenwich SE10 9NN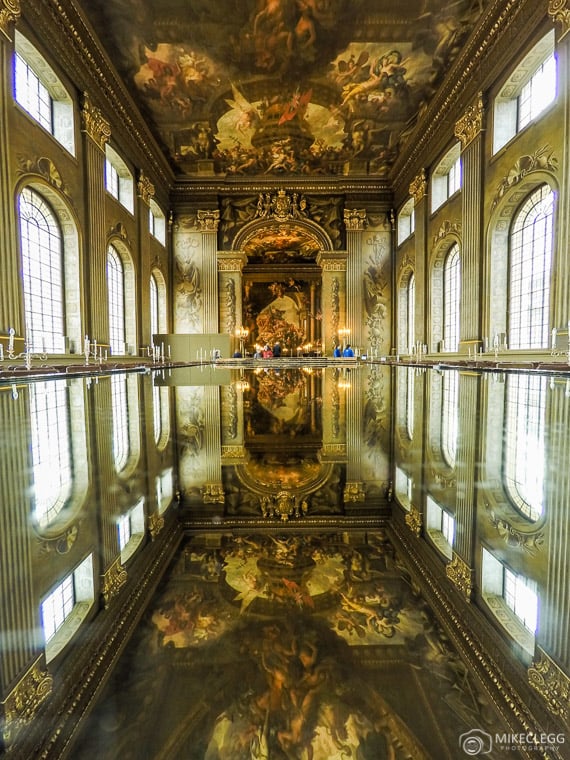 14. Girl and Dolphin Statue and Tower Bridge
On the north side of the River Thames close to The Tower Hotel is where you will find this stunning statue created by artist David Wynne. The statue and Tower Bridge are very photogenic and this is one of my favourite angles to take photographs of Tower Bridge. Visit this Instagrammable place around sunset for great light and into the blue hour.
Best time for pics: Sunset-night
Cost: Free
Location: Link on Google Maps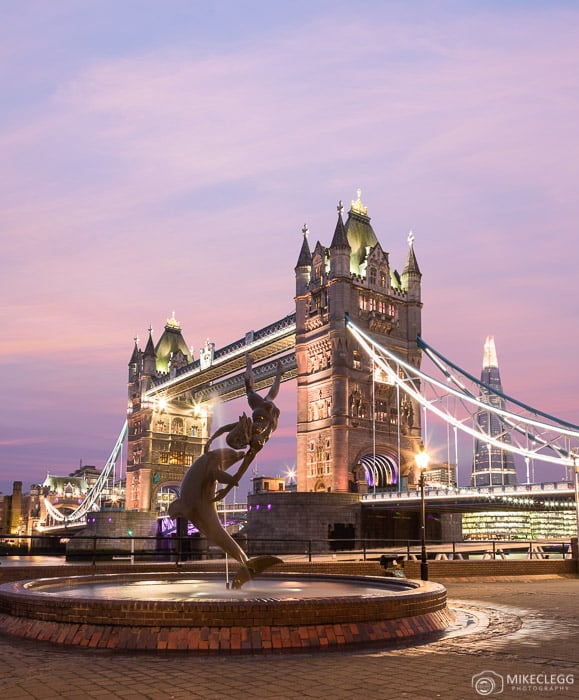 15. Houses of Parliament/Big Ben
The Houses of Parliament (Palace of Westminster) is, of course, one of the most popular buildings to photograph for Instagram. For some of the best spots go directly opposite and take pictures in this little archway and also the steps above that lead from Westminster Bridge down to the walkway.
The best bet for good photographs is to get here around sunset for the golden hour as the sun often sets behind the building. This spot in London is also a popular photo shoot location and it is common to see wedding photographers here with brides and grooms.
Best time for pics: Anytime
Cost: Free
Location: Link on Google Maps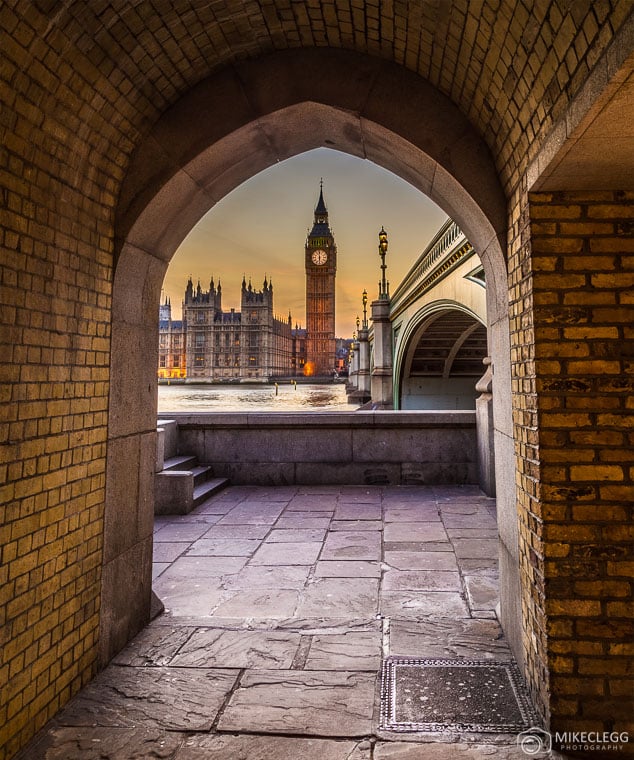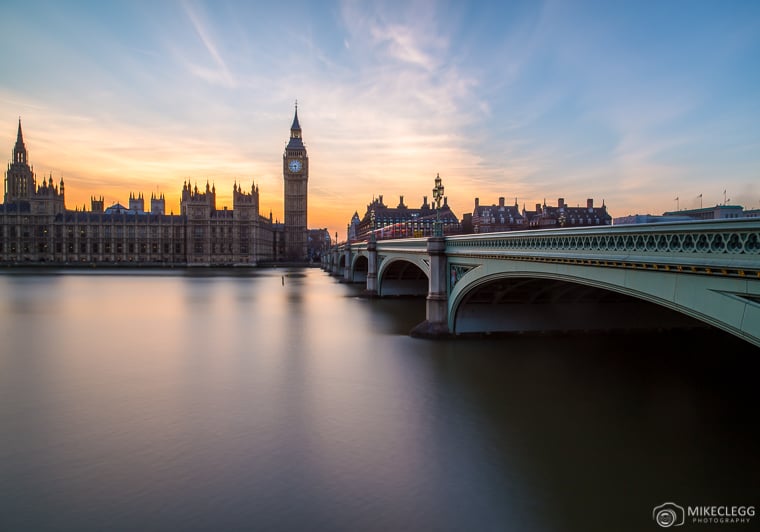 16. Canary Wharf
When taking pictures around Canary Wharf you may have security come up to you and ask what you're doing. This is quite normal so don't worry too much. When taking pictures of Canary Wharf one of the best spots is from Cabot Square seen below. Consider adding a human element or bright clothing to add an interesting element to your image. Note that Canary Wharf is also a short DLR (Tube) ride from Greenwich (above) which we also recommend visiting.
Best time for pics: Anytime
Cost: Free
Location: Canary Wharf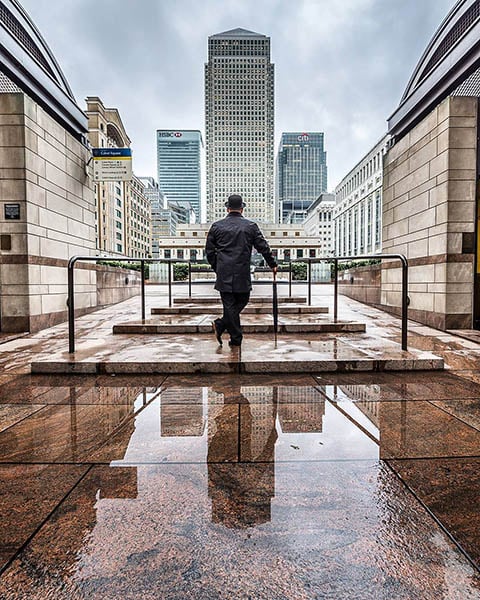 17. London Bridge Station
The London Underground (the Tube) has so many good spots and stations for taking Instagram-worthy photographs. Here is one of my favourites at London Bridge. Introduced to me by Neil who is an awesome London based photographer. Keep reading below for lots of other locations around the Underground which are also great for taking pictures.
Note that near London Bridge Station you can also get to Tower Bridge or head up the Shard as well.
Best time for pics: Anytime
Cost: Subway fare
Location: 21 Duke St Hill, London SE1 2SW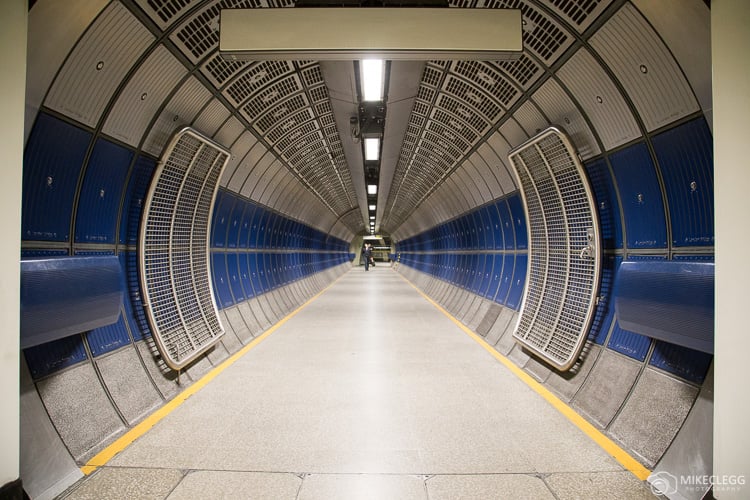 18. Westminster Bridge
Big Ben/ Elizabeth Tower is seen in countless photographs and from Westminster Bridge, you'll find some great spots to capture pictures.
When taking pictures of this London Instagram spot you could try something different and use ND filters and a tripod such as seen below. This will allow you to get a slightly unique long exposure shot with blurred motion which is pretty cool. This particular location is also great to take night photographs of London with light trails from buses going past.
Best time for pics: Anytime
Cost: Free
Location: Westminster Bridge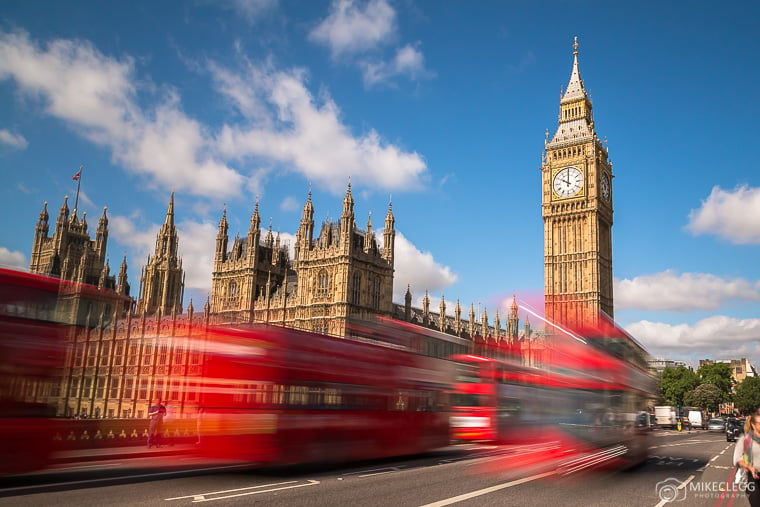 19. Canary Wharf
Near Canary Wharf is a patch of water called Blackwall Basin which is one of the best places to take photographs of Canary Wharf such as this. If you come here when there's no wind you may get perfect reflections.
Best time for pics: Blue hour/night
Cost: Free
Location: Link on Google Maps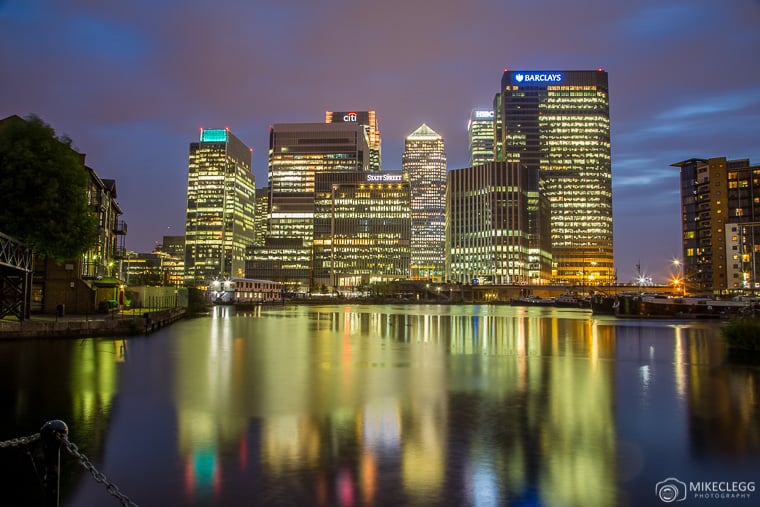 20. Millennium Bridge
Another very famous location for photography is Millennium Bridge, but taking pictures from here isn't as easy as you'd think. It gets very busy so make sure you come early before the crowds, or when taking photos at night with a tripod try increasing your ISO, as this will hopefully reduce the chance of camera shake from the flow of people on the bridge.
Best time for pics: Sunrise and night
Cost: Free
Location: Millennium Bridge, Thames Embankment, London SE1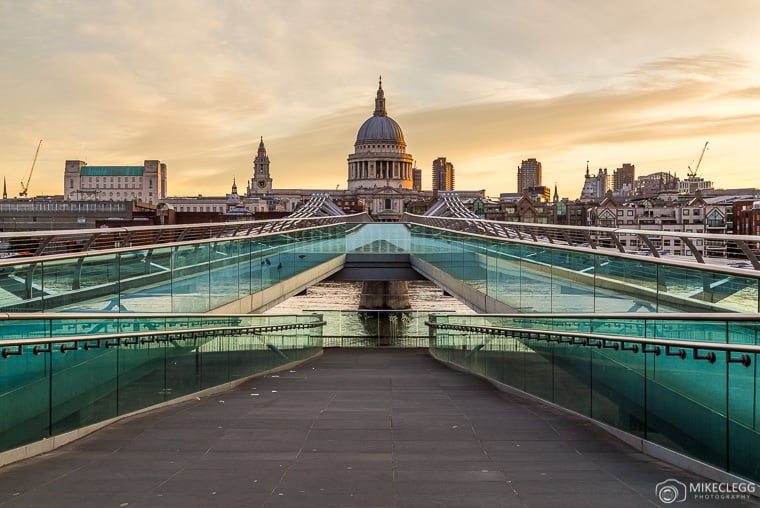 21. Burlington Arcade
This arcade is pretty lush with beautiful shops lining the sides. During the main opening hours it can be quite busy, but if you are patient or go at night you should be able to get a clean shot.
Near here you will also find Piccadilly Circus, as well as Regent Street, which if you're visiting London at Christmas is fantastic to see.
Best time for pics: Morning or evening
Cost: Free
Location: Burlington Arcade, Mayfair, London W1J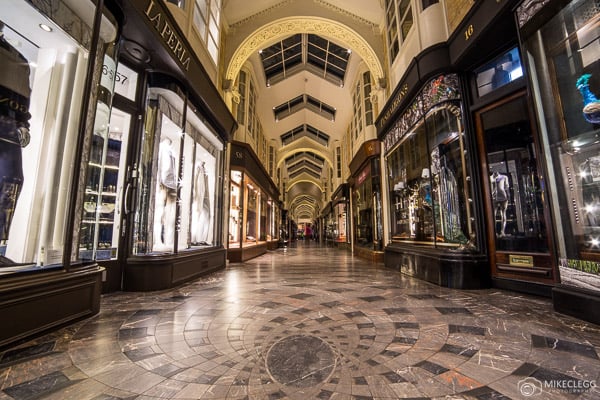 22. British Museum
Most of the museums in London are free to visit including the British Museum seen below. This hall is huge, so to really capture it you would need a wide-angle lens. I actually used a GoPro
for this particular shot.
Best time for pics: Day
Cost: Free
Location: British Museum, Great Russell St, London WC1B 3DG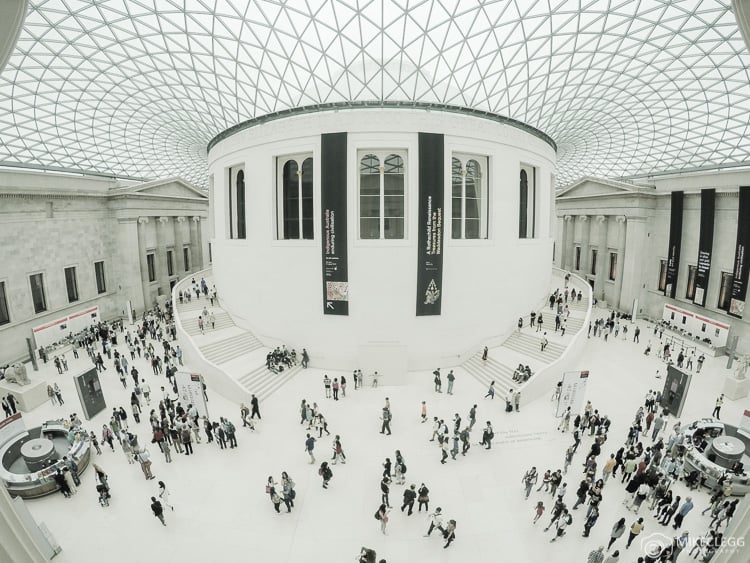 23. Embankment Station
The tunnels of Embankment station are very picturesque and have this wonderful tiled pattern. Try using a wide-angle or a fisheye lens for some cool effects, or put a model in the photo to add a human element.
Best time for pics: Anytime
Cost: Subway fare
Location: Villiers St, London WC2N 6NS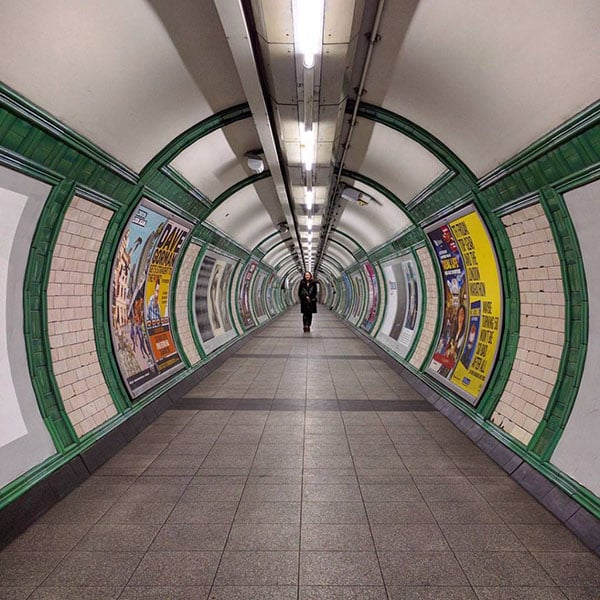 24. Piccadilly Circus
Piccadilly Circus is awesome at night, but also quite hard to photograph due to the bright screens against the dark surroundings. Use HDR for a good exposure. Also, use puddles and reflections in your pictures if it's rained. Another technique that may work is to increase your ISO slightly when taking photographs at night as a long exposure doesn't really work very well on the screens as they constantly change.
Best time for pics: Blue hour/night
Cost: Free
Location: Google maps link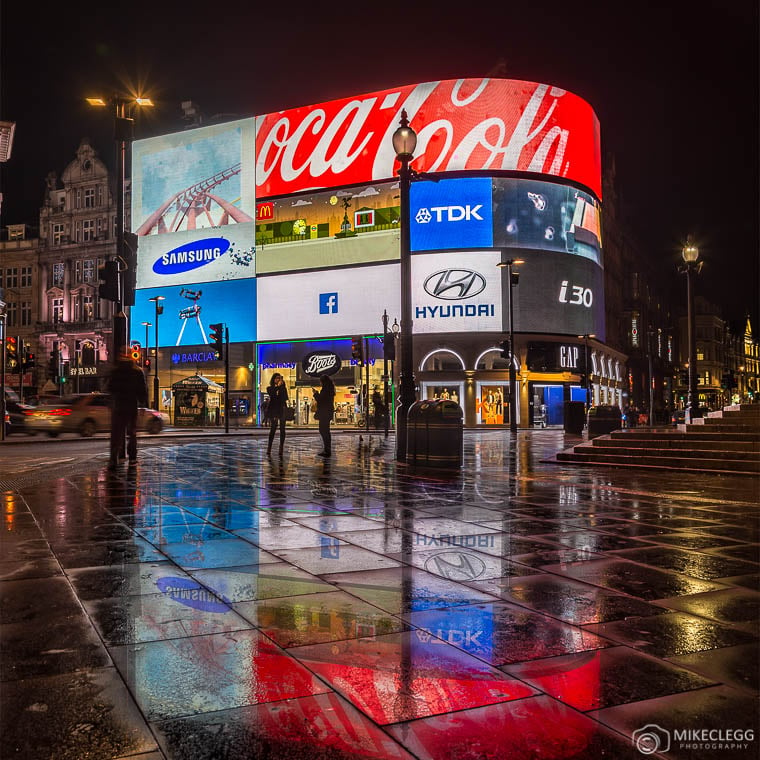 25. Waterloo Station
Waterloo has some great platforms to get Tube/subway photographs. This picture was from the Bakerloo platform which has a nice bendy platform. Try waiting for people to go and set your shutter speed a bit slow for some motion.
Best time for pics: Anytime
Cost: Subway fare
Location: Waterloo Rd, Lambeth, London SE1 8SW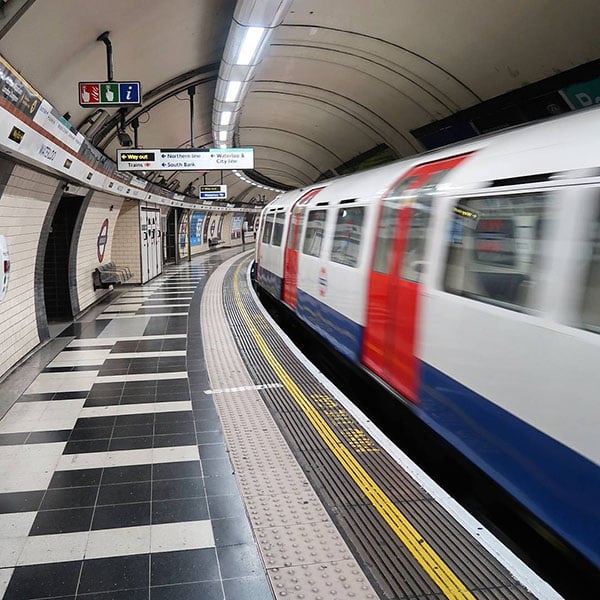 26. Tate Modern Observation Deck
Tate Modern is a great museum to visit for those interested in art. It is now also home to a top observation deck located on the 10th floor. This is even free to access. From this lookout, you can enjoy views to the East, North and West. As sunset is often across the river this makes it one of the best places to go in London for sunset as well as into the blue hour.
This is one of the best viewpoints in London and is great for capturing skyline photographs.
Best time for pics: Sunset-blue hour
Cost: Free
Location: Bankside, London SE1 9TG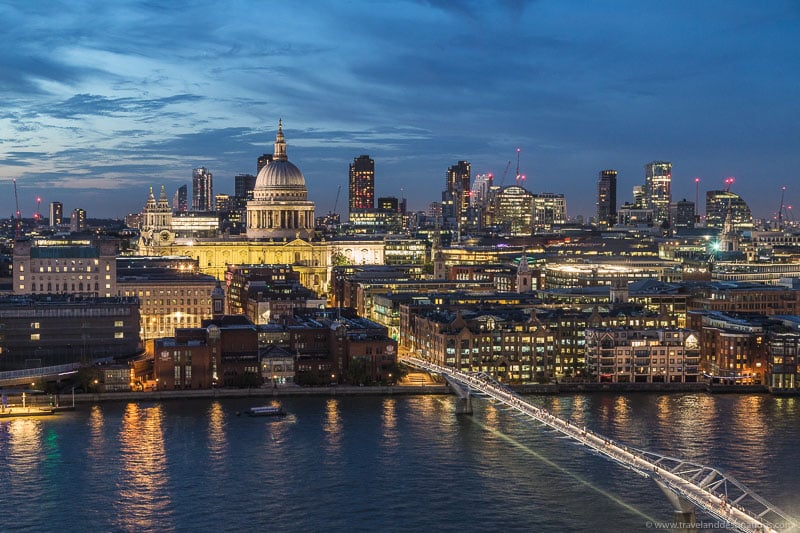 27. Tate Britain
This angle in Tate Britain is taken from a member's lounge, but if you ask nicely they may let you up. Even if you don't get to this exact angle this museum still has lots of other aesthetic architecture you could take photographs of.
Best time for pics: Day
Cost: Free/Ticketed
Location: Tate Britain, Millbank, Westminster, London SW1P 4RG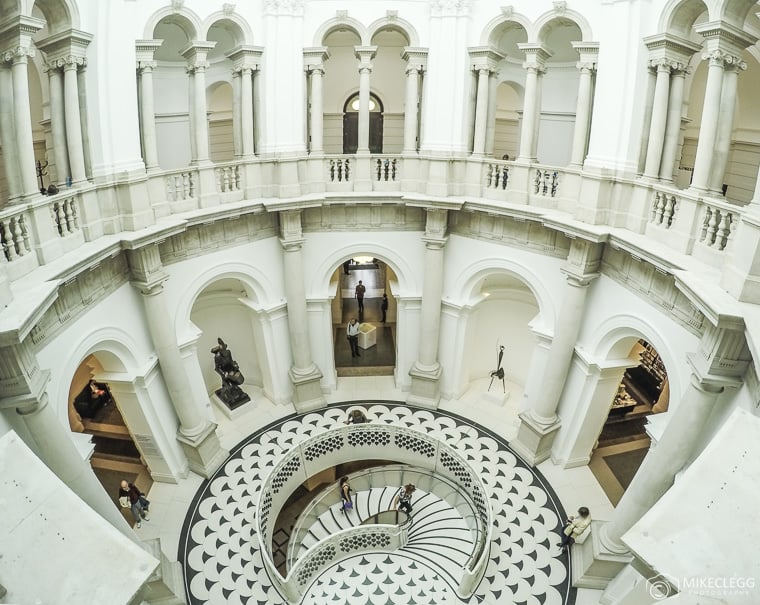 28. St. Pancras Renaissance Hotel – Grand Staircase
This stunning hotel has one of the most impressive staircases I've ever seen. Technically you should be a guest to enter so maybe ask for permission first. For nice pictures look for leading lines, shapes and patterns, or also consider adding someone into your photograph.
Best time for pics: Anytime
Cost: Night at the hotel or ask for permission
Location: Euston Rd, Kings Cross, London NW1 2AR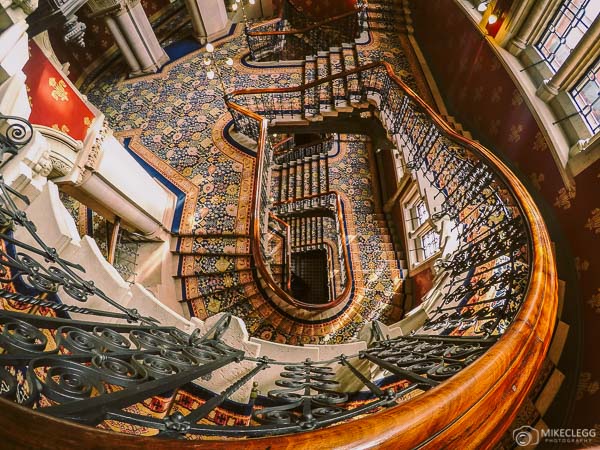 29. Sky Garden
The Sky Garden is one of London's newest places to go. At the Sky Garden you'll get panoramic views of the city and you can also stop for some food and drink.
You have to book a ticket in advance to visit but it's free. Head to skygarden.london for more info. Also note this location can be very busy and you should aim to book your tickets well in advance (weeks) to guarantee you'll get in. Sometimes you may find that you have to keep checking for ticket availability too.
Best time for pics: Anytime
Cost: Free
Location: 1 Sky Garden Walk, London, EC3M 8AF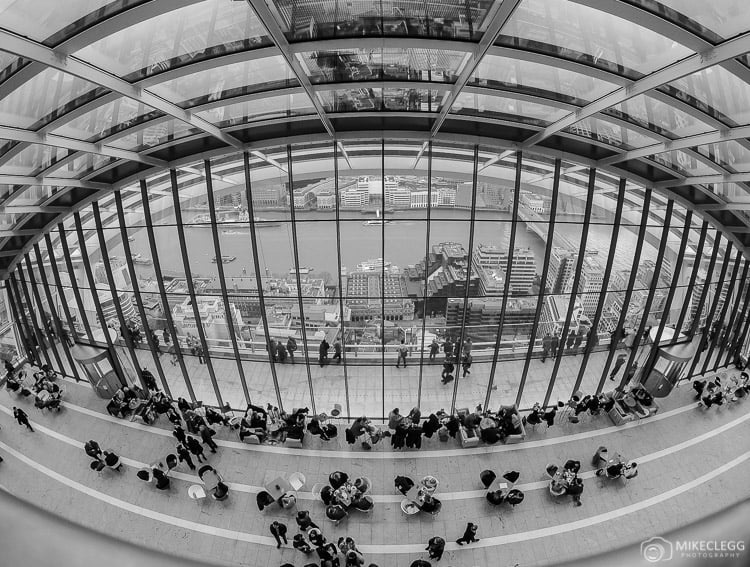 30. Buckingham Palace
Buckingham Palace is potentially the most famous and popular attractions in London. This building is one of the properties of the Royal Family and is where the King will spend some of his time. Often during the day, there are large crowds of visitors admiring the landmark and taking photographs. If you wanted a quiet shot such as this your best bet is to arrive early in the morning. When taking pictures consider using the fountains and even an ND filter for a long exposure such as below.
Best time for pics: Morning
Cost: Free
Location: Buckingham Palace, London SW1A 1AA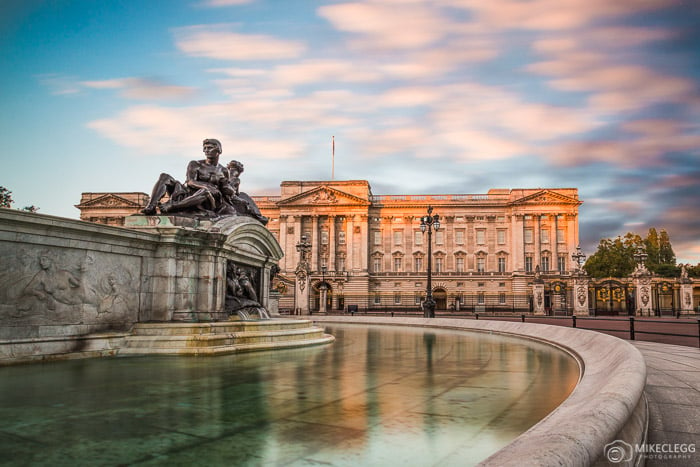 31. Changing of the Guard
The Changing of the Guard performance is extremely enjoyable and a top thing to experience while in London. I've seen it a few times and believe the best spot is at the back near the gardens on the left-hand side facing the Palace. Then when the guards leave they should then be marching directly towards you.
Best time for pics: Late morning
Cost: Free
Location: Same as above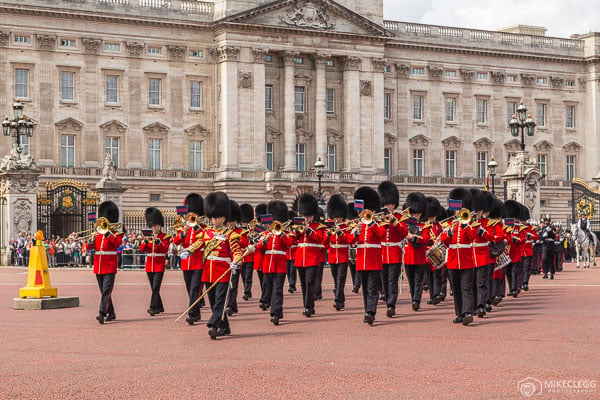 32. Gants Hill Station
Slightly out of London is this fantastic station which is great for photography due to the patterns and shapes. To get here take the Central Line eastbound. I thank my photographer friend Neil for introducing me to this cool station.
Best time for pics: Anytime
Cost: Subway fare
Location: 369 Eastern Ave, Ilford IG2 6UD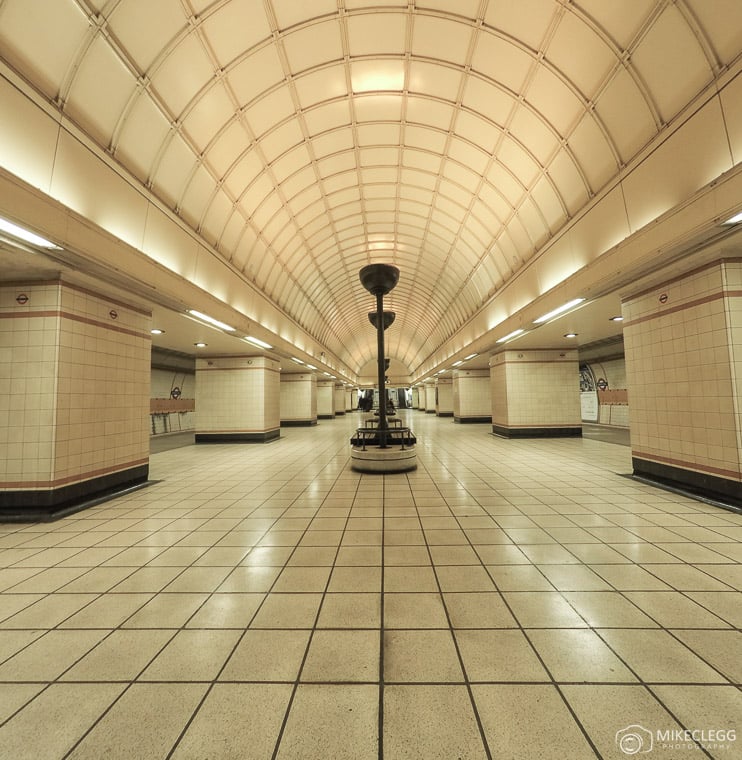 33. Albert Hall
The Royal Albert Hall is a beautiful concert Hall close to Knightsbridge. Both the front and back make for good photographs and also look out for reflections and puddles on the ground.
Best time for pics: Evening
Cost: Free
Location: Albert Hall, Kensington Gore, Kensington, London SW7 2AP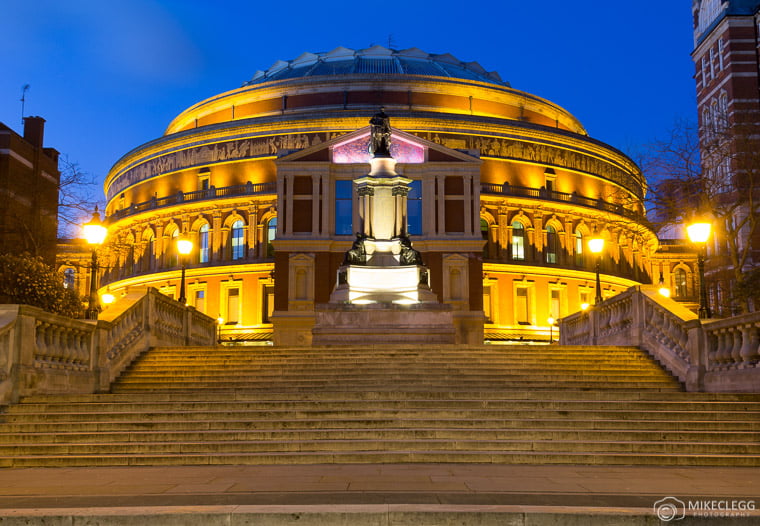 34. Camden Town
One of the city's coolest neighbourhoods. Along the high street, many of the buildings have unique protruding designs as seen below. Also at Camden Market is amazing street food so this place is great for lunch.
Best time for pics: Day
Cost: Free
Location: Camden Town, London NW1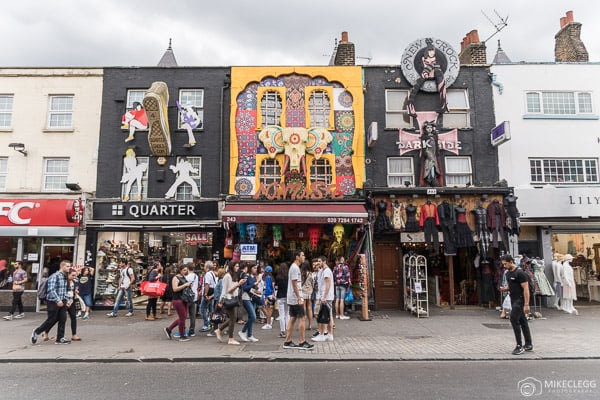 35. Waterloo Bridge
Waterloo Bridge provides a great photography spot allowing you to capture postcard-perfect pictures towards the Houses of Parliament and the London Eye. For a good square Instagram-worthy photo try zooming in to compress the different elements together. We'd recommend coming here at night when around the blue hour and early evening when some of the landmarks are lit up and you start to get reflections on the water.
Best time for pics: Blue hour/night
Cost: Free
Location: Waterloo Bridge, A301, Lambeth, London SE1 8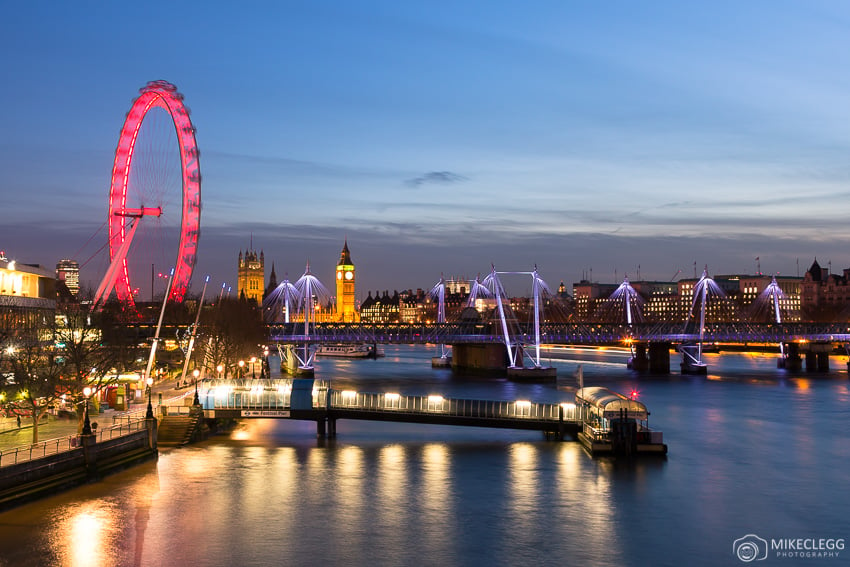 36. St Jame's Park
St Jame's Park is very close to Buckingham Palace and walking around both Green Park and St Jame's Park in the morning is a wonderful experience. It's so calm and peaceful and when you have the beautiful light such as below it is just perfect. Considering staying at the awesome Sheraton Grand London Park Lane where you'll find these amazing parks on your doorstep.
Best time for pics: Sunrise
Cost: Free
Location: St James Park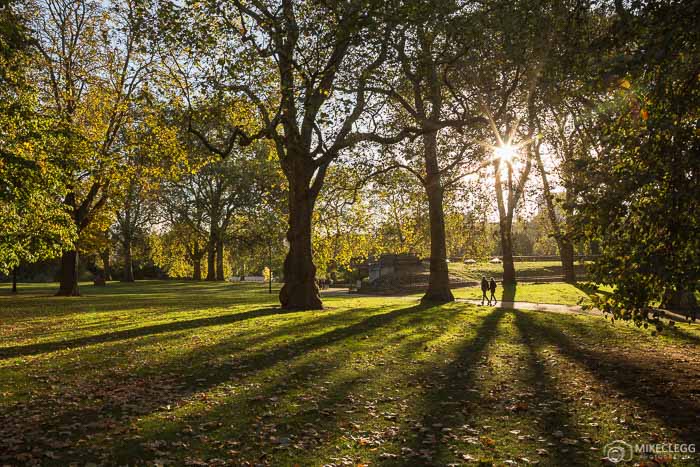 37. Parliament Square
The classic London shot with the red telephone boxes. It can get very busy here so take a long exposure (so people disappear), or get here early morning. You could also consider using traffic in your photos such as local elements including the red double-decker buses and taxis, or take a long exposure for light trails.
Best time for pics: Blue hour/night
Cost: Free
Location: Parliament Square, London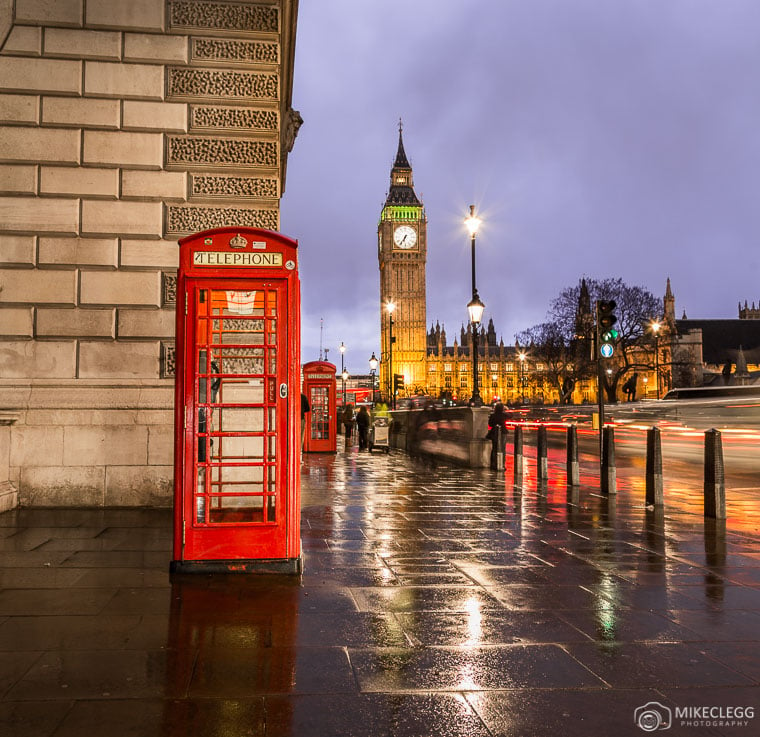 ---
Day trip ideas
To discover some of the other wonderful places in England then head to our article on day trips you could take from London. In the article you'll find places such as Brighton, Bath, Cambridge, and Cotswolds, as well as how long it would take to get there. These are home to lots of other top places to take Instagrammable photos.
Tours and activities
In London you'll find lots of tours and other activities available allowing you to learn more about the city, go on cruises, have fun cultural experiences and more. Below are a few ideas to get you started, or check out our article London: 15 Best Tours and Activities for some of our favourite suggestions.
---
London photography tips
Keep an eye out for puddles and other reflective objects. As well as making the picture look cool, the reflections also help frame the picture square or portrait for Instagram.
Use a tripod for night photography, but of course be wary of pedestrians and traffic.
You can walk between many of the suggested spots, such as if you start at London Bridge and the Shard and then walk along the River.
Try going out early to avoid the crowds and potentially get amazing light.
Scout out your sunset spot. The sun often sets north of the river.
Use a long exposure for day photographs if you wanted to create a sense of motion with traffic and people.
Consider Lightroom or Photoshop presets to quickly enhance your photographs.
More travel photography tips and techniques.
---
When is the best time to take photographs in London?
The best time to take photographs in London can vary. We would suggest taking photographs at night of many of the major landmarks as they are often lit up and this can really make your images a lot better. Also if you are shooting across the water (such as the River Thames) then this will also help as the light will cause reflections.
Another great time to take London photographs is during sunrise and sunset, although London's weather can be somewhat unpredictable so you may not always get great colours.
Finally, consider visiting in the Autumn when there might be beautiful trees and colours. These are perfect when exploring the parks or some of the streets.
---
Best areas in London to take photos
London is a huge city and if you're of limited time but want to capture some great pictures during your visit then here are some of the best areas to explore, in order of priority (in our opinion).
Around Westminster – Starting with Westminster which is the heart and most central part of the city. Here you'll find many of London's major attractions and landmarks. Many of these are very picturesque such as Buckingham Palace, the Houses of Parliament and Trafalgar Square. Nearby on the other side of the river is also the London Eye.
Around London Bridge – This part of London covers several boroughs including the City of London north of the River, Southwark south of the river, as well as Tower Hamlets which includes Tower Bridge. Nearby you'll also find St Paul's Cathedral and the Shard.
Notting Hill – Around this area of London you'll find colourful facades and also the very famous Portobello Road Market. The colourful facades are our favourite and very nice to photograph.
Greenwich – Greenwich is a fantastic borough in London and is home to one of the best parks in the city. Here you can enjoy the likes of the Cutty Sark ship, as well as wonderful London skyline views from the top of Greenwich Park or the nearby Point Hill
Kensington – in Kensington you'll find impressive museums such as the Natural History Museum and Victoria and Albert Museum. Also around this part of London are pretty streets and classic facades which make for great photographs.
Camden Town – Camden is a very quirky part of London and here you'll find shop fronts with various objects protruding, including giant shoes. It also has a pretty canal and a nice walk is along this and then onwards Primrose Hill park.
---
Can you use tripods in London?
Tripods are an essential part of night and long exposure photography (as well as for taking selfies). In London, you should be fine to use a tripod throughout the city and especially outside. When taking photographs inside then you might not always be allowed, which is probably as they could be deemed a trip hazard.
---
What are the top and must-visit photo spots in London?
If you are short on time then here are some of our favourite photography and Instagrammable places in London that we would recommend you add to the top of your list:
Tower Bridge
London Eye
Buckingham Palace
Neal's Yard
St Paul's from Millennium Bridge
Westminster/Houses of Parliament (when not having construction)
---
Summary
These are some of the best places in London to capture pictures of the city. Including the best landmarks, colourful streets, hidden gems and top viewpoints. Be sure to add some of these suggestions to your list when visiting the city. There are plenty more wonderful places in London for photography, but hopefully, this comprehensive guide will help get you started.
A special thanks to @mumhad1ofthose – @meletispix – @jstaffordphotos – @oliverzcohen – @peppyhere for helping me discover some of these locations during my many visits to London over the years.
You may also be interested in reading some of our travel photography tips, seeing our recommendations of London photographers to follow in Instagram or checking out one of our other Instagram guides.
---
Hotel recommendation: Shangri-La At The Shard Hotel – Offering some of the best views of London, and with beautiful rooms and facilities, the Shangri-la would be a top choice for anyone visiting London. We have previously stayed there ourselves and loved it! It isn't the cheapest of course but worth it if you're looking for something special. For other luxury hotels visit 10 Beautiful Luxury Hotels in London.