Tower Bridge is one of the most impressive and beautiful bridges in the world and also one of the best photography spots in London. When visiting the city it's no wonder that many people that visit London will want to see and photograph the bridge.
If you're also visiting London and want to know some of the best places to capture photographs of Tower Bridge then keep reading. Here are tips on how to photograph Tower Bridge in London, as well as the best angles and viewpoints.
Best Photography Spots for Tower Bridge
Here are some of the best places to take pictures of Tower Bridge in London:
The Shard
The Shard is currently the tallest building in London at 310 meters. You can visit the viewing platform located on floors 69 and 72 (800 feet/244 meters) and get to enjoy spectacular 360-degree views of the city. The views are fantastic pretty much all the time, however, if you can then we'd suggest trying to book tickets around sunset and into the blue hour as you may get to enjoy the best light during this time.
Another way to enjoy to visit The Shard is to stay in the wonderful Shangri-La hotel. This luxury hotel offers a restaurant, rooms and bars across various floors from 35 up to 52. If you decide to book a night in the hotel then it'll also give you the benefit of having lots of opportunities to capture photographs throughout your stay.
Location: See on Google Maps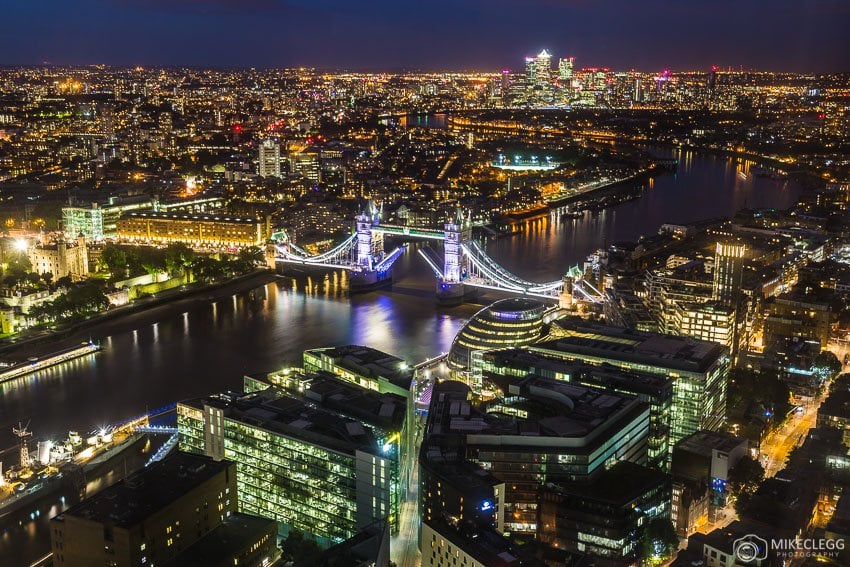 Girl with a Dolphin
One of the most beautiful spots to capture pictures of London's Tower Bridge is just North East of the bridge at St Katharine's Way. Here you'll find the stunning Girl with a Dolphin fountain created by architect David Wynne. Consider coming to this spot around sunset and into the blue hour. Also use a tripod and a long exposure to create a nice effect with the water from the fountain.
Location: See on Google Maps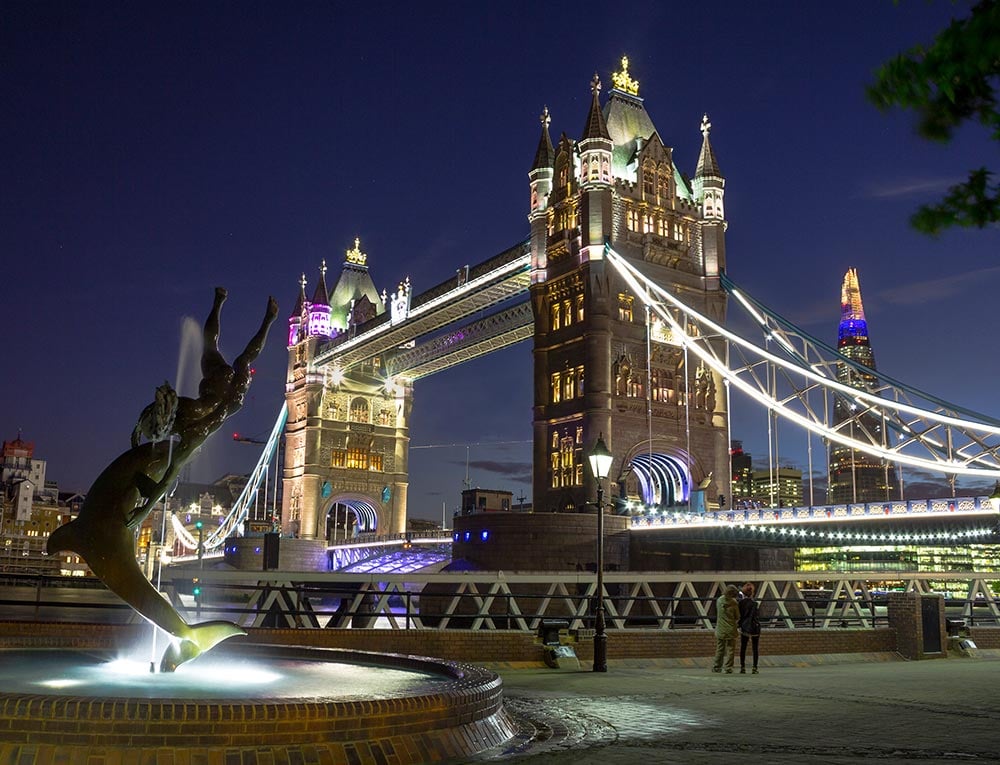 Near More London
More London is an area southwest of the bridge. It's very popular with tourists and sometimes throughout the year there are stalls and events which are pretty cool to attend. As well as this it's a great place to hang out with friends in the afternoon along with great views of the city and surrounding buildings. The London City Hall is also located here which is an architectural gem of its own.
As More London is in a prime position in the city you'll find it's a great place to take photographs. Such as happy memories with friends and family, or to take a gem that you could print and put on your wall.
One thing to bear in mind about this area is that because part of it is private land (More London) then if you want to use a tripod you may get told off by More London's staff (it can be quite annoying). To avoid this head further up river closer to HMS Belfast and beyond the private property.
Location: See on Google Maps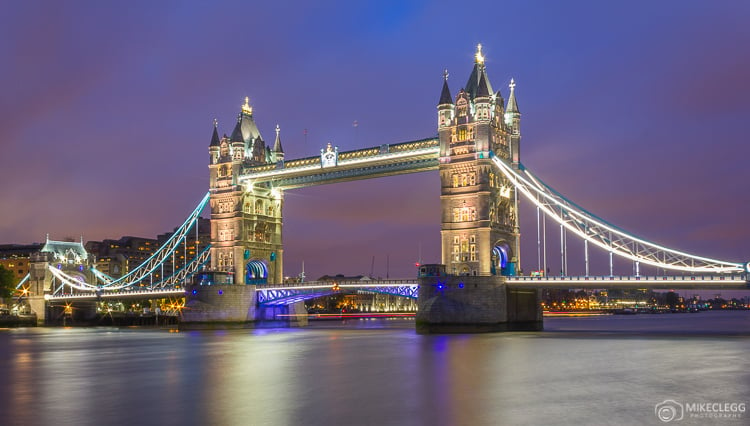 Tower of London
The Tower of London is one of the most popular attractions in London and is also a World Heritage Site. It's where you'll find the famous Crown Jewels, see the iconic Yeoman Warders and can learn the history of this historic landmark. But as well as this along the river beside it, you can capture some great pictures of Tower Bridge.
Around this area you'll find benches (which can be nice to include) and it's a great place to sit down and relax whilst enjoying the views.
Location: See on Google Maps
London Bridge
Another great spot to capture photographs of Tower Bridge is from London Bridge. This bridge is a short walk from London Bridge station and serves as a top spot to capture pictures at sunrise. From this angle, you can also angle your shots (such as we did below) so that you include HMS Belfast in your photograph too.
For the image below we used an ND filter to help us to take a slightly longer exposed image, therefore, creating the glass-like water effect.
Location: See on Google Maps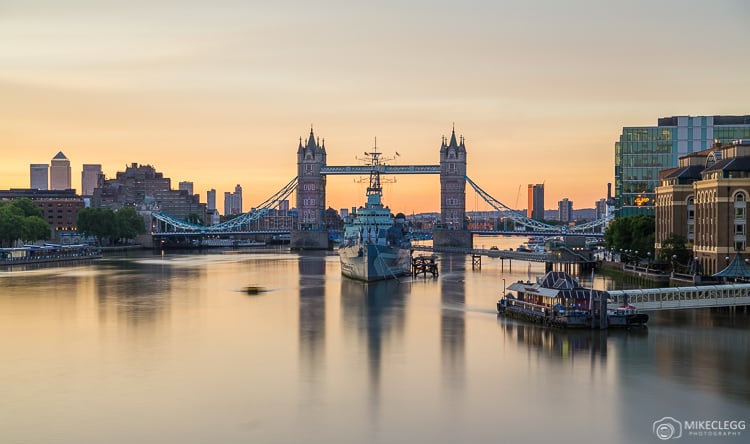 You May Like
The Tower Bridge Road
For a fun photograph of Tower Bridge then get up close and take an image from Tower Bridge Road. The image below is taken from a pedestrian island in the road so completely safe. If you wanted to achieve the effect like below then you'll need to take a long exposure using a tripod (and at night). Read our tips for taking light trail photographs.
As well as from the pedestrian island in the road, you could also wander along the paths on either side and beyond the first arch seen below to capture other images of the bridge along with traffic.
Location: See on Google Maps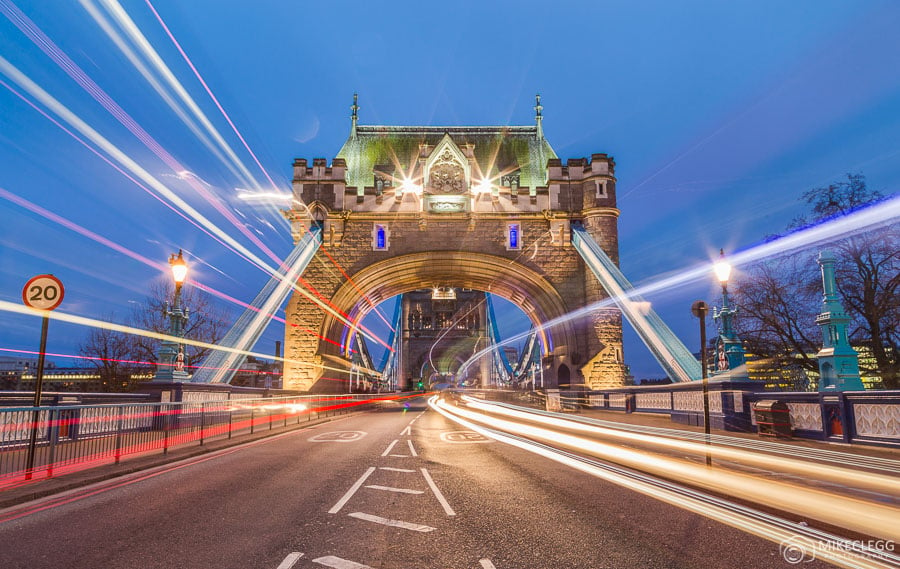 ADVERTISEMENT
CONTINUE READING BELOW
Butler's Wharf Pier
Just East of Tower Bridge is a pedestrian path and an area called Butler's Wharf Pier. This can serve as a top place to capture photographs of the bridge along with the City of London (financial district) in the background. Some of the iconic buildings you could include in your photos are the Walky Talky (20 Fenchurch Street) and The Gherkin (30 St Mary Axe).
You could also follow the path from here along the River Thames all the way to Greenwich and beyond. If you like walking and have a bit of time then we'd actually recommend you take this walk sometime during your visit (Greenwich is beautiful).
Location: See on Google Maps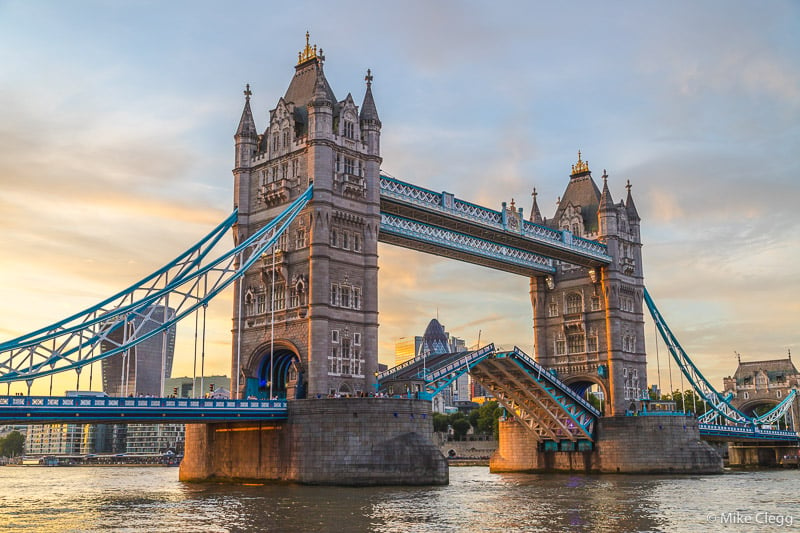 Tips to Photography Tower Bridge in London
Here are some tips for taking pictures of Tower Bridge:
Take pictures around sunset and into the blue hour. If you have time then we'd recommend visiting several of the places mentioned above.
Use a travel tripod if you're taking a long exposure (such as a night photograph) so that your image is nice and sharp. Alternatively increase your ISO, although this could introduce grain in your picture.
Consider using an ND filter if you want to take a long exposure and it's not too dark. This will allow you to create nice smooth water and sometimes wispy clouds.
Be sure to book tickets for The Shard in advance to guarantee your entry if this is a viewpoint/photography spot you really want to see.
If you can we'd recommend staying in the Shangri-La (or visiting the restaurant or bar) as this will give you more opportunities to capture pictures and it's also a wonderful experience too.
Summary
When visiting London we'd highly recommend you visit and capture some pictures of this iconic bridge. The good news is that you'll also find other London highlights nearby, including The Tower of London, St Paul's Cathedral, The Shard, Borough Market (great for food), Tate Modern, Shakespeare's Globe and more, meaning there are plenty of reasons to visit this part of the city.
Ready to book? Search for:
---