In Southeast Asia, wedged between Thailand and Vietnam, lies the Lao People's Democratic Republic, or Laos. Although it is part of the "banana pancake trail" (popular countries for young Western backpackers), it is relatively non-touristy compared to other parts of the region.
Less developed and prosperous than its neighbours, Laos offers a glimpse into what travelling in Southeast Asia was like five to ten years ago. As the economy relies heavily on tourism and foreign aid, the locals are happy to see visitors and show them their beautiful country. Travelling in Laos is slightly less comfortable, but arguably more adventurous than Thailand or Vietnam. To make the most of your trip to Laos, it is important to be prepared. From the best places to visit to what dishes to try, here are ten things you should know before travelling to Laos.
Size/layout of the Laos
Laos is a long country, stretching along from China down to Cambodia. On either side, it is flanked by Thailand and Vietnam. The country is also landlocked, with the Mekong River as the primary body of water.
The north of Laos is mountainous with lush rainforest and waterfalls. Towards the south, the landscape gets flatter and drier. The plains of Laos are mostly used for agriculture, with rice as the main crop.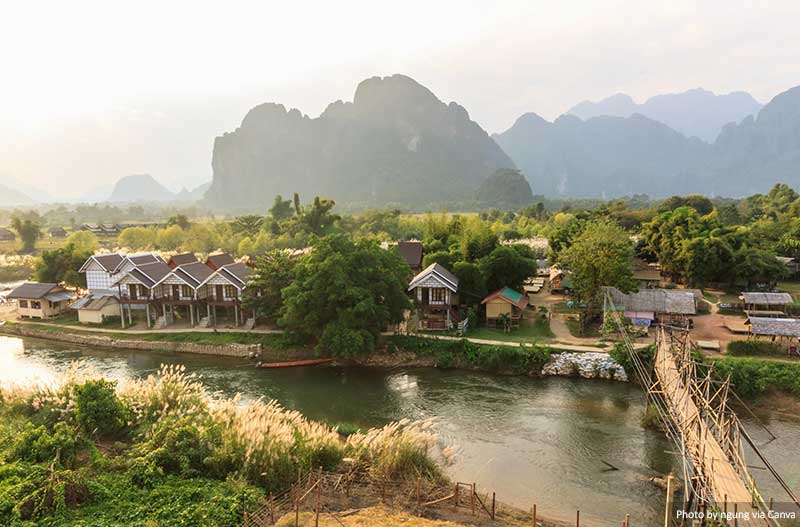 Weather and seasons
Due to the shape of the country, the weather conditions vary from place to place. Due to higher elevation, the north of Laos is generally cooler and less humid than the south.
Like most of Southeast Asia, Laos has two main seasons: wet and dry. The rainy season runs roughly from May to September and the dry season from October to April. November, December and January have the most pleasant weather which is cool and dry.
Temperatures reach their peak in April and May as they rise to 35-40 degrees Celcius. This coincides with the "burning season", when farmers burn the remnants of their crops after harvest, producing smog and pollution.
During the early wet season, rainfall tends to come in short and heavy bursts, which turns to a more constant downpour in the later months.
ADVERTISEMENT
CONTINUE READING BELOW
Highlights of Laos
Laos is a beautiful country with diverse landscapes and impressive cities. The north is widely regarded as the loveliest part of the country, with jungle, waterfalls and mountains. This is also where you'll find the three main cities of Laos, Vientiane, Luang Prabang and Vang Vieng. Vientiane is the capital, but much smaller and quieter than Bangkok or Saigon. Vang Vieng is a backpacker paradise, perfect for both partying and outdoor sports. The pearl of Laos is Luang Prabang, the cultural centre of the country. This picturesque city next to the Mekong River has a UNESCO World Heritage protected city centre with beautiful colonial architecture and traditional Buddhist temples.
Towards the south, the Thakhek loop is the Laotian version of Ha Giang in Vietnam. A three-day motorbike loop takes you through everchanging landscapes, little villages and along giant caves. Even further down lie the 4000 islands, where you'll find the only beaches in Laos. This group of countless islands in the Mekong delta may lack salty air, but they do have those laid-back island vibes.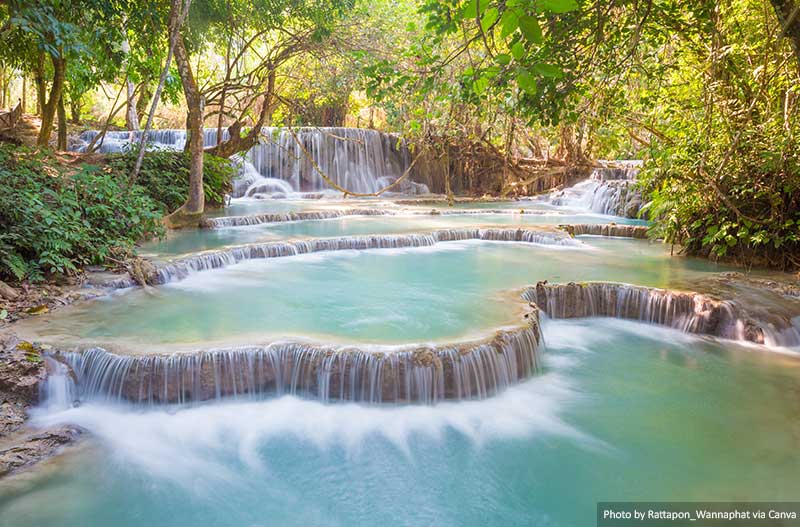 Tours and Excursions
For tours and excursions have a look on GetYourGuide for ideas. Below are a few ideas or click the blue button for lots more.
Language & culture
The official language of Laos is Lao, a Southeast Asian language closely related to Thai. In the north, where many Chinese immigrants and ethnic minorities live, Mandarin and minority languages are spoken as well. Laos was once a French colony, but French is no longer widely spoken.
The younger generations have embraced English, especially when it comes to tourism. People working in the service and tourism industry in bigger cities tend to be quite proficient in English. However, do not expect everyone to speak and understand English, especially in the countryside. Here, you will have to rely on non-verbal communication, something the Laotians are very good at.
Although no one will expect you to speak fluent Lao, it is always polite to learn a few basic words and phrases, such as "hello" and "thank you".
Laos is a Buddhist country, which heavily influences daily life and culture as well. According to Buddhist custom touching someone's head or pointing your bare feet at them is considered very rude. It is common for young boys to spend a few months as a monk as part of their education.
Laotians tend to be calm, collected and friendly people who always have a smile on their face. Raising your voice, public affections and showing strong emotions are frowned upon. The people in Laos work hard, but also place great value on relaxation and enjoyment. They love to spend quality time with friend and family, often accompanied by plenty of food and drink.
Laos is a communist state with only one legal political party and close ties to China. The influence is most evident in the north of Laos.
ADVERTISEMENT
CONTINUE READING BELOW
Laos Cuisine
Lao cuisine is a happy marriage between Thai and Vietnamese flavours. Because of Laos' limited agriculture and means, food tends to be simple. Traditional dishes revolve around rice, meat and fish, although vegetarian food can be found in bigger cities. French influence is also visible, especially in the fantastic fusion restaurants in Vientiane and Luang Prabang.
Popular dishes that you'll find everywhere are simple noodle soups, curries and rice. Instead of regular steamed rice, Laotians eat sticky rice. This is glutinous rice that's rolled into balls and used to scoop up meat and vegetables. Laotians like their food spicy, but often chilli is placed on the side for everyone to add to taste. Be sure to try the national dish, larb, a spicy cold meat dish and papaya salad. Popular snacks include baguette sandwiches, fruit shakes and banana chips.
All food in Laos gets washed down with Beer Lao, the national rice beer or Lao Lao, rice whiskey.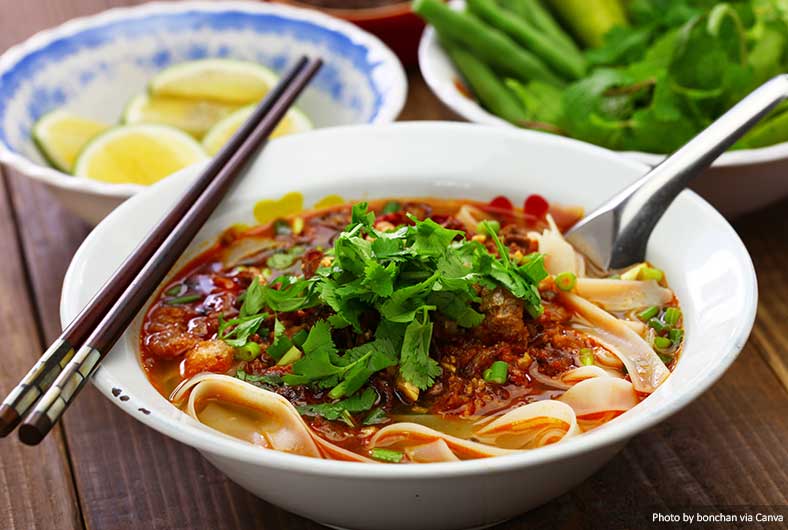 Transportation
As a tourist, you have several options for getting around in Laos. There are four international airports, located in Vientiane, Luang Prabang, Savannakhet and Pakse. However, it is more affordable and exciting to travel overland. Bus travel is the transportation of choice for both tourists and locals as few people own a car.
Big touring buses and minivans drive between bigger cities and tourist destinations. Although buses are more comfortable, minivans are faster and sometimes the only option. Be mindful though that the minivan drivers go fast, which is not always fun when crossing narrow mountain passes.
Local buses are the cheapest, but also the slowest option. You are likely the only foreigner on a local bus, and it will stop at random places to let people on and off. If you are not in a rush, taking the local bus is a fun cultural experience. Once at your destination, you have a choice of walking, tuk-tuk or motorbike. Motorbikes are a fun mode of transportation to explore your surroundings with, but only rent them if you know how to drive them.
Another option is to take a tuk-tuk for short rides or even hire a driver for the day to drive you around as a guide. Always negotiate a price upfront!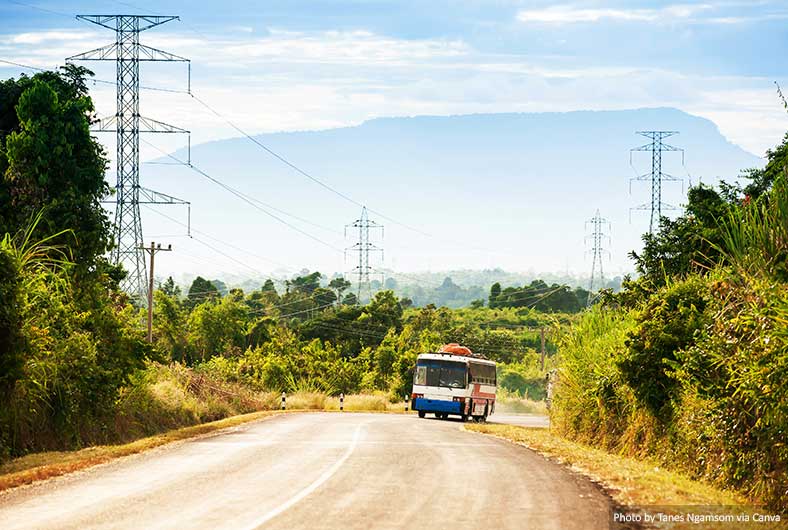 Safety
Laos is a relatively safe country with low crime rates. As a traveller, you might encounter some scamming and petty crime. However, compared to for instance Thailand, this is much less common. The most common scams are police bribes and motorbike "damage" scams. In busy places such as Vang Vieng, Vientiane and Luang Prabang it is wise to keep an eye on belongings and watch out for pickpockets.
The low quality of the roads makes traffic the most dangerous aspect. Be especially careful when renting and driving motorbikes and always wear a helmet. Plenty of tourists get into serious motorbike accidents in Laos every year. Fortunately, healthcare is affordable, even in English speaking private clinics.
During the Vietnam War, Laos became the most bombed country in the world. Millions of unexploded cluster bombs, called UXO's, are still strewn across the country, especially close to the Vietnam border. Disposal of these bombs is a slow process, and many people are wounded or killed due to explosions every year. As a tourist, you are unlikely to come across any UXO's, but be careful when visiting remote regions.
ADVERTISEMENT
CONTINUE READING BELOW
Accommodation options
When it comes to accommodation in Laos, you have four types to choose from: hotels, hostels, guesthouses and homestays. Regular western hotels and hostels are available in the bigger cities, but in the countryside and villages, you will often have to rely on guesthouses and homestays.
Traditional Laotian guesthouses are a bit old-fashioned but comfortable and usually very affordable. Prices are negotiable and often include breakfast. In the 4000 Islands you can even rent your own riverside bungalow.
Homestays are a great option if you want to experience Laotian village life and meet locals. These are a common type of accommodation on treks and village tours. Proceeds benefit the local community, and you will get a taste of authentic Laos culture and cuisine.
Hostels in Laos are usually not as modern and developed as in Thailand and Vietnam, and flashpacker places are harder to find. However, they are very affordable and perfect for budget backpackers.
The interactive map below can be useful for searching for hotels and apartments throughout the country. You can change your destination in the top left as well as add other filters.
Money/currency & cost
The currency in Laos is called kip, although USD and Thai baht are also widely accepted. The Lao kip is a weak currency with the exchange rate around 8.800 LAK to 1 USD. Be sure to exchange all your kip before leaving the country as it is not accepted at changing offices anywhere else, even the neighbouring countries. It does work the other way around, and you can exchange Thai baht or Vietnamese dong in Laos for kip.
Although you can often pay by card at hotels, guesthouses, modern restaurants and tour offices, it is important to carry enough cash. Street vendors, small restaurants and bars, tuk-tuk drivers and village guesthouses only accept cash. Paying by card is also usually more expensive and comes with a surcharge.
Laos is a very affordable country to travel to. As a budget backpacker, you can get by on around 30 USD per day. The cost of food, accommodation and transportation is low by western standards. A street food meal, beer or tuk-tuk ride costs only a couple of dollars, and you can stay in a decent guesthouse for less than 10 USD a night. Haggling is common in Laos, so be prepared to negotiate prices on markets, for tuk-tuk rides and private tours. This is part of the culture and why vendors start with a ridiculously high asking price. The cost of food and buses is always fixed though!
ADVERTISEMENT
CONTINUE READING BELOW
Visas
Since opening its borders to tourists in 1989, travelling to Laos is a breeze with most passports. Travellers can get a 30-day visa on arrival, either by plane or overland. A few countries are exempt from a visa for Laos altogether, so always check with your government if you need a visa.
Be aware that to receive the visa, your passport must be valid for at least six more months and have a blank page. You also need two passport pictures and the visa fee in cash. The price ranges between 20 and 42 USD, depending on your nationality. Often you'll end up paying another dollar or two in "administrative fees".
If you are planning to stay longer than 30 days, you can extend your visa for a fee at the Lao Immigration Office in Vientiane. Some travel agents can also help you extend your visa. You can also go on a visa run to Thailand or Cambodia.
Start Booking
Here are some top options to book your hotels, activities, flights and other transport:
---
Please note that we get a small commission if you purchase via our referral links. We use this to invest in new content and improving this website. Thanks so much for your support.
Related Articles