Have you ever needed to transfer money to a bank account in another country, but found the fees charged by banks excessive, or it was time-consuming and difficult to make the transfer? Well, Wise (previously called TransferWise) has revolutionised international transfers by creating a fantastic online service to solve this problem. If you are looking for a solution to allow you to transfer money to friends, family, businesses, or other bank accounts abroad, then keep reading for my reasons why I think you should be using Wise to do this.  Please note this post includes affiliate links (more info at end of post).
Note: Transferwise has now been rebranded to Wise. Screenshots below still show labelled as Transferwise but they are the same company.
Before I continue, below you can see a graphic showing you briefly how the service works.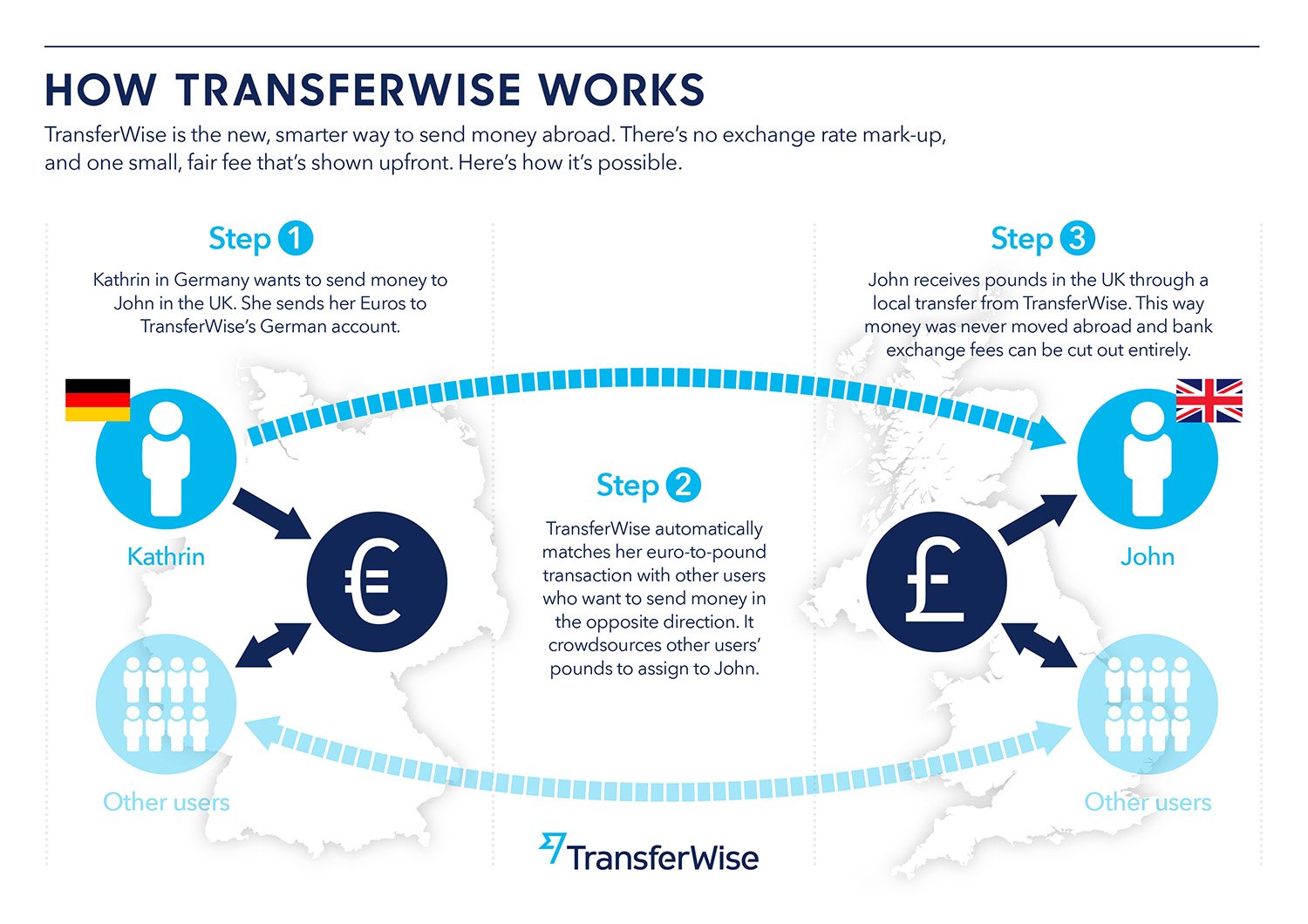 Reasons to use Wise for international transfers
I have been using Wise for years and here are some of the reasons why I recommend this service:
1. Cheap fees
The first reason why I recommend Wise, is that the fees you pay are incredibly cheap, compared to a bank and many other services.
For example, my recent international transfer was for €900 from my UK account to my Euro account. My fee for this transaction was only 3.61 GBP. However, if I did this transaction with my bank I may have paid up to 32.66 GBP. The resulting transfer was done using the mid-market exchange rate (which is used by Google and Reuters), rather than adding a large markup (which banks often do) and costing you so much more.
Wise does charge a fee, but as per my example, you can see it's tiny and in my opinion, the convenience the service provides is totally worth it!
2. Fast transfers
The transfers with Wise are incredibly quick, and most of my transactions sent between England and Austria happen the same day! Making it almost a lifesaver if you run out of money!
The way this system works is by you depositing money into one of their local bank accounts, say their Euro account, and then once Wise receives that money, they send you money from their destination account, such as a GBP account.
This concept is thanks to the genius of Taavet Hinrikus and Kristo Käärmann (the creators), where Taavet worked in Estonia (Euros), and Kristo worked in the UK (GBP). To transfer money between each country, Taavet would pay into Kristo's Euro account with Euros, and then Kristo would put pounds into Taavet's UK account. The money would therefore never technically move across the borders and allows for an incredibly fast transfer, and the same principle is now used in Wise.
3. Easy to use
Wise is incredibly easy to use, and once signed up you just go through some simple steps of adding your details and destination bank account number, as well as the account you want to withdraw funds from.
Once you have made your first transfer you can save your details making future transactions even quicker. Whenever I now want to make an international transfer, it probably takes me less than five minutes to do.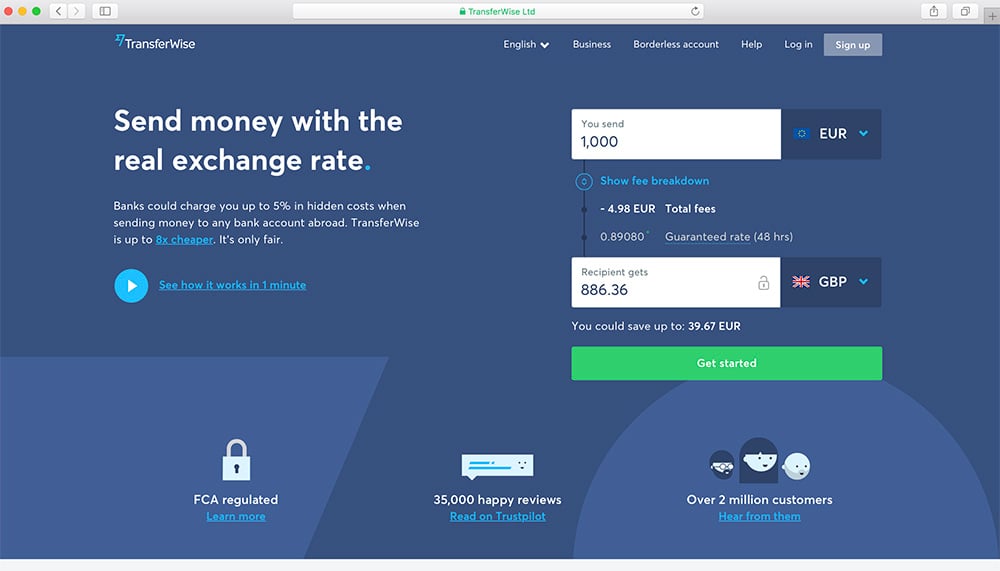 4. Multiple currencies
There are currently 39 currencies supported (at the time of writing) with more coming soon. So as well as transferring money between Euro accounts and British Pounds you can also transfer between the below currencies too.
Australian Dollar
British pound
Brazilian Real
Bulgarian Lev
Canadian Dollar
Czech Koruna,
Danish Krone
Euro
Hungarian Forint
Japanese Yen
New Zealand Dollar
Norwegian Krone
Polish Zloty
Romanian Leu
Singapore Dollar
South African Rand
Swedish Krona
Swiss Franc
US Dollar
And also from the above currencies too:
Bangladeshi Taka
Chinese Yuan
Colombian Peso
Emirati Dirham
Georgian Lari
Hong Kong Dollar
Indian rupee
Indonesian Rupiah
Malaysian Ringgit
Moroccan Dirham
Philippine Peso
Pakistani Rupee
Mexican Peso
Russian Rouble
South Korean Won
Sri Lankan Rupee
Thai Baht
Turkish Lira
Ukranian Hryvna
Vietnamese Dong
Since using Wise me and my girlfriend have used the service to transfer money between Austrian, UK and also Canadian bank accounts. All without any issues.
5. Safe and regulated
I know personally that using an online service to make potentially big money transfers can be scary. However, Wise is regulated by the UK's (FCA) Financial Conduct Authority, meaning customers who use the service are protected under European rules and regulations.
6. Great reviews
Often when I consider using a service I will look at reviews. Wise has some of the best service reviews on www.trustpilot.com with a review average of 9.3/10 for over 40,000 reviews. If you haven't heard of Trustpilot before, it's a site that businesses and services from all around the world use, to ask real customers to leave honest reviews. It is, in my opinion, one of the best and most trustworthy review sites going.
7. They are partnered with Monzo
Another great thing about Wise is that they have now partnered with online bank Monzo. This means that if you're a Monzo customer you can now easily and cheaply transfer money internationally from directly within the app. I have been a big fan of Monzo for years and use it myself. Currently I believe it's only available to UK citizens (with USA coming soon), but hopefully down the line it'll be available to more countries.
8. Invested in by Sir Richard Branson
And finally have you heard of Sir Richard Branson who owns Virgin Media, Virgin Trains and many other huge businesses? Well, when TransferWise (now Wise) was starting it had the likes of Sir Richard Branson investing it, as well as many other big technology companies.
Summary
As someone who has now lived in three countries around the world Wise has made my life so much easier. It has allowed me to get money to my various bank accounts quickly and with minimal cost. For ex-pats, businesses and anyone else who needs to transfer money internationally, then I really recommended you definitely check out this service.
More about them: wise.com/gb/about/our-story
Disclosure: Note this post includes affiliate links meaning I get a small commission at no cost to you. However I personal used TransferWise (now Wise) to make a large number of international transfers and truly believe in the product/service. Pictures provided by Wise for media use.
Related Articles