France has some of the best and biggest ski resorts in the world and in this post you will find my suggestions of some of the top resorts I recommend visiting. All the suggestions are located in the Alps in the east of France.
With each suggestion you'll also find useful information, such as the number of runs the resort has, including the difficulty level with green being the easiest and black being the hardest, as well as the total ski area, highest accessible point and other useful information. I hope this post helps you find a great place to ski in France this winter.
1 | Alpe d'Huez
Alpe d'Huez is in the Oisans region of the French Alpes. It provides 249km of piste runs linked by 84 lifts. There is a good variety of runs for all abilities with 41 green, 34 blue, 40 red and 16 black, as well as a halfpipe, two snow parks and a boarder cross park. The highest point is at 3330 meters on the Pic Blanc Glacier where you'll get breathtaking views of the surrounding landscape. One of the highlights and one of my favourite runs during my visit is the Sarennes run which is the longest in Europe at 16km. On this run you'll experience a range of different terrain and difficulties and will have tree sections, some challenging black sections and some nice easy but fast sections.
Total ski area: 249km
Number of runs: 130
Base level: 1860 meters
Highest ski point: 3330 meters (Pic Blanc)
Lessons available: Yes
Closest airports: Grenoble (106km), Chambéry (131km) and Lyon (153km)
Website: www.alpedhueznet.com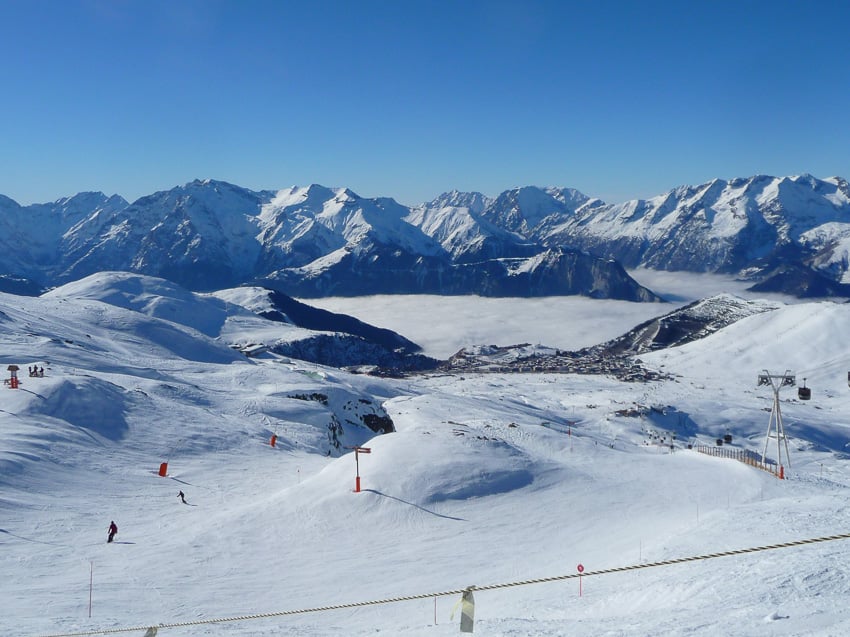 2 | La Plagne
La Plagne is a huge resort and part of Paradiski, giving you access to 425 km of runs, with 225km of them being in La Plagne. The Paradiski area includes La Plagne as well as Les Arcs and Peisey-Vallandry. Throughout the entire skiable area you have access to 12 green runs, 135 blues, 77 red and 36 blacks. As well as this are 2 snowparks, a half pipe, 4 toboggan runs and 2 airbags. Another cool thing about this resort is that from certain points you'll be able to see Mont Blanc which is the highest mountain in the Alps at 4808m high.
Total ski area: 225km (La Plagne), 425km (including Paradiski)
Number of runs: 134 (La Plagne), 260 (including Paradiski)
Base level: 1800 meters
Highest ski point: 3250 meters (Bellecote Glacier)
Lessons available: Yes
Closest airports:  Chambéry (115km), Grenoble (135km), Geneva (155km) and Lyon (195km).
Website: winter.la-plagne.com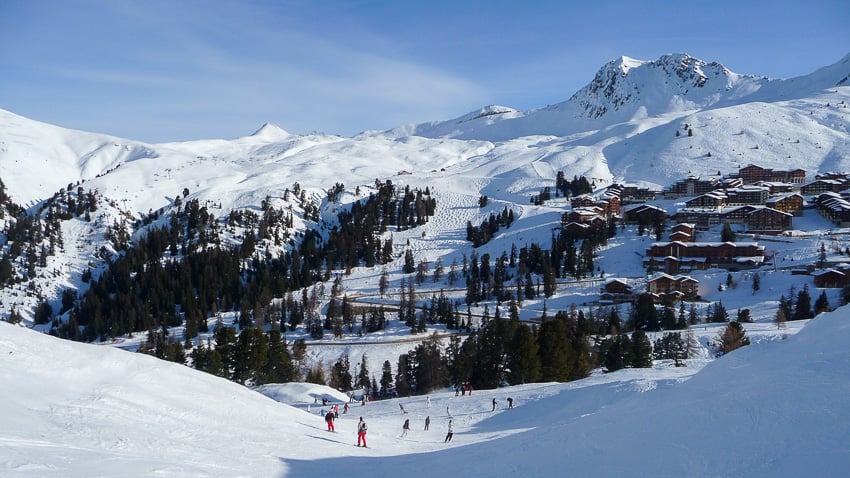 3 | Méribel (Part of Les 3 Vallées)
Méribel is one of my favourite ski resorts in France and is part of Les 3 Vallées. This means that as well as the Méribel ski area you will have the option of skiing in the other neighbouring resorts, and this gives you a gigantic 600km of ski runs, accessible by 166 lifts. The entire area has a good mix of runs with 55 greens, 138 blues, 106 reds and 35 blacks. As well as this you will find snowparks and many more awesome features. A good reason to stay in Méribel is that it's in the centre of the 3 Valleys which means it's a lot easier and quicker to get to the other valleys.
Total ski area: 600km
Number of runs: 334 pistes
Base level: 1750 meters (Meribel-Mottaret)
Highest ski point: 2,952 meters at Mont Vallon
Lessons available: Yes
Closest airports: Chambéry (100km), Geneva (135km) and Lyon (180km), Grenoble (180km)
Website: ski-resort.meribel.net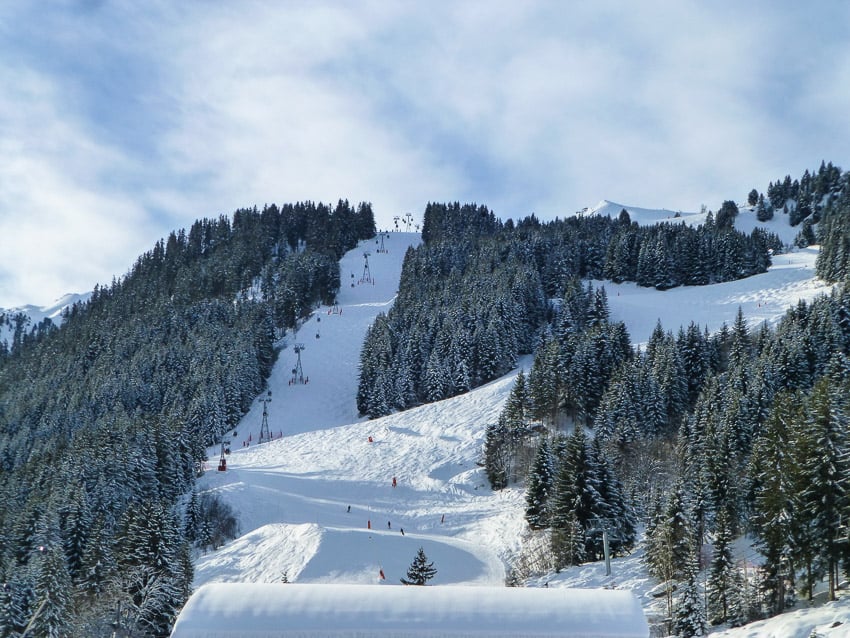 4 | Tignes
Tignes is in the Savoie region of the Alps and the resort area combines with Val d'Isère to give you 300kms of ski runs, as well as 3200 hectares of off-piste. There is a good mix of runs of different difficulties, as well as two snowparks, an airbag, boardercross park, a halfpipe, cross country area and various other features. The highest point you can get to is at 3456 meters which is at the top of the Grande Motte cable car. After enjoying the views head down some of the runs leading away from it, although these are black runs. If you aren't quite up for a black run you could of course take the lift back down.
Total ski area: 300km
Base level: 2100 meters
Highest ski point: 3456 meters (La Grande Motte)
Lessons available: Yes
Closest airports: Chambéry (142km), Geneva (178km), Grenoble (215km), Lyon (219km)
Website: en.tignes.net
Note: I couldn't find the exact number of ski runs for Tignes so have left this out.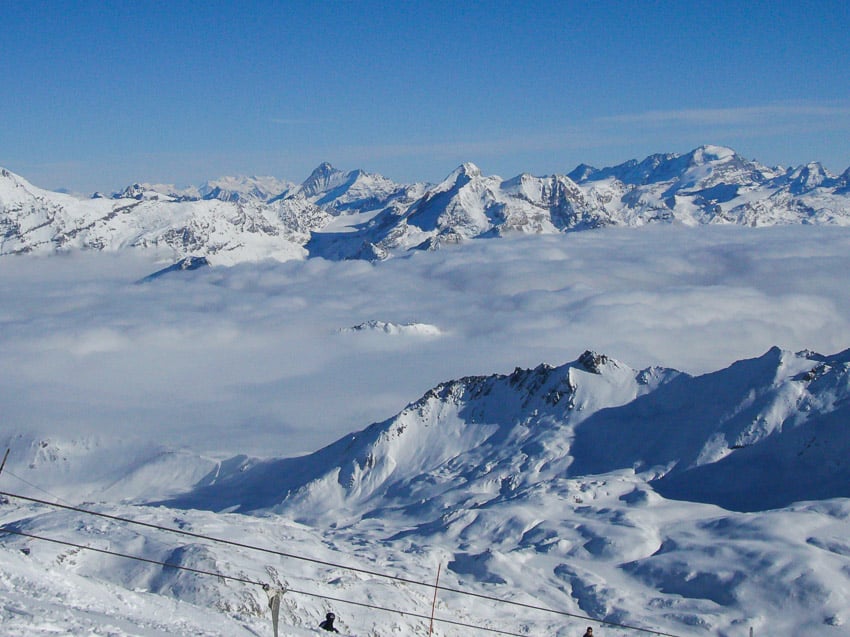 5 | Les 2 Alpes
Les 2 Alpes is in the Oisans part of the Alps and has 425 hectares of ski pistes, which includes 17 green, 45 blue, 22 red and 12 black runs. It also has one of the best snowparks in Europe as well as a halfpipe, two boardercross parks and other facilities.
Total ski area: 425 hectares
Number of runs: 96
Base level: 1650 meters
Highest ski point: 3600 meters
Lessons available: Yes
Closest airports: Grenoble (120km), Lyon (160km), Geneva (220km)
Website: www.les2alpes.com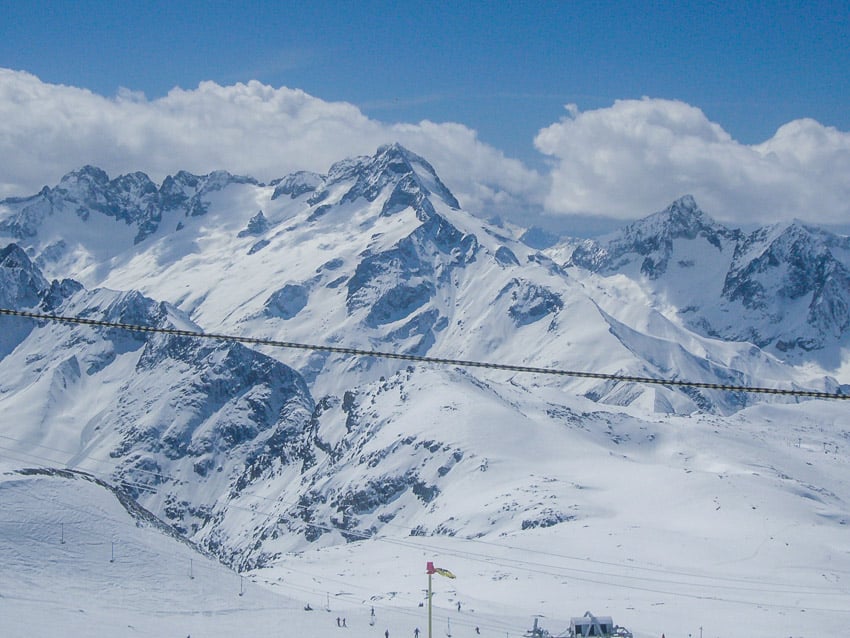 Tips for booking ski holidays
Here are some tips for booking a ski holiday:
Do your research on transfer connections to and from the resort to make sure it's affordable.
Look around for deals, especially last minute deals.
Consider a package holiday which includes accommodation, flights and transfers.
If you can pull a group together you may be able to stay in an all-inclusive chalet which is an amazing experience.
The best time to go in France is generally mid December-early March. Check the average snow conditions in previous years before booking.
Summary
My favourite recommended resort would be Méribel followed by La Plagne. There are also lots of other great ski resorts around France that I haven't made it to yet. Have you been to any of these suggestions above, or do you know of any other fantastic places to go? Please leave a comment below.
Other posts you may like:
Ultimate Safety Tips for Skiers and Snowboarders
More posts on Active and Adventure Trips
More posts on Europe

---
---
Disclaimer: factual information obtained through the resort websites. Please check the official websites for most up to date information before making a booking.