A perfect winter getaway would be a trip to Austria where you combine a visit to Salzburg with Obertauern. By doing so you would get a mix of both city and nature, history and adventure, resulting in a trip with fun and fantastic experiences. Such a trip is easy to do, and in this post I will provide details on how you could go on such a trip, as well as some things to do in both destinations.
---
Salzburg
Salzburg is a beautiful baroque city located not far from the Alps, with mountains and beautiful scenery all around. The historic centre is now a UNESCO World Heritage site since 1996, and the city is a popular destination famous for being the birthplace of Wolfgang Amadeus Mozart and being a film location for the movie "Sound of Music".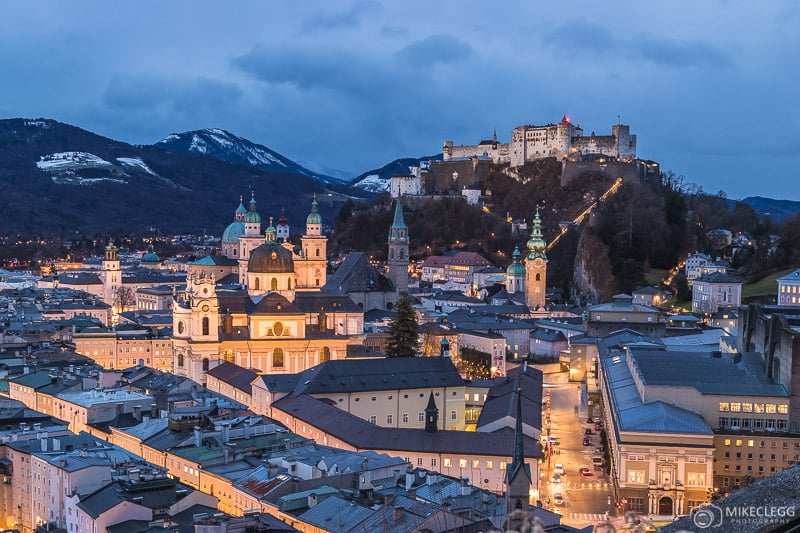 Getting to Salzburg
If you are flying then you can easily get to the city via Salzburg Airport which is just outside of the city. You'll find connections to the airport throughout Europe and now Eurowings are offering some direct connections from London, which only takes a flight of around an hour thirty to two hours.
You could also arrive by train and tickets can be very affordable. Look on OEBB or Westbahn for tickets, and always book a week or so in advance as it tends to be a lot cheaper.
Another option is to arrive using a bus service such as FlixBus, which has connections from major cities such as Munich, Zurich and Berlin.
Things to see and do in Salzburg
Use a Salzburg Card
The Salzburg Card is a great way to see the city, and once purchased provides entry to all the city's main museums and attractions for no additional cost. Some of the things included are Hohensalzburg Fortress, Mozart's Birthplace, DomQuartier and many more attractions. As well as this you can use the public transport and also the lift up to Museum der Moderne Monchsberg. If you are planning to see and do a lot during your visit then the card should be a great way to save money.
Go on a city Tour
When visiting a new city it's always good to learn a bit about the history and a good way to do this is to take a city tour. During my visit, I had a walking tour with Salzburg Smile Tours which I really enjoyed. I found the guide Christian told us just enough information to keep our attention and help us learn a good amount about the city and what we were seeing.
Head up to Hohensalzburg Fortress
One of the cities highlights is the Hohensalzburg Fortress which looms high above the city and sits atop Festungsberg mountain. The fortress was built in 1077 by Archbishop Gebhard and is one of the cities most recognisable landmarks. To get up to the fortress you can either walk or take the funicular, and once there you can enjoy the postcard views of the city, or explore the museum and other exhibitions available.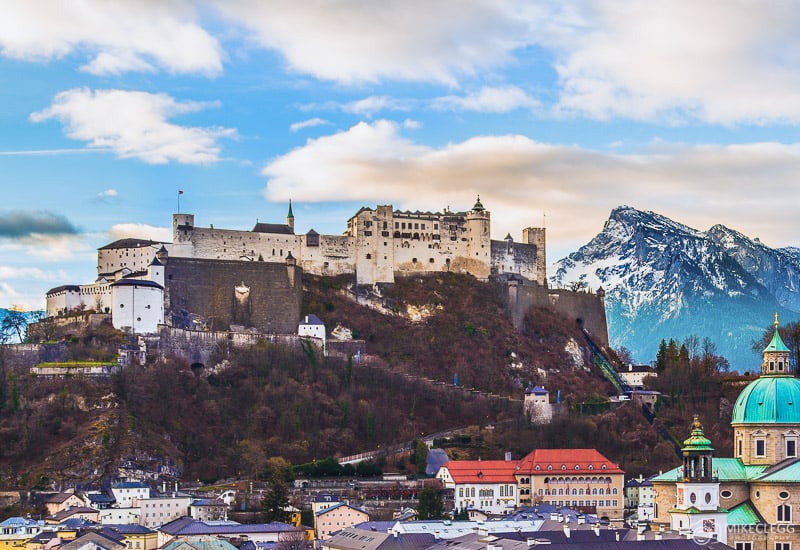 Explore, admire and take photographs
Salzburg is the kind of city that you could just turn up to and have a good time, exploring the streets, admiring the architecture and relaxing in a beautiful cafe or restaurant. If you are into photography then head to my post on top Instagram and photography spots throughout the city.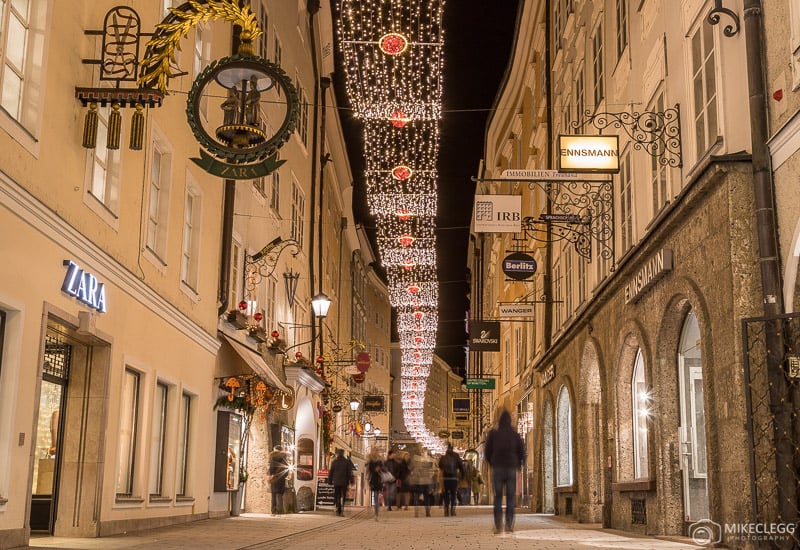 Visit at Christmas
If you decide to visit at Christmas then you will be in for a treat, and I would rate Salzburg as having one of the best Christmas Markets in Europe. The market is 525 years old and you'll find it in the historic centre around Domplatz and Residenzplatz next to the Salzburger Dom. Whilst exploring the market you will find a large selection of gifts and items from over 100 exhibitors, as well as plenty of places to drink Glühwein and eat tasty food.
An interesting Christmas fact about Salzburg is that the text for the Christmas carol "Silent Night" was written by Joseph Mohr who was born here along a street called Steingasse. The melody for the carol was composed by music teacher Franz Xaver Gruber. The song which hopefully you've heard has since been translated into 300 languages.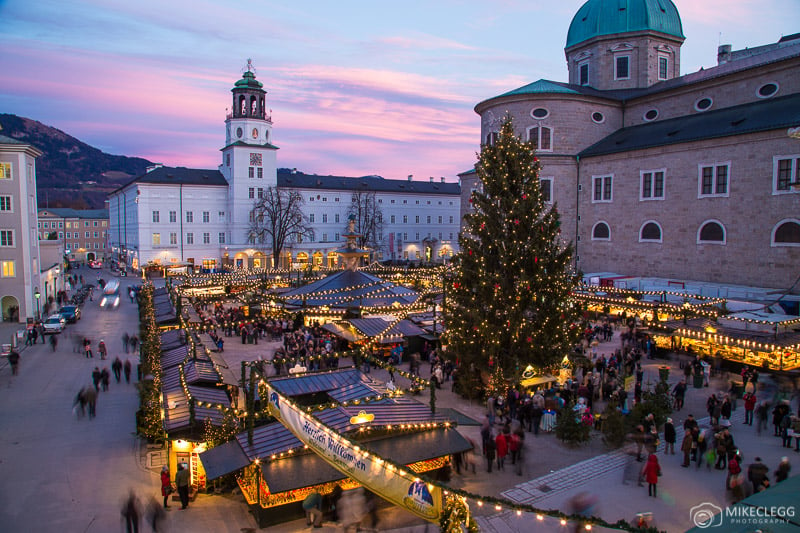 More things to do
For lots more to do in Salzburg head to salzburg.info/en/sights, or see some of the tour and activity options below.
Where to stay in Salzburg
Here are a few ideas of places to stay in Salzburg. For more options have a look on booking.com.
Budget: YoHo Hostel is located close to the train station and around 20 minutes walk from the old historical centre. The hostel has breakfast options, a bar, WiFi and bike rentals.
Mid-range: A nice mid-range hotel is the Hotel am Mirabellplatz which is located very close to the Salzach River and the historical centre. The hotel provides nice rooms, decent buffet breakfast and various other facilities
Luxury: One of the most luxurious hotels in the city is Hotel Goldener Hirsch, a Luxury Collection Hotel. This hotel is located along the Getreidegasse which is one of Salzburg's most beautiful streets. The rooms and facilities at the hotel look traditional Austrian, elegant and beautiful.
You can find more options using this map:
---
Obertauern
Only 90km south of Salzburg and at an altitude of 1740 meters is the beautiful alpine resort Obertauern. The resort makes for a great escape for skiing, snowboarding and other winter activities. Obertauern is referred to as "Austria's Snow Bowl" and having "Champagne Powder" due to the quality of the snow which has been scientifically proven to be some of the best and most reliable in Austria. The resort is located in the Tauern mountains and snow can sometimes last for 7 months from October to May with a maximum average snow depth of 264 centimetres.
A cool fact about Obertauern is that in 1965 it was a filming location for the Beatles film "Help" and there is now a themed trail where you get to see many of the film locations.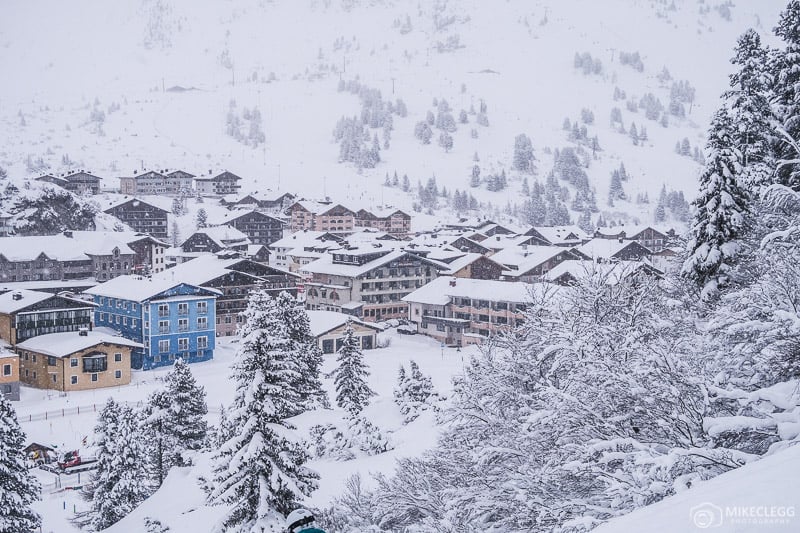 Getting to Obertauern
To get to Obertauern you could rent a car, get a hotel transfer or book privately through Salzburg Limousines. If you wished to travel by train the closest station is Radstadt which is 20km away. From there you can get a bus.
Things to see and do in the winter
Ski and Snowboard
The winter season runs from late November to early May, and at the resort you'll find 100km of runs of various difficulties. These are accessible by 26 lifts and there are 61km of blue runs (easy), 35km of red (intermediate), and 4km of difficult runs (black). The highest point you can get to is around 2313 meters. For those advanced skiers and boarders who want a challenge, you will find one of the steepest mogul runs in Europe at this resort, the "Gamsleiten 2", which is at a 45-degree incline.
A really good thing about this resort is that the ski area has been cleverly designed so that you can go on a special "Tauern round" which is a circuit that goes clockwise and anti-clockwise covering red and blue runs, and once you complete the circuit you'll end up where you started. To make your life easier the resort also uses electronic touch passes to access the lifts, so you just need to pop the pass in your jacket and tap it to go through the barriers.
During my visit, I found the ski runs and snow conditions fantastic and could easily have stayed longer. I even went off-piste a few times which was heaps of fun. I also felt the resort has quite a few tree runs which really adds to the beauty of the destination.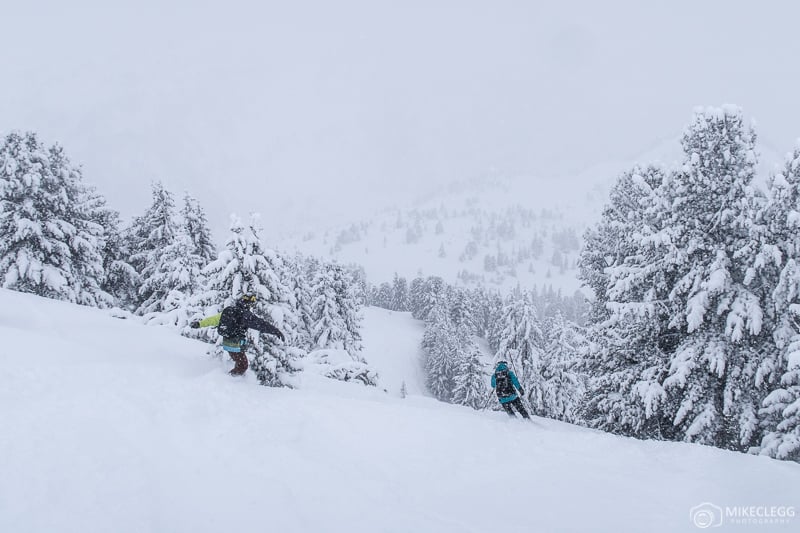 Enjoy the views without equipment
For those that don't wish to ski or snowboard you can get the Grünwaldkopfbahn and Zehnerkarbahn lifts up the mountain and just enjoy the fantastic views from the top.
Visit Gnadenalm
Around 10-15 minutes drive away from Obertauern is Gnadenalm which is incredibly scenic and beautiful. Is it quite rural and when visiting in the winter it's like a winter wonderland (when there's snow).
There are various activities available at Gnadenalm, such as a 1.5km toboggan run which is even available at night on some evenings. As well as horse-drawn sleigh rides where you can relax whilst cruising through the wintery landscape. Also available is Biathlon which involves cross-country skiing and shooting which I haven't tried but sounds like a lot of fun.
After you've finished enjoying the various activities available at this location head to the Gnadenalm restaurant. This is a beautiful traditional Austrian style hut and is very cosy inside and serves delicious food and drink.
More information about the activities: gnadenalm.com/winterurlaub-obertauern.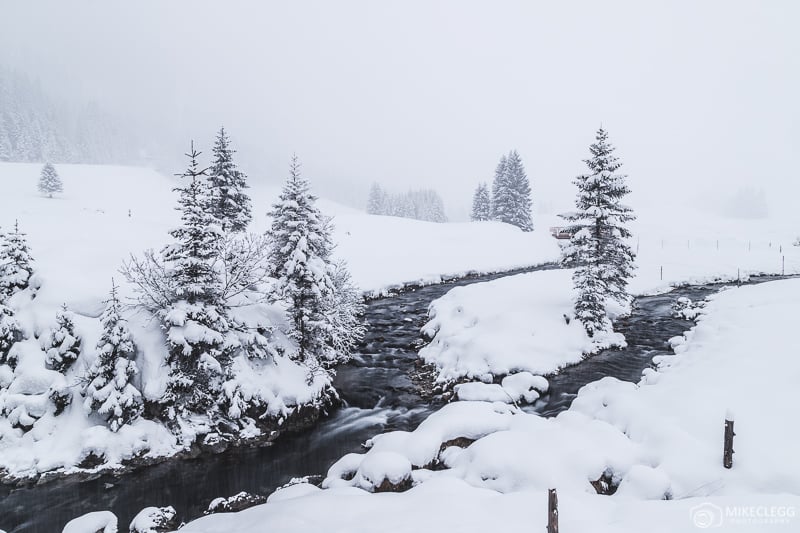 Where to stay
You will have a large choice of places to stay in Obertauern with 150 hotels, hostels, apartments, inns and guesthouses. A really nice place where I stayed during my visit was Hotel Binggl, which is in a central location with an equipment hire shop directly opposite and is only a short walk to the closest ski lift. As well as this they provide nice Austrian styled rooms with wooden decor and a decent breakfast to get you going in the morning. The staff are also beaming with smiles which made staying here even more pleasant.
You can find more places to stay using this map:
---
Summary
Salzburg and Obertauern make for a fantastic destination to visit in the winter with great activities and sightseeing. If you were to visit I would recommend around 2 days in Salzburg and 2-4 in Obertauern, although shorter and longer trips would also be great.
Ready to book? Search for:
---
Tourism websites:
www.salzburg.info
ski-obertauern.at
www.salzburgerland.com
Disclosure: My trip to visit Salzburg and Obertauern was in collaboration with SalzburgerLand, VisitSalzburg and Obertauern tourism boards, as well as Eurowings and Salzburg Airport. 
Related Articles