Gastein is a resort and spa town located in the Salzburgerland state of Austria. It is a fantastic place to go for skiing, snowboarding and other winter sports, as well as to visit in the summer for hiking and natural scenery. In past times Gastein was a destination for royals including Emperor Franz Joseph and Empress Elisabeth of Austria (Sissi), who used to travel on horseback in the summer for the natural thermal water and for hiking in the mountains.
Gastein consists of towns Bad Gastein, Bad Hofgastein and Dorfgastein, and during my visit I stayed in Bad Gastein. This town is located at 1,002m and is in a great location with various lifts up the mountains directly within the centre.
For the purpose of this post I will be going into more detail about what Bad Gastein has to offer and also how it connects with all the ski areas.
During my visit, I arrived by train and there is a station within the town which has direct connections to Salzburg, Vienna and many other destinations. This makes it extremely easy to get to the resort. If you are travelling by air then Salzburg Airport would be a good choice.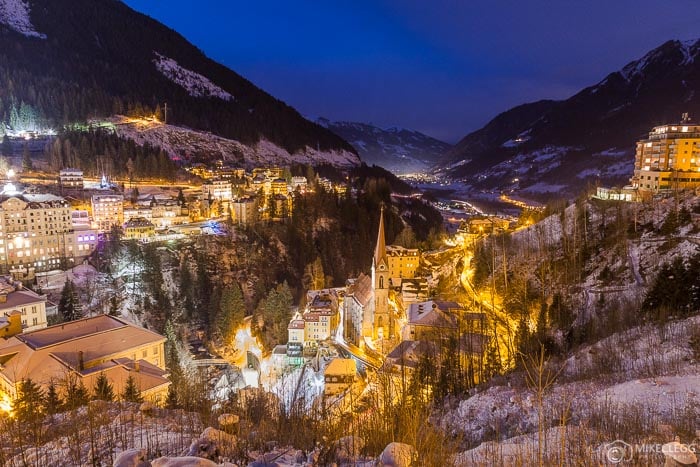 ---
Ski and Snowboard Runs
The ski areas in the Gastein valleys are part of Ski amadé region and consist of the ski link Schlossalm-Stubnerkogel-Angertal, Sportgastein and Graukogel areas, as well as the ski link Dorfgastein-Grossarl areas. Including these Gastein areas, pass holders have access to a total of 5 resorts, 25 villages and 760km of ski area from Ski amadé, making it one of the largest areas in Europe. Within the entire ski area are 270 lifts, which include 90 chair lifts, 47 gondola lifts, 81 drag/tow lifts and 52 practice lifts. The various Ski amadé resorts are accessible via car and other transport.
The Gastein Area itself has 208km of piste, including 64.1 km of blue runs (beginner), 117.1km of red runs (intermediate), and 8.2km of black runs (advanced/expert). The highest point accessible is at 2,686m feet providing ample elevation.
With the wide variety of runs, Gastein caters for both beginners through to advanced skiers and snowboarders. The runs are well maintained and should there be a lack of natural snow, there are hundreds of snowmaking machines alongside the runs.
For me Gastein was my first winter sports experience in Austria. As an experienced snowboarder, I was excited to see just how interesting and enjoyable the runs were. I was more than impressed. I found there was a good mix of difficulty with slow and fast runs, and felt you could easily spend your entire day on the slopes without getting bored. Due to the vast amount of ski area you'd also cover plenty of distance along your way.
Click here to see a larger map.
Favourite runs
During my visit I discovered a few runs that are worth noting:
Tree run – B21 – I find it really peaceful snowboarding through trees and one of my favourite runs was B21 in the Schlossalm area. You can also join this run from B11.
Fast reds –

For some fast and fun reds, head to Sportgastein and go along runs such as S3 and S6. I didn't find Sportgastein as busy as the Stubnerkogel and Schlossalm areas, so it's the perfect place to practice technique and go a little faster if you desire.

Scenic runs –

I found the view from at the top of lift 12 (Schlossalm) had some amazing views and good piste running down from it.

Black run –

In Sportgastein there is a black run called S5 towards the end which has some challenging sections. And within Stubnerkogel there is another run called B20 which ends at a ski hut.

Longest run Hohe Scharte Nord (H2)

– This run is one of the longest runs in the East Alps and is found in the Schlossalm area. The run is 10.4 km long and has a 1,440 m height difference.
Board park
Within Stubnerkogel is a snowpark with around 30 obstacles where you can hit the kickers, practice your grinding and show some of your moves. The Snowpark is accessible from run B18 or B11. For more information about what's available head to snowpark-gastein.com.
Cross-country skiing – For those that like cross-country skiing, you'll find over 36km of runs around Böckstein, Sportgastein, Angertal, Bad Hofgastein and Dorfgastein. Cross-country skiing isn't something I've tried yet (being a snowboarder), but it's on my list.
---
Ski Passes
Ski passes are available from 1.5 to 14 days and seasonal passes can also be purchased which run from October – May. The ski pass uses RFID technology so you can put your pass in your glove, coat or other places and tap your way through the barriers.
With your ski pass you have access to all the Ski amadé resorts. To get between them you can drive, or get the train or bus (between some places). By car you can reach each place within an hour.
Visit the links below to see the current prices.
http://www.skigastein.com/en/prices-times/winter/day-tickets
http://www.skigastein.com/en/prices-times/winter/multi-day-tickets
Note: also available are 3-hour and 1-day tickets although those are only usable within Gastein.
---
Ski Lessons and Baby Slopes
Gastein is well equipped with plenty of ski and snowboarding lessons available. During my stay I had a tour and some assistance from a guide (Hannes) from www.schneesportgastein.com, who helped me with my technique whilst showing me around.
Some of the options with this ski school include:
Ski crash courses for adults with prices for 1,2,3 or 4 days. The lessons are from 10:00-15:00 which includes a 1-hour break. Doing a course like this would allow you to quickly get to a good level and then be capable of going down basic slopes (green/blue's) on your own.
Special lessons are available for kids aged 3-4 and 4-14.
3 or 4-day snowboarding lessons.
Private lessons.
If you are new to skiing and snowboarding, why not check out my post Ultimate Safety Tips for Skiers and Snowboarders which includes some tips from Hannes (my guide) from Gastein.
---
Events
Throughout the winter season are various events including:
Art on the Snow – Late January at various spots on the slopes is artwork and much of it made from snow and ice. During 2017 some of the work included pieces by Soma Vision, Alex Neumayer and Simon Beck. I found it quite fun snowboarding between these various artworks across the mountains. During this time there is a special map which tells you where they are.
Breakfast on the slopes –

On Wednesdays, it's possible to have a special gourmet breakfast at the top of the Sportgastein lift (2686m), whilst enjoying the view of the morning light on the Hohe Tauern National Park. Would this possibly be your most elevated breakfast (while not on a plane)?

Snowboarding championships –

For the last 17 years part of the Stubnerkogel area of Bad Gastein has been the location of the FIS Snowboard World Cup. Visiting during this time would give you an opportunity to see how the pro snowboarders are able to fly at dazzling speeds down the slope.

Red Bull Playstreets –

 In February Bad Gastein hosts the Red Bull Playstreets which is a spectacular freestyle competition with the best skiers in the world showing us their breathtaking skills on the kickers. This event is normally every other year, so check online before you book, if this is something you are keen to see.
To see an up to date list of events head to www.gastein.com/en/winter/events-culture-nature.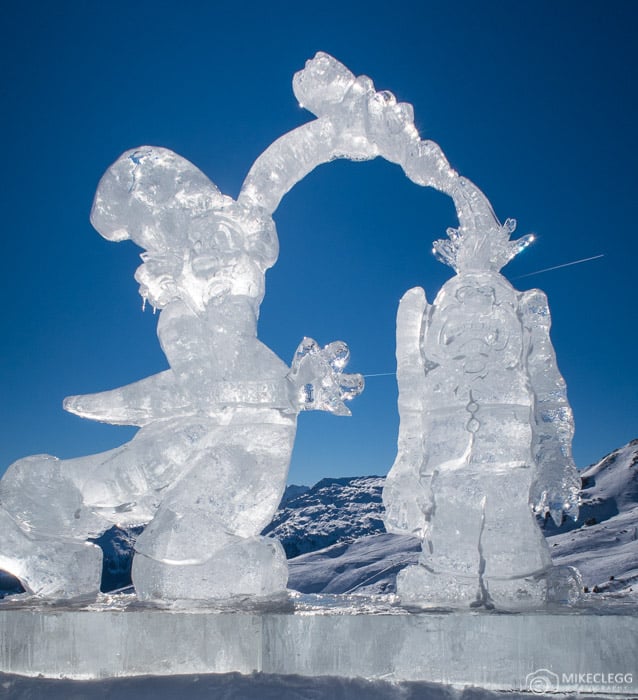 ---
Things to Do in Bad Gastein and Nearby
Within the Bad Gastein and the surrounding area are over 50 things for you to do. Some of them include:
Spa experience – What's better than to head to a spa after a day of skiing or snowboarding? Within Bad Gastein is Felsentherme which has natural thermal pools, steam rooms, massage services, fitness facilities and lots more. If you are staying in Bad Hofgastein there is Alpentherme which provides similar services. What's also interesting is the water that comes from the springs is so hot, that the spas have to cool it down to use.
Tobogganing –

Within Bad Gastein and Bad Hofgastein you would have the opportunity to do Tobogganing, which would be a great and fun activity for the kids.

Horse-drawn sleigh ride –

For those wanting a romantic experience, then taking a horse-drawn sleigh ride between the snowy mountains would be perfect. Some of them end at restaurants allowing you to finish and enjoy some tasty Austrian cuisine.

Flying Waters –

Another cool thing to experience, especially for the kids, is the Flying Waters which will take you on a zip line across part of Bad Gastein lower town and their waterfall.

Paragliding – 

Want to get some of the highest views of the resort and mountains, then consider paragliding for an ultimate experience.

Ice Skating –

Within Bad Gastein is a natural Ice skating rink, and there's also a place to go in Bad Hofgastein.

Suspension Bridge –

A great place for a photo is the suspension bridge at the top of lift 17 or 26 in the Stubnerkogel ski area. There is a camera waiting for you, which on using your lift pass you'll hear a timer, allowing you to get into position for a group photo with you and your friends with the mountains as a backdrop. And what makes this even better? It's completely free including the photo (downloadable online).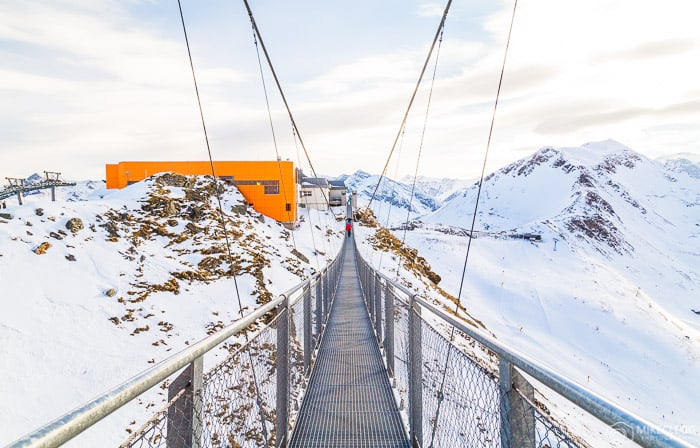 ---
Restaurants and Bars
Within the whole of Gastein there are around 230 bars and restaurants, with approx 100 of them in Bad Gastein, 100 in Bad Hofgastein and 30 in Dorfgastein. I went to several places during my stay and enjoy delicious food in each of them.
Weitmoser Schlossalm – On my first day I had lunch up the mountains at Weitmoser Schlossalm. The food is homemade and they even have their own farm  (based in Bad Hofgastein) and produce their own organic meat. For dessert, I had Schwarzbeernock'n which is a local Pongau speciality consisting of tiny blueberries mixed with a pancake type mix served with cream. It was super tasty. Website: weitmoserschloss.at
Kraftwerk –

Located right next to a lower section of the Bad Gastein waterfall is an old hydroelectric power station that has since become a cafe. With a colourful and contrasting design and a nice menu, it could for many, be their most unique dining experience. 

Website: gastein.com…kraftwerk-cafe
Ginger n'Gin –

 In a beautiful and cozy setting and serving a delicious Asian style menu, Ginger n'Gin is a must visit during your stay. It has a slightly posh atmosphere so would be a nice place for a special occasion although the prices are very much affordable.

Website: gingerandgin.at
Bellevue Alm –

Towards the bottom of the Stubnerkogel towards Bad Gastein is Bellevue Alm, which is the oldest ski hut and is from 1421. Based on the atmosphere when I snowboarded past, I got the feeling this would be a great place to go for après-ski. If you are heading down the mountain you can get here via run B14.

Website: bellevuealm.at
Silver Bullet Bar – 

I only walked past, but this place appeared to have a great atmosphere and lots of music (which I think is live). It is also recommended on Trip Advisor.

Website: silverbulletbar.com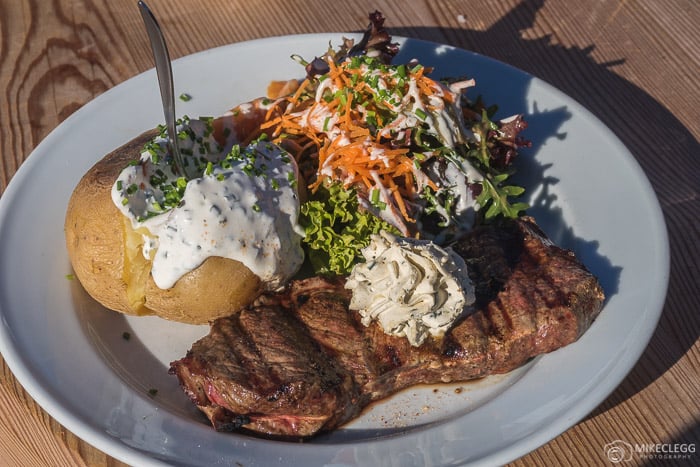 ---
Non-Winter
Outside of the winter you can also visit Gastein. Several of the lifts will be in operation and you can do activities such as:
Hiking – The Gastein mountains and Hohe Tauern National Park will be breathtaking in the summer with lush green scenery in all directions. Hikes are available as guided tours or can be done individually if you prefer. For more information on hiking head to gastein.com/en/hiking-tours-salzburgerland.
Climbing – 

Climbing is available for beginners as lessons, adventure type hikes and climbs and also tours. Read more about the climbing options available on

gastein.com/en/summer

.

Swimming in natural lakes – 

A refreshing experience would be to swim in the national lakes around the valley. Swimming in the Lakes is possible from early may until mid-September.

Cycling

– For those that like mountain biking it's possible to hire bikes (or bring your own) and then explore the many trails within the area. You can find maps and more on the Gastein website.

Golf –

Within Bad Gastein is an 18 hole golf course allowing you to enjoy the stunning scenery whilst playing a round or two. Also available is a Golf school. Head to

golfclub-gastein.com

 to read more.
To see more of the activities on offer during the summer go to gastein.com/en/summer-holidays-austria.
---
Accommodation in Bad Gastein
During my visit I stayed at Salzburger Hof which provided nice rooms and facilities, as well as a good breakfast and dinner.
Within the resort are plenty of other options. Click the button below or use the map to find options.
---
---
Summary
So what did I think of Bad Gastein and the surrounding ski area? Well without a doubt I was very impressed. The quality and length of the runs, good snow conditions, great restaurants and places to eat, and with the resort being easily accessible by train is a huge benefit. So based on this experience, I would definitely like to revisit and spend longer in the winter, or even visit and go hiking and do various other sports in the summer.
Would I recommend this resort to others? Absolutely, and I've already told my ski friends from university that they consider Gastein for future trips!
Gastein Info Box
Destination type – Winter sports, hiking, mountains, rural
Currency – Euro
WiFi – Easy to find everywhere and even available at some lift stations.
Emergency numbers:
122 Fire brigade
133 Police
140 Mountain rescue
144 Ambulance
Closest Airport – Salzburg Airport
Closest station – Bad Gastein has a station within the town. Head to OEBB to book tickets (cheaper if booked in advance).
Language – German (English is good everywhere)
Power supply – 230v- Type F – European
Tourism Websites – www.gastein.com | www.skiamade.com | www.austria.info
Supermarkets – There are several large superstores within the area, such as a Spar and Billa.
ATM's – Within Bad Gastein are several ATM's such as an Erste bank. There is an ATM (not Erste) opposite the train station which charges a large fee so try and avoid that one and go to a banks ATM instead.
Created in partnership with Gastein Tourism. All comments and opinions are based on my own experience.