Lisbon is an extremely picturesque city full of Instagram and photography spots. From the many fantastic viewpoints to the beautiful tiled facades, you'll find something to take pictures of around every corner. Are you visiting Portugal's capital and want to know the most Instagrammable places? Here are the best Instagram and photography spots in and near Lisbon.
1. Miradouro da Senhora do Monte
One of the highest and best viewpoints in Lisbon is the Miradouro da Senhora do Monte. This observation deck overlooks the city and makes for an incredible sunset location. The area is free to access and you may even get to enjoy some music from a busker whilst you watch the sun go down.
Best time for pics: Sunset
Cost: Free
Location: See on Google Maps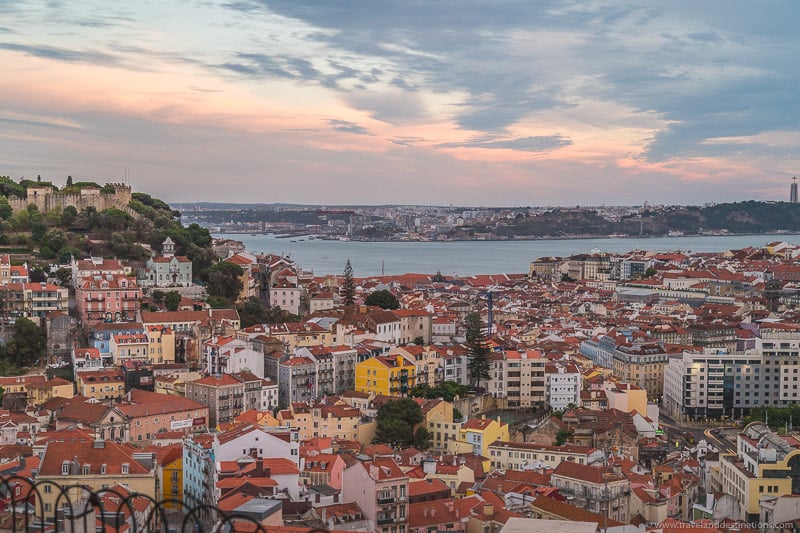 2. Elevador da Bica
Lisbon is famous for its trams and funiculars and one of the best locations is the Elevador da Bica. Here you'll find two funiculars going up and down. One of which is a nice clean yellow, whilst the other covered in graffiti. When taking pictures you may need to be patient and try a few times as you'll find a lot of like-minded people also wanting to take photographs. If you come early you may have more luck in getting a clean and people-free shot.
Best time for pics: Morning or evening
Cost: Free
Location: Rua de S. Paulo 234, 1200-109 Lisboa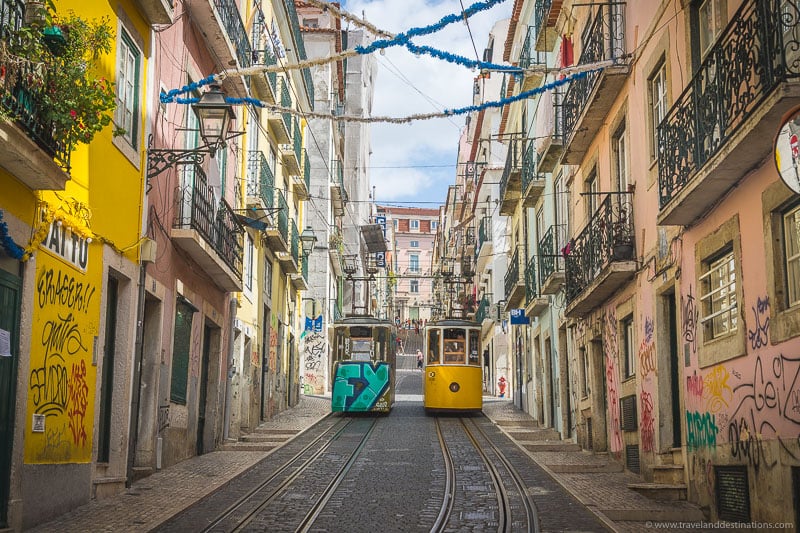 ADVERTISEMENT
CONTINUE READING BELOW
3. Ler Devagar
Just a little west of the city center is the fantastic LX Factory. Here you'll find lots of street markets and quirky shops. A favourite and best Instagram spot is the Ler Devagar book store. This store has a huge collection of books as well as some funky artwork such as seen below. Ps the LX Factory is a great place for buying souvenirs and gifts.
Best time for pics: Day
Cost: Free
Location: R. Rodrigues de Faria 103 – G 0.3, 1300-501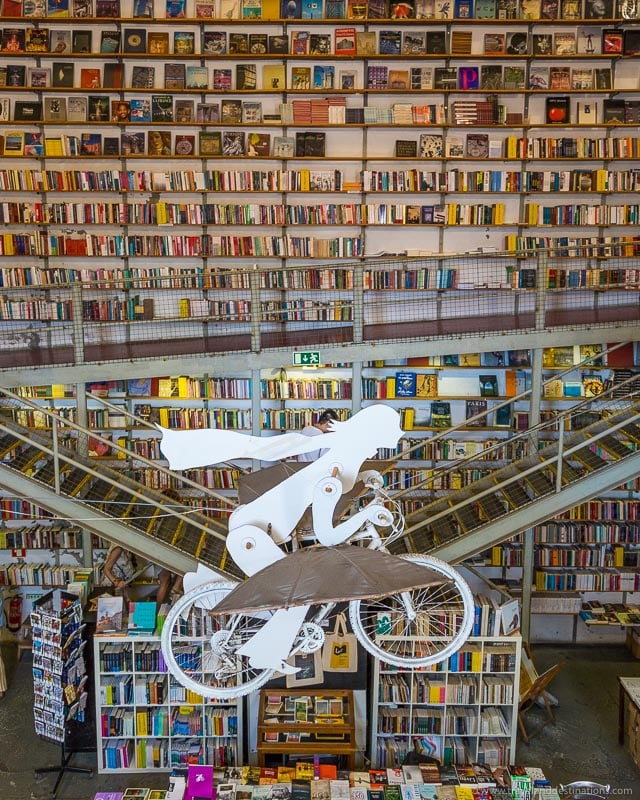 4. The Rossio
Throughout the city you'll get to enjoy the sight of beautiful cobbled streets. Many of the cobbles are in interesting shapes and patterns. One of the best places to capture these is at The Rossio (King Pedro IV Square). Here you can also combine your image with one of the two large and impressive fountains.
Best time for pics: Anytime
Cost: Free
Location: Praça Dom Pedro IV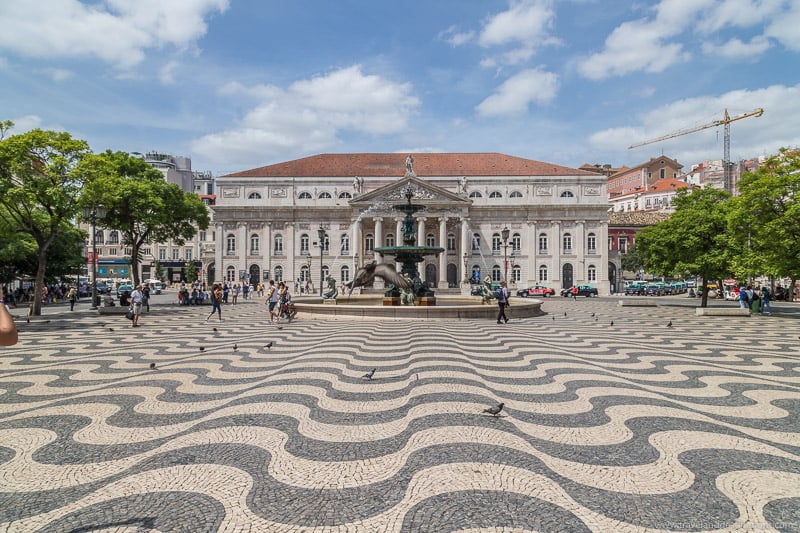 5. Alfama
Alfama is the oldest district in the city and certainly a top Instagrammable place to explore. Two highlights, in particular, is the small courtyard you'll find along R. de São João da Praça which has stunning architecture, as well as the Arco de Jesus path which has some beautiful tiles (although it needs some maintenance). Both these places are very close to each other.
Best time for pics: Anytime
Cost: Free
Location: See on Google Maps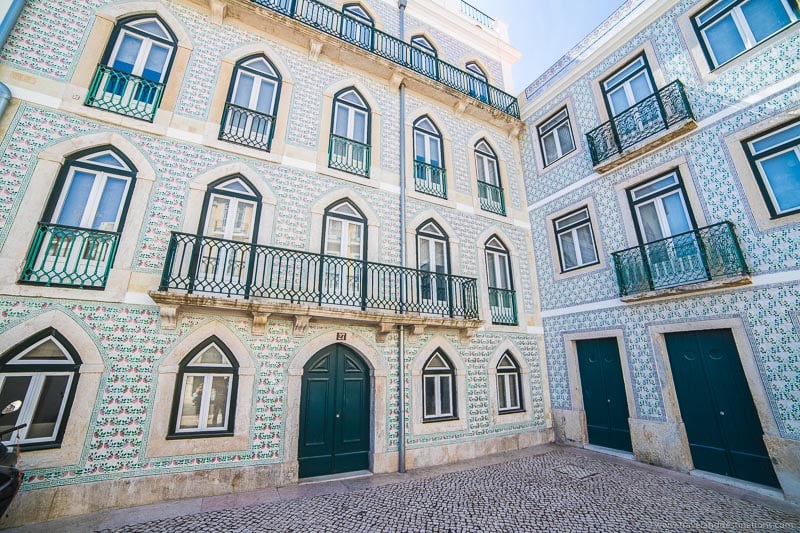 ADVERTISEMENT
CONTINUE READING BELOW
6. Lisbon Cathedral
Lisbon Cathedral is an icon of the city. It is also located in the Alfama district but rightly deserves its own place in this best Instagram spots list. When taking pictures of the cathedral try and include either a tram or tuk-tuk in your shot. Ie a common city element. Good angles include either directly in front of it, or slightly to the right facing towards the bend on the left.
Best time for pics: Anytime
Cost: Free
Location: Largo da Sé, 1100-585 Lisboa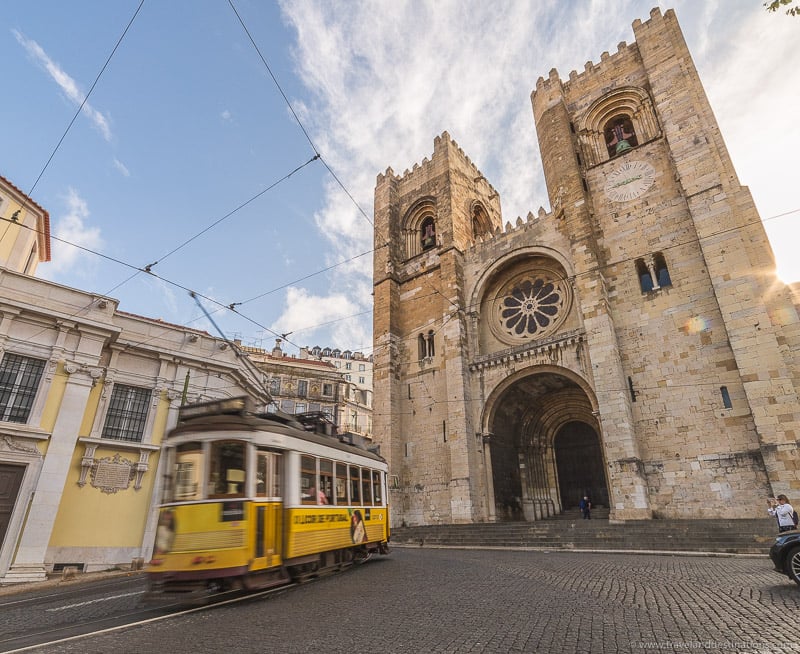 7. Belem Tower
A UNESCO World Heritage Site the Belem Tower is a huge attraction. You can enjoy views from outside or arrive early to head inside.
TIP
Check out the nearby
Darwin's Cafe
for lunch or dinner. The restaurant offers a waterfront patio and the food is fantastic.
Best time for pics: Sunset or sunrise
Cost: Free
Location: Av. Brasília, 1400-038 Lisboa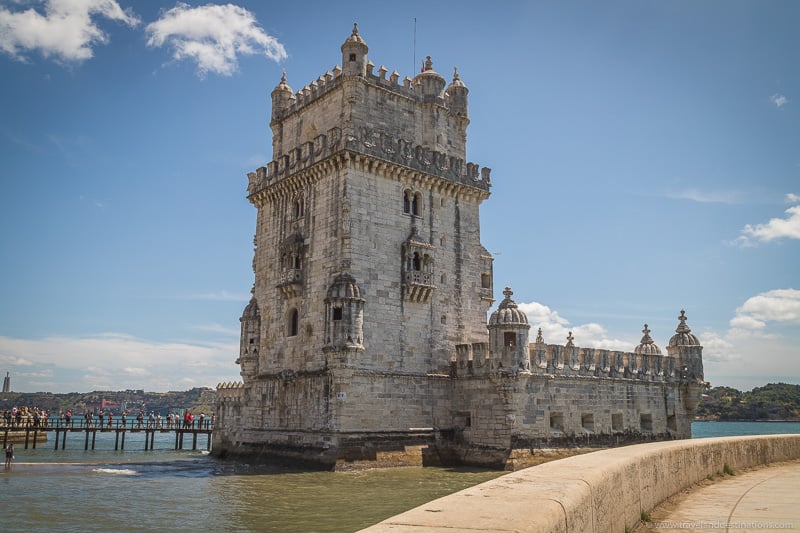 8. Miradouro de Santa Luzia
A really nice viewpoint in Lisbon is the Miradouro de Santa Luzia observation deck. This location is open 24 hours and looks over the Alfama district. It's also a pretty place to take lifestyle images with stunning tiles and colourful purple trees (depending on the time of year).
Best time for pics: Anytime
Cost: Free
Location: See on Google Maps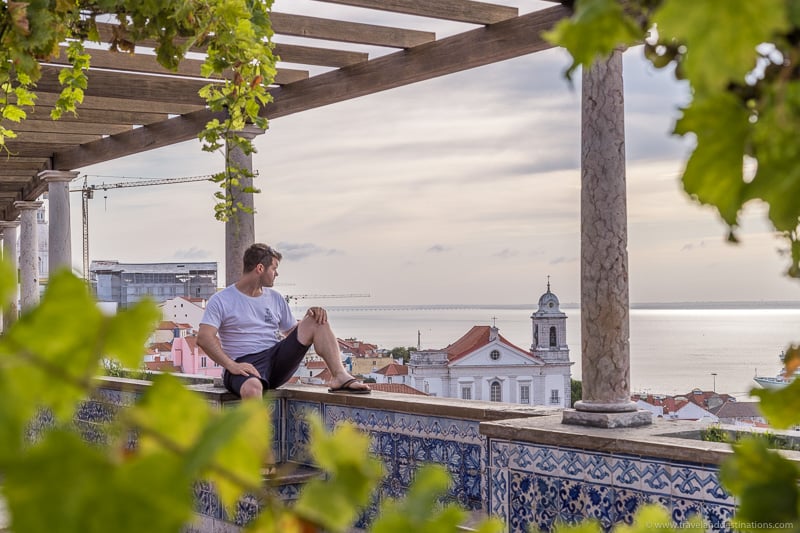 9. Santa Justa Lift
The Santa Justa Lift is a fairly unique structure and definitely a top Instagrammable spot. From the top you'll get rooftop views of the city. Often the day you'll find long queues of people waiting to go up. As there are many free viewpoints around the city you could instead just take pictures of the actual lift and surrounding streets instead of going up.
Best time for pics: Anytime
Cost: Free from the ground/ticketed if you go up
Location: R. do Ouro, 1150-060 Lisboa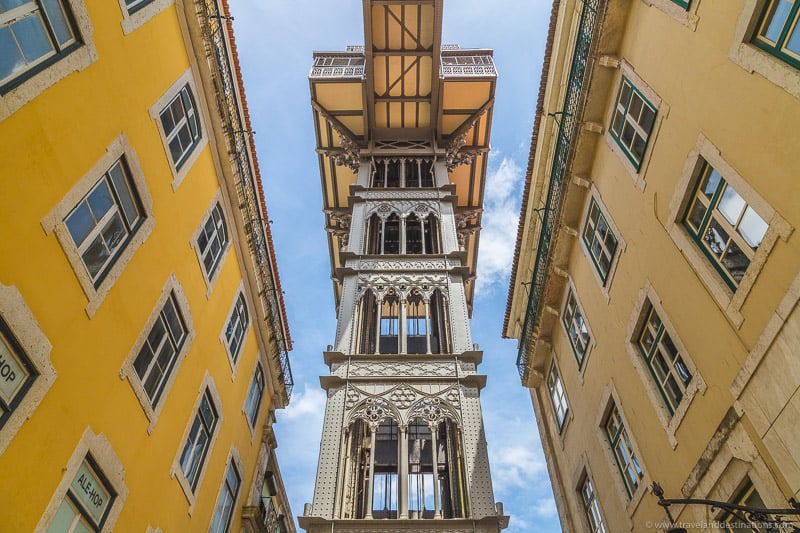 ADVERTISEMENT
CONTINUE READING BELOW
10. Praça do Comércio
At the bottom of the city along the waterfront is Praça do Comércio. Here you'll find the mighty Arco da Rua Augusta (the arch) which can be photographed along with trams or with the Statue of Dom José I which is in the middle of the square. Along the outskirts are beautiful yellow facades which can be complimentary for people photographs and selfies. Consider using a wide aperture and zoom lens to create a nice bokeh using these.
Best time for pics: Day
Cost: Free
Location: Praça do Comércio, 1100-148 Lisboa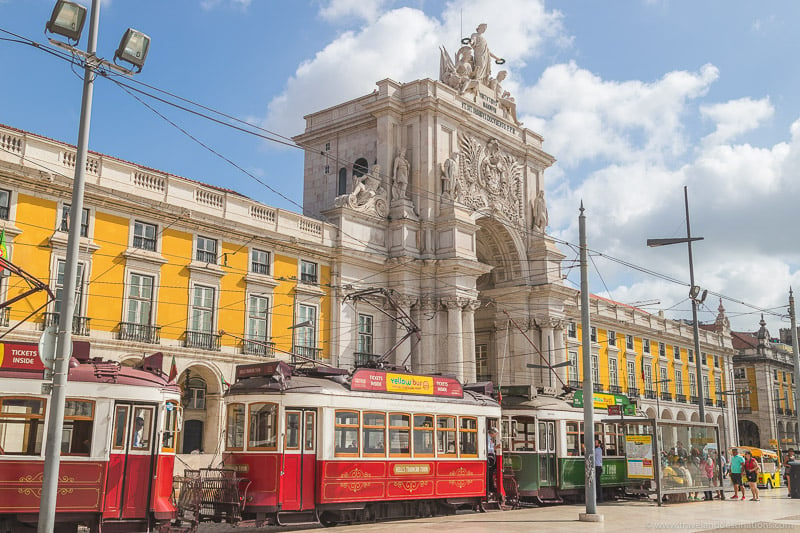 11. Arch Corridor
Around three of the outskirts of the Praça do Comércio square, you'll find beautiful arched corridors. These are perfect for photography and for those with an admiration for architecture. Head here in the morning on a sunny day and you may get beautiful light flowing into them.
Best time for pics: Early morning
Cost: Free
Location: Praça do Comércio, 1100-148
AD
12. Pink street
A big party district, the famous Pink Street comes along at night. Alongside the strip, you'll find various bars and clubs. But at night isn't when you'll be wanting to take photos. Instead, come here during the day and enjoy the street in a quieter fashion. Definitely a top photography spot for people and fashion photographers.
Best time for pics: Day
Cost: Free
Location: R. Nova do Carvalho, 1200-372 Lisboa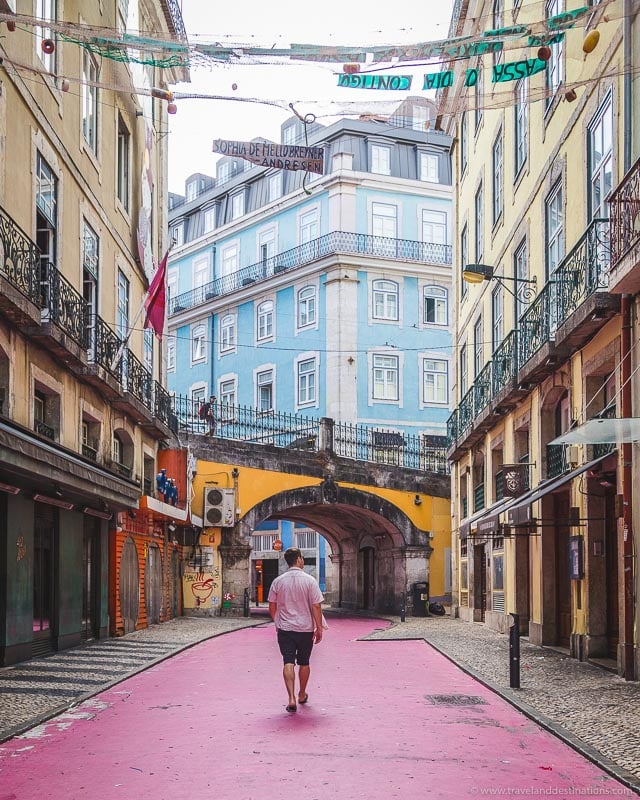 13. Miradouro da Graça
Continuing with some of Lisbon's many viewpoints another suggestion we have is Miradouro da graça. This viewpoint also has a cafe/restaurant alongside so a great place to relax while you're waiting for that perfect light.
Best time for pics: Sunset
Cost: Free
Location: See on Google Maps
ADVERTISEMENT
CONTINUE READING BELOW
14. Pena Palace, Sintra
A day trip to Sintra is a must for anyone visiting Lisbon. Sintra is just out of the city approx 1 hour on the train or around 30 minutes via Uber. For photography, you'll find some great spots on the exterior terraces but note this place gets very busy so you should arrive early, late, or just be prepared to be very patient.
In the park you'll also find various lookouts, such as from the High Cross. In Sintra's main town there is also the Castelo dos Mouros which is high up and should also provide awesome views towards the palace. Just remember a zoom camera lens so your image can be better composed.
TIP
Buy your tickets in advance on
GetYourGuide
. They are the same price as on location and also allows you to skip the line.
Best time for pics: Towards sunset if possible
Cost: Ticketed
Location: Estrada da Pena, 2710-609 Sintra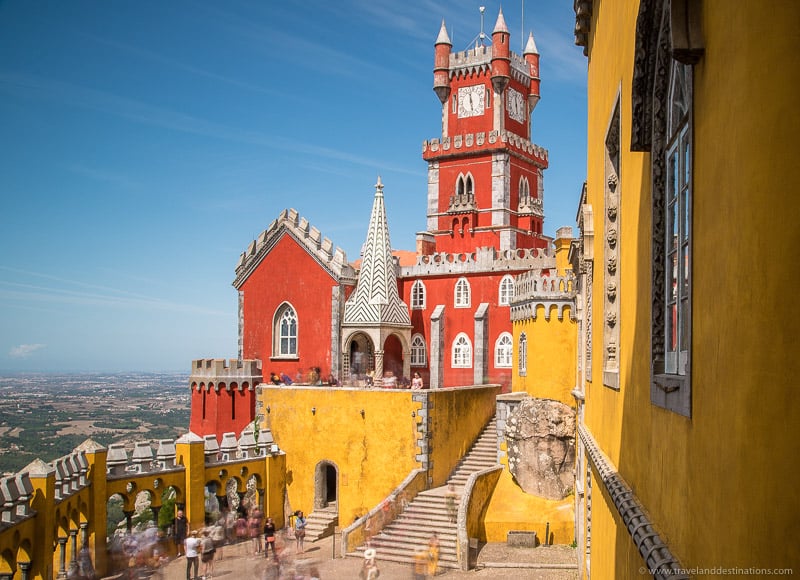 15. Initiation Well, Quinta da Regaleira
Also in Sintra and a very popular Instagram spot is the Quinta da Regaleira. This historic well can draw huge crowds and excitement so sometimes you'll have to be patient and wait for a good moment to take your pictures.
Actually, when taking images include someone that is wearing bright clothes and this will help add perspective and some colour to your photograph.
Best time for pics: Day
Cost: Ticketed
Location: R. Barbosa du Bocage 5, 2710-567 Sintra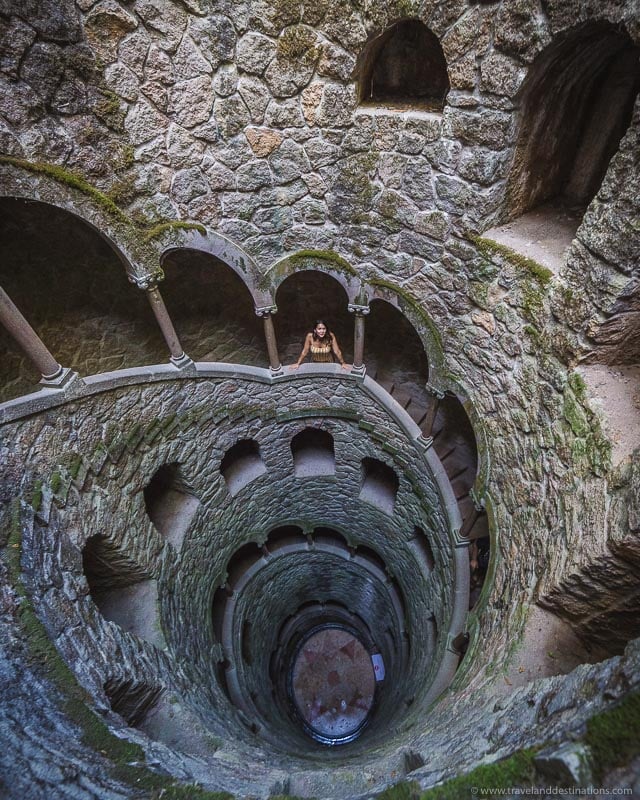 Tours and Activities
Related Articles