Renowned for its exquisite wine, natural wonders, and architectural marvels, sunny Portugal is one of those destinations that go deep into one's heart. It will spellbind and draw you back time and time again with its historic cities and national parks. Here are some of the best and most beautiful places in Portugal to include in your trip.
1. Algarve
The Algarve offers an enchanting mix of warm weather, trendy beaches, social events, and hiking trails. This region of Portugal is mostly known for its treasured gems such as Camilo Beach and Praia da Marinha.
All major cities in the area, including Lagos, Albufeira, and Vilamoura, offer perfect city-breaks and vibrant nightlife.
If you want to escape the crowds of tourists, then head to one of the most tranquil towns along the coast, such as Aljezur or Sagres to discover pristine beaches, crystalline waters, and mesmerizing cliffs.
Note – the first image is also of the Algarve.
You May Like
2. Coimbra
Before Lisbon became the capital of Portugal, there was Coimbra. A charming, quaint town that blends its dynamic culture with fado music rhythms, historical sites, and gorgeous gardens. The city is located in the heart of Portugal, near the Mondego River, and shows off a medieval character. Expect an intricate maze of cobblestone streets, medieval churches, and stunning architecture. Coimbra is hands-down the most romantic city in Portugal and also home to one of the oldest universities in Europe, founded in 1209.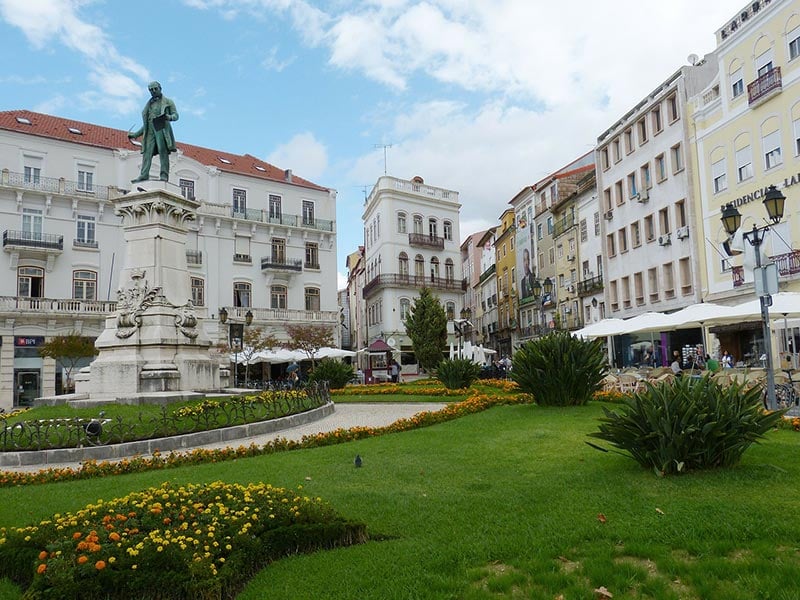 ADVERTISEMENT
CONTINUE READING BELOW
3. Sintra
Sintra is easy to recognize thanks to its landmark, the Palácio da Pena. Clustered in the middle of Serra da Sintra hills, the town is a UNESCO World Heritage Site recognised for its remarkable cultural landscape and captivating history. The palace boasts unique architecture and impresses with its twin chimneys and an unexpected palette of bright red, yellow, pale pink, and splashes of ochre.
Besides this postcard-perfect setting, Sintra also bewitches with its stunning Castelo dos Mouros, a medieval military fortification. The town and its marvels are perched in a stunning national park that offers countless hiking opportunities to the avid walkers. From the top of its hills, Sintra reveals breath-taking views over the Atlantic coastline and the surroundings.
Tour Idea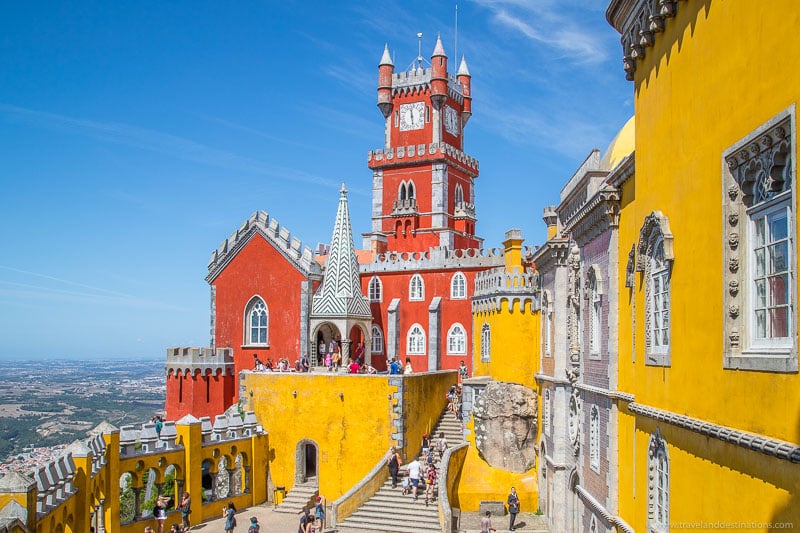 4. Évora
Charming Évora is nestled in the heart of the Alentejo region and is a paradise for history and culture lovers. The city is home to remarkable monuments and ancient buildings raised here over centuries.
The medieval city walls enclose thousands of years of history that blend in a unique timeline. It is impossible not to be impressed by the imposing Roman temple from the second century AD, set next to a compelling twelfth-century cathedral.
Évora's unspoiled architectural treasures were awarded the UNESCO World Heritage Site status, but this didn't change the down-to-earth personality of the city.
Here, you can get lost through Moorish alleys, enjoy the market-town ambience, visit engaging museums, and have lunch in gorgeous restaurants where you'll be treated as a friend rather than a tourist.
5. Serra da Estrela
Serra de Estrela might not be the most famous destination in Portugal, but it's well-worth discovering. Rising at almost 2,000 metres above sea level, this is one of the highest mountain peaks in the country and a paradise for those that love the outdoors.
It may be remote and hard to reach, but the region offers so much to see and do in all seasons. The entire area is rich in hiking trails, and this is the only place in Portugal where you can go skiing in winter.
If the mountain is a magnet for nature and sports lovers, the sparse villages are a foodie's heaven. Homemade honey and the signature dish of this area, the pungent creamy cheese, will surely satisfy your taste buds.
ADVERTISEMENT
CONTINUE READING BELOW
6. Porto
One place you can't miss in Portugal is Porto. The country's second largest city is renowned worldwide for its famous port wine, but there is much more to it.
Porto shows off a bohemian character. Its colourful buildings sprawled across hilly streets and river banks can easily melt even the toughest hearts. Stunning tile mosaics, cathedrals, medieval buildings, and the local cuisine are praised by the locals and tourists around the world.
If you're here for the wine, then go explore the nearby Douro Valley. Here it's guaranteed that you'll taste some of the best wines in Portugal.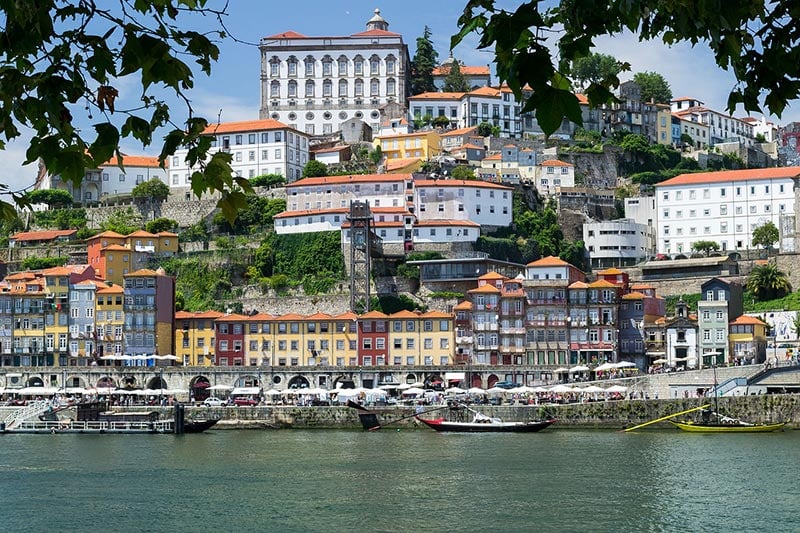 Tour Idea
7. Braga
Portugal's fourth largest city, Braga, blends its ancient roots with contemporaneity. Labelled as the European Youth Capital in 2012 it's one of the oldest but still one of the younger cities in Europe. Braga owes most of its character to the nearby University of Minho which packs the city with Portuguese and international students.
Get lost among the countless cafes, restaurants, shops, and bars, but know that Braga also has a strong spiritual side. Sé de Braga is the oldest cathedral in the country, while Bom Jesus do Monte is a unique religious sanctuary surrounded by stunning gardens. Perched on top of a hill, you'll have to climb 116 metres of stairs to get to it. But your effort will be well repaid by the astonishing architecture, monuments, and breathtaking views.
ADVERTISEMENT
CONTINUE READING BELOW
8. Lisbon
Lisbon is the capital of Portugal and for many will serve as the entry point into the country. The city is located on the south-east coast and is famous for its seven hills and iconic trams. When visiting Lisbon allow yourself to get lost and then enjoy the moments where you'll stumble upon fantastic viewpoints over the city. Or if you prefer head down to the local beach and soak in the sun whilst listening to the sound of the waves. For those interested in art and history then visit one of the many museums around the city such as the Maritime Museum or the National Ancient Art Museum. Read more about the best things to do in Lisbon.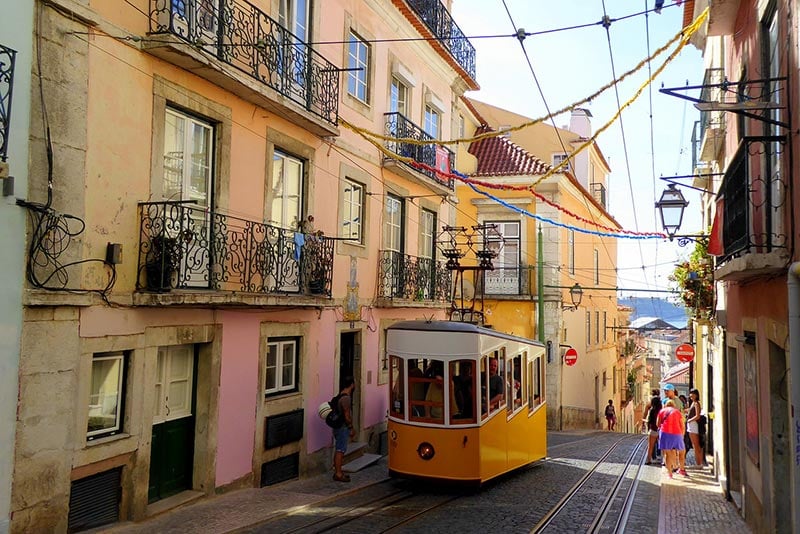 Summary
Whether you're an urban explorer, a nature lover, or just look for quaint beaches to get soaked in the sun, Portugal can easily satisfy all your needs. Just pick your favourite places from this list and start planning your getaway.
---
Tours and Activities
Start Booking
Here are some top options to book your hotels, activities, flights and other transport:
---
---
Please note that we get a small commission if you purchase via our referral links. We use this to invest in new content and improving this website. Thanks so much for your support.
Related Articles