Are you looking for some fun and exciting evening activities in London? Look no further! London is a busy metropolis that always has something to do, even after the sun goes down.
From sightseeing to pub crawls, shopping to theatre shows, London has a great variety of night activities for everyone. Below you can get ideas and suggestions of the best things to do in London at night, so you can make the most of your trip to this amazing city.
This means that whether you're looking for things to do during the day or at night you'll have plenty of options. To help visitors looking for some exciting or more relaxing things to do in the evening we've shortlisted a few of our favourites.
Here are the best things to see and do in London at night.
---
Enjoy a walk along the River Thames
At night many of London's landmarks are lit up and this adds a touch of magic to this wonderful city. A great place to walk during this time is along the River Thames, London's river. Start around Tower Bridge and walk westbound. As you do you'll see many of the city's most impressive and stunning landmarks. This experience can also be quite romantic so perfect for couples.
Also along the river you'll find museums such as Tate Modern, which is sometimes open late and even has a fantastic (and free) observation deck, as well as various pubs and restaurants along the way.
Walking along the river is one of the best London night time activities and ways to see the city and will be a special experience and also provide lots of top photo opportunities as well.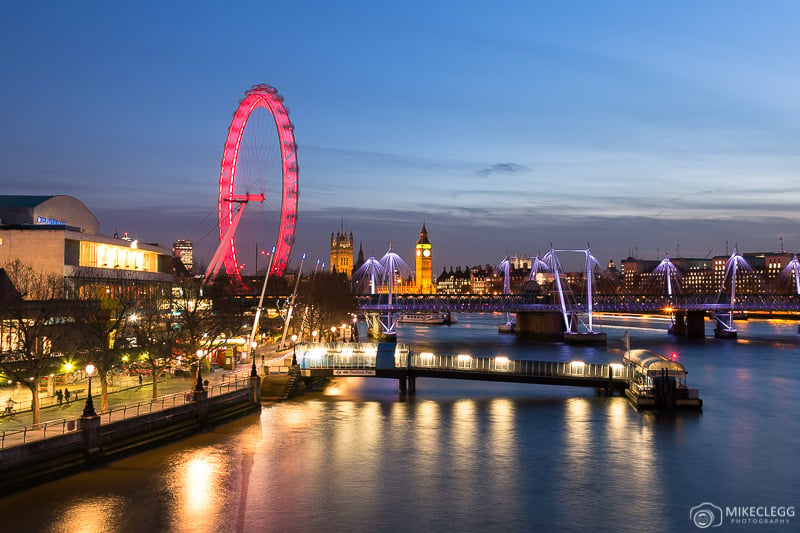 Or enjoy an evening cruise
For a more relaxing evening activity, then consider taking a Thames river cruise. You'll enjoy stunning views of the city's landmarks from the water, while sipping on a drink or enjoying dinner. This is a great way to see London at night once the sun starts to set and the city starts to illuminate.
You'll find various options available and some cruises even offer live music and entertainment.
Some options
Go on a photo walk
If you're a photographer then London at night will be a treat. As mentioned above a lot of the landmarks are lit up and this makes them great to take pictures of. Whether it's cityscapes from across the river, major attractions, or pretty streets, you'll find lots that'll make you want to click away. See our London self-guided photo walk for some ideas of a route and also our article on taking pictures of cities at night for photography tips.
ADVERTISEMENT
CONTINUE READING BELOW
See London from the Shard
The Shard is the tallest building in London and on the upper floors there is an observation deck (The View from The Shard). From here you can enjoy breathtaking night views of London and see in all directions around the city. Visit around sunset into the early evening to see the city light up. There's also the option of having a glass of champagne up there should you want a more enhanced experience. Finally, for the ultimate experience stay in the Shangri-la which is a beautiful luxury hotel and offers similar views to the observation deck as well as an infinity pool.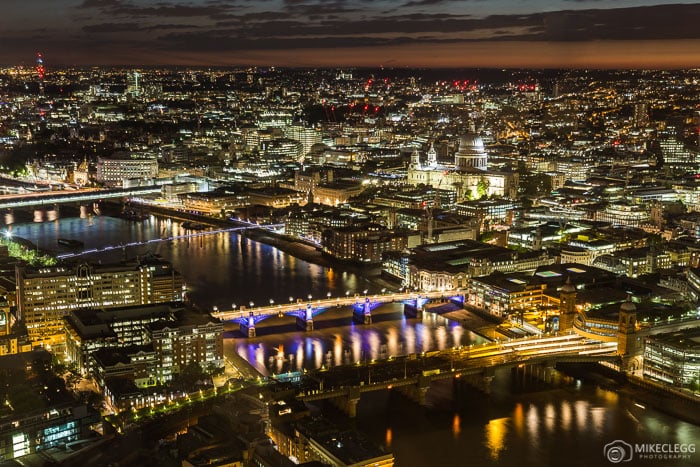 Experience a ghost walk or Jack the Ripper tour
For a spooky nighttime experience then why not consider a ghost walk or Jack the Ripper tour. The ghost-walk includes a two-hour trek through the streets of London whilst hearing stories that'll raise the hairs on your neck.
Another great nighttime activity and also for those after a thrill is the Jack the Ripper tour. This is also 2 hours and allows you to learn more about this notorious killer, where he committed his crimes and the rumours of who he might have been.
See the city from the London Eye
The London Eye is an icon of the city, a wonderful viewpoint, and is one of the top places to see in London at night. This iconic landmark was created at the turn of the century and as well as to photograph is also great to go on. The wheel rises up to a height of 135m and consists of 32 capsules with a ride taking around 40 minutes. From the top you'll get to enjoy incredible views over the city towards Big Ben and the Houses of Parliament, or towards St Paul's or the Shard.
TIP
As one of London's most popular attractions, the queues can be pretty busy, so if possible it's worth
booking your tickets
in advance.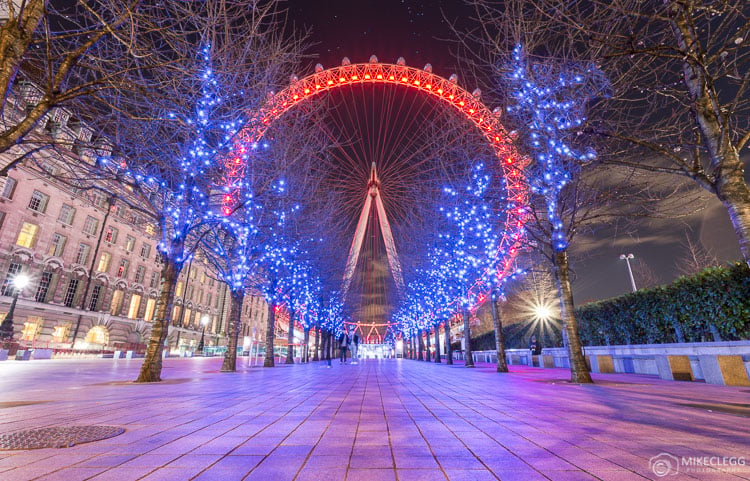 Go to the Theatres/West End
A wonderful experience to have in London is to see a show in the theatre district/ West End. Most nights you'll find a whole host of productions including the acclaimed Book of Mormon musical, The Lion King and many more. This would be a great family night out (depending on the show), or a lovely date night for a couple. Head to theatreticketsdirect.co.uk to search for tickets.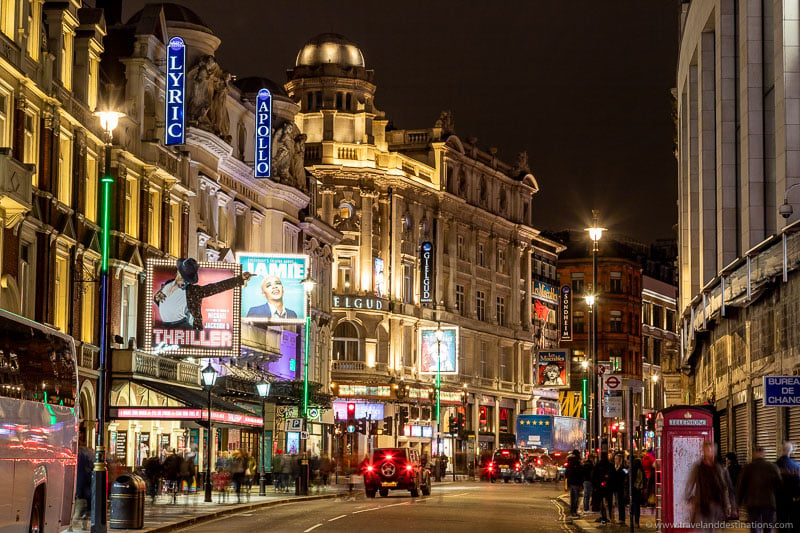 ADVERTISEMENT
CONTINUE READING BELOW
Experience pub culture
Londoners love pubs and there is definitely a bit of a drinking culture. Often after work, it is a favourite pastime and a visit can come with a buzzing atmosphere. Pubs generally offer a whole host of beverage options and often classic English food, such as the very popular fish and chips. For drinks, you'll find lagers, ales, spirits, special craft beers, wine, as well as soft drinks – so something for everyone.
Many pubs are great venues to watch sports events too, including football, rugby, cricket and tennis. Just avoid the grumps if their team loses.
Pubs make for some of the best places to visit in London at night where you'll be able to enjoy a drink in a cosy and sociable atmosphere.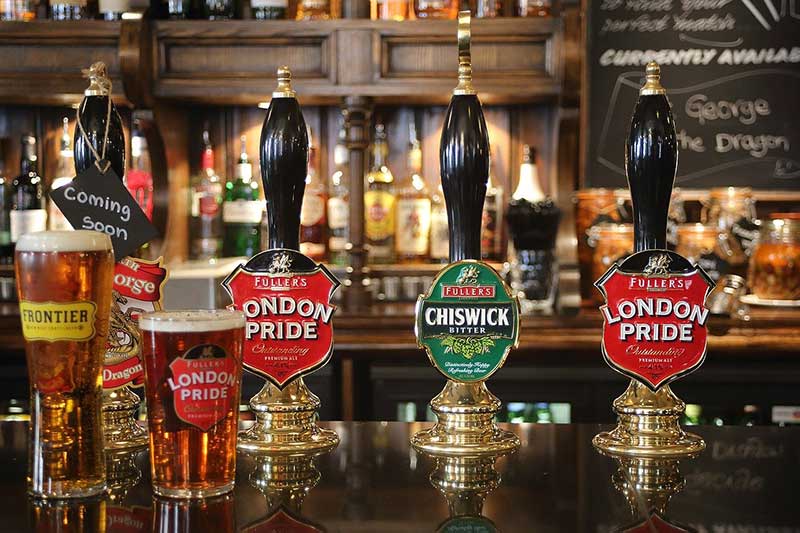 You May Like
..Or visit a bar
Bars are generally a bit more stylish and "classy" than pubs and where you'll often find a range of delicious cocktails. London has its fair share of bars and these are all over the city. They are perfect for an end of evening visit, date night, or more peaceful drink. When visiting bars you may want to call in advance and book a table to ensure you get a seat. Below are some delicious drinks we enjoyed at Polo Bar – with the large glass being the main drink, but coming with a smaller version for your friend to try.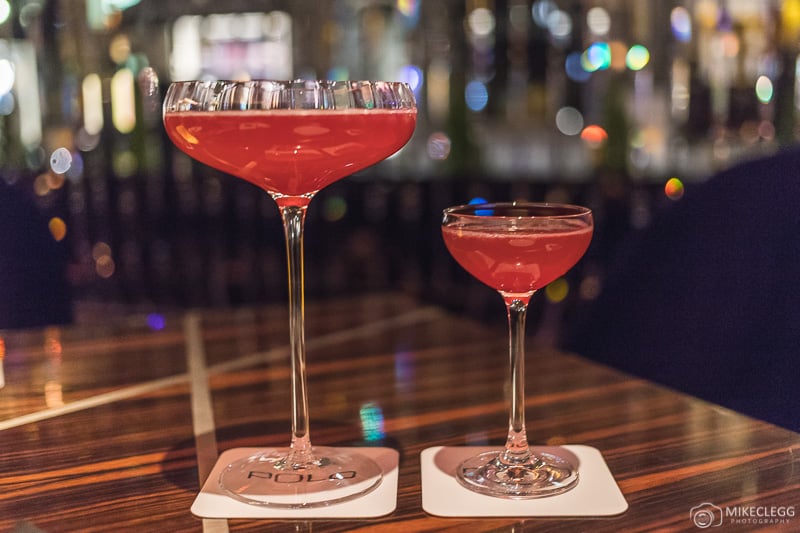 Go late-night shopping
Do you like shopping? Then you'll find plenty of spots around the city. Including major malls such as Westfield and also along Oxford Street. During certain days of the week and especially around Christmas shops will open later, so perfect for late-night browsing. Of course, opening times will vary so if there's a shop you really want to visit then check their opening times first.
ADVERTISEMENT
CONTINUE READING BELOW
Experience a food and drinks crawl
If you're a foodie, beer, or a cocktail lover, then consider taking a food and drinks crawl. These tours take you to several different restaurants and bars, where you can sample some of the city's most delicious cuisine and drinks.
Some popular food and drinks crawls include the Soho Evening Food Tasting Tour, the Soho Music & Historic Pubs Tour, and the Camden Pub Crawl. These tours are a great way to discover hidden gems and meet new people.
Nighttime activities for thrill-seekers
If you're an adrenaline junkie, consider trying one of London's thrill-seeking activities. The ArcelorMittal Orbit provides a thrilling slide experience, where you slide down the world's longest tunnel slide. Alternatively, you can try the Up at The O2 experience, where you climb the roof of the O2 Arena and enjoy stunning views of the city.
Some options
See London's Christmas lights
Should you be visiting London at Christmas time then be sure to check out the festive lights. You'll find these all around the city and they add a wonderful atmosphere. A few unmissable lights include Carnaby Street, Regent Street and also the main tree at Trafalgar Square. For those that also fancy a skate then this is available at places such as Somerset House, the Natural History Museum and also Winter Wonderland.
Seeing the Christmas lights and decorations is one of the best London things to do at night and they will be sure to impress all visitors to the city.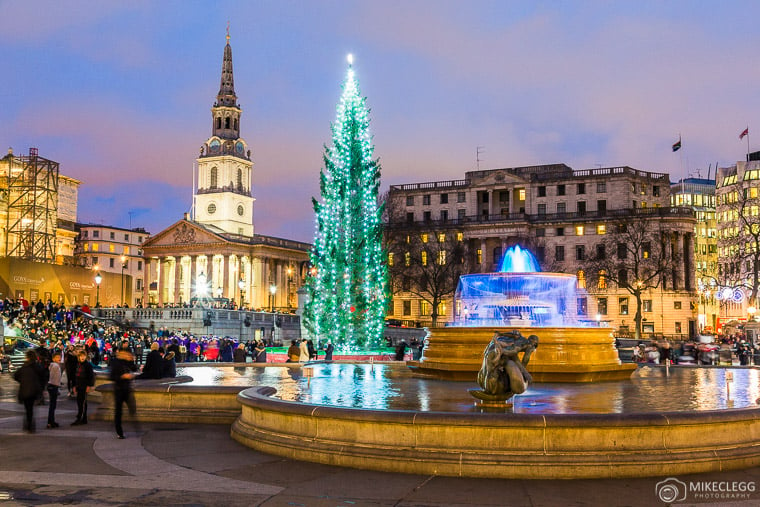 Summary
London is a city that truly comes alive at night and you'll find fantastic options of things to do all over the city. Above are some of our top recommendations of the best things to do in London at night. Whether you're looking to discover more of the city and see some of its landmarks, or you're wanting to relax in a cosy pub you'll find some top options on what to do above. Be sure to add some of these London evening activities as some of the top things to do during your trip.
You may also be interested in our other sightseeing articles such as London: 15 Best Tours and Activities, 10 Best Things to Do in London for Free and 25 Best Things to See and Do in London.
---
Night tours and activities for London
Discover top activities, tours and experiences below:
Related Articles