A road trip is the best way to explore the wide-open spaces and awe-inspiring beauty of the Rainbow Nation. South Africa has excellent roads, friendly people, and an unending supply of amazing things to see and do along the way.
South Africa is a vast country, so you'll have to pick and choose what you want to see based on how long you have to spend in each place. Most people will take short trips along the Garden Route or explore the Drakensberg Mountains via the roads up from Durban. But we are going to kick it up a notch and take you on the ultimate 21-day South Africa Road trip. So, buckle up and enjoy the ride.
---
Getting around South Africa
Before we begin our journey, let's make sure you know what it takes to embark on this great adventure.
Renting a car
Renting a car in South Africa is the best way to explore the country. Having your own vehicle will give you the freedom to travel at your own pace and see places that aren't possible such as on group tours or by taking hop-on-hop-off transport like the Baz Bus (backpackers lodges transport system).
To get the best price on a car, try rentalcars.com. This web site will compare the prices of all the major rental companies and find you the best rate.
If you really want to get adventurous, rent a camper van, and stay in campsites along the way.
Tips for driving in South Africa:
Remember that driving is on the left-hand side.
Consider a 4×4 if you plan to go off-road or will be visiting Lesotho via the Sani Pass.
Don't honk your horn except in an emergency.
Get a GPS or download maps on your phone to use off-line (reception is spotty in many remote areas).
Have a general idea of your route before you head out each day. Your GPS may suggest the shortest route and take you off-road, but ignore that advice and stay on the paved roads.
Avoid driving after dark whenever possible! You'll encounter dark roads, people, and animals — all may result in an accident.
Gas stations are relatively plentiful on major routes—but are not self-serve. Attendants at all the fuel stops will fill you up and even wash your windows or check your oil, water and tire pressure — a small tip (20 Rand) is customary.
Don't ever stop to pick up hitchhikers!
Don't leave anything valuable visible in your car when you park. ALWAYS lock your vehicle when you leave it and leave your glove box open to show it's empty.
Try to always park in a busy, well-lit area.
ADVERTISEMENT
CONTINUE READING BELOW
---
The 21 Day Ultimate South Africa Road Trip Route
We're going to begin our journey in Cape Town and head east to Port Elizabeth via the Garden Route. We'll go along the Indian Ocean towards Durban with a stop in the Drakensberg Mountains, iSimangaliso Wetland Park, Mkuze/Hluhluwe Wildlife Reserve and then on to Kruger National Park. Finally, we'll be ending up our epic journey in Pretoria and Johannesburg.
Day 1 and 2 – Cape Town
After landing in Cape Town, you'll want to get acclimated to the time difference, relax for a couple of days and get equipped for your road trip.
Cape Town has to be the most beautiful city in the world. It's history dates back to 1652 when the Dutch set up a way station to supply ships heading around the Cape of Good Hope. The city reflects that heritage and the nearby area is simply spectacular. Since you'll only be in town for a day or two, let's just hit the hot spots.
Check out the Bo-Kaap neighbourhood which is known for its pastel-coloured houses lining the pretty cobbled streets. It has also been the home of Cape Malay people for hundreds of years. Majestic Table Mountain stands tall, overlooking the bay and offers views of the city bowl and surrounding areas that are remarkable. You can hike to the top or take the aerial cableway.
Take the ferry to Robben Island, and you'll be moved as you hear the story of the troubled past of apartheid (apartness) and the life of President Nelson Mandela. The V&A Waterfront is an excellent place for food and shops. If you have time, maybe take a trip out to sea for some whale watching.
Lodging: For the ultimate in Cape Town lodging, book a stay at the Belmond Mount Nelson Hotel. It's right in the heart of Cape Town and is the most notable and iconic hotel in the city.
---
Day 3 – Stellenbosch and Franschhoek
Even though Stellenbosch and Franschhoek are only an hour into your trip, you just can't overlook these wine hotspots. South African has some of the world's best wines, and a drive through the verdant mountainous nature reserves that surround these wine-producing towns will take your breath away. You will fall in love with the quaint little town of Franschhoek, with its white Colonial Dutch buildings and friendly residents. Sip in style as you take the tour of the many vineyards aboard the Franschhoek Wine Tram, a double-decker open-air tram.
Lodging: It doesn't get any better than staying in a guest cottage at the vineyard. Try the Bartinney Vineyard Cottage, and you won't be disappointed.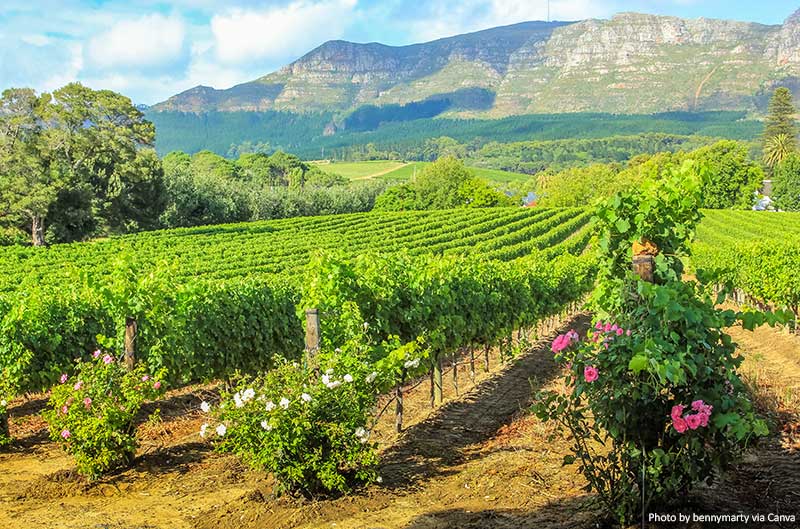 ---
Day 4 – Mossel Bay
Our drive from wine country to Port Elizabeth will be along the Garden Route, one of the most gorgeous stretches of coastline in the world. It's an absolute must-see on any South African road trip. The spectacular coastal drive stretches from Mossel Bay in the west and ends at Storms River in the east with Knysna being the midway point on the route. This route gets its name from Garden Route National Park. There are no shortages of fantastic wildlife, lagoons, mountains, forests, and beaches along its scenic winding roads.
Lodging: For breathtaking ocean views from your private balcony hot tub, book a stay at the Bay Lodge on the Beach.
Mossel Bay is about a 5-hour drive from wine country and is the start of our trip along the Garden Route. It's a harbour town that has plenty to do. Check out the expanse of Santos Beach, take in the bay views from Cape St. Blaize Lighthouse and visit the Bartolomeu Dias Museum Complex where you can see the Post Office Tree, a milkwood tree used as a mail collection point since the 1500s.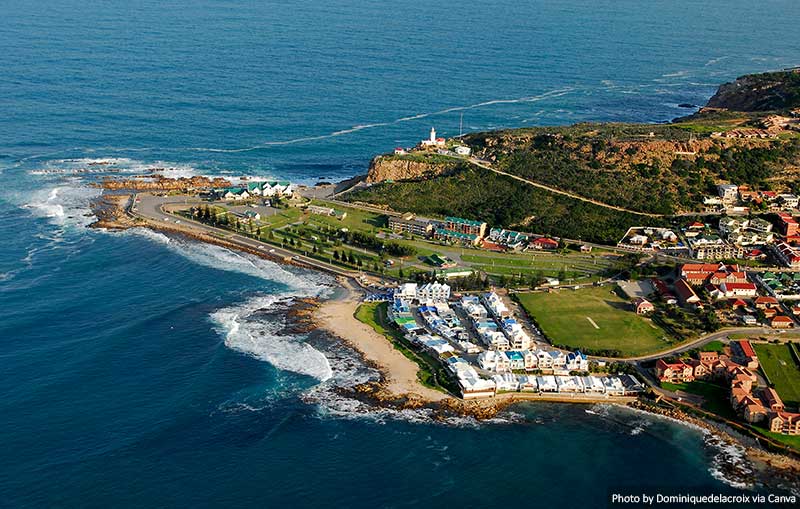 ---
Day 5 – Knysna and Plettenberg Bay
Plettenberg Bay is about 2 hours from Mossel Bay and is a great pit stop to explore the Garden Route. Great places to explore are Knysna Heads, a waterfront town along the Garden Route. The Knysna Heads are two imposing sea cliffs which protect the entrance to the Knysna lagoon from the wild Indian Ocean. If you time it right, Plettenberg Bay is good for whale watching, especially between June and September when it becomes a breeding location for humpback and southern right whales.
Lodging: For a relaxing night in Plett Bay, check out the Robberg Beach Lodge.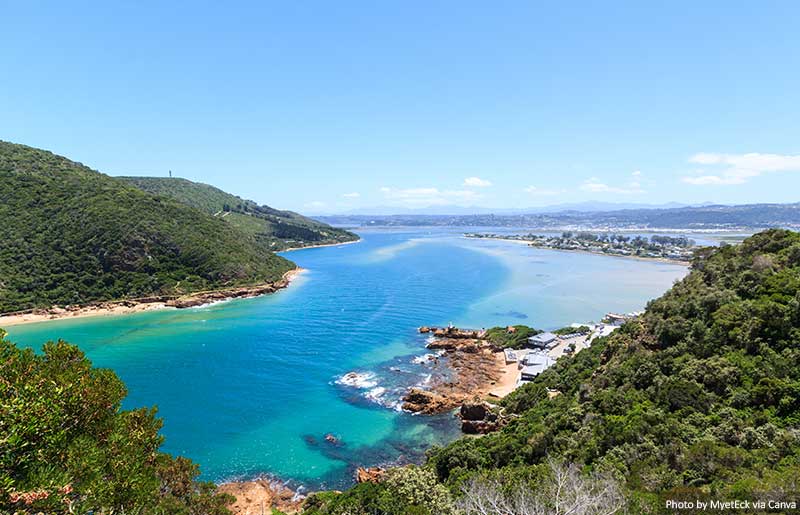 ---
Day 6 and 7 – Port Elizabeth and Addo Elephant Park
Port Elizabeth is a 3-hour drive from Plettenberg Bay. You will fall in love with this city that has a truly English feel. A trip to Addo Elephant Park is a must. Addo is home to one of the world's densest elephant populations as well as tons of rhino, leopard, lion, and buffalo. The best way to see the park is to self-drive. Not many parks in South Africa let you go off on your own, but Addo does.
Lodging: Stay the night in 50 College Drive B&B, a pristine Dutch Colonial style B&B. This relaxing stay will recharge your batteries for tomorrow's big drive to Coffee Bay.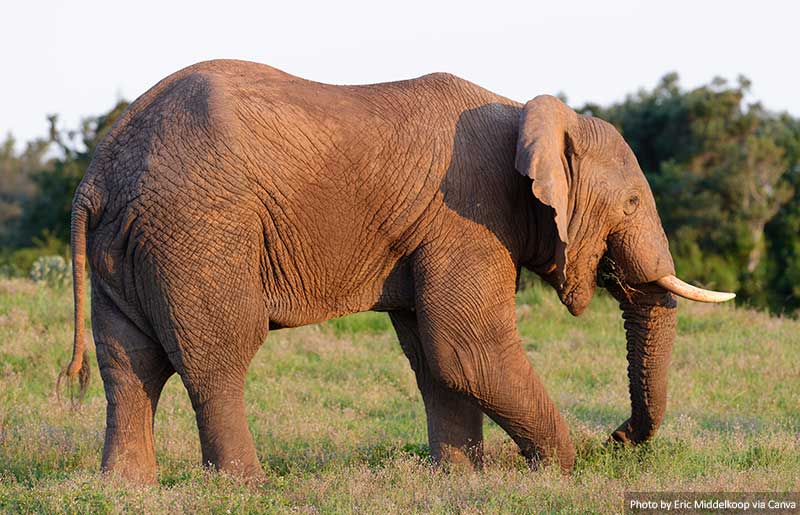 ---
Day 8 – Coffee Bay
Even though this leg of the trip is about 7 hours, Coffee Bay will be well worth the wait. It's a small coastal village along the Wild Coast of South Africa (home of late South African President Nelson Mandela) and has some breathtaking views and fantastic beaches. Here you can also find some of the best surf around as well as the freshest seafood you can imagine. Walking through the streets of Coffee Bay and you will experience a rich Xhosa culture and plenty of friendly locals.
Lodging: There are tons of places to stay and unwind from your day on the road, but the Ocean View Hotel has to be the best.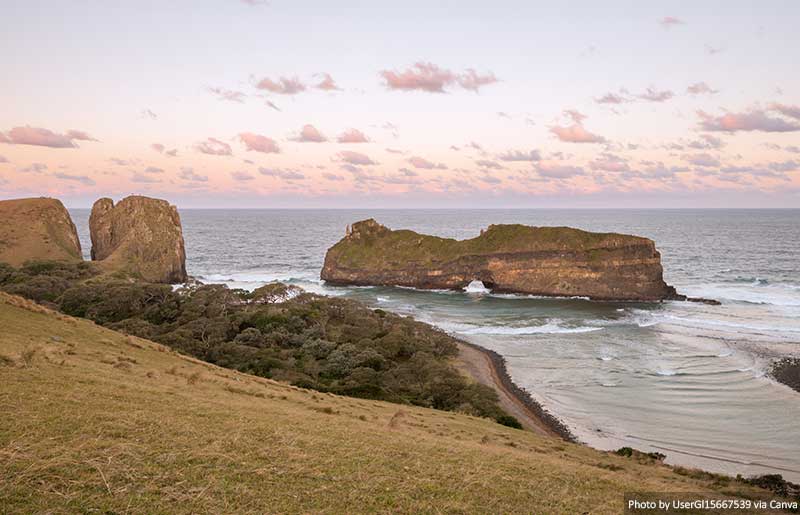 ---
Day 9 – Amanzimtoti
A six-hour drive up the coast will put you in Amanzimtoti, a vibrant beach town that's a great place to rest and recharge your batteries. There are plenty of great restaurants, and Warner Beach is excellent for surfing.
Lodging: A great place to relax for the night is Blue Sky Mining Backpackers Lodge. It's got great views of the ocean and is always full of new friends to make.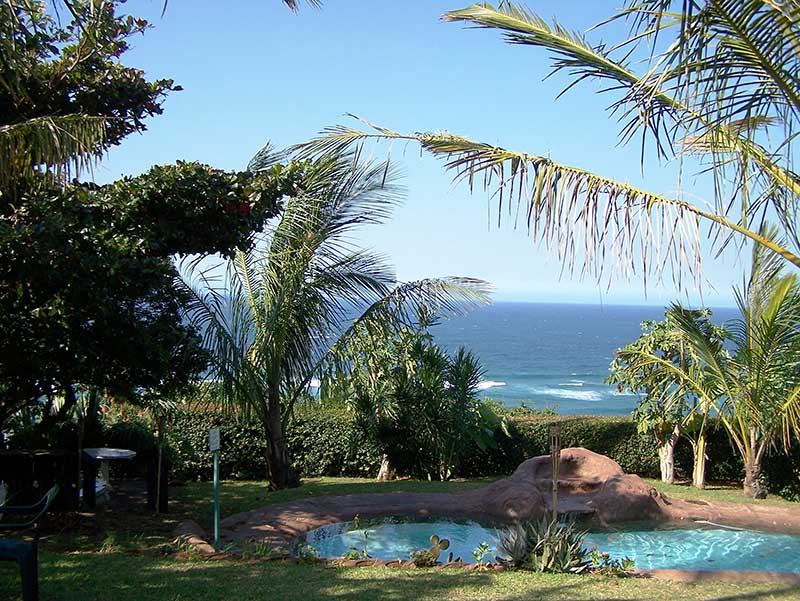 ---
Day 10, 11 and 12 – The Drakensberg Mountains
A 3-hour drive from Amanzimtoti is the genuinely magnificent Drakensberg or "dragon mountains". These stretch over 100 miles along the border between Lesotho and South Africa. This mountain range is a mecca for avid hikers of the world because of its sheer grandeur, its accessible plateaus and the many passes and slopes. These make for some of the best climbing in Africa.
You will be in awe of Drakensberg's famous mountain peaks like Giants Castle and Cathedral Peak. You will also be drawn to its foothills that are filled with incredible waterfalls, rock pools, mountain streams, and prehistoric caves. If you want to be in the heart of all the action, Sani Valley Nature Lodge is a beautiful place to call home while you explore all the Drakensberg has to offer. Make sure to visit God's Window on your way to Kruger.
---
Day 13, 14 and 15 – iSimangaliso Wetland Park and Mkuze/Hluhluwe Wildlife Reserve
Approx 5 hours from Drakensberg is the iSimangaliso Wetland Park. iSimangaliso is home to Africa's largest estuarine system, and its name means "miracle and wonder" in Zulu. You will find diversity in this park in every sense. The variety of birds will amaze and entertain you as they flitter about among loggerhead turtles, elephants, leopards and rhino. Outdoor adventurers will have the coastal adventure of a lifetime.
Lodging: For an unforgettable stay in iSimangaliso, stay at andBeyond Phinda Mountain Lodge. It's steeped in Zulu heritage, set in the beautiful mountains of KwaZulu-Natal, and the perfect base to explore the wetlands.
After you have finished exploring the wetlands, then head on over to the Mkuze/Hluhluwe Wildlife Reserve where you can get a glimpse of the big five on an authentic African Safari.
Lodging: Stay on the park grounds at one of the many safari camps like Isinkwe Bush Camp.
---
Day 16 – Nelspruit
You won't want to make the trip all the way to Kruger from Hluhluwe, so a 6-hour drive will get you to Mbombela (formerly Nelspruit) and is a great place to stop for the night. If you have time, check out the Chimp Eden, run by the Jane Goodall Foundation. This sanctuary is home to chimps that have been displaced from their natural habitats in Africa and a place that is making a change for the good.
Lodging: Give the Almar View B&B a whirl. This lodging is on a working macadamia nut farm and overlooks the Crocodile River Valley.
---
Day 17 and 18 – Kruger National Park
There is no doubt that Kruger is the king of all African safari parks and the ultimate safari destination in the world. The park has been around for nearly a century and attracts thrill-seekers from all over the planet. There are no shortages of private safari companies and bush luxury bush camps to make your stay unforgettable.
Lodging: If you want to be right in the middle of the action, andBeyond Ngala Safari Lodge offers it all. The lodge is a perfect fit for families as well as first-time and repeat explorers.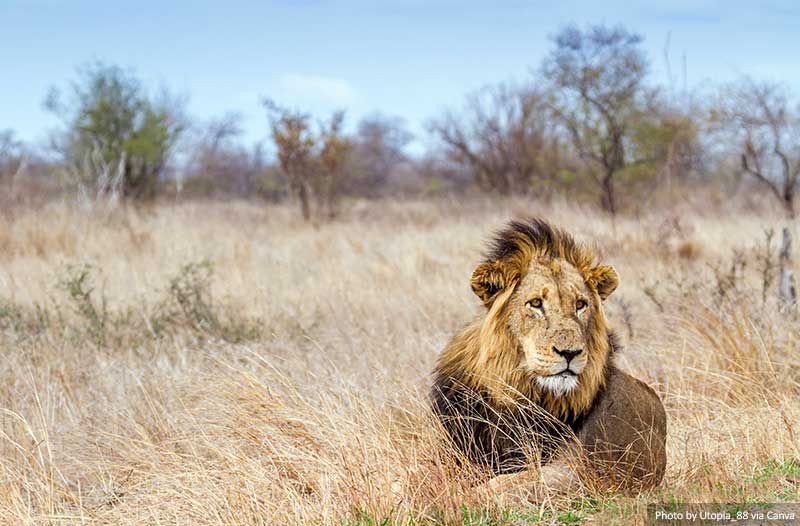 ---
Day 19, 20 and 21 – Pretoria and Johannesburg
The last leg of your ultimate South Africa road trip will take you 7 hours due west to Pretoria, one of the three capital cities of South Africa. You will want to end your trip in South Africa with a look into its turbulent past. The truly extraordinary part of this country is the resilience of its people in the face of many long years of hardship.
A visit to the Apartheid Museum will take you through many emotional exhibits documenting the dramatic and poignant journey to freedom. Also, a tour of Soweto (South Western Townships) is another cultural highlight you can't miss. Soweto is a series of townships that are home to 1.3 million residents and is the one-time home of Nobel Laureates Nelson Mandela and Archbishop Desmond Tutu. Today, Soweto is a vibrant community and was home to one of the biggest FIFA World Cup matches in 2010.
Lodging: If you want some like-minded travellers and make some friends along the way, stay at stayed at 1322 Backpackers International, in the Hatfield suburbs.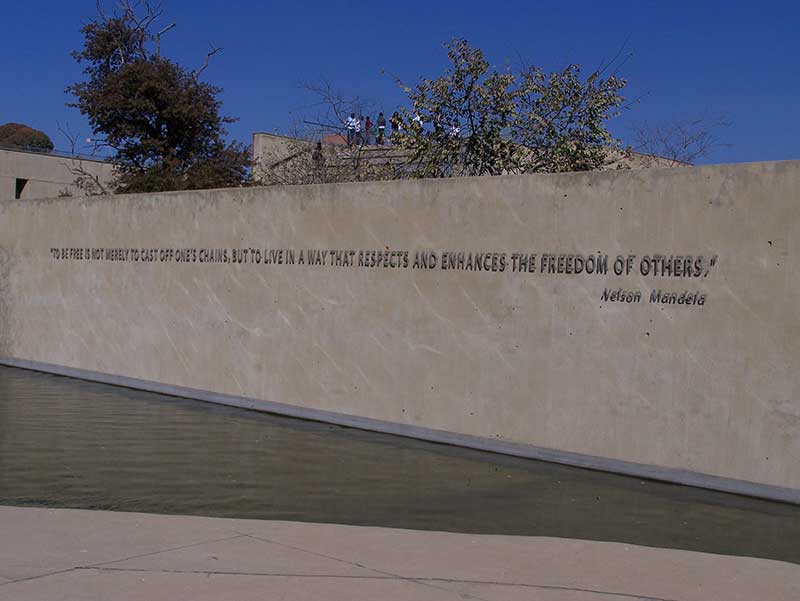 ---
Conclusion
There you have it, the Ultimate South Africa road trip with 21 days of adventure, amazing sights, and non-stop excitement. Not everyone can devote three weeks to a trip to South Africa, but we hope that this adventure has whet your appetite for a road trip to the Rainbow Nation, where you will find great spots, great food and great people along the way.
Fancy exploring lots of places in Africa? Check out our article on How to Plan a Multi-Destination Trip in Africa.
Related Articles