If you want to visit multiple countries in Africa, it will take a bit more planning than say, planning a trip to America or even Europe. In a large part because the transportation systems in Africa are not as developed, and getting between destinations in-country can sometimes be a challenge (but one that will be well worth it). The next big decision you'll have to make is what countries you want to hit on your trip. Just be aware that Africa is a vast continent, and you could spend months travelling the fantastic cities, countries and national parks that make up this amazing part of the world.
The best approach to visiting multiple countries in Africa is to plan your trip by region. Since it will be difficult (and time-consuming) to get from country to country by train or bus, you will mainly be travelling by air. Once you're in-country, getting around varies, depending on the country. A word to the wise—you'll be travelling on "Africa time". Not all modes of transportation use a schedule or timetable. Sometimes, the bus will leave when it's full. If you adopt this mindset, you'll save yourself many moments of frustration. Just sit back and enjoy the ride!
In this article you'll find suggestions of places to visit in Africa that would be good to add to your multi-destination itinerary. Including places to stay and the best way to get to and from each destination. We also suggest highlights for each destination, but you can modify your plans based on your budget and timeline. So, sit back and enjoy the ride as we show you how to plan a multi-destination trip to see Africa!
---
Where to Start
Picking a good starting point is essential because it sets the tone for the rest of your trip. If you visit the destinations below, we'd start in the West African country of Senegal and then head north and then east across North Africa through Morocco and Ethiopia before we head south along the Swahili coast to Tanzania. We'll end our trip in the magnificent country of South Africa.
Senegal is a great starting point because Dakar is a global business hub, and flights into the capital are pretty reasonable from the US and Europe. If you follow this route you should be able to get direct flights between each of the mentioned countries.
---
When to Go
When planning your African trip, you'll need to time your visit with the wet and dry seasons and when the animal migration happens. This is key because an African safari is something you don't want to miss! You won't be able to hit the best weather in all the places you will be visiting, but if you take your trip between September and January, you'll be guaranteed to see some of the wildebeest migration in Tanzania.
Again, Africa is such a massive continent with so many places to see, it is not practical to pinpoint the best time to visit all of the countries listed on our multi-destination/multi-regional trip.
---
Tour Packages and Pre-planned Itineraries
If you're not comfortable planning a trip around Africa yourself then another option is to book a tour package that will include a guide and a pre-planned itinerary. These also often come with accommodation, transport whilst at the destination, entry to attractions and heaps more making it a great way to travel. We would recommend having a look on G Adventures or bookmundi for tour packages as they have some great options and provide lots of detail on what you'd be seeing during your trip. As well as this for some tours you can see customer ratings which can help you decide based on customer feedback.
---
Getting Between Destinations in Africa
It's really not practical to drive, take a bus, or a train between destinations in Africa. Good news! There are some great global and regional airlines that operate on the continent, and you'll be able to find and book them online using sites such as KIWI or Google Flights. If you're coming from the US, you may do better to book your flights going through Europe instead of flying non-stop. It will save you some money and allow for more flexibility.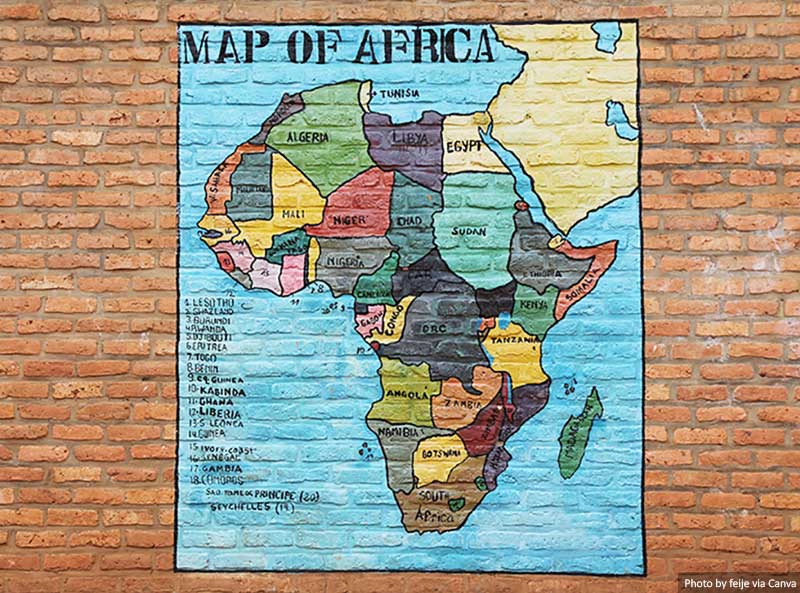 ADVERTISEMENT
CONTINUE READING BELOW
Getting Around In-Country
Once you're in-country, there are a variety of options for getting around. The best way to get recent and first-hand information about how to get to the places on your bucket list is to work with your hotel/backpackers lodge, or go online and sign up for tours yourself. You can do a lot of pre-planning before you arrive. Believe it or not, many countries in Africa have great tourism companies and do most of their business online. For example, sites such as G Adventures or Intrepid Travel offers top-notch tours for most African countries. Intrepid have tons of experience and have been in business since the 1980s. Kensington Tours is another company that is great to work with. They are even a National Geographic Award-winning tour company.
---
Ideas for Your Africa Multi-Destination Itinerary
Country 1: Senegal
To start our multi-country African trip, we land in the capital city of Senegal, Dakar. You'll feel the West African vibe as soon as you drive from the airport, as you pass the bustling streets and see the colourful markets in Dakar. These offer vibrant African fabrics, traditional wood carvings, masks, and fantastic street food. From wild beaches to wildlife-rich forested parks, Senegal provides plenty of places for you to begin your African adventure.
Some highlights of Senegal
Visit Goree Island – Learn the history of the West African slave trade at this moving monument to Africa's scarred past
See the IFAN Museum of African Arts – See the history of the region through the arts and crafts that make up the West African culture.
Shop for souvenirs at Marché Sandanga – Visit Dakar's oldest and largest market to pick up interesting crafts that represent the culture of the West African people
Take a trip to Lac Rose – Watch salt collectors work along the shores of the "Pink Lake".
Cruise the Gambia River – Take a luxury boat excursion down the scenic Gambia River and see some fascinating wildlife.
Tours for Senegal
Here are some tour ideas you may like:
Length of stay
If you want to get in the must-see sights, you should plan to stay in Senegal for 5-7 days. You can do most everything on your itinerary from Dakar unless you want to book an overnight trip down the Gambia River.
Accommodation
Since Dakar is the capital city and home to African diplomatic offices, you'll find great places to stay from luxury hotels to amazing backpackers lodges. Here are a couple of suggestions that are sure not to disappoint:
Read more
If you want to read more about travel to West Africa, check out our post: 10 Best Places to Visit in Senegal and The Gambia.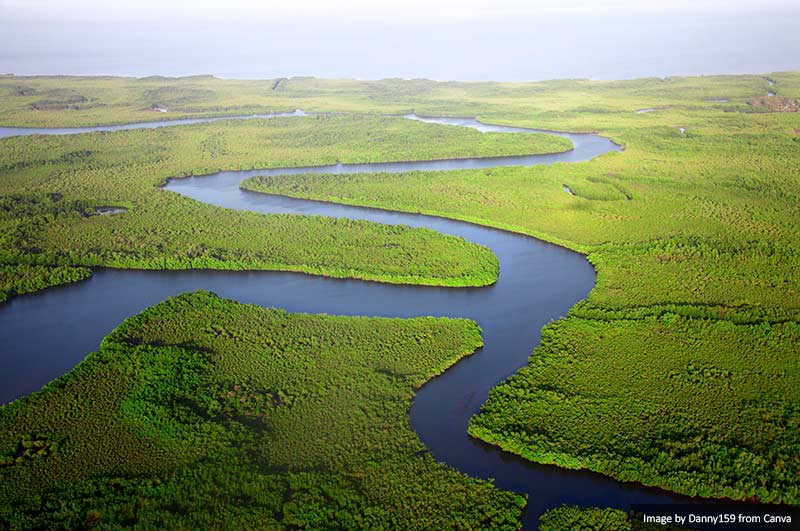 ADVERTISEMENT
CONTINUE READING BELOW
---
Country 2: Morocco
Morocco is colourful, energetic, aromatic, and incredible! You'll fall in love with the souks of Marrakech and Casablanca and be in awe of the majesty of the Atlas Mountains. The fantastic architecture is also sure to leave you with a sense of wonder.
Some highlights of Morocco
See Chefchaouen – Enjoy the beautiful blue-tinted architecture, and great shopping of this colourful city dubbed the "Blue Pearl".
Shop The Souks of Marrakech – There's so much to see in the souks that you can spend all day shopping for Moroccan rugs, brass, and lanterns.
Drive to the Atlas Mountains – Take a road trip to the Atlas mountain on Morocco's well-kept highways to see incredible vistas and Aït Benhaddou, a mystical UNESCO World Heritage site.
Tour the historic buildings of Casablanca – See magnificent architecture like the Grande Mosquée Hassan II and the elegant buildings that line Casablanca's Corniche.
Join a camel caravan to Erg Chebbi – Trek out to the camp of Berber nomads and then indulge yourself at the Erg Chebbi Luxury Desert Camp.
Tours for Morocco
Here are some tour ideas you may like:
Length of stay
To get the most out of your visit to Morocco, you'll need to devote a week to this leg of your journey. A couple of road trips to the Atlas mountains and down the picturesque Moroccan coast will be well worth the extra time spent in this beautiful North Africa country.
Accommodation
Many of the best places to stay are on the coast, but you'll also find many quaint and elegant hotels at your destination. Marrakesh makes a great home base for your stay in Morocco, you can make most day trips from this vibrant city.
Read more
Want to read more about travel to Morocco, read our post: 10 Best and Awe-Inspiring Places to Visit in Morocco.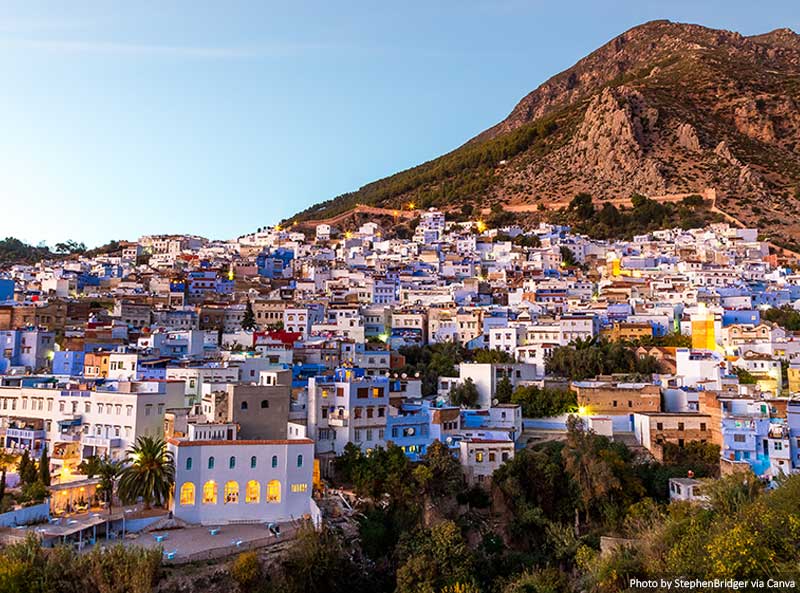 ADVERTISEMENT
CONTINUE READING BELOW
---
Country 3: Ethiopia
Ethiopia is a magical country with ancient and spiritual roots. You have the beauty of wild mountains and the awe-inspiring religious architecture that draws visitors to this amazing country. Addis is a modern capital city with fantastic food and great sights to see.
Some highlights of Ethiopia
Visit Lucy at the National Museum – You'll see ancient history like no other place you've ever been, including the 2.3 million-year-old fossilized hominid "Lucy."
Shop at the Merkato – Stop by the largest open-air market in Africa, and as you stroll its twisty aisles, the smell of pungent spices and roasting coffee will awaken your senses.
Visit the Rock-Hewn Churches of Lalibela – See eleven medieval churches, all carved out of massive slabs of volcanic rock!
Tour the Medieval City of Gondar – The "Camelot of Africa" is the site of the castle that was the medieval home to Ethiopian Emperors and Princesses.
Tour for Ethiopia
Here are some tours that you may like:
Length of stay
Because of the size of Ethiopia, and several of the sites are quite a trek, it's best to spend a whole week in Ethiopia. Ethiopian Airlines is the best in Africa, so getting a cheap flight to the sites on your itinerary is a breeze.
Accommodation
Accommodation in Ethiopia is spartan compared to places you may have stayed in Europe or the US. But the hospitality and cultural enrichment you'll take from Ethiopia will more than make up for the lack of amenities at many hotels. However, Addis has some exceptional lodging choices that might wow you!
Read more
Want to read more about places to see in Ethiopia, check out our post: 10 Best and Most Incredible Places to Visit in Ethiopia.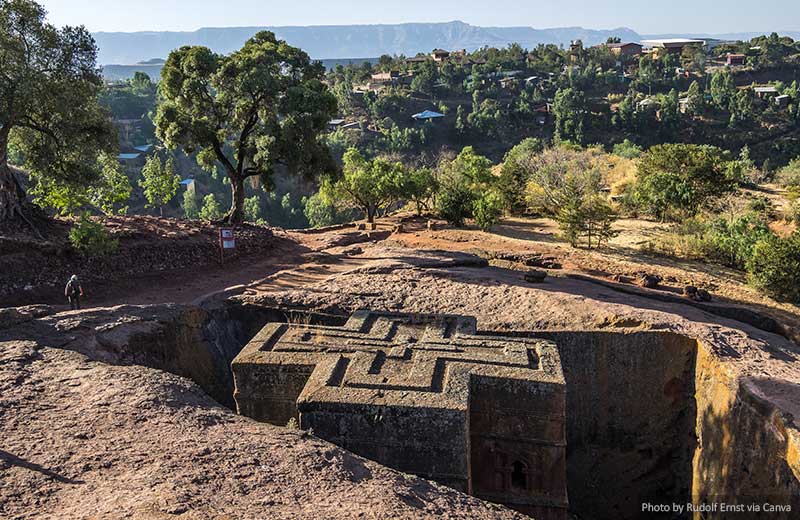 ADVERTISEMENT
CONTINUE READING BELOW
---
Country 4: Tanzania
Tanzania is home to some of the best wildlife viewing on the planet. The Serengeti and Ngorongoro Crater are global treasures and are home to the wondrous wildlife of Africa. Zanzibar and the Swahili Coast are also must-see sights, where ancient cultures have survived for centuries. You'll have access to some pretty impressive tropical beaches.
Some highlights of Tanzania
See the Wildlife on a Serengeti and Ngorongoro Crater Safari – Renowned for its incredible concentration of the most famous dangerous animals on the savannah, Serengeti and Ngorongoro Crater are exceptional places to see African wildlife at its best and you'll get to interact with the Maasai people of East Africa.
Explore the Exotic Island of Zanzibar – This amazing island has a deep rich history that reflects the Swahili culture that reflects both the African and Arabic ways of life. Visit Stone Town, a UNESCO world heritage site that perfectly illustrates Swahili life.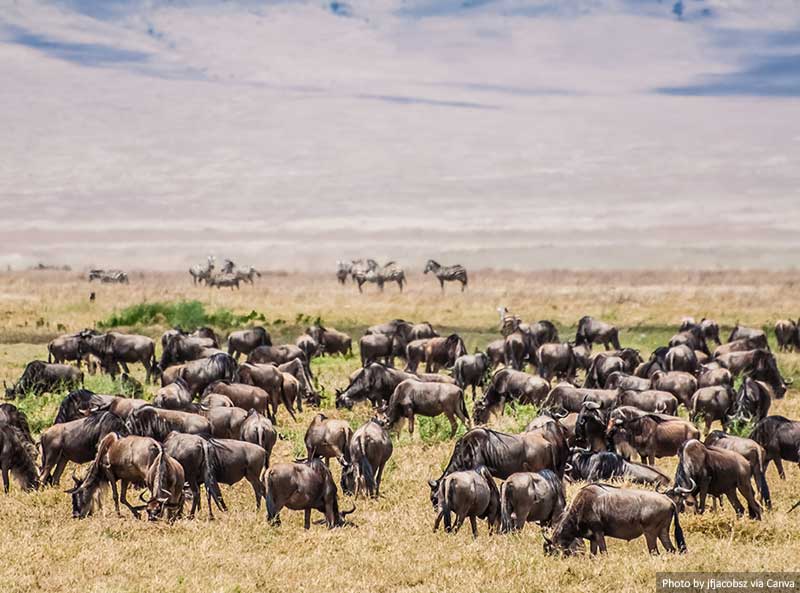 Tours for Tanzania
Here are some tour ideas you may like:
Length of stay
When visiting Tanzania you can get in much of the big stuff in 5-7 days. If you want to add Zanzibar to your itinerary then better make it 10 days.
Accommodation
Read more
Want to read more about places to see in Tanzania, check out our post: Incredible Places to Visit in Tanzania.
ADVERTISEMENT
CONTINUE READING BELOW
---
Country 5: South Africa
If you can, then stay in South Africa for as long as you are able (and your budget allows). It's impossible to do the Rainbow Nation credit with only a few days, but this itinerary will give you the "best of the best" of places to see in South Africa. You could also add our The Ultimate South Africa Road Trip to your itinerary.
Johannesburg/Pretoria
Pretoria is one of the three capitals of South Africa, and Johannesburg is considered the financial capital of the nation and one-time centre of the gold mining industry.
Some highlights of Johannesburg/Pretoria
Visit the Apartheid Museum – Full of moving exhibits that literally takes you through the dramatic and emotional walk to freedom.
Experience Soweto (SOuth WEstern TOwnships) – A tour of Soweto will give you a first-hand perspective of everyday life for a series of townships that are home to 1.3 million residents.
Lesidi Cultural Village – Discover the fascinating cultures and traditions of the people of South Africa.
Tours from Johannesburg
Here are some tour ideas you may like:
Length of stay
You can see everything that Joburg and Pretoria have to offer in 3 – 4 days, but you could also use this stop for several day trips, making your stay more than a week.
Accommodation
Pretoria has the best places to stay, and shopping is fantastic.
Kruger Safari
Kruger is the king of all African safari parks and the ultimate safari destination in the world. Here you'll have a great chance to get a glimpse of the "big five" up close and personal.
Length of stay
You need at least 4 days to see all of Kruger National Park.
Accommodation
One of the premier luxury safari camps is andBeyond Ngala Safari Lodge. The lodge is a perfect fit for families, first-time and seasoned explorers.
Cape Town
Cape Town has to be one of the most beautiful cities in the world. It is full of history and diversity, and the surrounding area is simply breathtaking.
Some highlights of Cape Town
Climb Table Mountain – Many trails lead to the summit, or you can take a ride on the Table Mountain Aerial Cableway.
Tour the Vineyards of Stellenbosch and Franschhoek – Some of the world's best wines can be found in the Cape Winelands, and you'll love the little towns with their white Colonial Dutch buildings.
Visit Colorful Bo-Kaap – See the pastel-coloured houses lining the picturesque cobbled streets Bo-Kaap, long-time home of Cape Malay people.
Take the Ferry to Robben Island – This infamous one-time prison was used by the former apartheid government to keep indigenous prisoners, like former President Nelson Mandela, during their struggle for freedom.
Tours for Cape Town
Here are some tours you may like:
Length of stay
Cape Town deserves 7 – 9 days to do it justice. The city is very walkable, and there are so many day-trips that you won't want to leave after you fall in love with this fantastic city.
Accommodation
Read More
If you want to make the most of your trip to South Africa read:
▶︎ 16 Things to Know Before Visiting South Africa
▶︎ 10 Best Places to Visit in South Africa
▶︎ Cape Town Travel Guide
▶︎ The Ultimate South Africa Road Trip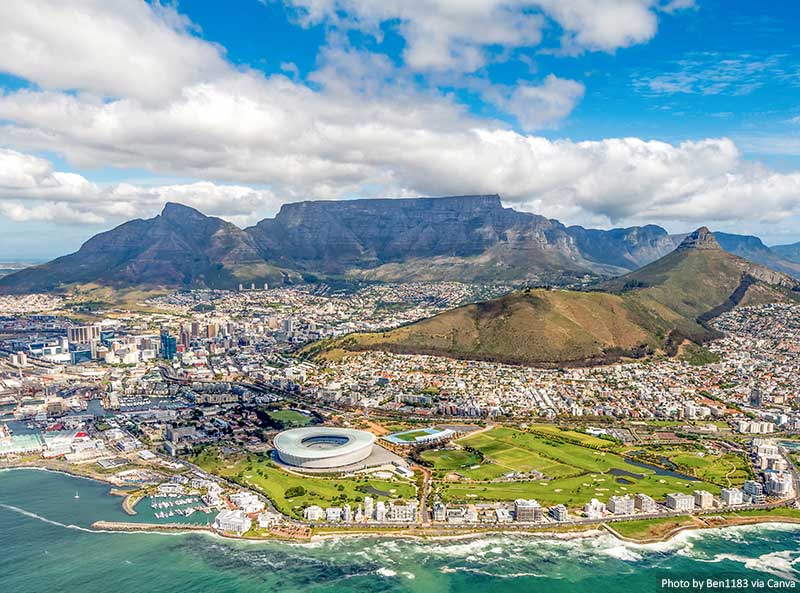 Summary
Being such a huge continent with lots of countries to choose from it can hard to know where to start when planning a trip to Africa. However, hopefully the tips and information above points you in the right direction.
Ready to book? Search for:
---
Below are some tour options you could consider through bookmundi.
---