Belgrade has some nice Instagram and Photography spots throughout the city and in this post you'll find my suggestions of some of the best locations I found. During my visit I only spent 24 hours in the city and missed the blue hour, so a lot of my example pictures are day shots, however based on the time I did have you'll find my recommendations for the best time to take photographs (even if my example shot was taken at a different time). Also in this post you'll find a link to the location on Google Maps and whether the location is free or not.
A big thanks to Una & Isidora from viennainsider.com (they're from Serbia) who gave me some tips for Belgrade.
Here are 8 top Instagram and photography spots in Belgrade.
1. Church of Saint Sava
The Church of Saint Sava is one of the most impressive landmarks in the city, and also an icon of Serbia. The building is a Serbian Orthodox church and one of the largest such churches in the world.
When taking pictures during the day consider using puddles or reflective surfaces to enhance your composition which is great for Instagram. And when taking pictures at night use a tripod and long exposure. At night you'll find some colourful fountains which I'd recommend also including in your shot. You can see what they look like in the first picture in this post.
As well as the iconic front view you should also consider taking pictures from the side where you can use trees to frame your shot.
Best time for pics: Anytime
Cost: Free
Location on Google Maps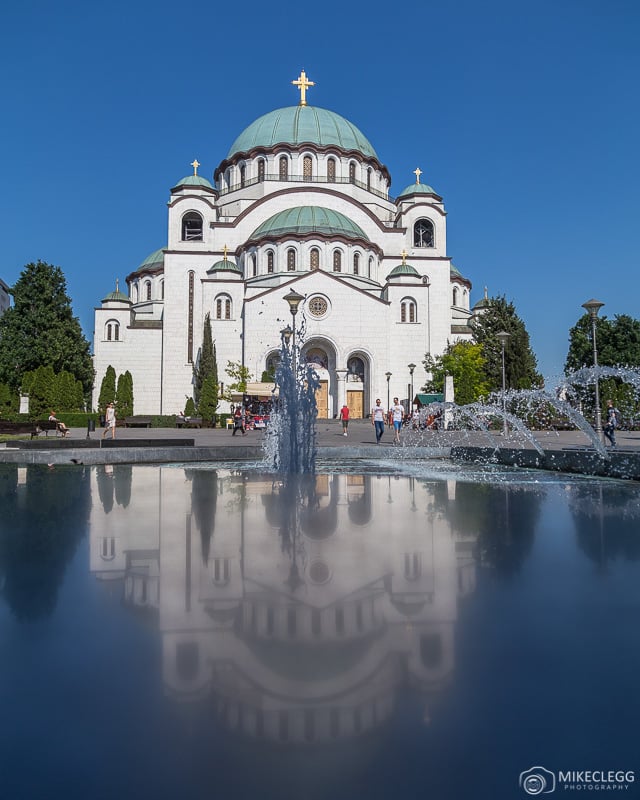 2. St. Mark's Church
St. Mark's Church is another Serbian Orthodox church and also very beautiful. The front has a wonderful pattern and design making it great for photography. As well as the front perspective I also found some flower beds in the Tašmajdan park (next to the church), where can frame with the flowers and part of the building. This allows you to capture a spring/summer look and these pictures generally do quite well on Instagram and social media.
Best time for pics: Day
Cost: Free
Location on Google Maps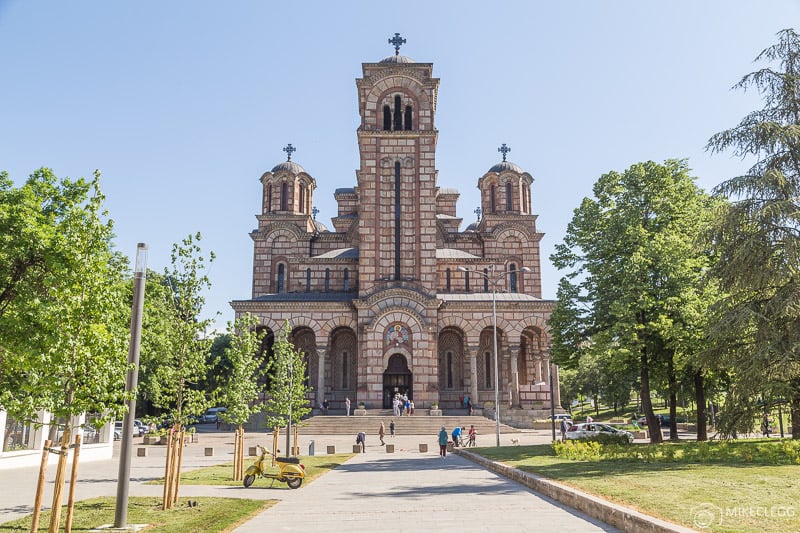 ADVERTISEMENT
CONTINUE READING BELOW
3.  The Victor Monument
The Victor Monument is a very popular Instagram spot in the city. The statue is located in the Belgrade Fortress and was built in 1928 in recognition of Serbia's victory over Ottoman and the Austro-Hungarian Empire. When visiting at sunset you'll find lots of people relaxing, enjoying the views and watching the sun go down. As well as the perspective below you'll find a hill that overlooks the statue and towards the Sava and Danube Rivers.
Best time for pics: Sunset
Cost: Free
Location on Google Maps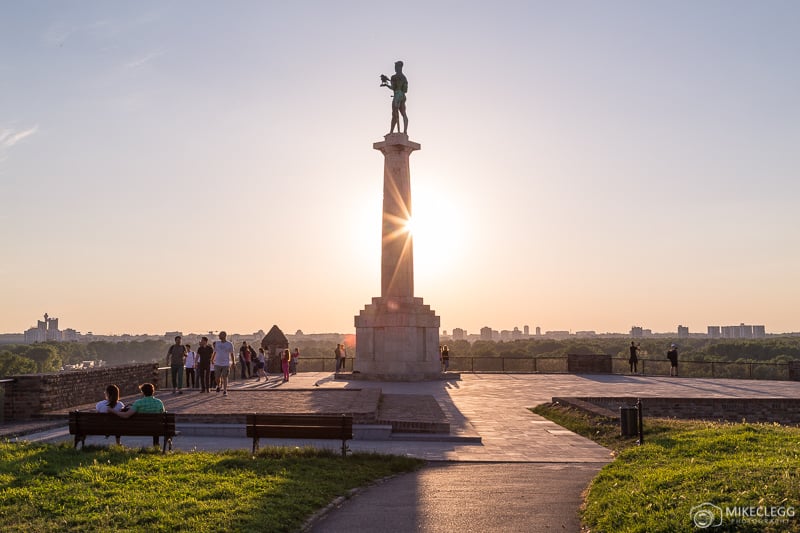 4. Skadarlija
For beautiful cobbled streets, colourful facades and lots of pretty flowers head over to Skadarlija. This little neighbourhood is a popular spot known for having lots of great restaurants serving traditional Serbian cuisine.
I would recommend coming here in the day and also in the blue hour to capture pictures in different light. Of course, you should also grab a bite after getting your shots. I would imagine this area would be great for those lifestyle Instagrammers who could probably work magic with the flowers and colours.
Best time for pics: Day-blue hour
Cost: Free
Location on Google Maps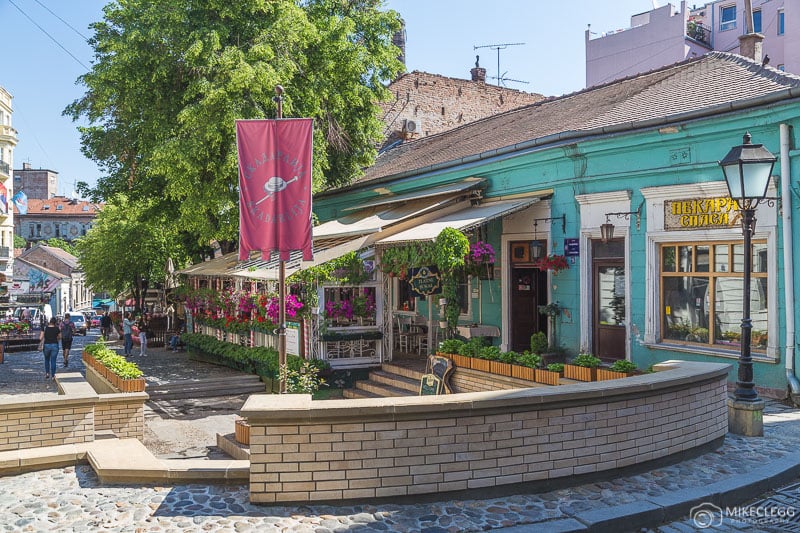 5. From Skate Park Usce or Brankov Most
Close to the Fortress you'll find a bridge that leads across the river Sava and to a park. From here you'll be able to capture skyline shots of the city. I didn't have time during my visit but this might also be a good sunset/blue hour spot. As well as taking pictures along the river you'll find various bars and restaurants which are great to grab a drink and relax in.
Best time for pics: Anytime
Cost: Free
Location on Google Maps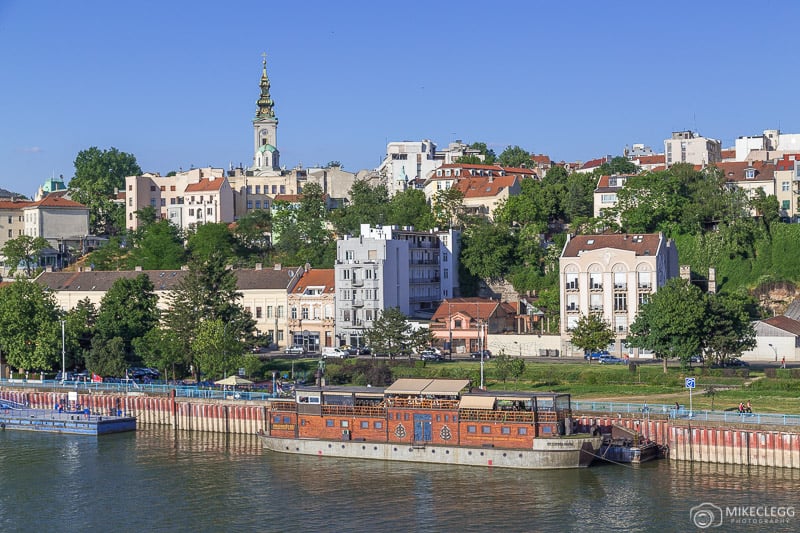 ADVERTISEMENT
CONTINUE READING BELOW
6. Trams on Zemunski put Bridge
Along the bridge that forms part of the "Zemunski put" road is some colourful green architecture. As you can see from my shot below there is a great contrast between the colour of the trams and the bridge.
Techniques to try: For a very cool shot I would suggest coming here during the blue hour or at night and taking an exposure of around 0.3-1 second so that you capture light trails and the movement of the trams. If your camera meter says you need a longer exposure then up your ISO slightly to get the shot, but not too much as you'll start getting noise. Note: when taking pictures of the trams at night a very long exposure will just create streaks, whilst a shorter exposure will include more definition of the tram, which I think would look better.
Best time for pics: Blue hour
Cost: Free
Location on Google Maps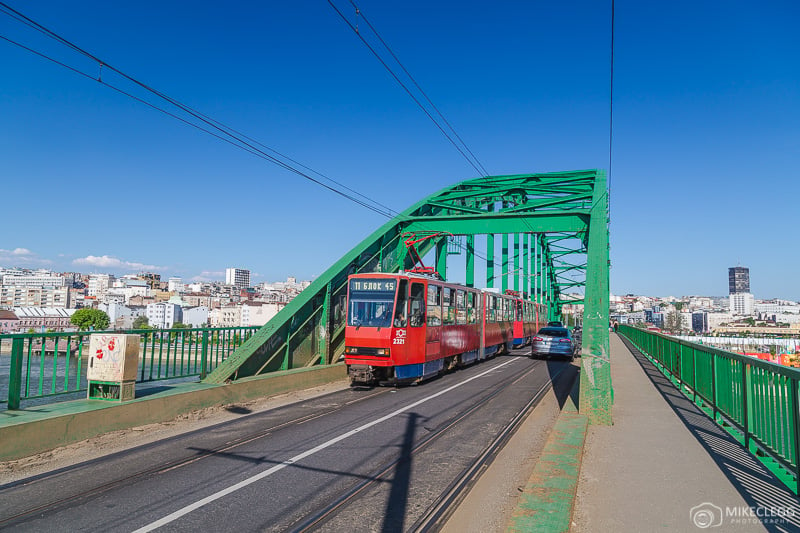 7. Belgrade Sign at Nikola Pašić Square
The Belgrade Sign seen below reminds me a little of the iAmsterdam Sign and it's even the same colour. Although this isn't the kind of shot I would post on my Instagram account, I would imagine it might fit a lot of other peoples feeds, especially those of lifestyle photographers.
Best time for pics: Day
Cost: Free
Location on Google Maps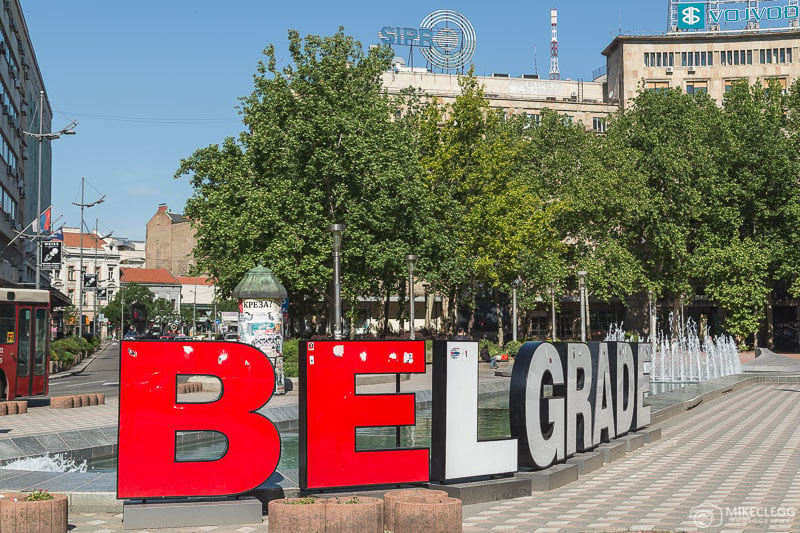 8. National Assembly Building / State Government Office
The National Assembly Building or State Government Office looks beautiful and grand both day and night. You'll find some nice perspectives directly in front of it, as well as from the Pionirski Park that is opposite the building. If you can come here during the blue hour when it lights up it looks ultra nice.
Best time for pics: Day – blue hour
Cost: Free
Location on Google Maps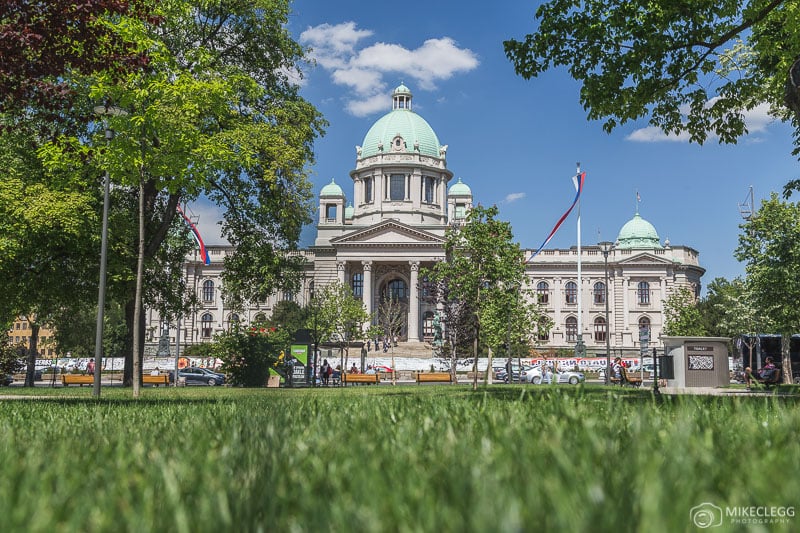 ADVERTISEMENT
CONTINUE READING BELOW
---
Also consider
A few other spots I think might make good Instagram pictures include:
Along Kneza Mihaila – This is the main pedestrian and shopping street in the city. You'll find lots of al-fresco type dining outside which can look pretty good in photographs.
Slavija Square where there is a large roundabout with a huge water feature that lights up at night. I believe there is a building here that you can go up and take aerial pictures of the roundabout, and even towards the Church of Saint Sava.
Belgrade Fortress – As well as taking pictures of the Victor Monument, also take time to explore and you may find other great perspectives.
Tours and Activities
---
Photography Tips
Here are some photography tips for Belgrade:
Visit my page on Travel Photography for lots more tips and techniques.
Related Articles