If you are looking for a sun-filled beach holiday that could be both relaxing and energising, then England has plenty of options. There are some beautiful coastal towns and cities to consider along the English coast and these would be perfect for visiting in the summer and warmer months.
If you're based in the UK then by visiting the coast you could not only save money on flights, but you also don't have to worry about jet lag when you arrive. If you're travelling from abroad to visit England then a visit to the British coast will be a great way to see some of the natural sites in the country and would be perfect to mix in with visiting some of the cities. Read on to learn of some of the most beautiful and impressive places to visit along England's coast.
---
1. Cornwall
Cornwall (image above) is famous for beautiful beaches, clear waters and over 300 miles of stunning coastline. It is the coastal gem of the UK, bringing in thousands of visitors every year. Remarkably, nowhere in Cornwall is actually more than 16 miles from the coast, and it is a place filled with beauty, myth and legend.
For top places to visit within Cornwall, St Ives is perhaps the most sought-after location. You can see a picture of St Ives at the start of this article. With breathtaking waters, rugged cliffs, beautiful art galleries, great restaurants and relaxing beaches, it is a top place to be based whilst enjoying and exploring Cornwall.
In addition, the Eden Project is also a must-visit. Twenty years ago, the site of this wonderful project was a clay pit and it is now beautiful, magical and full of life. There are numerous permanent and seasonal exhibitions on site as well as ziplining and similar adventurous activities.
Visiting Cornwall is an incredibly popular option in England so it is well worth finding and securing your accommodation in advance.
2. Dorset
Another southern gem, Dorset is a county in the southwest. It is mostly known for its Jurassic coastline and stunning cliffs containing ancient fossils and rock formations. Well-known sights to see are Durdle Door, Lulworth Cove and Old Harry Rocks. You can base yourself in Weymouth or Bournemouth and then explore this stunning part of England from there. Durdle Door as well as various other places are home to some great beaches so would be a perfect place to relax on a warm summer's day.
You can also find tours to visit some of these places from Bournemouth or consider driving between places too for added flexibility.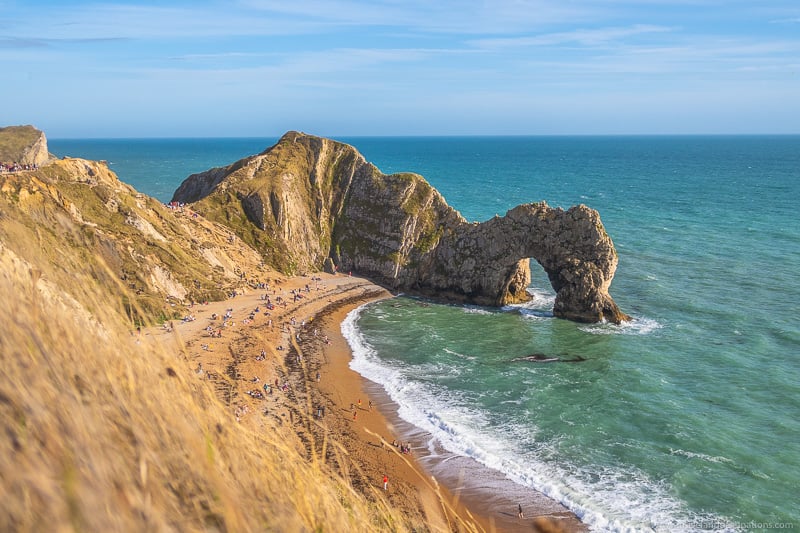 You May Like
3. Brighton
Brighton is a seaside resort located in Brighton and Hove and easily accessible on a train from London. It is a colourful and vibrant place that attracts thousands of visitors every year. Brighton has no shortage of things to do. From i360 with its stunning views and the Palace Pier, the area is filled with fun and festivities all year round. Brighton is known for its bohemian community and eco-friendly population which makes it a welcoming place to visit for all.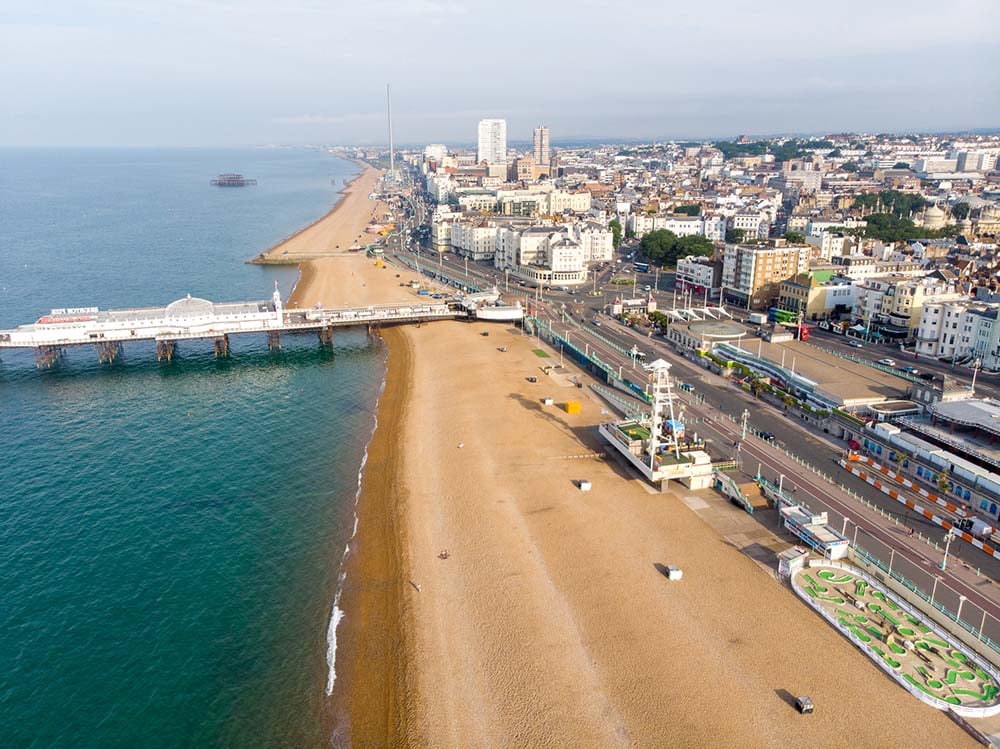 4. Seven Sisters
Seven Sisters Country Park is a popular location for both local and international visitors. It is named after the iconic chalk cliffs that are part of the Sussex Heritage Coast. The coastline here is spectacularly beautiful and a great place to visit for hiking. If you fancy tackling the entire route then you could start at either Seaford or Eastbourne and then just follow the coast. Along the way you'll find a cafe and pub where you could stop and enjoy some drinks and food.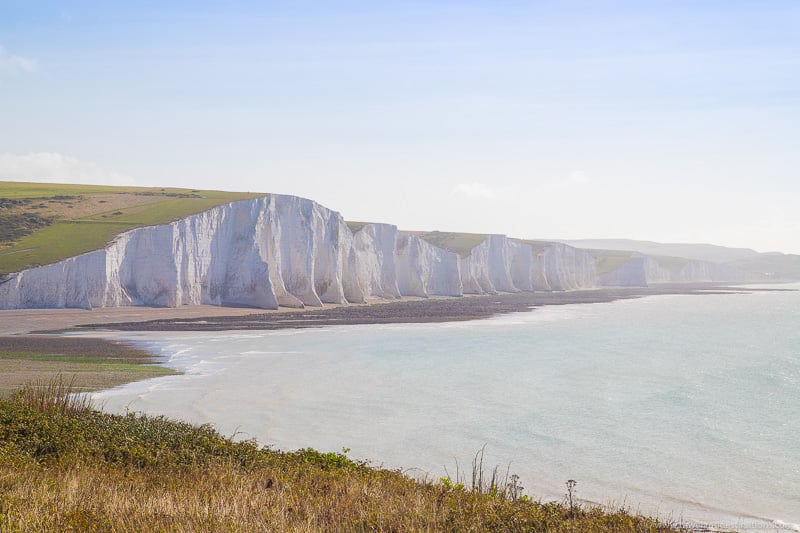 You May Like
5. Blackpool
This historic, northern coastal town in England has long been a family destination. While Blackpool won't always promise hot sunshine, it is still a wonderfully cheap and cheerful beach break. For those wanting a little thrill and adventure, Blackpool Pleasureland has a host of roller coasters and rides for every age group.
You can spend the morning enjoying the rides, and head to the beach in the afternoon for some relaxation or beach ball. Various fish and chip shops (popular English food) along the promenade offer tasty lunches worthy of a seaside break. You can spend the night, or simply head home after an adventurous day.
ADVERTISEMENT
CONTINUE READING BELOW
6. Devon
Visiting Devon alongside Dorset or Cornwall is a popular option for holidaymakers in the UK, especially those traversing from afar. Devon is a farming country, and well known for its cheese and cream. A visit here would not be complete without sampling the famous cream tea.
There is a variety and no shortage of accommodation in Devon. There are caravan parks and hotels along the beach, as well as glamping experiences for those who want to experience nature and comfort together.
Sidmouth, Dartmouth and Hartland are all seaside locations with stunning coastlines and water activities that will not disappoint. You can also choose to locate yourself in mid-Devon and explore from there.
7. Isle of Wight
The Isle of Wight is situated just off the south coast of England and this tiny island has everything you could wish for on holiday. With fantastic accommodation options and excellent food choices, it will be a relaxing getaway filled with nature.
You can travel to the Isle of Wight by ferry or even a hovercraft, which in itself will kickstart your holiday with adventure. Amongst the many things to do, you could visit Osborne House or Carisbrooke Castle, explore Fort Victoria, and enjoy romantic and relaxing walks in its raw natural beauty.
ADVERTISEMENT
CONTINUE READING BELOW
8. Skegness
Located on the Lincolnshire coast of the North Sea, Skegness is often a forgotten gem of English coast. This seaside town offers a variety of activities. There is a seal sanctuary, animal farm and a couple of theme parks to enjoy. For those who love to get stuck in nature, Gibraltar Point National Nature Reserve is a great place for a walk or jog too. There are also lakes for boating and a Raceway Stadium where you can watch races. All in all, it is a fabulous budget holiday break for all the family.
9. Whitby
Another northern gem, Whitby is located in the Scarborough region of North Yorkshire. It is a beautiful, idyllic town, perfect for exploring the vast moors and stunning coastline of the region. There is no shortage of things to do in Whitby with plenty of museums, galleries, and shopping opportunities.
It also offers charming and poetic activities that are unique to the town. The Eskape Room is a fun activity allowing visitors to explore escaping a live room within the hour. There are also options to spend time with a Story Walker, to take you through various historical sites delighting your imagination and inner child. Whitby is truly a fun place to visit for couples, families and groups of friends alike.
Summary
There is no shortage of beautiful breaks on the English Coast. From the stunning white sand beaches of the southern coasts to the historical and quaint towns of the north, the British Isles encompass everything you could want on a summer break. The unique folklore and history of the British Isles also give it a unique touch and will allow you to experience a holiday unlike any other. It is worth booking your accommodation and activities in advance to give you the best chance of having a relaxing holiday.
Ready to book? Search for:
---
---
Tours and activities
Related Articles