Pandemics such as the Coronavirus (COVID-19) can have a devastating impact on the travel industry. This has involved government restrictions including border closures, attractions being shut, holiday and flight cancellations and more. During this time it's extremely important to ensure you protect not just yourself but also others, such as by following government regulations on social distancing, self-isolating and other advice that is mentioned. But eventually, the pandemic will finish, borders will open again and the prospect of travelling once more will become a reality. So, to prepare you for when you travel again, here are tips to help you stay safe when travelling after the pandemic.
---
Check the official government guidelines
First and foremost before you travel anywhere you should always check official government guidelines. If you are from the UK the website you need to go to is gov.uk/foreign-travel-advice. Here you will find information about every destination, along with entry requirements, safety and more. If it's stated that you shouldn't travel then that means you definitely shouldn't travel. It's for your own safety.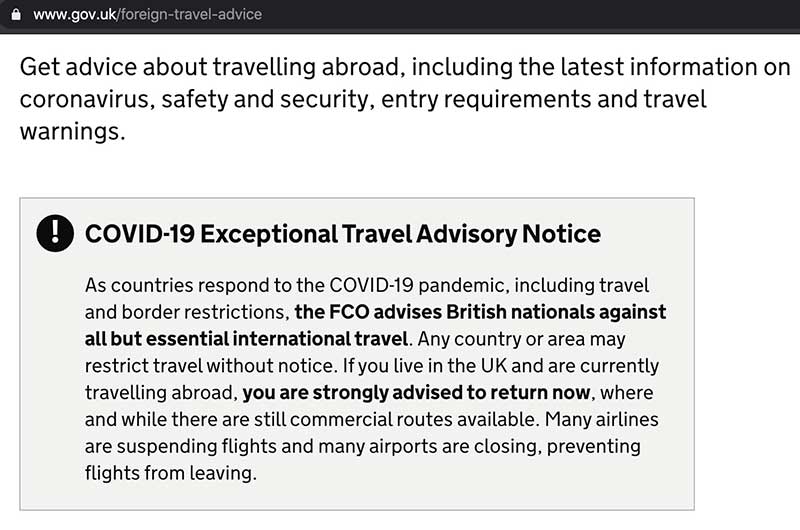 If your government has a similar website (such as travel.state.gov for USA citizens) then check on that first. This is because the rules can vary for different nationalities, ie one nationality might be allowed into Japan whilst another might not. If your country doesn't have a similar site then check the embassy website for the country you wish to visit.
Check quarantine rules
Before booking your travel it's important that you know the rules for the destination you are going to. Such as what (if any) are the quarantine rules for when you land. Some of the rules might include having had a PCR or other test in the last few days, as well as quarantining in a government-approved hotel. Here is an example for Austria (screenshot from 10th July '20 but subject to change).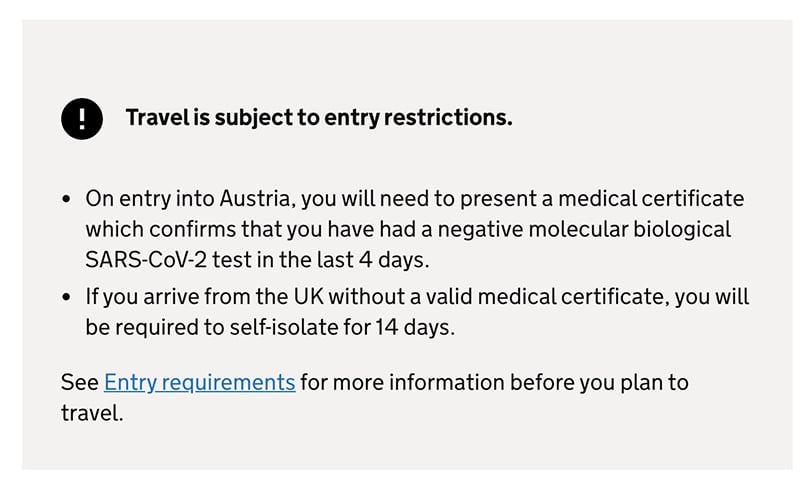 You can sometimes find this on your local government website such as above, although it's also worth checking the airport, or official tourism website for the country you are going to.
Read the travel rules and guidelines for the airlines and airports you plan to use
As some airlines and airports are now starting to operate again, before you travel you should check any rules that apply. Such as at many airports in England you will now be required to wear a face mask whilst in the airport and also when on the plane. Read some of the guidelines for Gatwick airport and on the easyJet website.
You may also find temperature checks in some airports, social distancing rules and other measures to try and keep everyone as safe as possible.
Visit the WHO AND CDC website
The World Health Organisation (WHO) provides information on pandemics, endemics, diseases and other types of health issues. Another organisation to look at is the Centers for Disease Control and Prevention (CDC) who provide specific information on all the countries around the world and any health warnings as well as recommended vaccines and medicines. The information is well organised and easy to work through.
These are both authoritative resources to use to learn more about health-related issues that you should know before you travel.
Make sure your insurance is valid
When travelling it's always important to have insurance. This will be even more important if you are travelling during or after a pandemic as it might be the case that your insurance won't cover any issues that arise. This means making sure you read the terms and conditions, that it covers the country you wish to visit, as well as looking out for anything that might invalidate your insurance. A trick includes going to the policy details (before purchasing) and then doing a CTR+F type search for keywords such as "pandemic", "coronavirus" etc.
Here is a screenshot for an insurance renewal policy that we used to have. This now states lots of Coronavirus related exclusions which could make it harder to get payouts.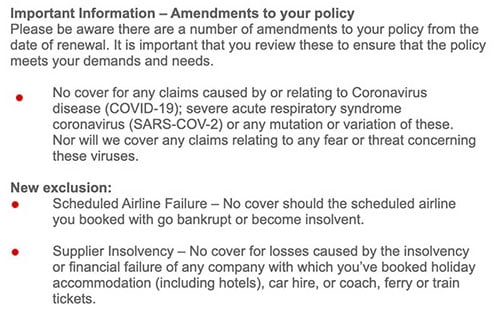 It's also worth noting that if you travel against government guidelines, then this could mean that your insurance won't cover you should you have an issue.
A few places to look for travel insurance includes Insubuy, VisitorsCoverage and Money Supermarket (UK).
Potentially go somewhere closer to home
Straight after a pandemic, it might be wiser to travel a bit closer to home rather than internationally. If you do travel internationally then maybe head to a country that isn't too far – meaning that if the pandemic, lockdowns or any other national emergencies kick off again, then it should hopefully be a bit easier for you (and less expensive) to return home.
A few ideas on more domestic/national trips rather than international trips include:
Heading to national parks
Visiting coastal towns
Travelling to other cities or towns in your country
Going camping
Visiting spas
Going on day trips and tours.
…to name a few ideas. Read more about domestic and staycation types of trips.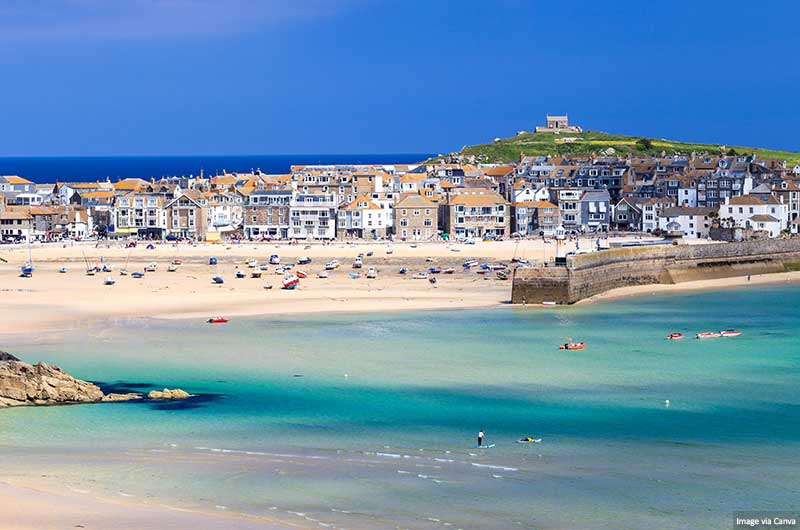 Travel with a bonded travel operator (Such as ABTA, ATOL)
If possible then travel with a bonded operator. In the UK two of the major schemes are ABTA and ATOL. This means that if you book a package holiday and there is a major problem, such as the operator goes bust, the flight gets cancelled, or you don't get the holiday you paid for, then they are legally required to provide either a refund or get you back home if you're already on your trip.
Another holiday protection plan is the Travel Trust Association which provides 100% financial protection to the customers of its members. This allowed companies such as Trailfinders who are members to pay refunds to its customers, whilst many other travel companies have struggled to do this in quite the same way. See Trailfinders reviews on Trustpilot to see what their customers are saying.
Book hotels, attractions and flights with free cancellation or changes
Another precaution you can take is to book hotels and attractions that include free cancellation. This provides the extra protection that if your plans need to change then you will be able to get your money back a lot easier. For hotels we recommend booking.com which offer free cancellation on a huge number of properties. For activities, we recommend Viator or GetYourGuide who allow free cancellation on many activities up to 24 hours in advance.
For flights it may be a bit and miss as to whether you can book but change the flight for free down the line. For example easyJet was allowing the option of changing flights without them charging an additional fee. These scenarios are likely to change as the situation improves so be sure to read the booking conditions.
Stay in self-catered accommodation
Travelling after the Coronavirus pandemic will make being around other people less desirable, such as in restaurants and bars. So if you would rather have more space and cook for yourself then consider a self-catered apartment. These are available through VRBO, Airbnb, booking.com and sometimes direct through property owners.
Self-catered accommodation is even available for trips such as ski holidays which work well for small groups. You could also combine this with the option of self-driving so as to avoid the airports and have minimal contact with others.
Visit and stay in more rural places
Another option for travel after the Coronavirus might be to book accommodation in a more rural destination. This could be within your own country or even abroad. Such as staying in a cottage somewhere in Italy, Switzerland or Norway. These properties are available on sites such as www.nature.house who also plant a tree for every nights stay.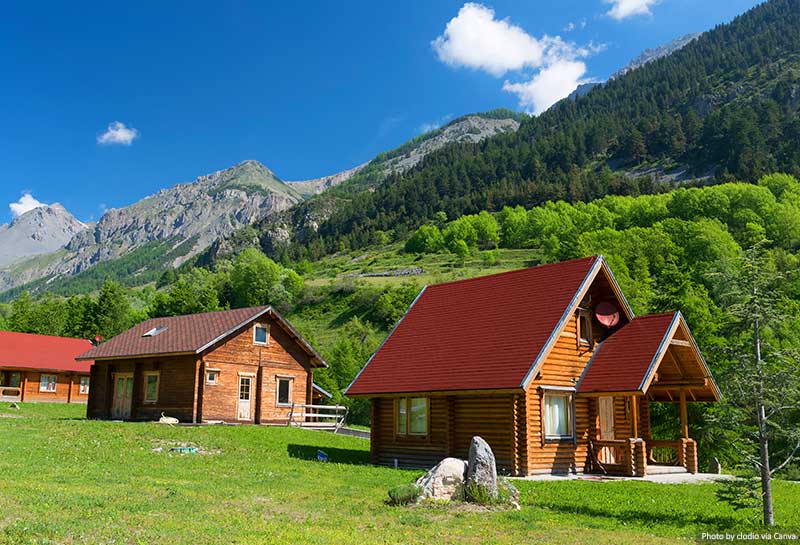 Go on small group tours
When it becomes possible to travel again countries may still have some restrictions on social distancing. This means that going on large tours might be less common. However luckily on sites such as GetYourGuide you'll find lots of small-group tour options available. These may sometimes be a bit more expensive, but they will also be more personal and allow you to learn more about the destination.
Pay with a credit card
If possible then use a credit card to pay for your holiday. Depending on where you're from this can provide extra protection in the event that you don't get what you paid for. In the UK consumer law protects payments between £100 and £30,000. However, due to the Coronavirus pandemic it's worth checking the terms and conditions in case the credit card company has put any clauses which prevent payouts in these situations. Read more about credit card protection on MoneySupermarket.
Follow a trustworthy news outlet
To stay informed prior to your travel on events around the world then make sure you follow a trustworthy news source. Unfortunately, there is lots of fake news and people trying to take advantage of people during a crisis. To ensure what you read is trustworthy then only trust information from major sources. For news we recommend the BBC news. If the BBC News website isn't local enough for you then make sure whatever your choice is impartial, backed up by trustworthy facts and not overly subjective to the journalist.
Improve your general hygiene
A few other ways to ways to protect yourself after a pandemic might be to wear a face mask, washing your hands regularly and also carry hand sanitiser. Depending on the nature of the pandemic, this might or might not be sufficient to fully protect you against a virus, but it's best to take as many precautions as possible to improve your general hygiene and the spread of germs.
Summary
So where next for you!? Are you hoping to go on a city break somewhere, a multi-destination trip or a road trip? Here are a couple of articles you might like to give you ideas…
Related Articles