Created in 2013 Flixbus are now one of the leading and best ways to travel around Europe, and offer connections between 2,500 destinations in 34 countries. Since launching they have transported over 100 million passengers and in 2017 alone had an incredible 40 million passengers!
I have personally been using Flixbus for a while now and have probably been on at least 15 international journeys around Europe. Here are reasons to use Flixbus for cheap travel around Europe.
---
Cheap
To start with tickets are a great price and cheap. Meaning a journey that may have cost a lot in the past between cities, is now that much more affordable. For example, I have previously travelled from Vienna to other cities such as Prague for as little as 15 euro.
Lots of connections
Flixbus offer a huge number of connections between 2,500 destinations and 34 countries across Europe. On their website, they also provide an interactive route map, which is a great way to get inspiration for your next destination. I've found Flixbus has now made it easy to visit multiple destinations, therefore making Europe that much more accessible.
Reliable
The Flixbus service is reliable and I have only occasionally been on a bus that has been delayed. But based on how many times I have used this service (at least 15 journeys), delays and disruptions seem to be minimal.
Clean
I've found the buses always clean, both on the inside and outside. There's nothing worse than sitting on a dirty bus for hours eh!?
Plug Sockets
Often the Flixbus buses have plug sockets available, although there is generally one socket per two seats. I would also recommend taking a portable charger
with you when you travel.
WC/Toilet
During my journeys, the WC has always been accessible, and although isn't luxurious it is clean and good enough for a bus toilet.
ADVERTISEMENT
CONTINUE READING BELOW
Awesome offers
If you sign up to their mailing list you will get emails when there are awesome promotions. For example, I once got tickets from Vienna to Berlin for €9.99 each way which is incredible.
Easy to book via their website
The Flixbus website is great and using the route map you can easily find connections between destinations in Europe, as well as book your tickets.
Easy to book via an app
Flixbus have created a great app (IOS | Android) that is available in 22 languages and allows you to easily search and book your journeys. As well as this you can use paperless tickets to board the bus which is, of course, an environmental factor.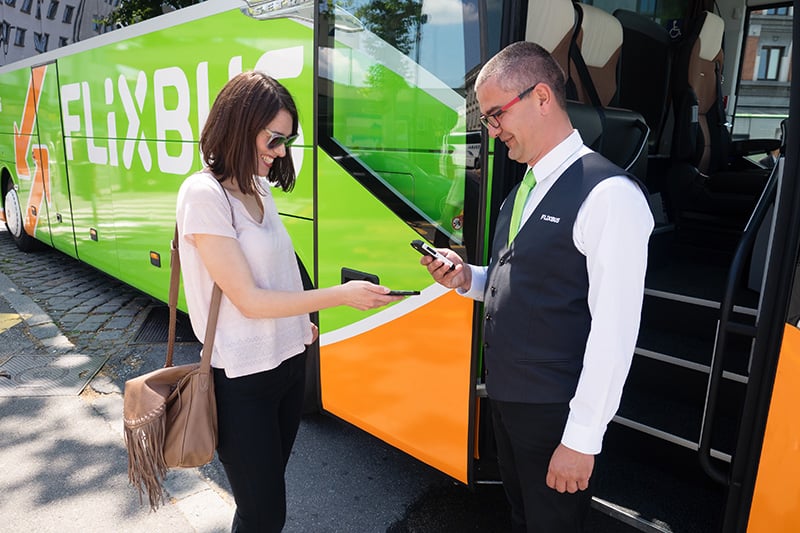 Easy to cancel
Say you have a change of plans. You can easily cancel your order if you do. You will then be given a voucher to use on your next booking. So not quite a refund but still fairly good.
Pleasant drivers
I've found the drivers are nice and friendly and sometimes give updates via the speaker if required.
Minor things worth noting
Although they advertise WiFi, it's not that reliable and there isn't really any guarantee that it will work. Sometimes it does, sometimes it doesn't, therefore I would treat the WiFi as a bonus should you book. However, based on all the other great things the service offers I wouldn't let it deter you.
Summary
Flixbus is a fantastic brand and has definitely made it that much easier to travel, and I will continue to use them for cheap and reliable travel around Europe. Not sure where you want to go in Europe? Visit our Europe destination finder to start your search.
Related Articles