If you are travelling to either Croatia, Montenegro or Bosnia and Herzegovina, then why not combine the trip and visit multiple destinations while you are there. It's a lot easier and cheaper than you may think.
During the summer of 2016 this is what I did and I'm going to tell you my route, give you an idea of the cost and explain just how easy it is.
My trip last 7 nights and I started in Dubrovnik, then headed to Kotor, briefly back to Dubrovnik, then Mostar and finally Zagreb. If you have a larger budget and time on your side you could consider flying to Podgorica or Tivat Airport in Montenegro and then heading north from there. This wasn't the cheapest option for me hence why I didn't do that.
Here is a guide to taking a multi-destination trip in the Balkans to visit Croatia, Montenegro, and Bosnia and Herzegovina.
---
Getting Between Destinations
For transport between the cities, I used getbybus.com which was super cheap and easy to book. You'll find the prices I paid further below. You can also use sites such as Omio to find and book transport between destinations. Another way to travel is by taking a tour. You'll find day options on sites such as GetYourGuide, Viator and longer more comprehensive options on G Adventures.
---
Dubrovnik, Croatia
So the first place I visited as part of my multi-destination trip was Dubrovnik. I got here on a very cheap but early morning flight from London Gatwick with Norwegian Airlines. The flight was at 5.30am but only cost £40 so was totally worth it.
For this trip I stayed in Dubrovnik for only 2 days as I was visiting multiple places, but it's definitely the kind of destination you could visit for much longer.
During my short visit I explored the Old Town, walked along the walls, visited the beach and chilled at a hidden cove. So it was perfect, I got to relax, explore and learn some history.
For those that like restaurant culture you will love Dubrovnik. In the Old Town there are amazing restaurants on every corner and even good takeaway joints.
Hostel recommendation
For my visit I stayed at Hostel 365 For U. The hostel is in a good location between the old town and the main bus station, has nice clean rooms, great WiFi and really nice staff. There is also a supermarket nearby to get cheap groceries. Hostel cost: around €30 per night inc tax.
Highlights of Dubrovnik
Lovrijenac Fortress
City Walls
Old Town
Banje Beach
Boat Tours
Amazing restaurant culture
Tours and activities for Dubrovnik
Read more about Dubrovnik: City Breaks Guide – Dubrovnik in 24-48 hours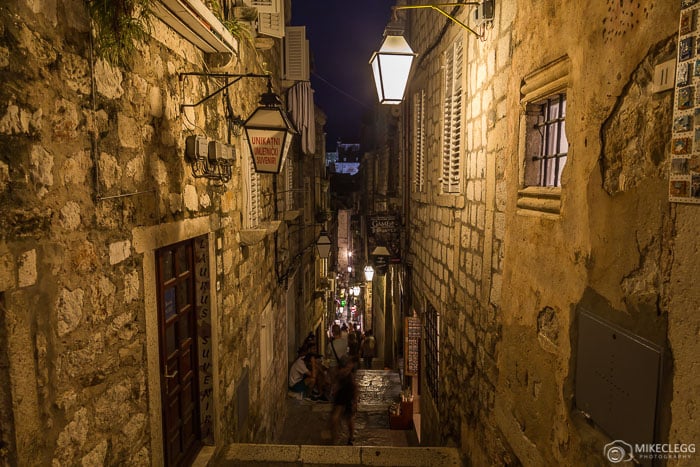 ADVERTISEMENT
CONTINUE READING BELOW
---
Kotor, Montenegro
The next part of my multi-destination trip was Kotor in Montenegro. To get here I booked a bus for around €18 from Dubrovnik main station to Kotor. You can book this online using getbybus.com. The bus takes about two hours and you will get a scenic view along the way, in which you will probably want to get stop the bus, so you can get out and take pictures. The bus did take longer than scheduled which was due to a long border control, so keep this in mind if you have tight timelines or plans later that day.
I found Kotor extremely beautiful and I preferred it more than Dubrovnik. The city is surrounded by mountains, has a stunning bay and didn't seem overly busy or packed even during peak season. The main attraction is the Old Town where you can climb the very impressive Kotor Fortress to get stunning vistas. Also within the city is Kotor Beach, the perfect place to unwind and soak up the sun.
One of my highlights during my visit was to have dinner in the Old Town whilst listening to live music from local musicians and eating the most delicious fish dishes I've ever had. At night the Old Town has a wonderful romantic ambience and would be a great place to walk hand in hand with your other half.
Guesthouse recommendation
Very close to the Old Town is Apartments Mirrela which I was very impressed with and couldn't believe my luck when I checked in. From my balcony I had a fantastic view towards the old town, the apartment was very clean and well equipped, and also close to the apartment was a large grocery store. Guesthouse cost: around €54 per night.
Highlights of Kotor
Kotor Fortress
Old Town
Kotor Beach
Tours and activities for Kotor
To find out more about Kotor read my post: City Breaks: Exploring Montenegro – Kotor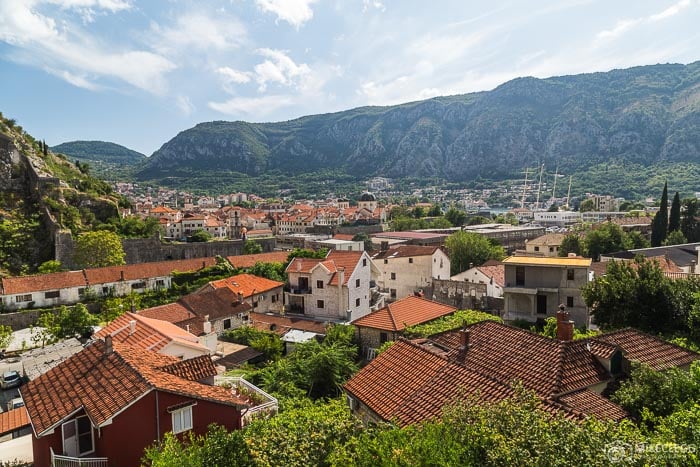 ADVERTISEMENT
CONTINUE READING BELOW
---
Mostar
After Kotor I then went to Mostar in Bosnia and Herzegovina. This city is a bit trickier to get to, and I had to get a bus back to Dubrovnik and then a bus to Mostar from there. Alternatively, you could start in Montenegro (as mentioned at the start) so you're not backtracking, but this may be a bit more costly depending on flight options. The two buses I got to Dubrovnik and then onto Mostar cost €30 (Each section was around €15).
Mostar is particularly famous for Stari Most, the Old Bridge which was actually destroyed during Bosnian war between 1992-1994, but has since been rebuilt as well as has much of the city. Mostar is now a beautiful city to visit and is particularly cheap, so great for those travelling on a low budget.
A few attractions include visiting the Old Mosque, swimming in the river, shopping, dining around the Old Town and visiting the nearby Blagaj monastery and waterfall.
Guesthouse recommendation
If you stay at Guesthouse Goa you will have the perfect view of the famous arched bridge (Stari Most). The host was also fantastic and provided tips, offered excursions and provided an amazing breakfast. I would go as far as saying he was the best host I've ever had at a guesthouse. Guesthouse cost: around €42.
Highlights of Mostar
Stari Most
Beautiful shops
Old Mosques
Blagaj Tekke
Cute restaurants
Tours and activities for Mostar
See more of Mostar in my post: 15 photos that will make you want to visit Mostar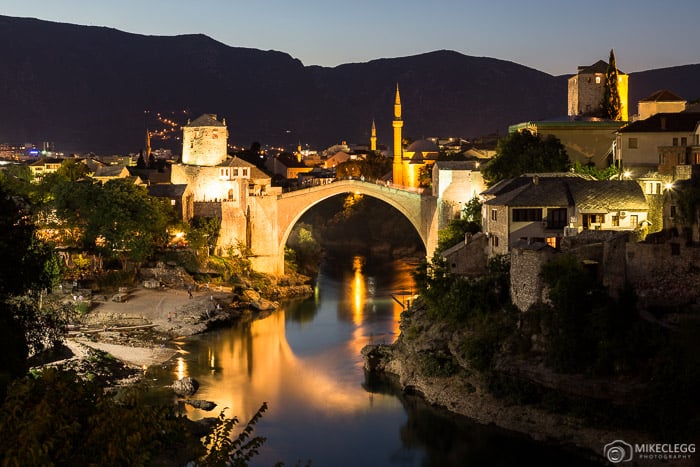 ADVERTISEMENT
CONTINUE READING BELOW
---
Zagreb
The last city for this multi-destination trip was Zagreb in north Croatia. To get here I got a night bus which took 8 hours, but by doing this I saved on accommodation for one night and arrived ready to explore Zagreb in the morning. The bus cost €25.
The one negative about night buses are, that although you can sleep on them you may end up getting woke up at border control. Overall though I think it's worth that for the cost and time savings.
Zagreb is nice city to visit with lots of museums, a very impressive cathedral, a stunning cemetery, Zagreb 360° for panoramic views and various other attractions.
Plitvice Lakes
If you are in North Croatia you definitely don't want to miss Plitvice Lakes. This national park has stunning turquoise lakes, waterfalls and beautiful scenery. The bus from Zagreb costs around €10 each way and takes approx two hours. When visiting Plitvice Lakes you should aim to have at least 4-8 hours to explore so keep this in mind when booking your transport.
Hotel recommendation
For my visit to Zabreb I stayed at the Westin Hotel and from my room I got excellent views of the city. This last hotel was more upscale than where I stayed in the other cities and was part of a collaboration/partnership, but within Zagreb there are plenty of hostels and cheap options available if you prefer.
Highlights of Zagreb
St. Mark's Church
Cathedral of Zagreb
Modern Gallery
Kip bana Josipa Jelačića (main square)
Croatian National Theatre in Zagreb
Plitvice Lakes
Tours and activities for Zagreb
Read my post to learn more: City Breaks: Exploring Zagreb and Plitvice Lakes, Croatia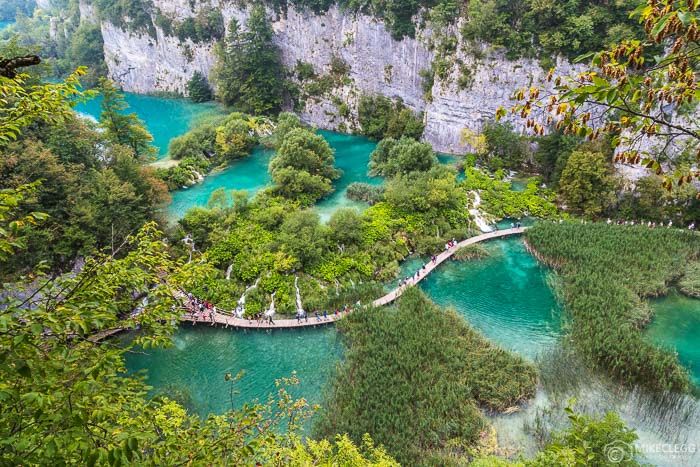 ---
Useful Links
Croatia: Dubrovnik Tourism | Zagreb Tourism | Plitvice Lakes | Croatia Tourism
Montenegro: Montenegro Tourism
Bosnia and Herzegovina: Bosnia and Herzegovina Tourism
Summary
Croatia, Montenegro and Bosnia and Herzegovina are perfect destinations to combine into a multi-destination trip. You can easily get between each destination using the bus (or hiring a car) and will get to experience some of the historic highlights in each of these destinations.
Also read our Travel Guide for Visiting the Balkans to learn about some of the other countries that you could visit in this region.
Ready to book? Search for:
---
Related Articles