In this picture based post I am going to show you pictures that I've taken around Vienna in the winter, in particular when it snows. As well as pictures you'll find some text to tell you a little about the photographs.
Unfortunately, if you were to visit in the winter you can't guarantee that you'll have snow. I have found that it snows only a couple of times every winter and doesn't last very long. Maybe only a few days. However I hope you enjoy my pictures and also reading a little bit about them.
If you are planning to visit at this time of year you may like my post: Vienna: Things to Do in the Winter
Red trams, white snow
I loved the contrast between the red trams in Vienna and the white snow. It's not that easy to get a photo like this and for me it was a case of being in the right place at the right time. Luckily where I lived in Vienna there were tram tracks nearby and while I was walking to the shops I had the perfect opportunity. Although most of my photographs are on a Canon 6D, this was actually taken on my phone.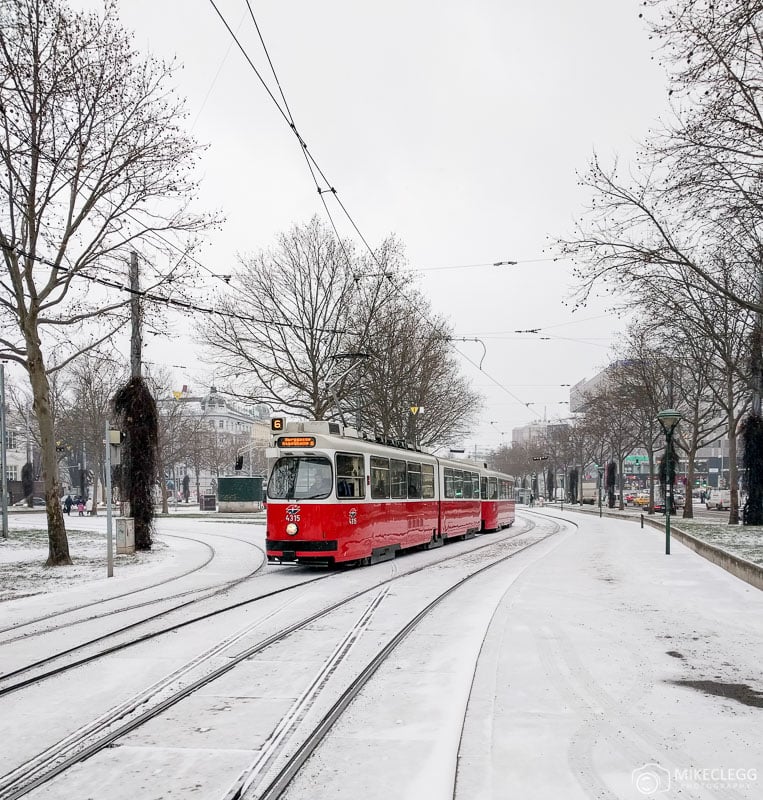 Vienna Ice World, Rathaus
The Wiener Eistraum is a huge skating course in front of the beautiful Rathaus (city hall). I had this shot in mind for a while, where there would be snow on the trees, so as soon as the snow fell I rushed out.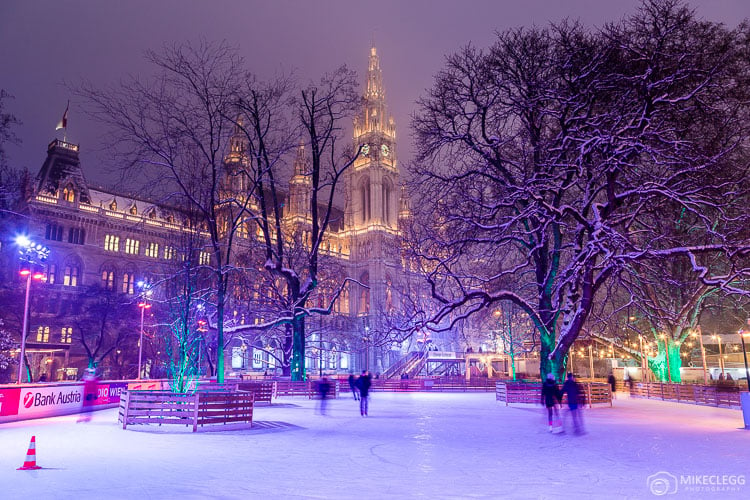 Karlskirche
Karlskirche is my favourite church in the city and I find it incredibly photogenic. When I happened to pop out I was lucky to get this person in a red jacket walking past and with their head down! I felt that really set the mood for winter when places are a little quieter and you may be out walking in the cold lost in thought.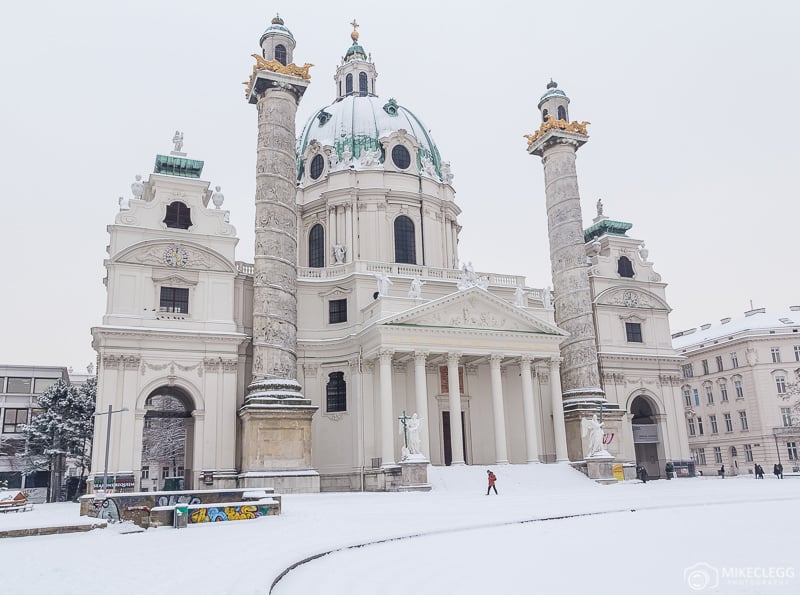 ADVERTISEMENT
CONTINUE READING BELOW
City bikes
One way to get around Vienna is to use the City Bikes. However, it probably isn't a good idea when there's snow! I do think they make a good photo though!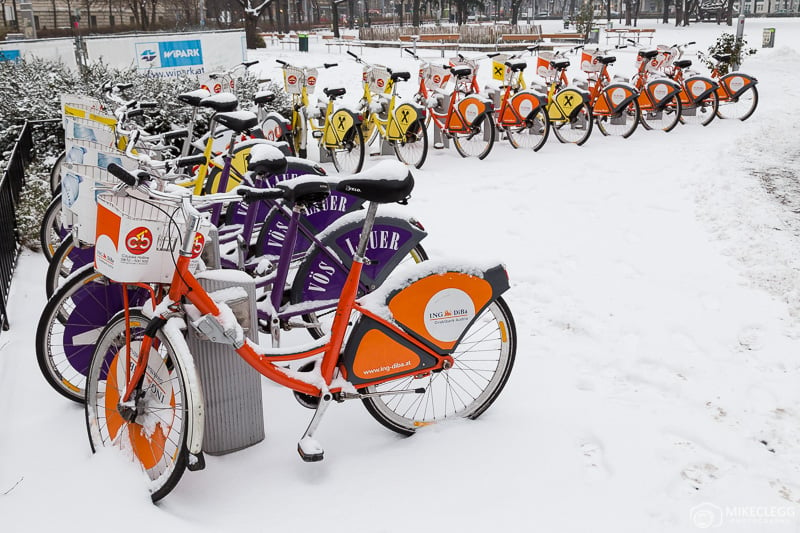 Votive Church
The architecture at the back of the Votive church makes for great winter photographs and I almost think it is a hidden architecture gem. However, I personally think the front of the church isn't that nice.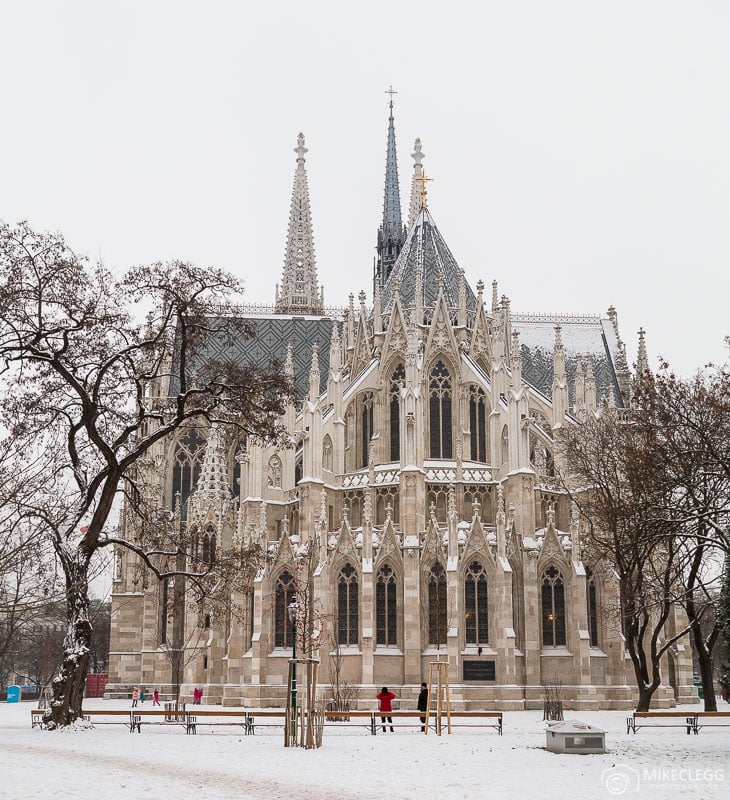 Kahlenberg
In the hills above Vienna is Kahlenberg where during the warmer months there are grape plantations for making wine. It's also a popular place to go hiking, or just get out of the city for a few hours. During the none winter months you'll often be surrounded by green in the spring and summer, and then a wonderful mix of oranges, reds and yellows in the autumn. If you are visiting then heading up here is one of the lesser-known things to do.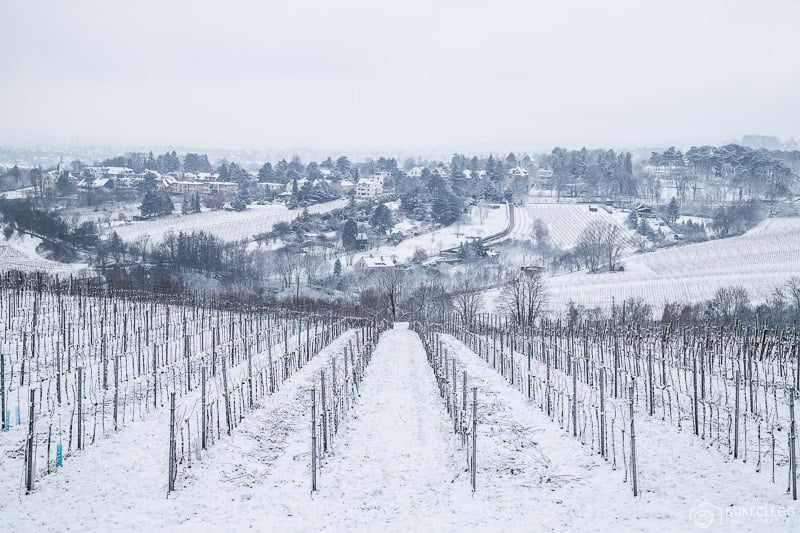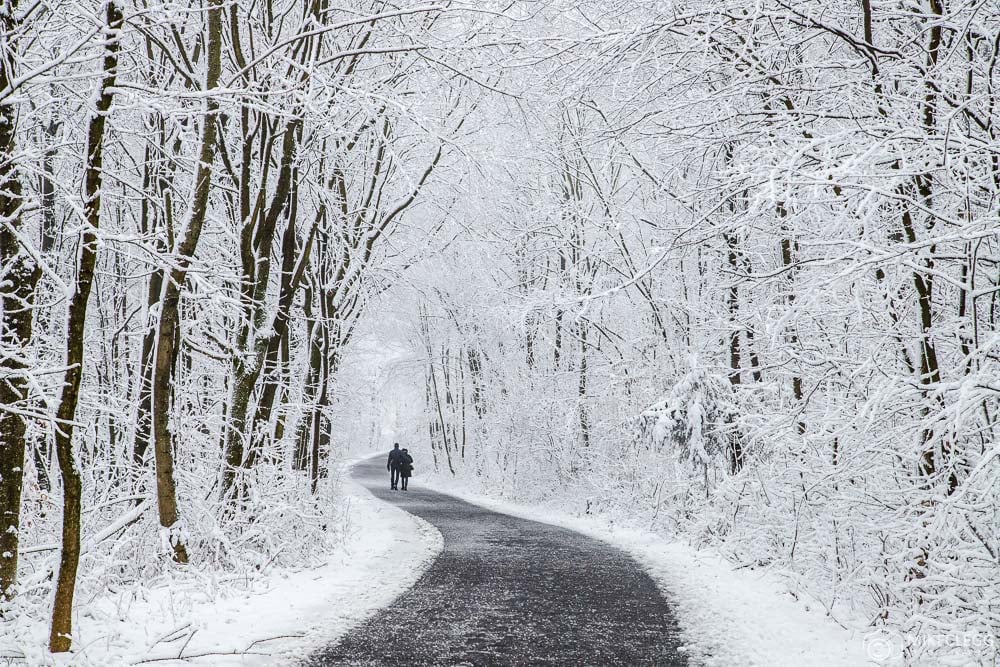 Schönbrunn Palace and Gardens
The Schönbrunn Park and Palace is one of the most popular attractions for visitors to the city. It's also a great place to run as the park is huge! Seeing it in the winter was nice and gave such a different perspective without the huge number of tourists.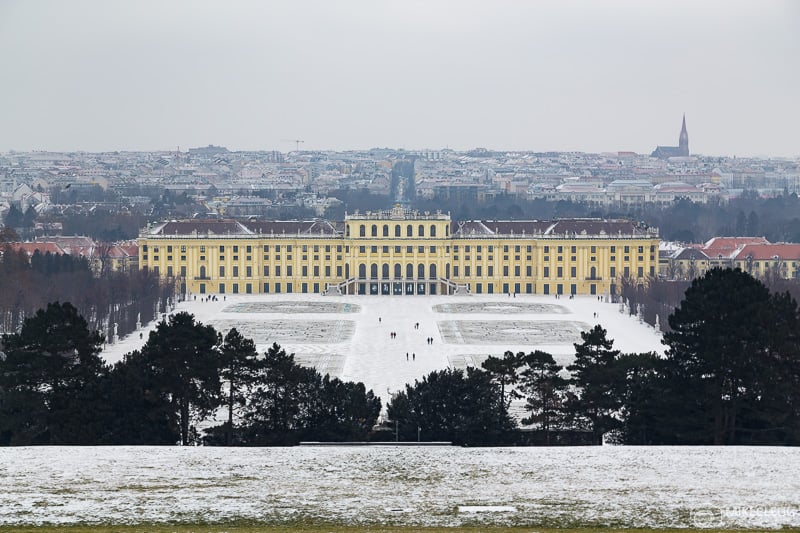 Stephansplatz and Graben
Stephansplatz is at the heart of Vienna and where you'll find Stephansdom (St Stephen's Cathedral). One of the famous shopping streets connecting to Stephansplatz is the Graben, and if you visit around Christmas you'll find stunning chandelier type decorations hanging along the street.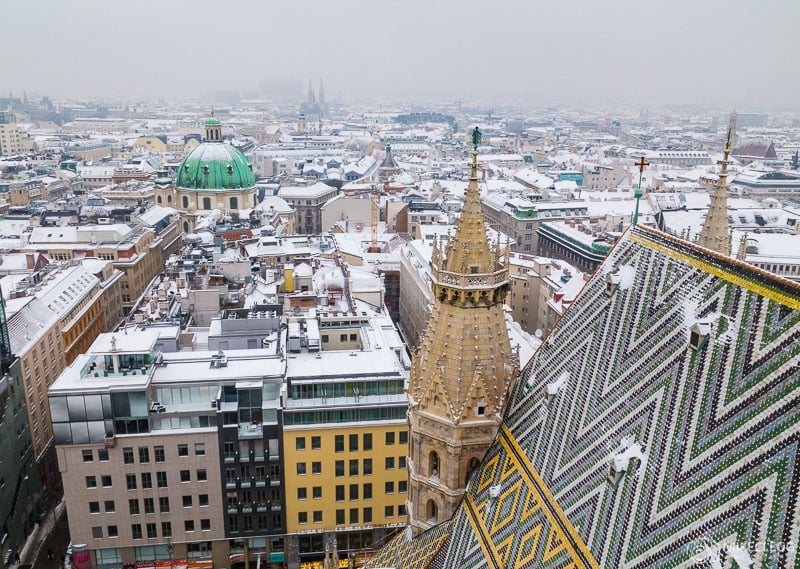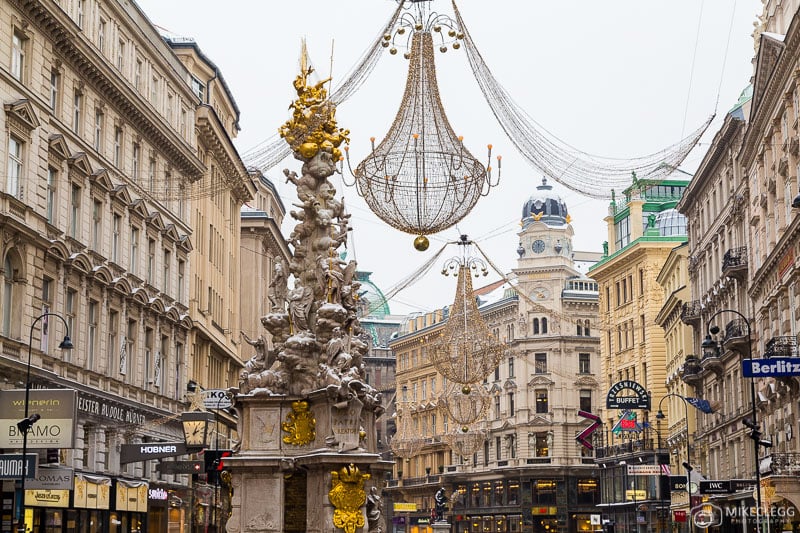 Belvedere
The Belvedere is another of Vienna's stunning palaces. The picture below is from the garden that connects the Upper and Lower Palaces. The gardens are also free to enter.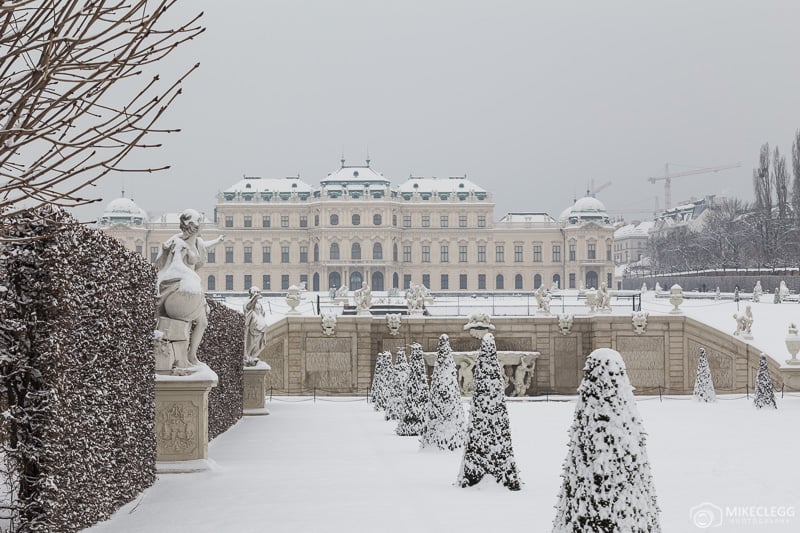 Hochstrahlbrunnen
What you see below is a fantastic water feature which during the warmer months sprays huge amounts of water straight up into the air. However, during the winter they have to shut it off and drain it otherwise the pipes may burst. Later in the year I'll make a similar post to this and show you a picture of the fountain at night when it's lit up with amazing colours.
ADVERTISEMENT
CONTINUE READING BELOW
---
Photography tips for Vienna when there's snow
Try adding some positive exposure compensation so that your pictures appear nice and bright.
When not taking pictures put your camera in a padded bag, (such as the Lowepro Messenger Shoulder Bag) in case you slip.
Try and include people wearing bright colours as this will contrast nicely with the snow.
Head out at night as street lights reflecting on the snow can look beautiful.
---
Summary
Taking pictures of and around Vienna when there's snow is fantastic. I personally feel lucky to have been in the city during that time, and if you were to visit in the winter I hope you manage to also see the city with its winter blanket.
Ready to book? Search for:
---
---
Tours and activities
Related Articles