Georgia has recently gained popularity as a tourist destination. This country on the brink of Europe and Asia attracts visitors due to its imposing mountain peaks, ancient monasteries, and fantastic wine culture. Before you pack your bags and head off on your trip, you can prepare for your journey by reading our list of things to know when visiting Georgia.
---
The layout of Georgia
Georgia is a mountainous country that borders the Black Sea in the west, Turkey in the southwest, Armenia in the south, Azerbaijan in the southeast, and Russia in the north.
The land area of Georgia is 69,700 square kilometres, which is comparable to the Republic of Ireland and Sri Lanka. The Greater Caucasus mountain range covers most of the northern parts of Georgia, while steppes, Lower Caucasus mountains and forests are omnipresent in the central and southern regions.
Transportation in Georgia
Most travellers arrive in Georgia by plane to either Tbilisi – the capital – as well as via Kutaisi. From many western European cities, budget airlines operate direct flights to the airport of Kutaisi. Tbilisi is an important hub for flights from eastern Europe and the Middle East.
It's quite straightforward to travel in Georgia itself. Tbilisi has an extensive bus and metro system that enables you to get around the city relatively easy. The train is a popular form of transportation on the route Tbilisi – Gori – Kutaisi – Batumi, but for other long-distance journeys it's more convenient to ride a marshrutka. These minibuses are basically shared taxis, and they operate in every corner of the country. Especially in Tbilisi which has large marshrutka stations, and from there, you can head off to popular destinations such as Kakheti, Kazbegi, and Svaneti.
Allow some time for relatively short journeys; roads are steep and winding, while massive trucks crossing the mountain passes to Russia cause more delay.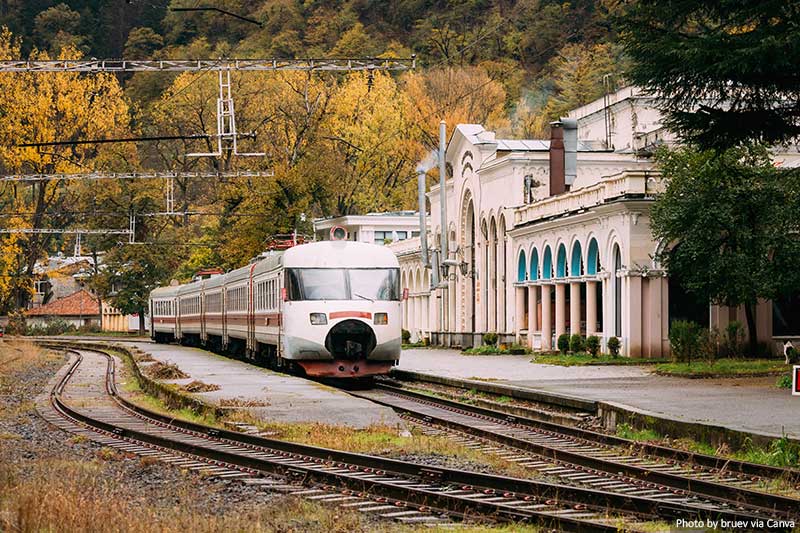 Language
The first language of Georgians is Georgian, while the second language is Russian. Very few elderly people speak English, but this language is favoured more by the youth nowadays. In the tourist sector, on tours and in hotels, the Georgians will talk to you in English. In rural areas, some basic Russian might come in helpful when you're interacting with the locals. It's also worth noting that Georgian is quite challenging to learn and has its own script.
ADVERTISEMENT
CONTINUE READING BELOW
Weather and seasons
The climate of Georgia is characterised by long and hot summers and quite cold winters that usually come with snowfall. During the peak of summer (July and August) temperatures can reach up to 40 degrees, and even until late October, the daily average is above 20 degrees. Spring (March to May) allows you to enjoy nature popping up with colours. However, if you're interested in trekking in the alpine areas, keep in mind that the trails might still be covered in snow. The west, bordering the Black Sea, receives the most rainfall, which is equally spread over the seasons.
Highlights in Georgia
The incredible nature and landscapes are what draws most visitors to the country; including mountains, forests, and vast plains which all add to the magic of Georgia. An exciting introduction to the vast landscapes is Kazbegi, a region that's located 3 hours north of Tbilisi. Amazing hikes here include those in the Juta Valley and around Mount Kazbek. If you can't get enough of the mountains then head to the Svaneti and Tusheti regions. Here you can explore a boundless world of hiking and winter sports such as skiing.
Georgia has a wine tradition that started millennia ago, and the place-to-be for a taste of this grape drink is Kakheti. Telavi is an excellent town to dig into Georgia's wine culture because you'll find plenty of wineries without making an effort.
Even though the nature is superb, Tbilisi can't be overlooked either. The capital has fantastic architecture, countless local restaurants, a fun theme park, and thermal baths to unwind in.
Safety
Apart from petty crimes that occur in nearly every country, Georgia is a very safe travel destination. Common sense and an open eye will almost guarantee your safety and the safety of your belongings. Such as stowing away your luggage during long train journeys, and keeping your valuables close to the body. Crime rates in Georgia are meagre, and keeping your possessions safe is usually not much more than just a precaution.
Most threats are found on the roads; Georgian taxi and marshrutka drivers aren't the most lawful automobilists, and the steep courses crossing the mountains are quite tricky to navigate through. If you want to be sure to get a safe taxi journey, use an application like Yandex (in Tbilisi city) or arrange a driver via your hotel. Alternatively, book yourself a day tour through a trusted provider such as GetYourGuide.
Read more on safety on the UK Gov travel advice website.
Currency
In Georgia, you pay with the Georgian lari (GEL). One GEL at time of writing is worth 0,26 GBP, 0,31 euro, and 0,35 USD. Other foreign currencies aren't accepted as a payment method, and can only be traded for GEL at currency exchanges. Georgia is mostly a cash-based country, but upscale restaurants, hostels and hotels do accept credit cards. In major cities and even smaller towns, you'll find an abundance of ATMs that take nearly any card.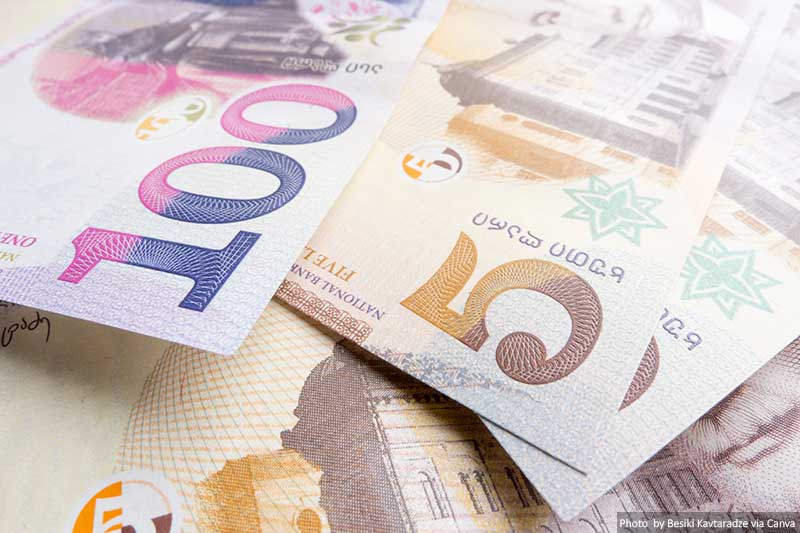 Visa; how long can you stay?
Citizens of no less than 90 countries can stay in Georgia for up to one year, without obtaining a visa. This includes passport holders from the EU, USA and UK. EU citizens don't even need a passport but can enter Georgia by showing their identity card. Read more and see if you need a visa for Georgia.
Useful apps
The following phone applications can contribute to a smoother travel experience in Georgia.
Yandex
For fair taxi fares in Tbilisi, download the Yandex app. It works the same as Uber, and it saves you from the hassle of negotiating about prices.
Maps.me
Whether you're hiking a mountain trail or exploring a city, it's useful to have an offline navigation app. You can download highly detailed maps for free, and that way get around with ease.
Guide U
This app offers a complete guide to Georgia; it provides the user with information about sights, the best places to taste the Georgian cuisine, and it even has free audio guides to the most popular attractions.
ADVERTISEMENT
CONTINUE READING BELOW
Prices in Georgia: how much do things cost?
The cost of living and travelling in Georgia is very low, and your travel budget will go a long way. Below are prices you may find (at time of writing: Jan 2020).
Even staying in Tbilisi is incredibly affordable; you can rent a comfortable apartment for 25 GEL per night, or crash a hostel bed for less than 6 GEL. A large beer in the supermarket goes for 3 GEL, and you'll get a bottle of water for less than 1 GEL. Experiencing the famous Georgian wine doesn't come with a significant price tag either; a glass in a restaurant sets you back around 5 GEL, while you can get a good quality wine in the supermarket for 6 GEL per bottle.
A decent khachapuri (Georgian cheese bread) costs 2 GEL in a street stall, while you can munch on khinkali (Georgian dumplings) for less than 1 GEL a piece. In most restaurants, it's almost impossible to spend more than 30 GEL per person on a Georgian feast.
Transportation is unbelievably cheap in Georgia; you can ride any bus or metro in Tbilisi for 50 tetri (0,50 GEL), regardless of the distance you cover. In Kutaisi, bus rides are even cheaper at 0,30 GEL. A 10-minute taxi ride is not more than 4 GEL if you use the taxi application Yandex. You'll pay 10 GEL for a marshrutka ride from Tbilisi to Kazbegi (3 hours), and 30 GEL to Mestia in the Svaneti region (9 hours). The tariff for the 5,5-hour train ride from Tbilisi to Kutaisi is not more than 9 GEL.
Doing activities and visiting sights is – not surprisingly – very reasonably priced. Most of the natural spectacles and all the trails are accessible at no costs. Wine tastings in Kakheti generally start at 15 GEL, while you pay 7 GEL to enter the ancient cave town of Uplistsikhe. A ticket for the cable car ride to Narikala Fortress in Tbilisi costs only 1 GEL and exploring the enchanting Prometheus Cave near Kutaisi sets you back 20 GEL.
Summary
Georgia is a beautiful country, full of ancient traditions, stunning mountain scenery, and captivating activities. The convenience of quickly travelling around this relatively small country and the extraordinarily low costs of living, make Georgia a joy to visit. This country gives you by far the best value for money in all of Europe. Read 10 Best Places to Visit in Georgia for ideas on where to go.
---
Tours and activities for Georgia
Related Articles