You've decided that you're ready for adventure. You long to explore foreign lands and make lifelong memories. You are going backpacking.
Backpacking has become a hugely popular way of travelling, especially for young people on a budget. Instead of booking an all-inclusive resort vacation, backpackers tend to travel for longer periods of time, hitting multiple destinations and carrying all their luggage on their back. It's an incredible way of travelling that offers a lot of freedom and allows you to experience different cultures up close.
Whether you are doing the Banana Pancake Trail in Southeast Asia, planning an epic Europe Trip or want to explore South America, a first backpacking adventure can be quite daunting. But once you do it, you might just be hooked for life. To make it all a bit easier, I'll share my advice and the lessons I've learned on my many backpacking trips.
1. Pack light
I cannot overstate how important this is. You do not need all that stuff you're thinking of bringing. You'll be carrying your luggage on your back and hauling it onto buses and trains. So, you don't want it to be too heavy. Trust me, there is nothing fun about dragging a huge backpack under a blazing sun.
The golden rule for packing for a backpacking trip is this: lay out everything you think you'll need and then pack only half of that. It's better to take too little than take too much. Especially if you're going to a warm destination, all your luggage should be able to fit into a carry-on. I travelled for 6 months with a 40L backpack and 20L day pack so it's completely possible.
The trick is to pack smart. Pack clothing that's versatile and easy to mix and match, that way you won't be stuck without options. Think about which items you absolutely need and which ones you can buy upon arrival. In the end, the only things you can't do without are your passport, phone and wallet, anything else can be bought. And trust me, you'll want to shop a bit along the way.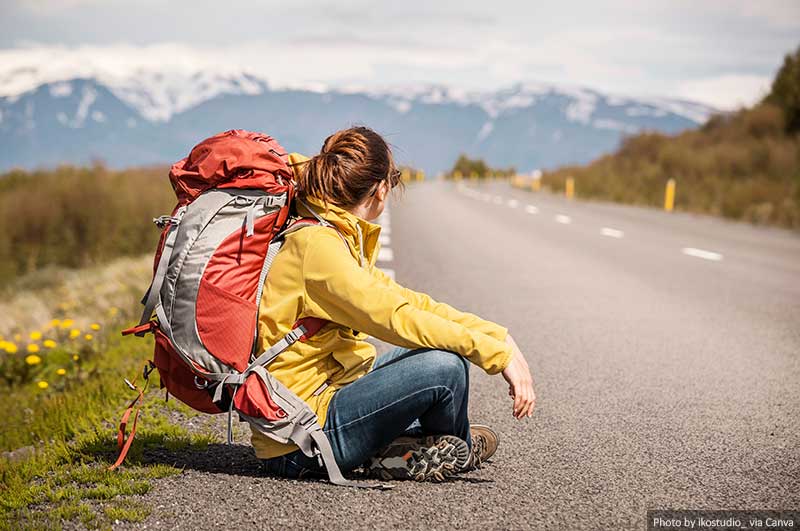 2. Invest in the right travel gadgets
There are tons of travel gadgets on the market, but not all are worth the money. Don't buy everything that looks and sounds cool, because it'll just end up taking up precious space in your backpack. Here are a few that I have found useful:
Microfiber travel towel – these are small and dry quickly.
Power bank – because you don't want your phone to die in the middle of nowhere.
Universal adapter – one that fits all the different outlets you'll encounter.
Packing cubes – these will help you fit more into your backpack and keep it organised
An eye mask, earplugs and neck pillow – These will allow you to sleep practically anywhere, even the least comfortable night bus or rowdiest hostel.
Small padlock – so as to secure your valuables.
Filter water bottle – that allows you to safely drink the tap water wherever you go.
Small pocket knife – preferably with multiple integrated tools such as a corkscrew, scissors and nail file. Comes in handy every time.
Backpack cover – to protect it from rain and dirt in transit.
Roll of duct tape – broken bag/shoe/mosquito net? There's nothing it can't fix.
Of course, there are many other things you could buy that might come in handy. But my rule generally is that if I don't regularly use it, it's not coming on the next trip. No need to lug things around that you only end up using once.
ADVERTISEMENT
CONTINUE READING BELOW
3. Stay at hostels
I know that hostels don't necessarily sound like the ideal place to stay. Sharing a room with 20 sweaty strangers? No thanks!
But there really isn't a better type of accommodation for backpackers. Not only are hostels generally the most affordable option, they're also really fun. Hostels are the main meeting points for fellow backpackers, so you're sure to make a few friends or find travel companions. They often organise events and parties and can help you to book tours and transportation. If you really can't stand the idea of sleeping in a dorm, or if you're travelling with a partner, most hostels offer private rooms. That way you get to experience the social aspect of staying in a hostel without giving up privacy and comfort.
When choosing a hostel, always check the ratings to see how other travellers liked the place. Be on the lookout for red flags like "dirty", "noisy" or "unfriendly/unhelpful staff". Party hostels are really fun, but generally not the best if you like to get your 8 hours a night. I always prefer to stay in hostels with a social atmosphere and a laid-back vibe. The quality and price of hostels differs widely across countries and continents and expensive isn't always better. One of my favourite hostels was a place in Laos that cost me 2 USD a night and included breakfast and a pool. There really are some gems out there.
4. Do some research
Wherever you decide to go on your first backpacking trip, always do a bit of research. Even if it's just the basic stuff, like the best time to go, what currency is used and if you need a visa. Trust me, you do not want to get to your dream destination only to find out you needed to apply for a visa in advance. Or arrive in the middle of monsoon season with nothing but a swimsuit.
Make sure you know what to expect in terms of culture and customs as well. After all, you are a visitor so you need to show respect. Keep in mind that things might be completely different than what you're used to. And that's great! One of the best things about travelling is getting to see the world through a whole new lens. Read up beforehand so you don't stick out like a sore thumb.
Don't assume everyone speaks English either. Depending on where you are going, you might be able to communicate fine. But in South America for instance, you'll have a hard time if you don't speak Spanish. It's always worth learning at least a few words in the local language, such as "hello" and "thank you". It's a polite gesture that's always appreciated.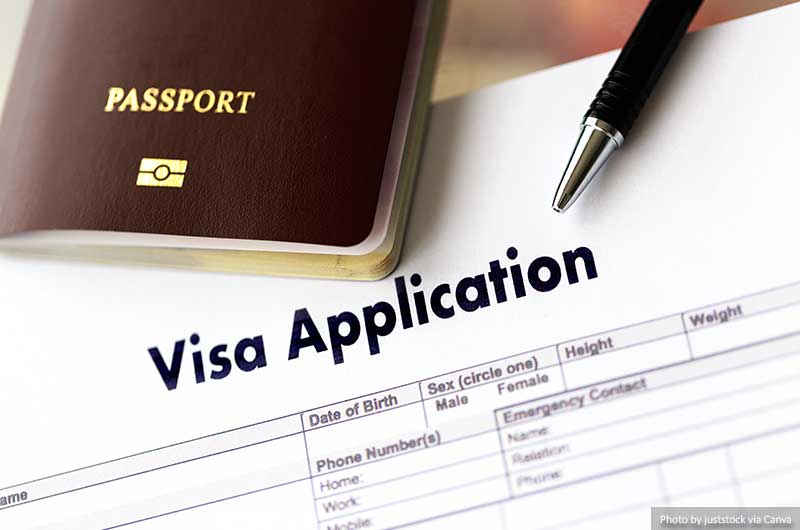 5. But don't plan too much
The beauty of backpacking is that you have the freedom to do exactly what you want. You're carrying your luggage on your back, so you're free to go anywhere.
Backpacking trips are generally a bit longer than a regular vacation, taking from a few weeks to a year. Depending on how long your trip is, this means you have plenty of time to do and see everything you want. There is no need to lay it all out beforehand.
Sure, it's good to have some idea of a few places or countries you'd like to visit, but don't book everything just yet. Instead, try to keep your itinerary as open as possible. You never know which opportunities may arise and you won't know what it's like until you get there. Perhaps that city that you thought would be great, doesn't live up to your expectations. You suddenly crave mountains over beaches. Or you meet a few people that are planning a trip somewhere you hadn't even considered. The best parts of the trip are always the ones you didn't plan for. So be flexible in your itinerary and go with the flow, that's how you end up with the coolest adventures.
ADVERTISEMENT
CONTINUE READING BELOW
6. Get off the beaten track
Sure, a lot of places are popular and famous for a reason. But there are also lots of hidden gems. So, don't be afraid to venture off the beaten track.
There's no fun in shuffling behind crowds of tourists from one highlight to the next. So, where everyone else goes right, take a left. Stroll through less-visited neighbourhoods and check out not so famous museums and other sights. Those are usually a lot quieter, cheaper and you won't have the same Instagram pics as everyone else.
Instead of relying solely on guidebooks, try getting recommendations from locals and fellow travellers. That thing you read about might not really be worth it. Or perhaps there is an alternative place that few people know about. In my experience, hostel staff and tuk-tuk/cab drivers are great sources of information. And because you took my advice and didn't book tours in advance, you'll be free to change your plans accordingly.
Try to hire local people as well. Having a foreign guide lead you from place to place with quick stops for pictures is a serious waste of time and money. Get a local guide to show you around, talk to them about their country, culture and life. You'll learn a lot more and your money is going to the people that actually deserve it.
The same goes for public transportation. Be adventurous and pick the local public transport over the fancy tourist bus. Sure, it'll probably take twice as long, but it'll be twice as cheap and a thousand times more fun. Chat to the locals, look out the window and soak up the unique cultural experience. I'll never forget the time an old lady on a bus in Cambodia offered me a bite of her fried bat…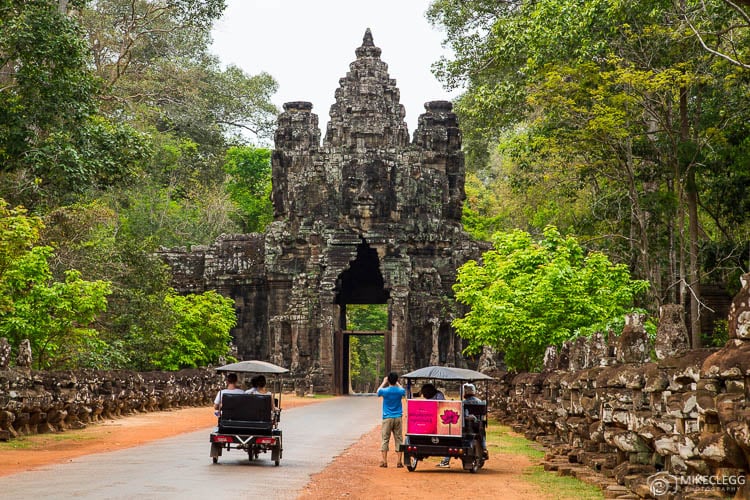 7. Have a contingency plan
Although when backpacking you'll definitely have a great time, it's unlikely that your whole trip will be smooth sailing. You might miss a train, take the wrong bus or book a shitty hostel. Maybe you'll get pickpocketed or lose your passport. Luckily, almost every problem can be fixed. And in my experience, things always work out.
But it's good to have a contingency plan just in case. Stay in touch with family or friends back home and make sure they know where in the world you are. Perhaps even contact your government or local embassies. Make digital and hard copies of all your official documents, tickets and reservations. And never, ever, keep everything in one place. Always keep a copy of your passport, a bit of cash and a second credit card in a separate spot in your bag. So that even if you get pickpocketed, you have money.
Before you go, check if you need any vaccinations (and get them) and also get travel insurance. Seriously, travel insurance is worth it, because they don't just refund money but can also help you make arrangements if something goes wrong.
But most of all: relax and enjoy. You probably won't get everything right on your first trip, but you can always book a second. And a third…
Start Booking
Here are some top options to book your hotels, activities, flights and other transport:
---
Please note that we get a small commission if you purchase via our referral links. We use this to invest in new content and improving this website. Thanks so much for your support.
Related Articles