Luxembourg is a landlocked country bordering France, Germany and Belgium. Its capital Luxembourg City is the kind of place that could be visited for a short city break, a quick stopover as you travel between neighbouring countries or part of a larger Luxembourg itinerary where you visit other parts of the country as well as the capital.
When visiting Luxembourg City there are some good things to know to maximise your visit. Here is your city guide to visiting Luxembourg, including where to stay, what to do, getting around, and other useful tips.
---
About Luxembourg City
Luxembourg City is the capital of Luxembourg (the Grand Duchy) and has a fascinating history. The city has previously been dubbed "Gibraltar of the North" due to its strategic military fortress that was built into large rocky ledge called the Bock Promontory (seen below on the left). This included battlements and underground tunnels and was originally created by Spaniards, but was gradually extended over time by Italians, Austrians, Belgians, French, Dutch and the Prussians.
The original fortress was dismantled in 1867 after the neutralisation of Luxembourg. However, some 17km of the underground tunnels (casemates) remain and are now one of the cities most popular attractions. Also near the spot of the old fortress is one of the most beautiful and iconic parts of the city called the Grund. The Grund, the Bock Promontory, and other parts of the old town form part of what is now a UNESCO World Heritage site.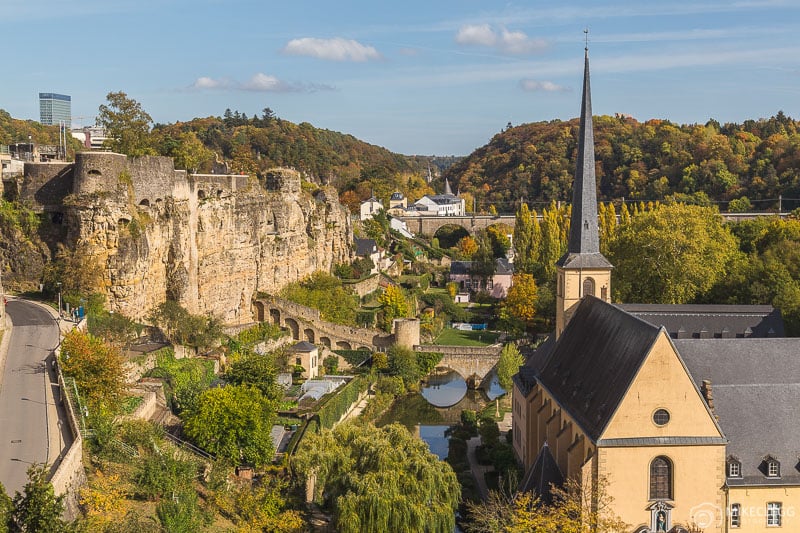 ADVERTISEMENT
CONTINUE READING BELOW
---
What to see and do
Go on a self-guided walking tour: There are options of guided tours, but a great way to see the city is to go on a self-guided tour. Head to the tourism office at Place Guillaume II and pick up a free guide. This will then guide you past many of the highlights of the city as well as explain briefly what you see.
Walk along the Corniche: Referred to as Europe's most beautiful balcony (by influential Luxembourg writer Batty Weber), walking along the Corniche is a must during your visit. It's also one of the best places to capture photographs of the city, such as down towards the Grund.
Explore the Casemates: These underground tunnels and caves were started in 1644 and were once part of a highly defensive spot in Luxembourg. They could house tens of thousands of people, as well as equipment, food, horses, workshops, kitchens and other important features.
See the Grand Ducal Palace: One of the most beautiful buildings in the city and the residence of the Grand Ducal Family. The exterior of the building has a Flemish Renaissance style and outside you'll often find palace guards which are interesting to see. If you are visiting in the summer between mid-July to the end of August there are guided tours.
Visit a museum: The city has various museums worth visiting including the National Museums of History and Art, Lëtzebuerg City Museum, Musée d'Art Moderne Grand-Duc Jean and various others. Visit luxembourg-city.com…museums to learn more about each one.
Go on a day trip – Due to the incredibly cheap fares (€4 for a day pass), you can easily visit another city or town in Luxembourg for the day. Such as Echternach, the oldest town in Luxembourg, or the Castle of Vianden which was built between the 11th-14th century.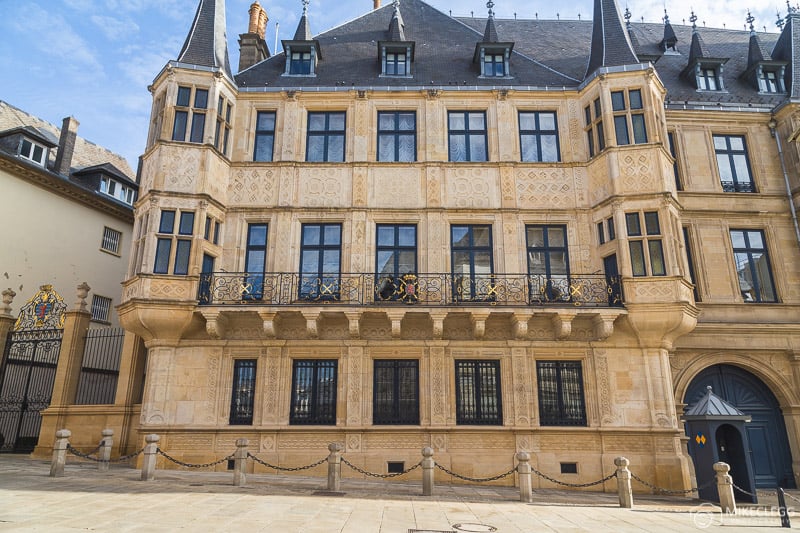 ---
Where to stay
Whether you're after a luxury experience or are visiting on a budget you'll be sure to find lots of accommodation options to suit all needs. Here are some top places to stay during your visit.
Budget – Youth Hostel Luxembourg City – This hostel is located in a great location around 5-10 mins walk from the Corniche. It offers affordable dormitory beds as well as private rooms. Also in the hostel is a cafe/bar area serving reasonably priced food and drink.
Mid-range – Hotel Carlton – Located 15 minutes walk from the main city centre this hotel offers a range of rooms for different guests including singles, twins, triples and doubles. The hotel also offers a great breakfast, friendly staff and a great mix of rooms.
Luxury – Hotel Parc Beaux Arts – A luxury hotel a short walk from the Corniche, Grand Ducal Palace and many of the cities other attractions. The hotel offers various luxurious suites in a cosy and beautiful design.
Disclosure: we get a commission at no cost to you if you book via our links.
---
When to go
Luxembourg could be visited at any time of year, and you shouldn't be in for any major weather surprises. Visit in the summer for festivals, the winter for colder temperatures and possibly snow, and around December for Christmas festivities. If you visit in the autumn you'll find lots of beautiful and scenic colours around the city which is great for pictures.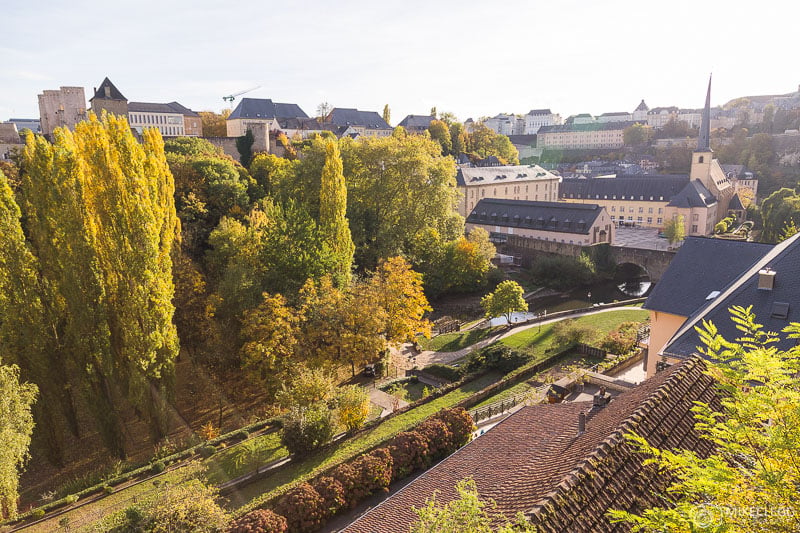 ADVERTISEMENT
CONTINUE READING BELOW
---
Getting around
Arriving to the city
Luxembourg is easily accessible by air. Once you arrive at the airport your journey into the city is cheap, quick and easy as you can take the public bus (16 or 29) and this only costs €2. Alternatively, you could get a taxi.
Other ways to travel to Luxembourg include getting a train from a neighbouring country or using a national bus service such as Flixbus.
Within the city
Once in the city you can walk between most places (assuming you're staying central). There are also buses and taxis available for longer distances. The buses are incredibly cheap at only £2 for a single pass or £4 for a day pass. Also, the buses in the city are free on a Saturday (subject to change).
---
General tips and info for visiting Luxembourg
Luxembourg is a Euro-based country and you'll be able to pay by card or cash through the city. However, try and remember cash for smaller businesses.
The national language is Luxembourgish but you'll also find French, German and English. At many attractions, shops and hotels most staff can speak English.
If you're wanting to see a lot of Luxembourg then consider the Luxembourg Card which gives free access to more than 60 attractions as well as free use of public trains and buses.
Watch your step around the Corniche as it can be easy to stumble in places on the pavement.
ADVERTISEMENT
CONTINUE READING BELOW
---
Further reading and resources
If you'd like a paper guide then consider purchasing a book such as Lonely Planet Belgium & Luxembourg (Travel Guide)
.
For other up-to-date info consider visiting the national tourism website luxembourg-city.com.
---
Find flights and hotels
Start your search using our form below:
Related Articles