Canada is packed full of fantastic experiences and is generally a very easy country to visit. However, before you travel it's good to know a few things so as to maximize your trip. Here are things that you need to know when visiting Canada.
---
Don't forget your eTA
When visiting Canada you may need to apply online for an eTA (electronic travel authorization). This only costs $7 Canadian Dollars and you can do this online. The process is quick and you will often get approval within the hour. However, it's always best to do this a few weeks in advance just in case you have any issues. The eTA will also last several years, meaning if you wanted to visit Canada again during this time you can do so without having to re-apply. Remember to always apply through the official eTA website.
The country is huge
Canada is the second-largest country in the world and covers an impressive 6 time zones. This means that to get from one side of the country to the other you'll have to fly, get a very long train, or would be looking at days and days on the road. Therefore when planning your trip you should have a good think about what kind of experience you're wanting. For a city experience consider Toronto, Vancouver, Montreal or Ottawa, for a rural road trip consider Cape Breton and for mountains head to the West of the country to the provinces of Alberta or British Columbia.
Provinces and territories
Canada is split into 10 provinces and 3 territories. The majority of the population live towards the southern part of the country towards the Canada/USA border as the further north you get the colder and less habitable it becomes (especially in the winter).
Also, the Canadian provinces can have slightly different laws and rules, such as speed limits, buying alcohol/liquor and various other things so be aware of this if you're planning to move between provinces and also drive.
ADVERTISEMENT
CONTINUE READING BELOW
Sales tax
Something that can be confusing at first is that the prices you see advertised in shops and restaurants won't include tax. Instead, the tax is added to your bill when you pay. This can make it hard to know exactly how much you will need to pay until you get to the cash desk.
In terms of tax rates there is both a national/federal (GST) and also a provincial tax that is added to your bill. The provincial rate can vary and at time of writing the federal/national tax is 5%. Visit www.cra-arc.gc.ca to see the latest rates.
Money, Toonies And Loonies
In Canada, the main currency is the Canadian Dollar. For lower values, there are cents which range from 1-99. You'll often hear the words Loonie and Toonie which is essentially a one-dollar coin or two dollar coin. As well as this you'll not see any 1 or 2 cent coins. The Canadian Government have now removed these from the system and so when paying with cash you'll find your bill rounded up or down slightly to the nearest 5 cents. Card payments are widely accepted though if you prefer. If you're from the UK consider using Monzo.
Tipping
Tipping is part of the culture in Canada and you should expect to tip approx 15-20% in restaurants. Sometimes your bill will have the service charge (tip) automatically included. If not then to work out how much you should tip multiple the receipt amount (without tax by 15 – 20%). You then add the tax back on to get the final amount due.
It's also polite to tip for other services such as haircuts, taxis and in bars. This is more up to you and could be an amount such as 10%.
Canadians love ice hockey
One of Canada's favourite sports is Ice Hockey and if you have the opportunity to see a game it is an incredible experience. You'll witness an action-packed game full of energy. At the interludes, you'll often get to enjoy further entertainment with dancing, music and other fun things going on.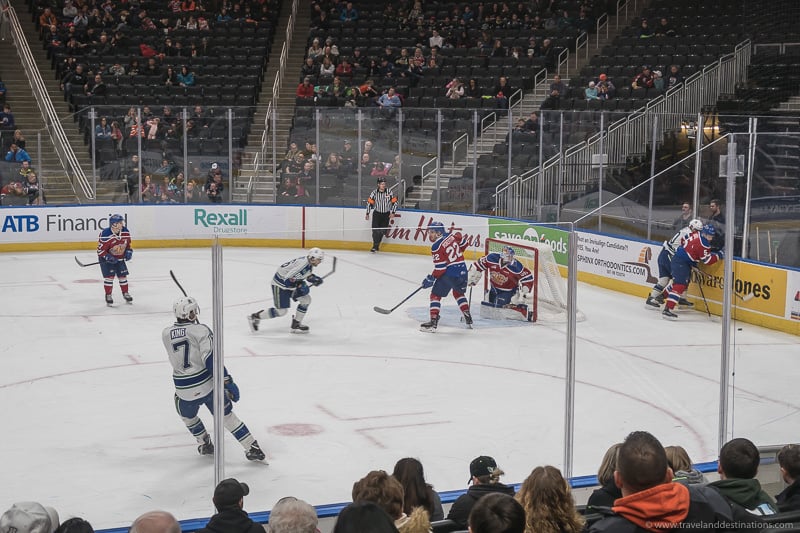 Lacrosse is the summer national sport
Hockey is now Canada's national winter sport, and lacrosse is the national summer sport. Lacrosse is an outdoor game with two teams who work together to score the most goals. They do this using a special lacrosse stick and ball. So if you're around in the summer why not check out a game!
Rules for Drinking Alcohol
Rules around drinking alcohol in Canada are stricter than many other countries around the world. You'll need to be 18/19 depending on the province and be sure to have ID with you when trying to purchase.
To buy alcohol for home consumption you'll have to go to an official liquor store. These have different names in different provinces. Such as LCBO in Ontario and NSLC in Nova Scotia. Some large grocery stores also sell wine and sometimes beer, although this isn't guaranteed.
You'll also be able to buy drinks in bars as well as sports venues, ie if you're seeing a game.
Drinking on the streets is also not allowed, neither is having an open container in a vehicle (even if you're not driving).
ADVERTISEMENT
CONTINUE READING BELOW
Tim Hortons is one of Canada's favourite brands
All throughout the country you'll find Tim Hortons (also called Timmys). These are coffee shop/fast food type establishments which were named after a famous hockey player called Tim Horton.
Tim Horton's is great for grabbing a quick lunch, coffees and snacks such as donuts and other cakes. You will of course, find plenty of other coffee/snap options besides Tims if you prefer.
Food and drink
There isn't an awful lot of dishes unique to Canada but one must-try item is poutine. This is a more fast-food type dish consisting of French fries, cheese curds and gravy. You will also be able to get different variations from poutine restaurants or fast food places such as pulled pork, bbq chicken etc. You should try the original though first as sometimes that's better than the more inventive versions.
You'll also find Canadian restaurants can be very competitive such as serving very delicious food and having interesting menu options. The service will often be pretty fantastic too.
The seasons and weather
Canada truly has every season and these are truly defined. Such as incredibly cold and snowy winters, hot and green summers and beautiful colourful autumns. So when planning your visit ensure you pack accordingly.
Visiting in the winter can also be a great experience and the Canadians are a good example of a country that can cope with extreme weather. Such as if it snows overnight in a city you may wake up to find the roads already cleared ready for the day and life goes on almost seamlessly.
If you are into your photography and nature then Canada would definitely be a great choice of country for you allowing you to enhance your shots by using the weather to your advantage.
Driving in Canada
Canadians drive on the right-hand side and cars are generally automatic. Throughout the country, the speed limit can vary but you'll see signs indicating these alongside the roads.
If you're driving in the winter you should be extra careful and may need snow tires, a shovel or tow rope for emergencies. You should also ensure you have a fully charged mobile (smartphone) in case of emergencies.
English and French-speaking
Although mostly an English speaking country French is also widely spoken and is the primary language in the Quebec province. Throughout Canada, you will generally be able to get by with just knowing English, especially in major cities.
ADVERTISEMENT
CONTINUE READING BELOW
Wildlife
Canada has a huge variety of wildlife including bears, elk, moose, bighorn sheep, deers, eagles to name a few. If you are looking to see wildlife during your visit you'll have more luck in the national parks, as well as certain locations such as Alberta and British Colombia.
Remember though that as some of Canada's wildlife can be extremely dangerous you should always follow park regulations and safety advice. Alternatively consider going on a professional guided tour.
Canadians are incredibly friendly
Something you'll quickly notice during your Canada visit is just how friendly and polite the Canadians are. They will often great you with warm smiles and friendly hellos which can be greatly received should you not be feeling too chirpy.
Words can be different from British English.
If you're visiting from England, or typically know British English you may notice differences in words. Such as "pants" isn't underwear but instead is trousers/bottoms and a "toilet" or "loo" is often called a washroom. There are many more differences which you'll get to enjoy should you be used to UK English.
Emergency numbers
Should you need it during your visit the emergency services number in Canada is 911. Always have a fully charged phone to hand and also ensure you follow all rules/safety precautions when visiting national parks.
Related Articles