Whether you are planning your first trip, or just want some extra travel tips, then keep reading. Here are 20 top tips which should help you travel better and smarter.
1. Pack essentials and valuables in cabin/hand luggage
Sometimes luggage can go missing. This has happened to me before, which resulted in not having my main luggage for a few days until it was found and delivered. In case this happens to you the smart thing to do is to have a few changes of clothes, underwear, toothbrush, toothpaste and other essentials in your hand luggage. Also pack anything else you can't be without, which may be your camera, hair straighteners etc.
2. Invest in good quality insurance
Having reliable and good quality insurance is vital when travelling! The last thing you want is to have a problem and have no cover, or cover that doesn't provide everything you need. For example, if you go on an active holiday you should ensure you have winter sports cover, and if you are taking expensive possessions with you, then you should see how much your insurance policy will cover in case of loss or theft. You will find a lot of bloggers suggest WorldNomads insurance, but this is likely because they get a commission if you go with them. I recommend instead doing your research into providers in your own country. I often look on reputable sites such as moneysupermarket.com when I do my research.
3. Let your bank know that you are travelling
Before you travel it's important to let your bank know you are travelling, or ensure your bank cards are unlocked to work abroad. This is especially important if you are travelling to a developing country or a country that is very far from the country of your bank. To let your bank know it may just be a simple message through internet banking to do this. You could also consider an online app-based bank such as Monzo, which provides free transactions abroad as well as withdrawals (up to a certain amount).
ADVERTISEMENT
CONTINUE READING BELOW
4. Star places and download offline maps
Offline Google Maps is one of my favourite travel Apps, and makes my life so much easier when I travel. You simply go to the Google Maps App on your phone and then download a region. Then even without an internet connection you will have a map to help you get around. You can't, however, perform detailed search requests without a connection. Before you travel it's also worth saving places of interest, such as attractions and restaurants, as these can appear on your offline map.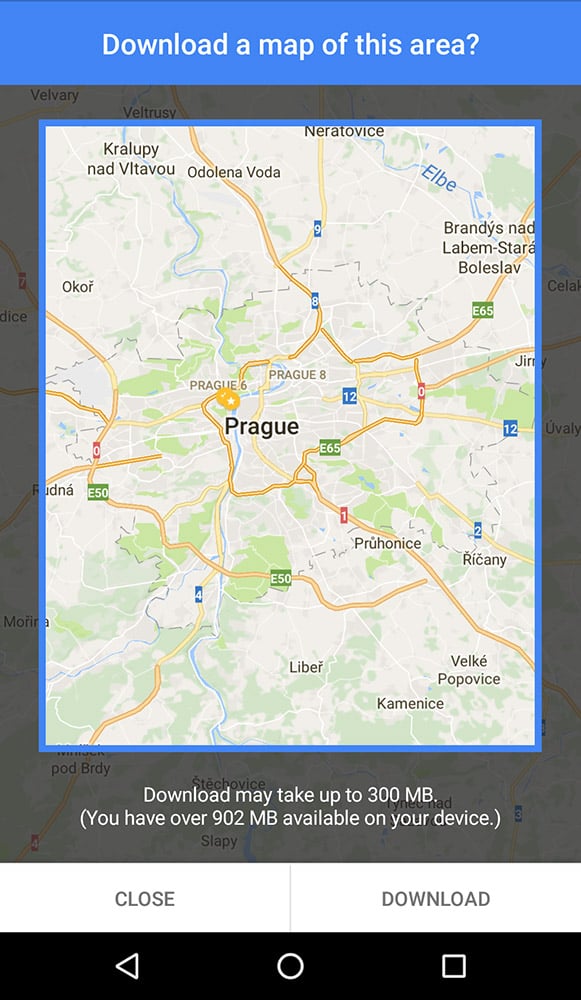 5. Make a scan of important documents
Losing your passport can be one of the most stressful things that could happen while travelling. You will lose valuable time, you may potentially miss flights and may have to spend a fair bit on an emergency passport at an embassy.
You will still have problems and inconvenience if you lose your passport, but by having a digital copy available online such as in your email, or in your Google Drive, you should find it a bit easier at the embassy to get everything sorted. It's also worth getting travel insurance that includes lost passport protection.
As well as having copies of your passport make sure you have digital copies of your insurance documents, important phone numbers and anything else that you may need in an emergency when travelling.
6. Sign up to the email list of your favourite travel services
Signing up to mailing lists for airlines, bus companies and other related services is a good way to hear first of the latest travel deals. Sometimes by doing this you will get amazing deals and be able to travel more. An example for me is with FlixBus, when I travelled from Vienna to Berlin for only €9.99 each way due to promotion ticket prices.
7. Research the transfer Route from the airport
Before travel always check the best way to get from the airport to your hotel/accommodation. By doing so you will be able to arrive and get out of the airport that much quicker and cheaper. A good source is to either look on city guides, visit the airport's website, or simply search on Google for suggestions.
8. If you are travelling long-term then back up your images.
Most people love to take photographs when they travel. But sometimes your camera may get lost, stolen, or you may lose your images another way. If you are going for a long trip such as over two weeks, then I recommend backing up your images whilst you travel.
ADVERTISEMENT
CONTINUE READING BELOW
9. Put a luggage strap on your luggage
Having a luggage strap
on your luggage helps in quite a few ways. Firstly it will help you spot your luggage as it arrives at baggage collection, it will also help prevent someone else from accidentally taking it, and finally, if your zip was to break then it will help keep your suitcase together and hopefully prevent items getting lost. This happened to me on a recent trip and I didn't lose anything thanks to a luggage strap.
10. Use a luggage scale
Another useful gadget is to have a luggage scale
. This will ensure your luggage is within the allocated allowance prior to travel, and also allows you to check that on your return you haven't gone over the luggage allowance (if you buy things).
Prior to having a luggage scale I once had to throw items away from my suitcase, as my luggage was over, and I couldn't upgrade the allowance as I was already at the max (32kg). This was when I was moving countries though, hence why I had so much stuff with me.
11. Travel out of season
Travelling out of season is a great way to get cheaper flights, accommodation and find some fantastic package deals. It may also provide you with a quieter beach and pool, or prevent you from constantly being stuck behind crowds.
12. Research the best way to pay for things
Before you travel research into the best way to pay for things. Some destinations won't have many ATMs so it's best to take cash with you. And some destinations only accept cash which means you will constantly have to get money out, which may cause you to get lots of ATM fees. If you decide to pay with cards this can also be costly with fees for use and also exchange rates for foreign currencies. Sometimes you may be able to get special cards that have low or no fees.
13. Respect local laws and rules
Some destinations and attractions may have rules such as no photography. Such as in the Grand Palace in Bangkok you are not allowed to take pictures of the Emerald Buddha, and in the Vatican you're not allowed to take pictures in the Sistine Chapel. There are not too many places with such rules, but when you do see signs you should respect and follow the rules, as you don't want to disrespect the locals, or potentially get arrested for serious issues.
ADVERTISEMENT
CONTINUE READING BELOW
14. Remember to carry a bottle of water
It can be easy to get dehydrated when you travel, as you can be out exploring for long periods and you simply forget to drink. The smart way to avoid this is to take a bottle with you and fill it up with drinkable water, either from your hotel, from supermarket bottles, or even take an anti-bacterial filter bottle with you, such as the LifeStraw Go Water Bottle
 below.
15. Take antibacterial sanitiser or wipes
Some destinations may not be the cleanest. Having some antibacterial hand sanitiser or wet wipes is a smart way to ensure that you can clean your hands before you eat. These are quite cheap to buy from most grocery or drug stores.
16. Try local cuisine (food and drinks)
When travelling if possible try local food and drinks. This can make your trip very enjoyable and help make you more cultured. You may also discover a dish that becomes your favourite and you might even be able to cook it at home on your return.
17. Research attractions and restaurants in advance
Not everyone likes to research in advance, however if your trip is short, such as a city break or a one week trip, you may save lots of time by doing research before your trip. The best way to find things to do is to look on blogs (such as this), official tourism websites, or use guidebooks. For restaurant suggestions, I often use tripadviser.com, where you can read reviews from previous customers.
18. Check travel advice
Before you travel anywhere you should always check travel advice to ensure the destination is safe and isn't going through a crisis, such as a large protest, war and other issues of national security. You should also be aware that some insurance policies may be void if you go to a place that is high risk. I always look on gov.uk/foreign-travel-advice before I travel for official and reliable advice.
19. Take a travel first aid kit
A first aid kit is always handy and doesn't have to just contain bandages and plasters. Instead fill it with other useful medication, such as paracetamol, diarrhoea tablets, anti-sickness, electrolytes etc. This is something I wish I'd taken when I was travelling India when I got ill from the heat and dehydration.

20. Share your itinerary with friends and family
When you travel make sure you let your friends and family know where you are. If you have a complicated itinerary and are travelling to multiple destinations then use Google Docs to record your itinerary, and then share the file with your closest friends and family. You could alternatively send them regular email updates and forward your bookings.
ADVERTISEMENT
CONTINUE READING BELOW
Summary
Use these smart travel tips when planning your trip and travelling so as to ensure that you are better prepared for your trip.
Ready to book? Search for:
---
Related Articles