On Instagram there are special accounts called feature accounts, these are also known as hubs or groups. Think of them as mini-communities within Instagram. Building a successful feature account can be a challenge, but by following a few techniques and tips, which I will mention below, you should soon be able to grow a large and popular hub. If you want to learn how to build a good personal account or brand you may also want to read my post: Building an Instagram following.
What is an Instagram feature account?
But first what is an Instagram Feature Account? Well these accounts:
Mainly post content that is produced by other Instagram accounts (with credit).
They help build awareness and drive traffic to the account being featured.
I have previously run several hubs, two of which include:
When these accounts were less than a year old they were growing like crazy, sometimes with over 1,000 new followers per day. Note that this is no longer quite as easy to do due to algorithm and other changes to the Instagram platform.
If you aren't wanting to build a feature account, but want to know how be featured read Tips on Getting Reposted by Feature Accounts.
ADVERTISEMENT
CONTINUE READING BELOW
How do you create an Instagram feature account?
When creating an Instagram feature account try and identify a niche, such as both my hubs are travel related. On @bestcitybreaks I only post city images, whilst on @travelanddestinations I post pictures that are both urban or rural, such as landscape shots as well as city and architecture.
1. Find a good catchy account title
You definitely need a good title for people to consider following you. Ie my account @bestcitybreaks instantly says that it posts "city" pictures, most likely cities that you could go to on a short "break" and using the word "best" makes people think it posts great pictures.
2. Create a good profile description
Although not the most crucial part of the account, a good description will look more professional and also help make it clear as to what the account is about. Such as the profile description for @travelanddestinations below.
3. Create a hashtag
Next, you will need a hashtag that relates to the account. Whenever possible you should use the account name as the hashtag, ie
Account name: @travelanddestinations
Hashtag: #travelanddestinations
This keeps some consistency between the account and the hashtag.
4. Start posting content
It's unlikely you'll have many or anyone tagging you for a while, so you'll probably have to post your own content at first and reach out to photographers via comments and DM (direct messages) to ask for permission. It will take time but once it gets going it'll speed up.
ADVERTISEMENT
CONTINUE READING BELOW
How to grow an Instagram feature account?
Now, what do you need to do to grow this account and make it successful?
1. Keep to a theme
First make sure you keep to the theme when posting pictures, for example if you are running a landscape hub and then start posting portrait pictures, your followers would get confused and may decide to unfollow. Below is an example of my hub @travelanddestinations where I feature landscapes and city pictures.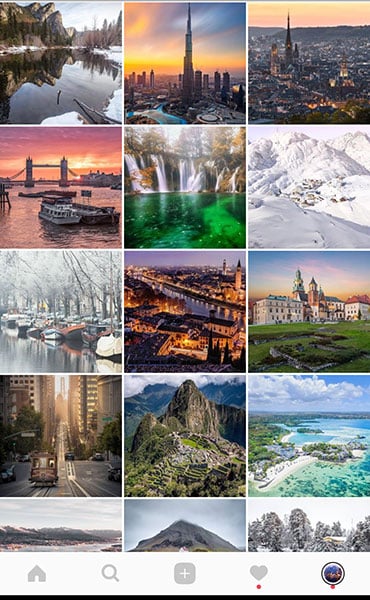 2. Post regularly and consistently
Get into a routine of when you want to post and try and keep to this. For example on @travelanddestinations I post 3-4 times a day.
1. First thing in the morning.
2. Next around lunchtime.
3. Later around dinner time.
4. And then finally before I got to bed.
This keeps traffic to the accounts flowing and my followers engaged. It also provides more opportunities for people to get featured.
3. Mainly feature images that are vertical or square
Try and avoid posting images that are the landscape orientation. I've found these pictures generally get less engagement. I expect it's because there is less image being shown than on a square crop or vertical crop. Vertical crops seem to do the best and this is likely because there is more picture that can be seen. Make sense?
4. Feature people that tag the account
When I say tagging, I mean using the hashtag ie (#travelanddestinations) or tagging the account in the photo. I look at both of these when looking for pictures to feature next. I don't give preference to people that tag both, I just use it as a way of sourcing content.
5. Use 30 relevant Hashtags
For my accounts I use 30 hashtags. Being a travel hub I always use hashtags that are relevant. I normally tag some general tags such as #travel #holiday #vacation #country #city and also tag some hubs such as #livingeurope #cbviews etc.
By tagging other hubs the people managing those accounts may tag good content to you in return, so it's likely working together to find the best relevant content for the hub.
6. Follow and engage on similar accounts in your niche
On my hubs I follow other accounts that are travel-related, and as much as possible like and comment on their pictures. As well as supporting those accounts by doing this, you may have some of their followers start following and tagging you.
ADVERTISEMENT
CONTINUE READING BELOW
Other tips
Here are some guidelines when running Instagram feature accounts.
Ask for permission
Always ask for permission, or feature someone that has tagged you. Generally, permission to be featured comes from being tagged in the hashtag, such as #bestcitybreaks or being tagged in the photograph. When your hub is new you may need to DM (direct message) people asking for permission. It takes a bit of time but you won't have to do it for too long.
Credit the original account
You should always credit the original photographer/artist in the photo. Both in the caption such as "Image by @mikecleggphoto" and also tag the Instagram account in the picture. This helps the original artist/Instagrammer know that they have been featured as they will get a notification.
Say thank you
When someone tags you and you feature them, then I think afterwards it's polite to say thank you. I therefore always go to their account and the picture I featured and write a nice comment.
ADVERTISEMENT
CONTINUE READING BELOW
Summary
I hope this helps get you started. Try using these techniques and with persistence, you should start to see results before long.
Want to see some of my Instagram posts, follow me on @mikecleggphoto, and also my hub @travelanddestinations.
Related Articles