One of the great features on Instagram is the Stories feature.
The Stories feature is the perfect way to share large amounts of content on a regular basis with your followers, that you may not want to post on your main feed. There is no expectation of high quality edited photos so you can be more instant with what you share.
What are Instagram Stories?
Instagram stories are a way of posting images or videos that will only be on your account for 24 hours. Once the 24 hours is up the post will disappear.
Stories can be made live by taking a picture or video through the app, or you can pull down in the story mode and select something that was created in the last 24 hours.
| | |
| --- | --- |
| Instagram Stories Posting Live. | Instagram Stories using the Last 24 hours option. |
You can scribble on your images and add text, as well as add filters.
| | |
| --- | --- |
| Instagram Text and Scribbles | Filters on Instagram Stories |
Other things you can do with Instagram Stories
Here are a few other things you can now do with this feature.
You can add funny animations/graphics
Go "Live" where you literally share a live video broadcast from where you are
You can use a cool Boomerang feature
You can add web links where users can swipe up and go to a page you suggest
Do a Superzoom
And various other cool things.
Why use Stories?
Instagram Stories are perfect for sharing many different types of content such as…
1. Things you see that your followers may find interesting. For me as a travel blogger I often post destination-related material that I think people would enjoy. Such as while in Kotor, I saw some local performers dancing on the street, so I posted a video to my Story. I thought it was a great way to show my followers the culture of the destination.
2. You can post behind the scenes. For example if you are a travel photographer you could show what the scene looked like before you processed the image, took a long exposure or added filters. That's a great way to help people understand your processing techniques and to see what's possible with a camera.
3. Show where you are staying or where you are – If you are staying somewhere really nice such as a luxury hotel, then this is a great way to show it to your followers. For me, whenever I stay at a nice hotel with a beautiful design I will be sure to post a video or some pictures.
Another excellent benefit of the Stories feature is the way that Instagram shows it to your audience. Rather than clogging up peoples feed you can post to your heart's content and it won't get irritating.
Highlights
A recent feature of Instagram Stories is the "Highlight" feature. this allows you to save your favourite Stories in a little bubble on your home screen. Like Below.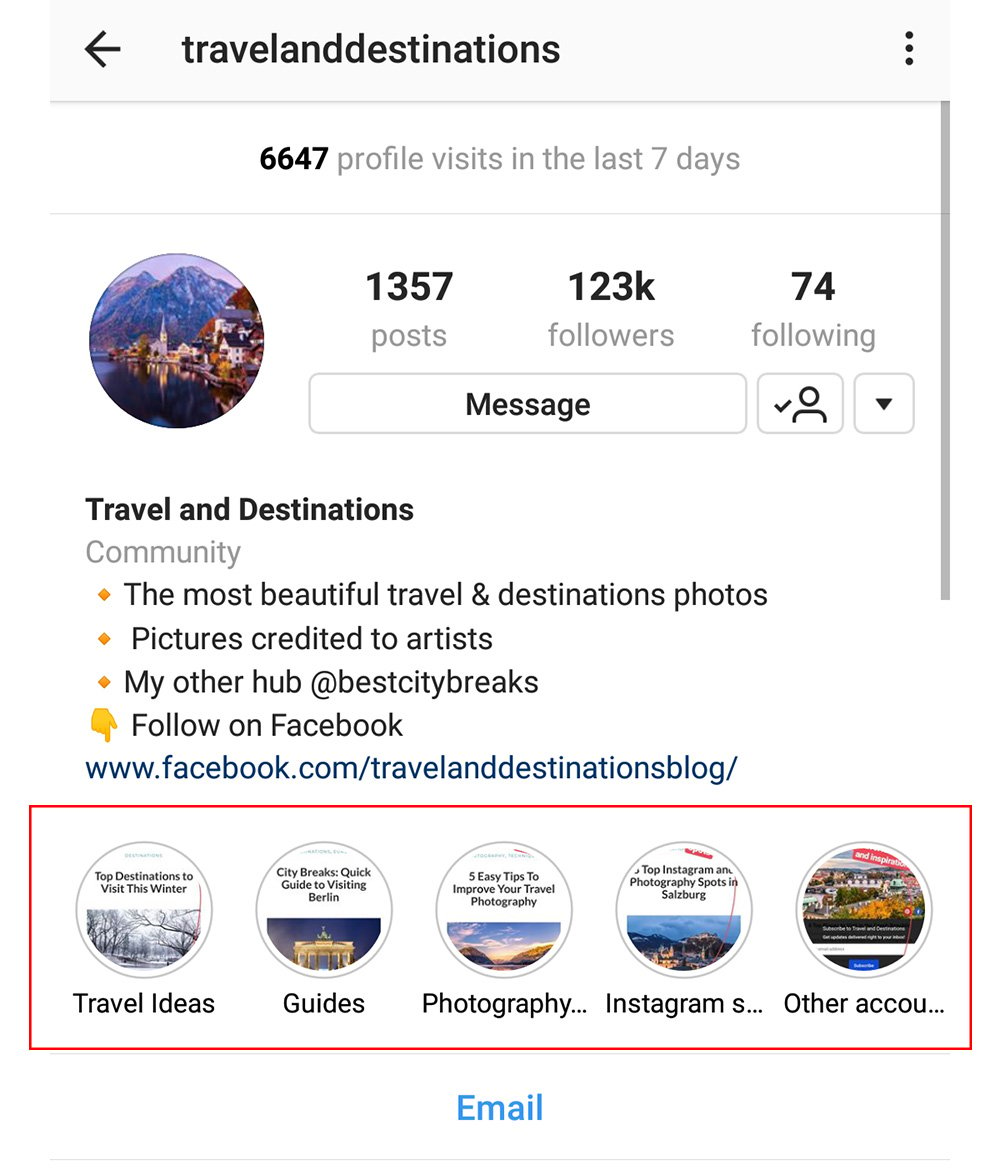 Stats
The Stories feature allows you to see how many views you get (but only while the Story is active). This appears at the bottom of the post, or if you pull up on your phone you can see all your Stories that are currently live along with the stats count.
If you are working with brands I recommend taking screenshots of the stats. You can either do this from the Story by swiping up or from "Insights" which are built-in stats that business accounts get access to.
| | |
| --- | --- |
| Stats at the bottom of the image | Stats on all active Stories |
Summary
Instagram Stories are now one of my favourite features on the platform. It allows me to share so many more experiences that I have on my travels, as well as behind the scenes and anything else that I think my followers would find interesting. Have you tried Instagram Stories? What do you think?
Want to see some of my Instagram posts, follow me on @mikecleggphoto, and also my hub @travelanddestinations.
Related Articles